6 Best Welding Boots of 2023 – Reviews & Buying Guide
Last Updated on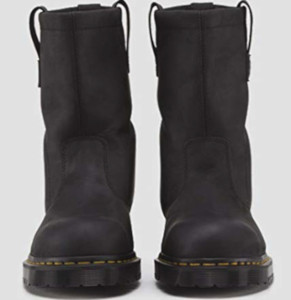 No one wants to damage their feet on the job, but so many work boots can't withstand the impact welding gives them. We have written reviews of our six favorite welding work boots so you can find a pair of welding shoes that will last.
Some of these shoes for welding may not be what you're after, but we've displayed the strengths and weaknesses of all the pairs included, as well as a buyer's guide to ensure you find the best welding boots for your needs.
Our Favorites Compared (Updated in 2023):
Image
Product
Details

Best Overall

Timberland Men's Steel-Toe

Sole: rubber
Slip-resistant
Heat- and oil-resistant soles
CHECK PRICE

Dr. Martens Men's Steel Toe

Antibacterial Smartmask
Ankle protector padding
Oil- and water-resistant
CHECK PRICE

Best Value

Rhino Metatarsal

Slip-resistant
Electrically safe
Low price range
CHECK PRICE

Timberland Men's Wellington

Nylon mesh lining
Finger grip pull-on feature
Fully waterproof
CHECK PRICE

Michelin Men's Sledge Metatarsal

External metaguard
Shock-absorbent phylon midsoles
Oil- and slip-resistant soles
CHECK PRICE
The 6 Best Welding Work Boots:
1. Timberland Men's Steel-Toe Welding Boot – Best Overall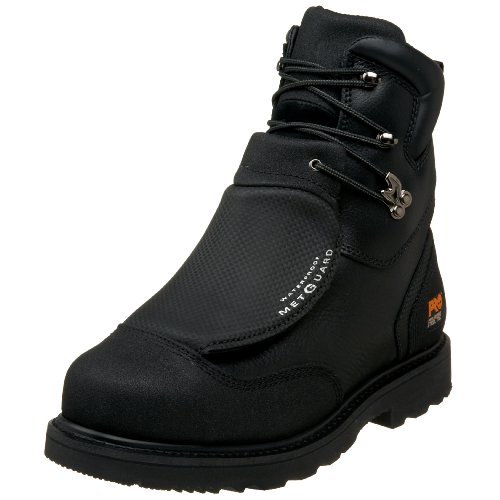 The Timberland PRO 53530 steel-toe boots are our favorite in the online welding boot range. They have durable polyurethane footbeds that give them extended life, with a soft cushioning layer above them for a comfortable feel.
They're stitched with Kevlar, a tough heat-resistant material, so they don't come apart. The excellent oil- and slip-resistant rubber soles can withstand almost anything found on a workshop floor.
The meta guard is a useful addition to protect your laces from being ruined by spatter, although it doesn't cover the entire lace section. It also protects the tops of your feet from falling objects to give a larger shielding range than just the steel caps. There is a weaker point where the meta guard attaches to the shoes, but it usually holds up.
We were impressed with these steel toe welder boots and are confident to recommend them as top-quality welding boots that last. If you need great welding shoes, this is an excellent option.
Pros
Material: full-grain leather
Sole: rubber
Slip-resistant
Heat- and oil-resistant soles
Polyurethane footbed
External metaguard
Water-resistant
Cushioned insoles
Electrically safe
Kevlar stitching
Steel toe caps
Medium price range
Cons
Laces can wear out eventually
Weak attachment of metaguard
---
2. Dr. Martens Men's Steel Toe Welding Boots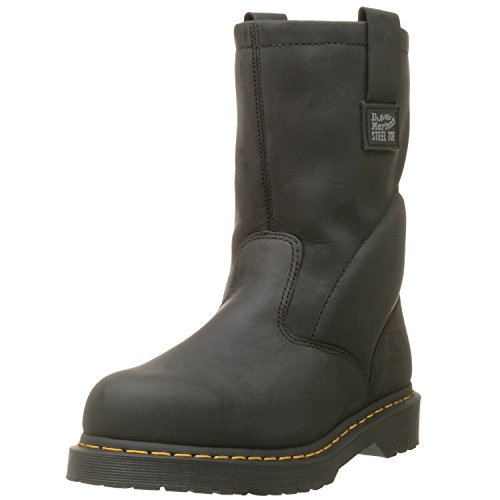 The Dr. Martens Men's Icon Industrial Strength welding boots are simple to slip on and off while remaining secure on your feet. They have no laces to worry about and are incredibly comfortable with cushioned insoles. They also include Dr. Martens antibacterial Smartmask, which adds comfort in the boots while eliminating bad smells.
The sides have ankle protector padding, which guards against steel smashing your ankle bones in an accident, while the soles are air-cushioned to make standing on your feet much more comfortable.
The downside is that the soles don't withstand as much as rubber ones, but their cushioning effect outweighs this problem. They are also slip-resistant to oil, petrol, fat, and alkali. Overall, we rate them our runner-up for welding boots online.
Pros
Material: 100% leather
Soles: air-cushioned PVC
Slip-resistant
Antibacterial Smartmask
Ankle protector padding
Heat-resistant soles
Oil- and water-resistant
Electrically safe
Steel toe caps
Low to medium price range
Cons
No Kevlar stitching
Soles not as durable
---
3. Rhino Metatarsal Welding Boots – Best Value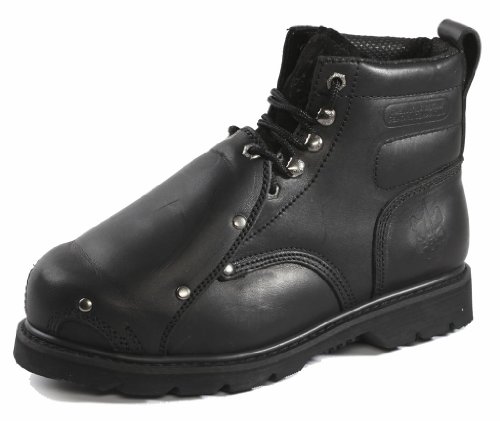 Rhino's 6 inch Metatarsal welding boots are what we consider the best buy for your money. They're slightly lower-quality boots, but fulfill everything a good welding boot should at an affordable price.
They have excellent oil-resistant properties, and despite having no Kevlar stitching, they hold out well with heat and last through the abuse a workshop environment provides. The metal clips are a little sharp and do chew through a few more laces than you'd like, but buying a better quality set of laces can easily solve this.
We recommend these steel toe welder boots if you're on a lower budget. They're heavier than more expensive welding boots and not quite as comfortable, but they'll serve you just as well in the long run.
Pros
Material: leather
Soles: rubber
Slip-resistant
Oil-resistant soles
External metaguard
Cushioned insoles
Electrically safe
Steel toe caps
Low price range
Cons
Heavy
No Kevlar stitching
Laces wear out easily
---
4. Timberland Men's Wellington Welding Work Boots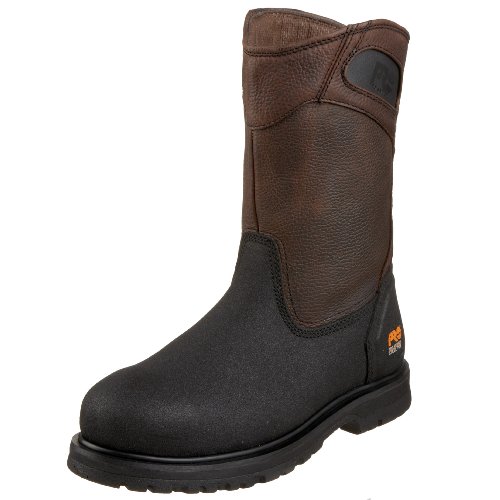 Timberland has made the PRO Men's Powerwelt Wellington Boot to suit welding inside and outside. These boots are completely waterproof. They withstand water, oil, and most chemicals found in a workshop well, and include heavy-duty tread for maximum grip, so they're slip-resistant.
There are two finger grip sections at the tops to help you grip them well, but they're harder to pull on and off than other slip-on boots due to the narrow internal sizing. They're also not the most comfortable boots available. However, you can buy a pair of moldable inserts like this Red Wing pair, which increases the comfort level significantly.
We recommend these as quality boots that are a diverse option for the workshop to keep your feet safe through a range of conditions.
Pros
Material: waxed full-grain leather
Soles: rubber
Slip-resistant
Oil-resistant soles
Nylon mesh lining
Finger grip pull-on feature
Electrically safe
Fully waterproof
Steel toe caps
Low to medium price range
Non-marking
Polyurethane outsoles
Stain-repellent
Steel shanks
Cons
Uncomfortable insoles
Narrow boots
Difficult to pull on/off
---
5. Michelin Men's Sledge Metatarsal Welding Boot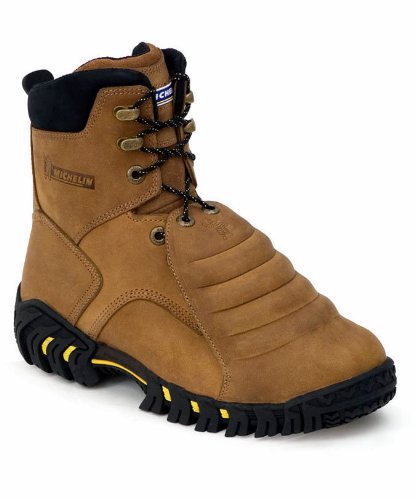 We like the Michelin Men's 6″ Sledge Metatarsal boots. They're appealing-looking boots made with full-grain leather sitting on oil- and slip-resistant rubber soles that withstand the workshop environment well.
The metaguard is well designed to protect your feet and laces, and the shock-absorbing phylon midsoles with comfortable arch-supporting inner soles make these some of the more comfortable boots available. However, they're a little tight-fitting between the soles and metaguard and are slightly heavier than some other options.
The boots are also not waterproof, so you don't want to be outside much in the wet. Overall, even though there are some flaws in these boots, we like them and recommend them in our fifth place as good welding boots.
Pros
Material: full-grain leather
Soles: rubber
Oil- and slip-resistant soles
External metaguard
Comfortable arch-supporting inner soles
Electrically safe
Steel toe caps
Shock-absorbent phylon midsoles
Low to medium price range
Cons
Laces can wear out
Not waterproof
Heavy
Tight-fitting
---
6. Caterpillar Men's Revolver Steel-Toe Welding Boots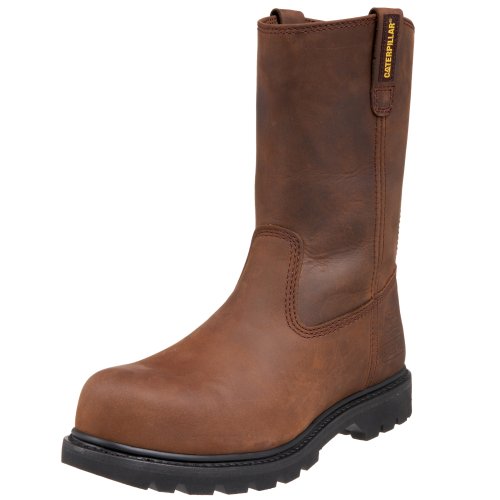 The Caterpillar brand is known for making high-quality, heavy-duty boots. However, the Men's Revolver Pull-On Steel-Toe Boot doesn't entirely match that description. These boots serve their purpose, but they aren't our favorites. They lack the arch support necessary for a comfy work boot, and they need to be maintained with oil to ensure the quality lasts.
They are electrically safe and have good slip resistance with the rubber soles, but we don't like the PVC midsoles as they don't seem to last as long as other boots. These aren't the most waterproof boots available. This isn't always necessary for welding boots, but it does help when you're working outside or in places on site where you're exposed to water.
They're not badly priced and will serve you better than many boots found online. If you decide to buy them, get a size slightly smaller than you would normally, as they come larger than you think.
Pros
Material: full-grain leather
Soles: rubber
Steel toe caps
Oil- and slip-resistant soles
Nylon mesh lining
Electrically safe
Low to medium price range
Cons
Need oil coating maintenance
Not entirely waterproof
Size feels longer than it's numbered
PVC midsoles
Lack of arch support
Uncomfortable
Narrow
---
Buyer's Guide: How to Choose the Best Welding Boots
Before buying any product, especially welding boots, it's essential to have a clear understanding of what to consider. Not all work boots are good for welding in, but the following list explains which ones are. Here's how to find welding shoes that will really keep your feet safe:
Comfort
The comfort of your welding boots is what makes a good pair desirable, particularly if you're wearing them all day at work. The comfort factor includes the weight of the boots, the feel of the material surrounding your feet, and the inner soles you stand on.
The lighter the boots, the better, unless they're low quality. When boots weigh less because of minimizing materials to lower the price, they may be light, but they're most likely uncomfortable. Buying high-quality light boots, on the other hand, helps ensure the lower weight adds to their comfort.
The material inside should be soft and not have hard objects press against your feet. The Michelin Sledge boots are very comfy inside, except that the metal guard can put too much pressure on some people's feet. Factors like odd pressure spots are not desirable.
The soles should also be comfortable by providing good arch support while being soft with a moldable feel so you don't get blisters and aching feet after wearing them.
Resilience
Boots must be capable of withstanding the extremes of welding and the workspace you use them in. The soles, material type, and stitching affect how long they last and what they can withstand.
Sharp metal and extreme heat will always cause some damage to your boots over time. Choose boots with the capacity to withstand these forces for a considerable time before they wear out.
Protection
The purpose of boots is to protect your feet, and if they aren't steel-toe welder boots or leather boots, they won't protect them very well. You may not have massive slabs of steel land on your feet every day, but if it happens even once, you'll be thankful for all the time you've worn heavy-duty boots. They may save you from losing a foot one day.
Choosing boots that cover well over your ankles helps protect you too. Short stubby boots can be designed well to keep your feet safe, but ankles are a prime target for injury in the workshop.
Welder safety boots should also withstand the dangers of slippery surfaces, heat, live electricity, and chemical spills. Your workplace may not have these hazards, but many welding facilities do, and you never know what you may need protection from one day. That's why welders work boots need to offer serious protection like steel toes and tall ankles.
Style
There is a wide range of boot styles. This is more a matter of personal preference than necessity, but it can be significant in determining the right choice.
Laced boots are a good choice because they're easy to slip into when the laces are loose, and they're capable of becoming much tighter than slip-on boots. However, they take longer to tighten, and you can damage laces much faster due to the rough time boots have in the workshop.
Slip-on boots can be just as durable and protective as laced boots. They don't need additional laces bought for them and are a quick option to slip on when you're in a rush. They don't give as much support as laced boots do, but high-quality ones can still be very secure on your feet.
Size
Size is more challenging to determine when you're buying welding shoes online, but because they generally cost less and can save you time compared to going into a store, it can be a good option.
Most boots are an accurate feel to their size, so you can order the size you normally wear and they should fit perfectly. However, it pays to read reviews of sizing first as there are some boots, like the Caterpillar Revolver, that are a slightly bigger size than other boots.
Other equipment we have reviewed
Conclusion
There are more shoes for welding online than you could ever find in a store. These reviews show our favorite six welding shoes among them. We placed the Timberland PRO Men's 53530 8″ Metguard Steel-Toe Boot as our top pick. We consider the Rhino 6 inch Metatarsal Work Boot Black – 6MS01 to be one of the best options for your money.
Thank you for reading our reviews and buyer's guide for the top welding boots online. We hope you enjoyed it. Please feel free to leave us your comments below.