8 Best Plasma Cutters of 2023 – Reviews & Top Picks
Last Updated on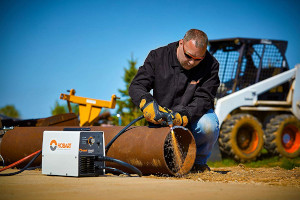 If you're interested in plasma cutters, you may have noticed their range has been increasing in new technology and spreading out in price. We've seen this and thought it would be helpful to try to bring some detailed insight into the differences.
Here is our attempt: eight reviews of what we believe are the best plasma cutters available. There's also a buyer's guide to help with understanding what's necessary and what's not in the different machines available. We hope you like it and would love to hear your feedback below.
The Winners of 2023:
Image
Product
Details

Best Overall

Hypertherm Powermax30

Low - medium price range
Drag-cutting technology
Extended reach gouging
CHECK PRICE

Hobart Airforce 40i

Wind Tunnel technology
Drag cutting technology
Five-year warranty
CHECK PRICE

Best Value

Lotos LTP5000D

Low price range
High-frequency non-touch start
Simple to use
CHECK PRICE

Miller Spectrum 625 X-treme

Automatic air regulator
Drag-cutting technology
Three-year warranty
CHECK PRICE

Forney Easy Weld 251

Low price range
Torch lead: 13 feet
Drag-cutting technology
CHECK PRICE
The 8 Best Plasma Cutters:
1. Hypertherm Powermax30 Plasma Cutter – Best Overall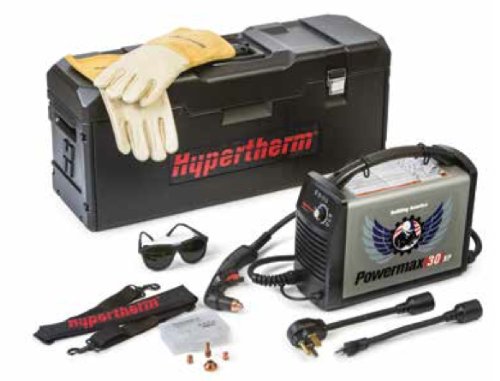 For our top pick, we've chosen the Hypertherm Powermax30 XP. It's one of the best plasma cutters for home use, as it's available at a low price while offering more than enough of the features a hobbyist would need.
It's not quite capable of engraving like the Powermax 45 XP is, but it gives pristine edges to cut surfaces and is capable of easily severing up to 5/8" thick plate along with fine-featured cuts for decorative use.
This incredibly lightweight welder has a sturdy case surrounding it with a long 15' torch lead, which makes the plasma cutting experience much better than fighting with a short lead. The drag-cutting technology makes tracing simple while ensuring no double arcing occurs.
The internal air valve can leak if it's used extensively every day in an industrial setting, but the part is affordable and easy to replace, and it most likely won't affect home use. This plasma cutter has highly impressed us, and we feel confident placing it in our number one spot.
Pros
Input voltage: 110/120 & 220/240
Low – medium price range
Max cut: 5/8"
Output range: 15 to 30 amps
Drag-cutting technology
Dimensions: 14" x 5.5" x 11.5"
15-foot torch lead
Weight: 21.6 pounds
Extended reach gouging
Fine sheet metal cuts
Simple to use
Three-year warranty
Cons
Air valve leaks after lots of use
---
2. Hobart Airforce 40i 240V Plasma Cutter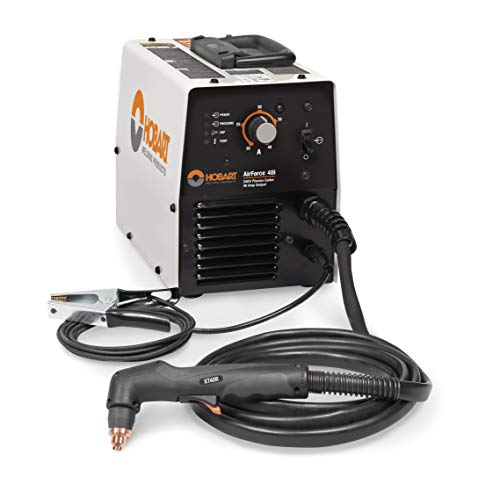 The Hobart Airforce 40i Plasma Cutter is an impressive machine that's worth the price it comes at. It can cut up to 7/8" from a maximum 40-amp output. Hobart's Wind Tunnel technology helps keep the internal components from being damaged in the cutting phase. However, it's a bigger machine designed more for substantial cuts than finer work, which makes it less suitable for the hobbyist.
Although it didn't make it to the top of our best plasma cutter list, it comes very close. It's effortless to pick up and use without the need for instructions, which we like, and it's a similar price to the Hypertherm Powermax30 XP. It comes with a smaller lead and is only capable of running off a 220/240 volt input, which may require your standard household power point to be adapted.
It also requires a 50-amp breaker to run at its full capacity, but for the serious hobbyist or any workshop cutting heavier gauged metal, this plasma cutter is a worthwhile choice.
Pros
Max cut: 7/8"
Output range: 20 to 40 amps
Low – medium price range
Dimensions: 17" x 18.2" x 11.6"
Torch lead: 13 feet
Wind Tunnel technology
Simple to use
Drag cutting technology
Five-year warranty
Cons
Input voltage: 220/240
Weight: 34.3 pounds
Requires 50A breaker
---
3. Lotos LTP5000D Plasma Cutter – Best Value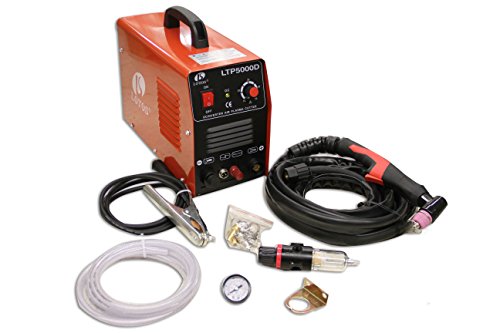 We really liked the Lotos LTP5000D 50-amp machine. It doesn't come with the same quality as the Hobart Airforce 40i or the Hypertherm Powermax30 XP, but it's one of the best 110v/220v plasma cutters for the money with what it offers.
With a 10- to 50-amp cutting range and a non-touch pilot arc that severs clean cuts through rusty or painted metal up to 12" thick, and even thicker if you don't mind a slower, rougher cut, it's impressive.
The drag technology is excellent for tracing lines. Having a standoff like this plasma cutter's keeps the nozzle clean and makes starting the plasma slice easy while continuing a consistent, effective cut all the way through.
We highly recommend this plasma cutter to any hobbyist needing to cut no more than 1/2" plate. For the workshop environment, it's a little light in both cutting power and material quality to withstand heavy use.
Pros
Input voltage: 110/120 & 220/240
Max cut: 3/4"
Low price range
Output range: 10 to 50 amps
Weight: 26 pounds
Dimensions: 15" x 6" x 12"
Torch lead: 13 feet
High-frequency non-touch start
Clean cuts through rusty/painted metal
Simple to use
Cons
Not the best standoff available
One-year warranty
Max clean cut: 1/2″
---
4. Miller Spectrum 625 X-treme Plasma Cutter
We were also impressed with the Miller Spectrum 625; the cost is the only factor that brought it down to 4th place. Miller has a reputation for building great products, and we have seen it clearly in this plasma cutter. It's suitable for any range of use, but the price its high quality demands makes it more desirable for industrial use than hobbyist use.
However, it's more compact and lighter than any other machine on this list, which every hobbyist would love. It's particularly useful for onsite cutting with Miller's auto-refire technology, which adjusts the pilot arc for the specific metal you cut without needing to change settings. It also changes the air pressure automatically while you cut, making this an exceptionally easy machine to use, and speeding up jobs.
For the price of this plasma cutter, we feel the torch lead could be a touch longer. Otherwise, we highly recommend this cutter to anyone who doesn't mind paying slightly more.
Pros
Input voltage: 110/120 & 220/240
Max cut: 5/8"
Dimensions: 25" x 9" x 5.5"
Output range: 15 to 40 amps
Weight: 21 pounds
Drag-cutting technology
Auto-refire technology
Automatic air regulator
Simple to use
Three-year warranty
Cons
Medium price range
Torch lead: 12 feet
---
5. Forney Easy Weld 251 Plasma Cutter
Forney's Easy Weld 251 20 P Plasma Cutter is an affordable choice that suits the hobbyist wanting to cut light sections up to 1/4" thick. There are not many other welders this affordable, and this surpasses them in quality; however, a 20-amp output is minimal for the range we like.
It's slightly bigger than Miller's Spectrum 625, but the lead is longer while it cuts a similar quality cut through thin sections. This isn't as easy a machine to use, with less advanced technology, and we like a plasma cutter that has at least a two-year warranty.
We like what Forney has here, particularly the price. It will suit anyone wanting a light plasma cutter for casual work.
Pros
Low price range
Weight: 21.5 pounds
Torch lead: 13 feet
Dimensions: 15" x 8" x 12"
Drag-cutting technology
Cons
One-year warranty
Max cut: 1/4″
Input voltage: 110/120
Output range: 10 to 20 amps
---
6. PRIMEWELD CUT50 Portable Plasma Cutter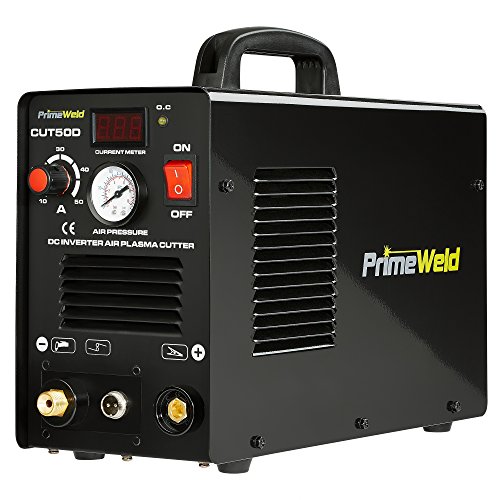 The PRIMEWELD CUT50 is another low-priced plasma cutter, and it severs a reasonable quality cut through thicker plate than Forney's Easy Weld 251 20 P can. It's capable of running up to 35 amps to sever just over 1/2".
We found it a hassle that the machine shuts off if you overwork it. The quality of the gear doesn't match the standards of Forney's plasma cutters or the other higher-ranked machines; however, we do like the 14" torch lead it comes with.
There is no drag technology, but the non-touch start is a good alternative to keep the nozzle clean. The standoff is better than the Lotos 50-amp plasma cutter, which we like. Overall, as an affordable plasma cutter for a keen hobbyist, we highly recommend it.
Pros
Input voltage: 110/120 & 220/240
Low price range
Weight: 25 pounds
Output range: 10 to 35 amps
Torch lead: 14 feet
Dimensions: 15" x 8" x 12"
High-frequency non-touch start
Three-year warranty
Cons
Max clean cut: 1/2″
Low quality
Requires 30A breaker
Shuts off if overworked
---
7. SUNGOLDPOWER 50A Plasma Cutter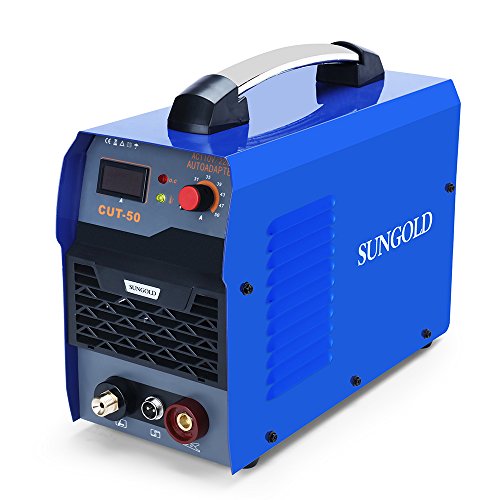 What you get with the SUNGOLDPOWER 50A is incredible for the price, but as can be expected, the quality is very minimal. It ranges from 10 to 50 amps of output power, but you don't want to run it much higher than 35 amps. Otherwise, the machine struggles and doesn't produce a clean cut.
It will cut up to 12" with a reasonably nice cut, which is impressive for the quality of the machine. However, this gives testimony to the standard of the technology in machines like the Hypertherm Powermax30 XP, Hobart Airforce 40i, and Miller Spectrum 625, which can cut 5/8" and 7/8" plate with less amperage.
The leads are quite short, and the touch start nozzle without drag technology makes cutting accurate and tidy cuts more difficult. However, when you're paying this price for a plasma cutter, you can be thankful for anything it comes with that works.
It's definitely not a heavy-duty machine for industrial use, but for a hobbyist on a tiny budget, it will serve well.
Pros
Input voltage: 110/120 & 220/240
Low price range
Weight: 23.9 pounds
Output range: 10 to 50 amps
Dimensions: 3" x 10.2" x 15.8"
Cons
Touch start
Low-quality parts
Torch lead: 11 feet
Ground lead: six feet
One-year warranty
Max clean cut: 1/2″
---
8. Ramsond CUT 50DX Air Plasma Cutters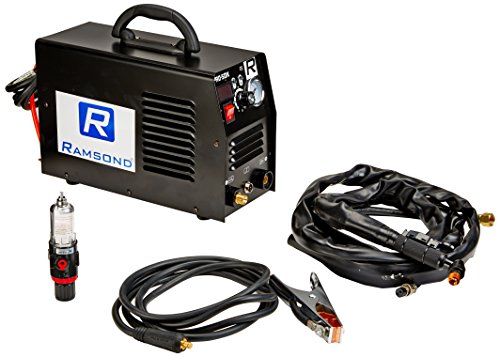 The Ramsond CUT 50DX is one of the lower-quality plasma cutters on our list, but it can make a sizeable cut. The finish it leaves is not very clean, and it's hard to cut precise lines, but you can burn through 3/4″ thick plate nicely and even sever 1″ plate, if slowly. Its cut rate is significantly faster when severing a thinner gauge.
It does chew through more consumables than other plasma cutters, and they aren't the lowest-priced on the market. Looking at the machine overall, though, it's not a bad plasma cutter, especially for the price you pay.
If you need a small, affordable machine that can cut through large sections of steel and aren't too worried about a clean cut edge, the Ramsond CUT 50DX is a prime choice. However, be aware that Ramsond sends out faulty machines every so often. The company is reliable with replacements, but we recommend not buying this machine if it's so essential that you'd need a replacement right away.
Pros
Input voltage: 110/120 & 220/240
Low price range
Weight: 19 pounds
Output range: 20 to 50 amps
Dimensions: 2" x 6" x 9"
Max cut: 3/4"
Cons
Touch start
Low-quality parts
Torch lead: 10 feet
Light grip ground clamp
One-year warranty
Won't cut dirty metal
Messy cut finish
Goes through consumables fast
---
Buyer's Guide: How To Choose The Best Plasma Cutter
The technology of plasma cutters is improving year by year through companies upgrading their machines and adding better functions to enhance the performance of the cut along with the user experience.
It's always beneficial having options to choose from, but with too many options, it's hard to know what distinguishes them and why the costs can vary so significantly. We have made this buyer's guide to explain the factors we believe are important to consider and help people find the best plasma cutter for their needs.
Power source
The power sources to consider are electrical and pneumatic (air pressure). Both are essential to run plasma cutters. Some plasma cutters run on different kinds of gases, but most are pneumatic.
Pneumatic
Most plasma cutters need a separate air compressor to feed the air out of the nozzle for it to work. It's beneficial to have a separate air compressor, as the best and most affordable machines don't include air compressors in their systems. If you don't have a compressor, read our plasma cutters with built-in air compressors post to check out some machines with air compressors.
Electrical
The electrical input a plasma cutter can take is also vital to consider. Some heavy-duty cutters are 240-volt three-phase machines, but most of the smaller ones run off single-phase power points of 110/120 volts, 220/240 volts, or both.
Industrial workshops are typically the only place you'd need a three-phase plasma cutter, but for single-phase machines, it's useful to have the capacity for both 110/120 and 220/240 volts.
110/120 volts
A standard power point at most people's houses is 110/120 volts, which makes a plasma cutter with this input desirable. However, running off this many volts won't produce enough power to cut through much more than 1/4″ of metal.
220/240 volts
If you want to run 220/240 volts, you'll need a special power point put in, which costs extra. It's preferable to not require these additional costs, but if you want to cut through 1/2" plate or thicker, it's necessary. The extra price will make a significant difference in the speed and quality of the cuts.
Plate gauge to cut
Most plasma cutters will burn through any type of metal, but it's the plate thickness that determines the best plasma cutter to buy. The thicker the plate is, the more amperage you'll want your machine to put out.
Plasma cutters can cut through different gauge plates with the same amperage, depending on the metal being cut. For example, a plasma cutter that maxes out on 3/8" aluminum plates can generally cut 1/2″ stainless steel and 5/8" steel sections.
It's always better to leave some room between a machine's capability and the plate you need to cut. Cutting to a machine's limit won't usually cut well, and you won't have room to cut bigger if an odd job comes your way that requires cutting thicker severing.
Cut finish
Different plasma cutters produce different finishes. Just because a low-priced machine can cut the same gauge plate as something twice its price doesn't mean it will provide the same quality cuts.
This won't always matter if your cuts aren't for decorative purposes. However, a nice cut can save cleanup time even if the cutter is severing off sections to use in a fabricated project that will have its cut edges welded.
Regardless of what you want, determining what finish you need is an essential step for choosing a plasma cutter. This helps ensure you don't buy anything too high- or low-quality for what you need it for.
---
Types of torches to consider
Torches come in different ranges. They generally all fulfill the same purpose of burning a slice through metal, but they each take a different approach to get it done. These are the differences to consider.
Lead
The lead your torch is attached to is a crucial element of the plasma cutter. It doesn't look like it does much except connecting the torch to the machine, but it will change your experience of the plasma cutter a fair bit depending on its length and durability.
Longer leads are desirable when you want to travel to different parts of a project to cut while keeping the machine stationary. However, if you intend the plasma cutter to remain at a bench where you bring all the projects for cutting, leads won't need to be long.
The lead's quality also affects your experience. Thin or low-quality material can easily become damaged and result in an unsafe or unusable torch before too long. The highest quality lead is always the best option.
High-frequency non-touch torch
This torch creates the plasma from a small distance away from the metal you're cutting, and it cuts through the section without the nozzle ever touching your project. It has a feature called a standoff, which keeps the torch at a constant distance and can sometimes be adjusted for different heights to change the type of cut you need.
Machines with these torches produce tidy cuts and give the process precision and consistency while ensuring the nozzle remains clean by stopping it from touching the metal or dirt on your project.
Drag technology
Drag technology enables the torch to cut through metal smoothly while the top of the torch touches your project. Without drag technology, the nozzle can stick to the metal through a double arc fault during the cut process. This can either stop the momentum altogether or create an inconsistent, jittery cut that lacks precision and accuracy. It also ruins tips while creating ugly arc marks on your job.
Drag technology is excellent to eliminate this. It's the easiest way to trace lines when you're cutting for artistic or decorative projects that don't follow a straight guiding edge.
Touch start
This is the least desirable type of technology in a torch. It works by the nozzle touching the metal to create the cutting arc. It then must be lifted off the project, and often free-hand slid across the metal while accurately hovering it above the metal to finish the cut.
It can be challenging to achieve, as you need a very steady hand to keep it at the right height, and it never completes the cut with the accuracy and cleanness of the non-touch start or drag technology. Touch start torches are generally the lowest-priced buy, which is about their only advantage.
Our other plasma cutter guides:
---
Final Verdict:
In our eight reviews, there are many incredible machines to choose from. Our favorite was the Hypertherm 088079 Powermax30 XP Hand Plasma Cutter System. It can cut thick sections and do fine detailed work, with a long-lead torch made with high-quality material and a reasonable price.
The Lotos LTP5000D 110V/220V 50Amp Arc Plasma Cutter came out as our best machine for the money. Lotos didn't compromise much on quality in this plasma cutter while offering a good range of features like a high-frequency no-touch start torch and an included air filter to preserve consumables with cleaner, drier air.
We hope you have found our reviews helpful. Be sure to send us your comments and thoughts on these plasma cutters below.