5 Best Plasma Cutters under $1000 – Reviews & Top Picks 2023
Last Updated on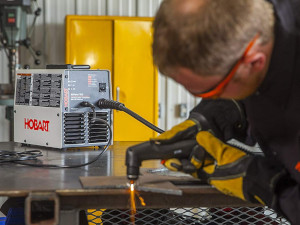 Did you know a non-touch pilot arc plasma cutter forms a 40,000° F particle within its nozzle at the click of a button, ready for air to fire it into your metal? This is an excellent feature that has made the new era of plasma cutters so effective, especially when you can pay under $1000 for one of these high-quality machines.
Our reviews reveal our five top choices for plasma cutters under $1000 online within this price range. We have tried to provide an accurate display of their good and bad aspects, and there's a buyer's guide afterward to help you through the buying process.
The Winners of our Comparison (updated in 2023)
Image
Product
Details

Best Overall

Lotos LTPDC2000D

Includes air filter regulator
Multi-purpose machine
One-year warranty
CHECK PRICE

Everlast SuperCut51P

Includes air filter regulator
Nice standoff
Three-year warranty
CHECK PRICE

Best Value

Reboot Dual Voltage

Includes air filter regulator
Affordable consumables
One-year warranty
CHECK PRICE

Weldpro 60 Amp Pilot Arc

Amp range: 20 to 60 amps
2T & 4T modes
Two-year warranty
CHECK PRICE

Hobart Airforce 12ci

Max cut: 3/8"
12" leads
Five-year warranty
CHECK PRICE
The 5 Best Plasma Cutters under $1000
1. Lotos LTPDC2000D Plasma Cutter – Best Overall
The Lotos LTPDC2000D 200-amp multi-purpose machine is a favorite among many with its capabilities to TIG and stick weld, along with a 10- to 50-amp cutting output range. Its size and weight are remarkably small for what it's capable of. It's a quality plasma cutter that surprisingly holds its place against other machines more specific to just plasma cutting.
It does have a six-foot ground lead, which is a bit short for our liking, and the standoff design on the cutting torch lacks the multi-contact point range others have to give the necessary stability as it slides. But the fact that it has a non-touch pilot arc means it's easy to start cuts. It remains consistent through the process regardless of variations in the material, dirt, or coatings on the metal.
We highly recommend this machine. It's a top-notch plasma cutter that serves both hobbyists and light industrial workers well.
Pros
Clean cuts through rusty/painted metal
Non-touch pilot arc
13-foot torch lead
Amp range: 10 to 50 amps
Max clean cut: 1/2″
Max sever: 3/4"
Compact design – 17" x 8" x 12.5"
One-year warranty
Weighs 32lb
Includes air filter regulator
110/120 & 220/240 volt input
Multi-purpose machine
Cons
Six-foot ground lead
Poor standoff design
---
2. 2017 Everlast SuperCut51P Plasma Cutter
The Everlast SuperCut51P can make a clean cut through a slightly higher range of material thickness than the Lotos LTPDC2000D multi-purpose machine. Its warranty lasts two years longer, and the standoff is much better for its non-touch pilot arc cutting.
What we didn't like, which brought it down to 2nd place, is that it's slightly more expensive without the additional welding capability. It's a little more lightweight duty-wise, and it struggles to cut more than very light steel when it's run off a 110/120v input.
This is a lighter and smaller machine with a much longer ground lead which makes an excellent cut up to 5/8″ from 220/240v. It will serve you well if you don't want the additional welding gear and will be running it off higher voltage.
Pros
Amp range: 15 to 50 amps
Non-touch pilot arc
15-foot torch lead
12-foot ground lead
Max clean cut: 5/8"
Max sever: 3/4"
Compact design – 15" x 7" x 11"
Three-year warranty
Weighs 24lb
Includes air filter regulator
110/120 & 220/240 volt input
Nice standoff
Cons
Not suitable for industrial use
Struggles to cut from 110/120v
---
3. Reboot 110/220V Dual Voltage Plasma Cutter – Best Value
We concluded that the Reboot Plasma Cutter 50Amps is the best buy for your money. The leads are a bit short, and it isn't designed for industrial use. However, for anyone needing to do some cutting at home, this slices an excellent cut through 1/2″ plate and can sever 3/8″ material when necessary.
Reboot offers a 30-day money-back guarantee if you're not happy with it, which is helpful if you want to check out what it's like without being bound to it right away after the purchase. The consumables cost much less than what other machines use, and they last a while in the machine before needing to be replaced.
This is a very economical plasma cutter and would suit any hobbyist needing a reliable machine to cut up to 1/2″ clean sections at a low price.
Pros
Weighs 21.6lb
110/120 & 220/240 volt input
Max clean cut: 1/2″
Max sever: 3/5"
Amp range: 15 to 50 amps
Compact design – 19" x 13.5" x 11"
One-year warranty
Includes air filter regulator
Affordable consumables
Cons
Not suitable for industrial use
6.5' torch lead
6.5' ground lead
---
4. Weldpro 60 Amp Pilot Arc Plasma Cutter
Weldpro's 60 Amp Inverter is a reliable machine that cuts well up to 1/2″. It has a contact pilot arc start, which is useful for cutting plate that isn't uniform, but it requires contact between the tip and the metal, which is less desirable than the non-contact pilot arc start torches.
It comes at a reasonable price and offers a two-year warranty, but we don't like the torch design, including the standoff it comes with. It also takes much more power input to make its cuts than other machines, which makes it a less economical option. However, the choice of cutting with 2T or 4T is handy when you want to cut without holding the trigger, so you can focus more on guiding the cut along rather than squeezing the trigger.
It's a good machine for light work, but we recommend paying less for the Lotos LTPDC2000D multi-purpose machine and getting more for your money.
Pros
Two-year warranty
110/120 & 220/240 volt input
Max clean cut: 1/2″
10' to 20' leads
Amp range: 20 to 60 amps
2T & 4T modes
Cons
Not suitable for industrial use
No air filter regulator included
Poor standoff design
Difficult to find consumables
---
5. Hobart 500564 Airforce 12ci Plasma Cutter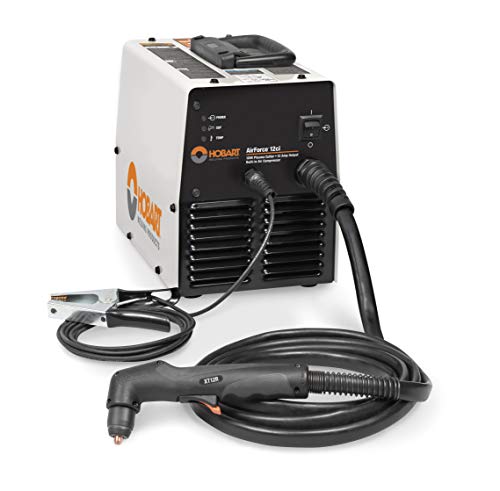 We were slightly disappointed with Hobart because of this machine. It usually puts out some excellent products, and the Airforce 12ci is okay, but it's fallen below what we expected from this brand for a plasma cutter.
It isn't a bad machine, but it doesn't live up to Hobart's otherwise impeccable name with top-notch products. It can cut up to 3/8″, but it's slow with all its cuts, as it doesn't have the best air compressor inside it to create enough pressure. However, the fact that it has a built-in compressor makes it desirable. It's just a shame it doesn't work as well as other plasma cutters with built-in air compressors.
It's a good deal for the money, considering that it has a five-year warranty and you don't need anything additional to run it except an electrical power point. If you're considering buying this machine, be aware it takes a bit of practice to master the technique required to cut due to the lack of air pressure.
Pros
Five-year warranty
Weighs 21.4lb
12″ leads
Max cut: 3/8"
Cons
Not suitable for industrial use
No air filter regulator included
Poor standoff design
Only 110/120 volt input
12-amp output
Slow
---
Buying Guide: How to Select the Best Plasma Cutters Under $1000
There are slightly fewer plasma cutters under $1000 compared to those that are more pricey; however, the range still varies significantly in features.
This buyer's guide outlines what to consider about plasma cutters based on their power source, plate cutting capacity, torch, and cut finish.
Power source
Smaller hand-held plasma cutters have the capacity to run from a 110/120v or 220/240v power source, or both. Standard household power points are 110/120v, but every house has the capacity for 220/240v power points, and many places already have them set up.
110/120 volt
Plasma cutters that run off 110/120v cost less to run and produce as nice a cut as a 220/240v machine, but they can only cut up to about 1/4" thick plate and sometimes require a larger circuit breaker to run higher amperage.
220/240 volt
Running off 220/240v is necessary for heavier cuts. The amperage range increases, providing more diversity for cutting options, but it's more expensive to run these plasma cutters. The plugs and power points are different than for 110/120v. Sometimes the machines come with adapter plugs. It's also not too difficult to get power points changed over to suit, and the results are worthwhile.
Plate cutting capacity
A plasma cutter's ability to cut a particular plate is the primary consideration in determining which one to buy. The range of prices, types of torches, and the finishes they leave are important to think about, but ultimately if cutters can't cut the gauge plate you need, they're not worth buying.
They range from low-amp machines that specialize in severing thin material to high-amp machines that are designed to cut thick plate. It can be good to focus on one or the other if that's all you cut, but there are machines like the Hypertherm Powermax 30 that cut plate at both ends exceptionally well and are useful when you need a variety of cutting options.
Torch
Torches can differ in the comfort of the handle and the length of the lead. More expensive plasma cutters generally come with more comfortable torches, but you can find lower-priced options like the Mophorn 40 Amp plasma cutter that have comfortable grips too. This tends to be the feature that's least worried about in torches, unless you're cutting for long periods each day.
The length of the torch lead makes a big difference if you're doing numerous cuts over an extended range, as it saves time by not needing to move the plasma cutter so often. It also means you can reach awkward spots more easily by not requiring the machine to be close to you all the time.
Cut finish
Every plasma cutter can sever metal within its tolerance range, but some do a much tidier job. This is often where the price difference comes in. A nicer finish is harder to produce, but it's necessary for some jobs and speeds up the whole process by saving cleanup time.
Cutting plate with a thickness less than a machine's maximum capacity will always give a better cut finish. However, the type of plasma cutter, type of torch, and consumables used make a big difference between a smooth slag-free cut and one that lacks accuracy and makes jagged edges.
Conclusion:
In the range of plasma cutters under $1000 found online, the Lotos LTPDC2000D Non-Touch Pilot Arc Plasma Cutter/Tig/Stick Welder 3 in 1 Combo Welding Machine is our top pick. It's an excellent plasma cutter available with a TIG and stick welder included.
We also liked the Reboot Plasma Cutter 50Amps 110/220V Dual Voltage Compact Metal Cutter AC 1/2″ Clean Cut Inverter Cutting Machine as a lighter machine that offers the most for your money. For what it costs, it's a brilliant little plasma cutter.
We hope you have found help through this article. If there is anything else you would like to know, please feel free to write it below in our comment section, and we will do our best to get back to you as soon as possible.
Also worth reading: How hot does a plasma cutter actually get?