40 Welding Projects for Trucks to Try Today (With Pictures and Videos)
Last Updated on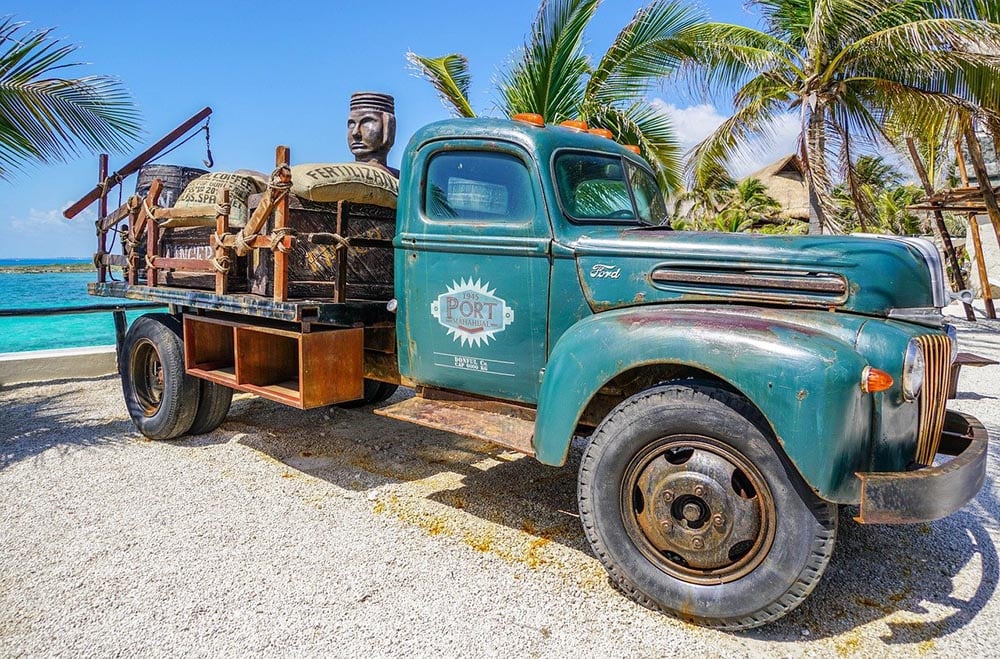 Whether you have a truck, jeep, trailer, or all three, vehicle modifications can be challenging to install but far less expensive than a professional installation. On the flip side, it's also more fun! We have everything here from bike racks to campers that can fit on your truck or trailer. Take a look and see what can make your next road trip more enjoyable!
The 40 Welding Projects For Your Trucks Are:
1. Aluminum Flatbed
Aluminum is an obvious choice for a flatbed truck due to its light weight. If you were lugging around a steel flatbed, you could expect your gas mileage to go up a bit. This project is ideal for converting your truck to a mobile welding setup.
---
2. Rust Hole Repair
If you've ever had a leak in your vehicle, there might be a rust hole somewhere. For the holes you see, you can wire wheel off all the rust and cut back the damaged metal to where it is still solid. Ensure that your edges are straight, patch it with new sheet metal, and weld it.
---
3. Truck Tire Step Tool
If you're less than a little vertically gifted, you may have difficulty reaching for things. That can be incredibly frustrating when you're trying to wash your truck or need access to the top. This little tire step stool slips right over your wheel. It's relatively easy to make since the fit-up is all right angles.
---
4. Bumper with Deck
Take a look at this customized bumper that is heavy-duty enough to pull a dump truck. If you have a vehicle stuck in a ditch, this bumper is up to the task, provided the pulling vehicle has enough horsepower to tow it. It even has a diamond plate deck (for better traction), so you can stand up higher while looking under the hood.
---
5. Steps for Rock Sliders
One of the problems with some Jeeps and other four-wheeling vehicles is that the rock sliders have no center support. You take it on one outing, and they can get dinged up pretty badly. These custom steps for your rock sliders will ensure you can step confidently as you get in or out of your ride.
---
6. Truck Toolbox
What better way to organize your tools on your truck than this toolbox? You'll notice that he does some things a little less conventionally. For example, use angle iron for the lip instead of flat bar so you don't have to weld so much. But overall, it's a decent design that will help keep your tools in one place.
---
7. D-Ring and Front Bumper
To prevent damage to the bumper, the designer anchors the D ring using a piece of round stock directly into the tube. This bumper is an excellent addition to a tractor or truck and is similar to the truck toolbox above. There's not too much welding involved in this project.
---
8. Hot Rod Pickup Truck
Low heat input on a welder allows you to weld certain objects that larger and more powerful welders can't offer. For example, this little hot rod truck was welded with a 110 Lincoln MIG welder. It can handle the thin gauge material. You'll be amazed at what you can make with scrap and sheet metal.
---
9. Repairing Fuel Tank
These days it takes forever to get the parts you need for vehicles, and it's expensive. So, if you have a leaky fuel tank, repair it yourself. The dimensions of your patch will all depend on where your tank is damaged.
---
10. Steel Fenders for Trailer
Many flatbed trailers have exposed wheels; while it's not entirely necessary, it's good to have more protection. These fenders are made of frames of tube steel. The two ends have mitered cuts, and the skins are made of diamond plate.
---
11. D-Ring Hitch for Pickup
A great way to enhance the use of your pickup truck is to build a stronger hitch. We've already seen some D-ring attachments for bumpers. This one is removable and is made out of tube steel. A hole is drilled through both sides of the tube so the hitch can attach.
---
12. Chain Running Boards
It's amazing how chains, even though they are made of metal, can flop around. But what's equally stunning is how tacking each link together can make all the links into a solid piece of metal. Have no fear! These chain running boards offer excellent support as you step into your truck.
---
13. Welding D-Rings
One thing to know about D-rings is that they are cast parts. In general, you can damage the structural integrity of a cast part if you even have a slight arc strike on it. Weld the clips not directly to the bumper or main structure but first to a piece of plate. This way, the load will pull not directly on the weld but on the plate.
---
14. Truck Toolbox
For this one, you'll need a sheet metal bender. If you can get access to one, you'll be able to make this sleek toolbox that fits right under your flatbed. You won't have to weld it directly to the truck. You'll drill holes and mount them with fasteners.
---
15. Utility Box
This backpack box can be installed across the frame of your truck bed. What's great about this project is that you can fit larger equipment inside, such as gas cylinders, torches, leads, air compressors, etc. You'll want to be sure to install weather stripping to protect sensitive equipment.
---
16. Custom Metal Pickup Truck Half Rack
This half-rack addition is the way to go if you want to make your truck functional without it looking like a full-on work truck. It's subtle enough for the truck's aesthetic but will help you tie down equipment and store tools if needed.
---
17. DIY Overland Bed
There's not a lot of wiggle room for bad measurements on this one because of how the rack angles down to mount to the bed. This gives you more options for mounting equipment and materials than a half rack since this one is larger.
---
18. Exhaust Upgrade
Want to make your truck purr? Check out this exhaust upgrade with a much larger resonance chamber. We can't speak to how this will impact your fuel economy, but it sounds pretty sweet.
---
19. What NOT to Do
This project will remind you not to weld on wheels. Don't emulate the welder in the video who gets blown to smithereens. Any additions to wheels should not involve welding directly on them.
---
20. Pipeline Style Bed Build
This just goes to show that there is not a one-size-fits-all solution to building a welding bed. The gas bottles in this project are mounted sideways. You might find it's better to mount your bed vertically, especially if you have acetylene.
---
21. Welding Rig Flatbed F150
The great thing about flatbeds is that they are so customizable depending on how you will use them. If you're going to lug materials around, just strap them down. If you want to use it as a welding truck, you can cut parts out of the diamond plate to mount your equipment directly to the frame.
---
22. Aluminum Camper Frame
Aluminum is relatively lightweight, which is exactly what you want if you're tugging around a camper. With large frames like this, it's essential to watch out for heat distortion. Be sure to stagger your welds.
---
23. Jeep Bumper Kit
Replace a bulky bumper with this bumper kit that's easy to weld. It's sturdy and can bear a decent load, but at the same time, it's rather sleek. Before making the final welds, you'll need to check if the holes on the kit align with the ones already on your vehicle.
---
24. Bumper Crack Repair
Maybe you don't want a whole new bumper. You could take your vehicle to the body shop or give it a go on your own. It might surprise you that you don't have to arc weld to fix this. Just use some JB Weld, which has a tensile strength of 5020 PSI!
---
25. Coastal Offroad Front Bumper
Off-roading is fun if you are properly equipped. If you're not, it can be expensive to repair significant damage to your vehicle. That's why a high clearance bumper is important to have; you will save some money on repairs and be better prepared.
---
26. Patching Pickup Bed
If you want to patch your bed perfectly, be sure that your patch is exactly the right size. However, it's better to overshoot a little bit, meaning you should cut the piece slightly bigger. If you cut it too small, you might have trouble welding larger gaps.
---
27. Service Truck Bed
From the looks of it, it seems like a decent truck with a great setup for welding on the back. But believe it or not, you can take this apart and attach the bed to a trailer for more versatility.
---
28. Utility Rack
The nice thing about this utility rack is that you have pretty easy access to the bed of your truck from both sides. There's nothing too complicated about the materials or the design since it's all made of tube steel and flat bar. It will be easier to install if you already have racks on both ends of your bed.
---
29. Trailer Hitch Receiver
When you install a hitch receiver, how you weld it will depend on where you mount it. You need to get some decent welds on it. In this video, you can see how he had to cut recesses into the flanges of the c-channel in order to fit the receiver flush with the web.
---
30. Tailgate Bench
So, this won't necessarily go on your truck, but if you have an old tailgate lying around, you can make this bench. The metal for the seats is about structural integrity. Don't be afraid to add some cushions if you need them!
---
31. Tailgate BBQ Grill
Nothing screams tailgating more than grilled steaks! Ditch the gas-powered camp stove and build this barbeque pit which you can attach to your trailer hitch.
---
32. Tailgate Ladder
There's nothing more embarrassing than trying to climb up over a ledge. You start pulling yourself up and inching over onto the surface. Aside from sparing you some embarrassment, this ladder will help you save your back and knees if you are getting in and out of the bed of your truck. It folds back onto the inside of the tailgate for easy storage.
---
33. Travel Trailer Lock
An easy target for theft is a freestanding trailer that is unattended. If you can lock the hitch, even if it's not attached to your truck, you can feel free to venture away from it. The housing which forms the lock is made from a piece of tube steel and a hinge. The lock itself is a War-Lok puck lock which you can see is installed with relative ease.
---
34. Trailer Ramp
Don't break your back by lifting all your heavy equipment into your trailer. If it has wheels, you should be able to roll it in! Build a simple frame with tube steel according to the dimensions of your trailer. The hinge on the trailer is made of a piece of angle iron and several sections of pipe. There are two pieces, one on either side of the ramp, which fit into the pipe on the trailer.
---
35. Trailer Siderails
It's nice to have extra security on the side of a trailer, especially if you are hauling heavy equipment. Using this design with angle iron allows you to reap the benefits of having a flatbed.
---
36. Winch Mount
Winches are great for off-roading and are almost a safety necessity for your 4×4 vehicle. However, they also come in handy for other projects. This video shows you how to mount a winch onto your trailer. Transfer the mounting hole pattern from the winch to a plate which is then welded to a piece of tube steel that attaches to a hitch on the trailer.
---
37. Hitch Bike Rack
If you only need to carry one bike at a time, then this discreet bike rack is for you. You won't need to remove it whenever you're looking for parking because it's too bulky. It attaches directly to the trailer hitch.
---
38. Wedge Camper Shell
If you saw this camper shell resting on the back of a truck and someone told you that you could sleep in it, you would probably protest. However, when opened, it reveals a cozy yet spacious tent.
---
39. Trailer Hitch Cargo Carrier
If your truck bed is full and you don't want to lug around a trailer, this trailer hitch cargo carrier will do just fine. This would be perfect for carrying around a lawn mower (properly secured).
---
40. Generator Trailer
Having a generator at your disposal is invaluable. There's no need to leave it at home and wait for the power to go out. Take it with you easily with this little trailer made from tubing and plate.
---
Conclusion
Whether you like to stay close to home or go off-roading, you should make your truck work for you. However, given that many of these additions will be pulling heavy loads, it's imperative that you know what you're doing when it comes to welding. A "little experience" doesn't cut it, especially when dealing with D-rings, winches, or other heavy load-bearing devices.
Other projects that you can try:
---
Featured Image Credit: Michelle Raponi, Pixabay