What is a Typical Welding Salary in Ontario? (2023 Update)
Last Updated on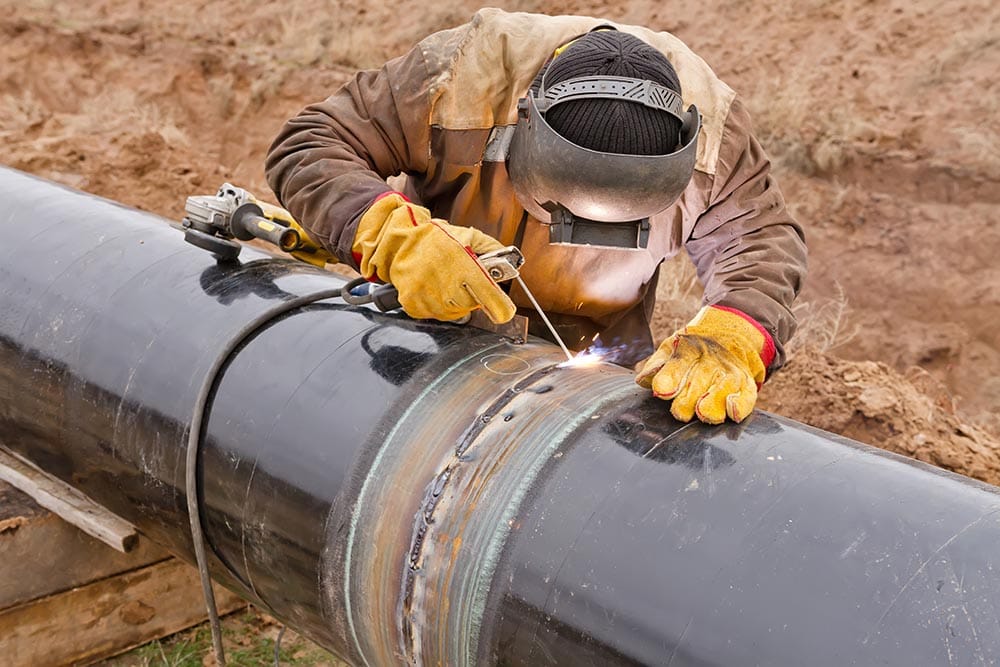 Welding salary is always a hot debate amongst welders or those who want to get into welding. Ontario is one of the best places to be a welder in Canada. It is a province in Canada located in the north-central part of the country. Also, it's on the eastern side of Lake Ontario and the St. Lawrence River. Welders are employed in many industries in this province.
If you live in Ontario, it's crucial to know the average salary for welders. This way, you can decide if this is something you want to pursue as a career choice.
We will provide you with an overview of the typical welding salary in Ontario. Also, we will make a few suggestions on getting started as a welder here. So, without further ado, let's get right into it!
---
Average Welding Salary in Ontario
The average salary for a welder in Ontario is $49,480 per year. It is one of the best-paying trades in the province.
If you get into the welding industry as an entry-level welder, you'll make $29,401 per year. That's equal to $14.14 per hour or $2,450 every month. But, as you gain more experience in the welding field, you'll command a higher salary.
You may not think welding in Ontario pays well, but it does if you are qualified. The good news is that many entry-level jobs are available for beginners with little experience.
Let's look at the breakdown of welding salaries in Ontario.
Hourly Wages
Ontario has a wide range of welding and fabrication companies. There are many modes of payment for welders in Ontario.
Some welders receive their pay per hour. The average hourly salary for welders in Ontario is $23.44.
Daily Earnings
The average daily salary for welders in Ontario is $238. It depends on the hours a welder works in a day. So, it can vary slightly.
Weekly Salaries
The average welding salary in Ontario is $905 per week. On the other hand, an entry-level welder makes less than the average, which amounts to $565 a week.
Monthly Salaries
The average monthly welding salary for welders in Ontario is $3,503. A welder's salary also depends on the education level, location, and years of experience. We'll discuss that later in this guide.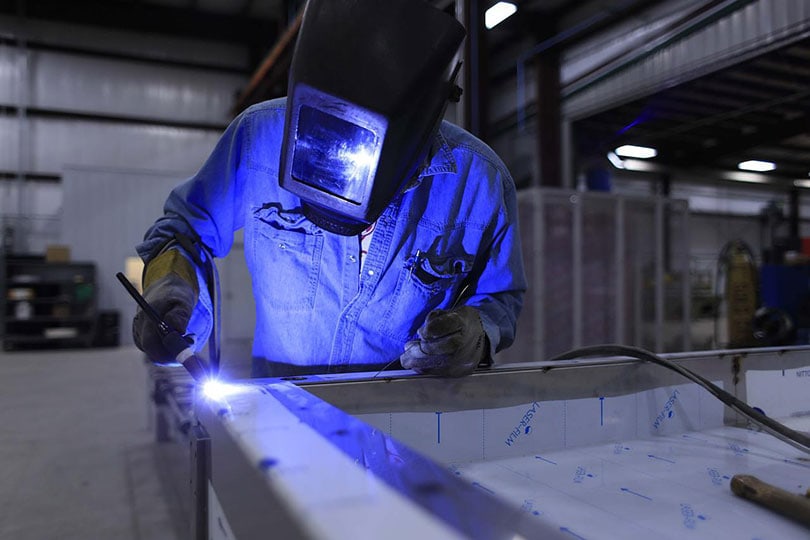 8 Highest-Paying Cities for Welders in Ontario, Canada
When looking for a job, there are plenty of factors to consider. What are your qualifications? What kind of salary can you expect?
But one thing that often gets overlooked is location. The same applies to welding. Some regions pay better than others.
If you're a welder looking for employment, you can explore some of these highest-paying cities in Ontario, Canada. Take a look!
| | | | |
| --- | --- | --- | --- |
| City | Hourly Average | Daily Average | Annual Average |
| Milton, Ontario | $27.84 | $283 | $58,774 |
| Hamilton, Ontario | $26.15 | $266 | $55,204 |
| Brampton, Ontario | $24.71 | $251 | $52,161 |
| Mississauga, Ontario | $24.33 | $247 | $51,360 |
| Guelph, Ontario | $23.66 | $240 | $49,948 |
| Brantford, Ontario | $22.88 | $232 | $48,304 |
| Woodstock, Ontario | $22.82 | $232 | $48,173 |
| Stratford, Ontario | $21.71 | $220 | $45,815 |
How Much Do Various Types of Welders in Ontario Make?
There are many types of welders in Ontario. Knowing more about the types of welders will help you determine the difference in their salaries. This way, you can specialize in a welding type that's suitable for you.
Here are several types of welders and how much they make.
Ironworker
In welding, an ironworker fabricates welded structures. They design and create welded structures like pipelines, bridges, and ships. They must be skilled in welding with ferrous metals such as steel and iron.
The average salary of an ironworker in Ontario is $32.20 per hour.
Pipe Welder
A pipe welder specializes in welding iron pipes and other metal objects. Usually, they work on large projects in industrial or commercial settings. They install and repair pipes and large pieces of equipment.
Pipe welders are some of the highest-paid welders in Ontario, receiving $29.43 an hour.
Structural Welder
A structural welder joins two pieces of steel or iron together to form a strong, longer-lasting structure. The average hourly wage of a structural welder in Ontario is $25.62.
MIG and TIG Welder
A MIG and TIG welder uses TIG and MIG welding processes when welding. The average TIG and MIG welder salary in Ontario is $23.04 per hour.
Union Welder
A union welder is a specialist who works with various metals. Usually, union welders work for a company.
Union welders in Ontario receive $24.04 per hour.
Underwater Welders
Underwater welders repair underwater structures. They are often called wet welders or underwater welders. The average underwater welding salary in Ontario is $49.54 per hour. They're the highest-paid welders in Ontario. Usually, it's because their work involves working in harsh and risky conditions.
Production Welders
A production welder is highly skilled in production welding, a vital manufacturing process used in many industries. Production welders in Ontario make $22.22 per hour.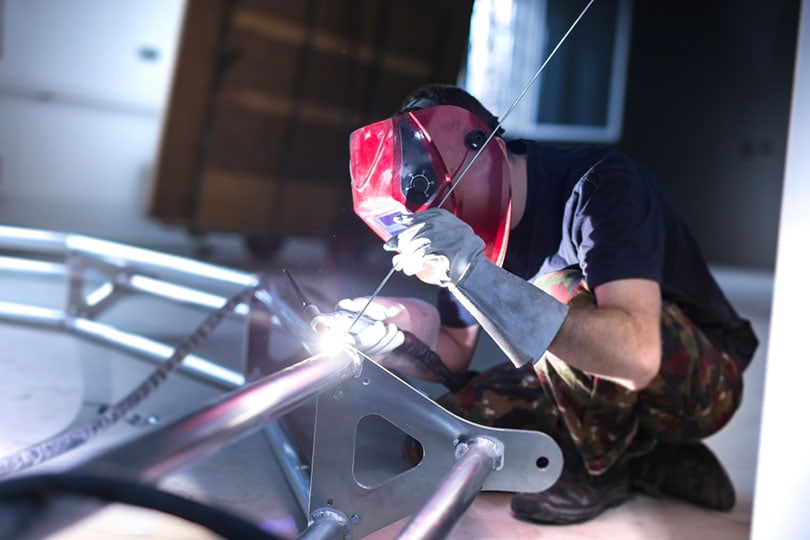 ---
Ways to Increase your Salary as a Welder in Ontario
There are many ways your salary as a welder can increase. If you're a welder with a good welding background, you're on your way to earning a good salary.
You may not be making a lot of money yet, but you can earn more by taking the right steps and working hard. Here are several things that can increase your welding salary.
1. Experience
Your years of experience can increase your salary. If you have many years of experience, it means you have been working in the field for a long time. You can negotiate for a higher salary than what is offered by most companies because of your experience.
Here's a table showing welding salaries in Ontario, depending on the experience level.
| | |
| --- | --- |
| Years Of Experience | Average Hourly Salary |
| 1 to 4 years (Early Career) | $20.20 |
| 5 to 9 years (Mid-Career) | $23.87 |
| 10 to 19 years (Experienced) | $24.49 |
| 20 years and more (Late Career) | $26.85 |
---
2. Taking an Apprentice Program
The best way to increase your salary as a welder is by taking an apprenticeship program. Apprenticeship programs are designed for welding students who want to become certified welders.
They offer students an opportunity to learn the trade from experienced professionals. If you are interested in becoming a welder and earning more, consider taking an apprenticeship program today!
---
3. Get a Degree in Welding
Welding is a challenging skill to master, but you can do it. If you want to make more money as a welder, get a degree in welding.
The best way to do this is to go to school and earn an associate's or bachelor's degree. This way, you can get your foot in the door and start making more.
---
4. Improve Your Welding Skills
Improve your welding skills if you want to increase your salary. It'll make it easier for you to find work and also help you get better pay.
You can improve your welding skills by taking extra classes and watching tutorial videos. Also, you can find a mentor who will guide you and advise you on what to do.
---
Do Welders Receive Benefits and Bonuses?
Yes, welders in Ontario get benefits and bonuses. There are different types of benefits depending on their position at work and where they work. One crucial benefit is health coverage. It includes medical, dental, and vision coverage in case of illness or injury while working at a job site.
Some firms offer welders benefits such as paid vacation and health insurance. Usually, bonuses are given based on performance.
How to Become a Welder in Ontario
If you want to become a welder, the first step is finding a welding school in Ontario. Welding schools are located across the province, offering courses in welding, pipefitting, and maintenance. You can find courses offered at colleges, universities, or technical institutes.
After that, you can take two-year apprenticeship programs and get hands-on training while working full time.
The next step is finding a job as a welder. The best way to do this is by contacting employers directly. You can also search for jobs from a local newspaper or employment agency.
---
Final Thoughts
Welding is a career option that pays well, both in the long and short run. But those who take up welding must be aware of the hard work. But having a steady income and job security is worth all the hard work that comes with it. We hope that this guide has been helpful to you if you're considering a welding career in Ontario.
One final piece of advice stands out: be sure to keep learning. Welding is an ever-changing field full of innovations. Pay close attention to new technologies if you want to stay in this field for the long haul.