6 Best Welding Jackets of 2023 – Reviews & Top Picks
Last Updated on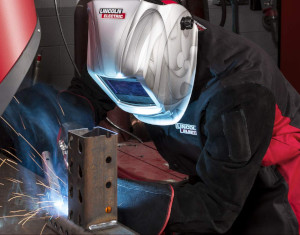 Welding arcs produce an intense UV ray that burns the skin more severely than the sun and can peel your skin off with overexposure.
This is where welding jackets come in, and we have six reviews of the top jackets for welding available online. From 100% leather jackets to flame-proof cotton jackets, and a range of mixed material jackets, we hope you find help determining which are the best and why.
---
A Mini Comparison (Last updated in 2023):
Image
Product
Details

Best Overall

QeeLink Leather

Low to medium price range
Material: split cowhide leather
Adjustable collar and cuffs
CHECK PRICE

Black Stallion Leather

Low to medium price range
Adjustable collar
Kevlar stitching
CHECK PRICE

Best Value

BSX Cotton

Low price range
Body material: flame-resistant cotton
Internal pockets
CHECK PRICE

Lincoln Leather Sleeved

Medium price range
Body material: flame-resistant cotton
Anti-static/anti-mildew coating
CHECK PRICE

Steiner 1260-L Weldlite

Low to medium price range
Body material: flame-resistant cotton
Sleeves: cowhide leather
CHECK PRICE
The 6 Best Welding Jackets:
1. QeeLink Leather Welding Jacket – Best Overall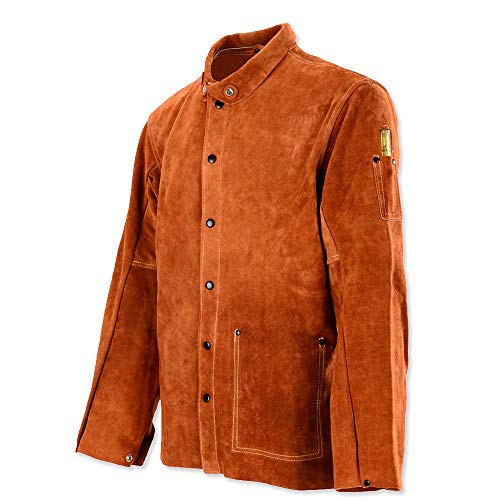 We believe the QeeLink Leather Welding Work Jacket is the best one available online. It can get hot if you're welding outside in the sun or it's a hot day in the workshop, but it provides the best protection for every kind of welding, including overhead and vertical stick positions.
It's made from split cowhide leather and sewn entirely with strong Kevlar stitching, so no seam comes undone and no joint is penetrated by welding heat and spatter. The multiple pockets are handy for storing tools or consumables as you weld. If you're not 100% satisfied with the jacket, QeeLink will offer you a full refund.
Pros
Low to medium price range
Material: split cowhide leather
Tool pockets
Adjustable collar and cuffs
Kevlar stitching
Heavy-duty
100% refund if you're not happy
---
2. Black Stallion Leather Welding Jacket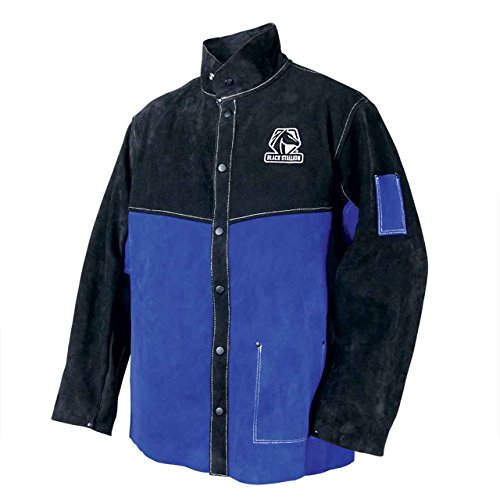 The Black Stallion JL1030-BB jacket doesn't quite match the standards of the QeeLink jacket, but it does come in a close second as a heavy-duty, good-looking coat. It's also made entirely out of split cowhide leather, but it's made with a blue dye to change the natural look, unlike the QeeLink jacket.
Its shoulders are internally lined with satin to ensure it's easy to slide on and off. The adjustable collar gives the protection you need when excessive spatter shoots scalding blobs of metal towards your neck.
This jacket is a little hot to wear and has no cuff adjustments, but it's offered at a low price and is made to last for every kind of welding. Some people like it so much they use it as a casual jacket in the outdoors or on winter days, even when they're not welding.
Pros
Low to medium price range
Material: split cowhide leather
Tool pockets
Adjustable collar
Kevlar stitching
Internal pocket and external scribe holder
Satin-lined shoulders
Heavy-duty
Cons
Hot to wear
No cuff adjustments
---
3. BSX Cotton Welding Jacket – Best Value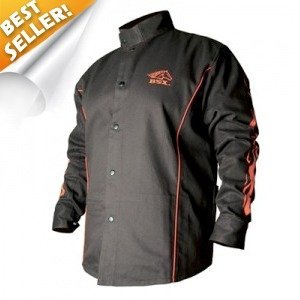 The BSX BX9C welding jacket is different from your typical leather version. It doesn't have any leather in it, and isn't made for overhead welding or any other scenarios with heavy spatter, but it's one of the lowest-priced jackets available. It gives good coverage for general welding while ensuring you don't heat up in the summer.
It's lightweight and easy to put on and take off, and there are internal pockets along with spots to store your scribes when there's nowhere to place them or you need them on you. It's made from flame-resistant cotton and is a good option for anyone on a low budget who wants a decent lightweight jacket for general welding use.
Pros
Low price range
Body material: flame-resistant cotton
Internal pockets
Lightweight
Cool for summer
Comfortable
Cons
Thin
Not ideal for heavy spatter
Light-duty
---
4. Lincoln Leather Sleeved Welding-Jacket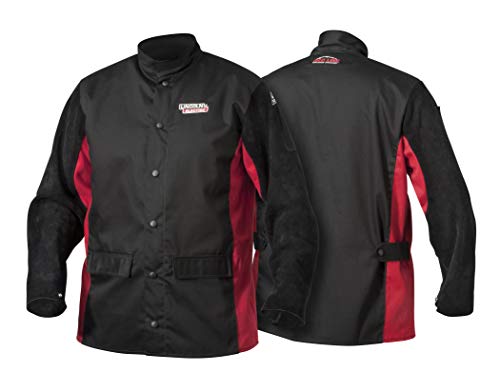 The Lincoln Electric Split Leather Sleeved Welding Jacket is a mix of both the traditional leather jacket and lightweight summer versions like the BSX welding jacket. It has a flame-resistant cotton body for a refreshing, lightweight feel, with high-grade split cowhide leather arms for full protection from spatter and intense welding heat.
It doesn't shield as well as a full leather jacket. This is a medium-duty jacket, but it's a worthwhile choice to consider for balancing shielding properties with weight, heat, and comfort. It's also been sprayed with an anti-static and anti-mildew coating to ensure it lasts and doesn't become a fire or health threat with the cotton material it contains.
An adjustable strap runs around the waist section to adjust the size or keep excess material out of the way while you're welding. Overall, we recommend this Lincoln jacket as a quality middle-of-the-range coat.
Pros
Medium price range
Body material: flame-resistant cotton
Anti-static/anti-mildew coating
Tool pockets
Anti-spatter multi-liner
Adjustable size strap
Cons
Not ideal for overhead welding
Medium-duty
---
5. Steiner 1260-L Weldlite Welding Coat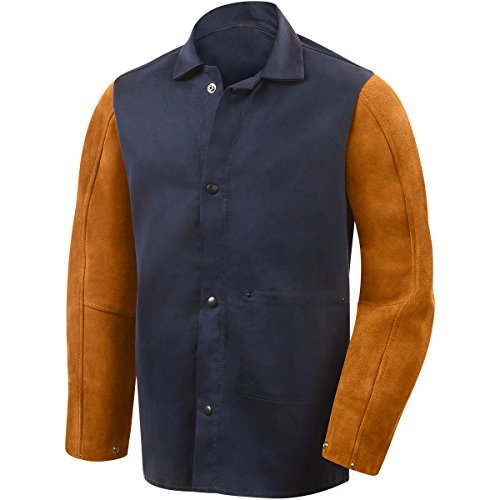 We like the look of Steiner's 1260-L Weldlite jacket, and its design works well for its purpose. It has leather arms and a flame-resistant cotton body similar to the Lincoln Electric jacket, but it has a more tailored style.
The collar doesn't give as much coverage as other welding jackets, and there's only one internal pocket and no external pockets. You don't want to run overhead welds with it, but it will protect you from any spatter landing on your arms, and against a fair amount of heat exposure to your body.
It's a good jacket within its range and is suitable in both winter and summer with its unique mix of materials.
Pros
Low to medium price range
Body material: flame-resistant cotton
Sleeves: cowhide leather
Attractive
Cons
Not for overhead welding
One internal pocket
Medium-duty
---
6. Miller Electric 2241909 Welding Jacket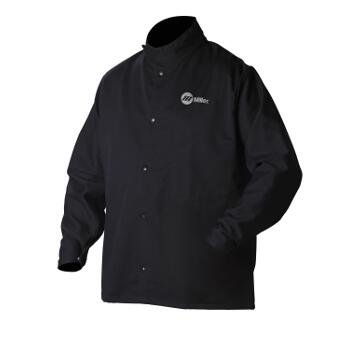 Last on our list is the Miller Electric 2241909 Welding Jacket. We weren't overly impressed with it, considering it bears the Miller name. However, for a lightweight coat, it's better than many other options. The collar covers your neck well, and when the cuffs are buttoned up, there isn't much that can sneak through onto your skin.
The material is thinner than we would like, so it doesn't take much to burn through it. The quality could be better, and it needs another internal pocket or two as one doesn't suffice. But for its price and as a welding jacket not designed for heavy-duty use, it works well.
This isn't our favorite welding jacket out of the range, but compared to others, it's a good jacket to consider.
Pros
Low price range
Body material: cotton and nylon
Lightweight
Good collar and cuff coverage
Cons
Not ideal for heavy spatter
One internal pocket
Light-duty
Thin material
Low to medium quality
---
Buyer's Guide: How to Choose the Best Welding Jackets
When buying jackets online, there are a few differences that are useful to consider before you choose. These are the qualities that make the most significant difference.
Spatter and heat resistance
Consider a jacket's resistance to heat, flames, and welding spatter. This is the main purpose of a welding jacket, but your choice doesn't always have to be the most resistant option.
If you're doing overhead welding, galve welding, or anything that produces lots of spatter as stick welding can, buy a jacket that's entirely leather or close to it. However, if it's summertime or you're concerned about the weight and feel of a leather jacket, buying a flame-resistant cotton coat or a mix between the two can work as well. It will never protect you as well if it has large sections of cotton, but it can do a sufficient job nonetheless.
Weight
A jacket's weight also differs depending on the material type. While leather jackets shield better, they're much heavier, which some people don't like. A cotton jacket, or one that's a mix of cotton and leather, will ensure you have some protection but don't have to wear such a substantial coat.
Look
Some welders don't mind what they look like, but you may prefer a particular look for your jacket. Welding coats come in different colors, styles, and shapes. Not every kind of jacket with the protection and features you need in a coat will have a look you like, but there is a wide range of jackets, and you should be able to find a good-looking product among them.
Feel
The feel of jackets differs depending on the internal lining, the design of the cuffs and collars, and the style of the jacket's cut. A jacket like the Steiner Weldlite jacket has a slimmer tailored fit that's snug and feels more like a casual jacket than one you work in.
Other 100% leather jackets like the QeeLink welding jacket feel more like a hard-wearing material, but they mold to your shape over time. There are also jackets with internal linings, like the Black Stallion jacket, which are still leather but have a satin inner lining that's softer and more comfortable to put on and remove.
Whatever you prefer, there is a different feel in every jacket, and it's important to consider, especially if you're wearing the coat every day.
Quality
You won't pay a low price for the highest quality jacket, but you can pay a small to medium price for some quality options. The quality differs in the material being used and the stitching that joins it.
High-grade leather is a quality material that lasts a long time, but without strong stitches, it's no better than a cotton coat. Jackets that have been sewn with Kevlar stitching will usually outlast other sewn coats.
Cotton and mixed material jackets are generally lower-quality materials for a welding jacket; however, if they're made well, they can last. Some jackets like the Lincoln Electric sleeved jacket are sprayed with anti-static and anti-mildew chemicals that make them last much longer than other cotton jackets.
Considering the quality of the jacket you purchase will make a significant difference in how long it lasts. Paying for higher quality tends to save you money in the long run, as these jackets last a long time and don't need to be replaced frequently.
---
When welding you also want a decent pair of gloves. We recently reviewed MIG/STICK gloves and TIG welding gloves. Definitely worth checking out if you're on the hunt for a new pair.
Conclusion
We hope you have found these reviews on the best welding jackets helpful in your search for a new one. Our top pick out of the online range is the QeeLink Leather Welding Work Jacket Flame-Resistant Heavy-Duty Split Cowhide Leather, with its high-quality materials, appealing look, and durable design suitable for every kind of welding.
The BSX BX9C Black W/ Red Flames Cotton Welding Jacket is the best deal for your money. It doesn't provide as thorough a shielding as some others available, but it's a useful summer or lightweight jacket at an impressively low price.
Feel free to share your thoughts below in our comment section. We're always glad to hear from you.