10 Best Welding Gloves in Canada in 2023: Reviews & Top Picks
Last Updated on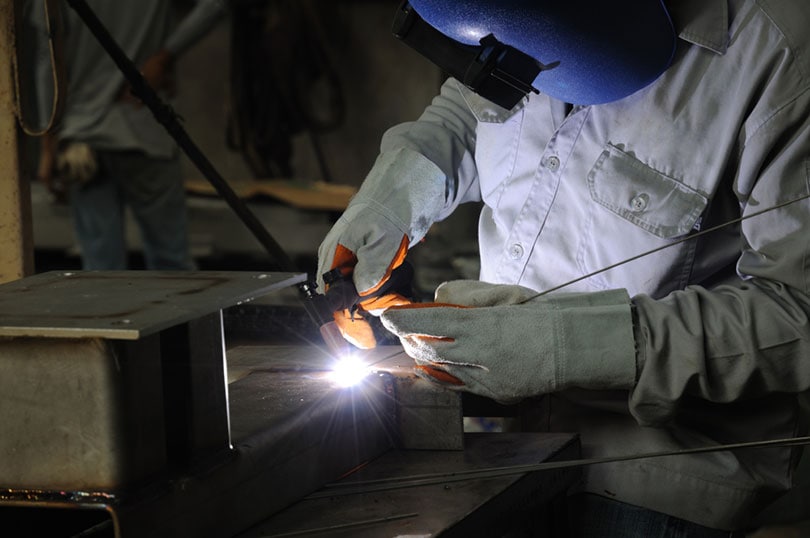 The welding process is a dangerous activity with many potential safety and health hazards. Among the most common safety hazards and injuries that a welder can experience are welding burns because welding can produce temperatures above 10,000 degrees. Therefore, investing in a pair of sturdy and reliable welding gloves is essential.
Quality welding gloves will protect a welder's wrists, forearms, and hands while carrying out MIG, TIG, or stick welding. They are not only excellent for professional welding but also convenient for common household activities such as grilling that involve high heat.
Welding gloves are essentially made from a thick layer of a heat-resistant material, such as aluminum threaded together with leather-covered cotton such as Kevlar. These special gloves can endure surface heat up to 932 degrees Fahrenheit and radiant heat up to 2000 degrees Fahrenheit. In addition, they also protect the welder from electric shocks, cuts, and abrasions from the welding process.
It's common for customers to become overwhelmed when selecting welding glove brands that suit their needs and personal preferences. There are too many varieties available in the market, some of which are low-quality knock-offs that barely offer enough protection to the welder.
Fortunately, we have researched and compiled a list of the best welding gloves in Canada this year to assist in your purchase decision. Our guide will also explore the factors to consider before purchasing welding gloves. Read on to find out.
---
A Quick Comparison of Our Favorites (2023)
Image
Product
Details

Best Overall

RAPICCA Welding Gloves

Thick and durable
Extra-long to protect your forearms
Flame-resistant and sweat-absorbent
CHECK PRICE

Best Value

DEKO Welding Gloves

Breathable and flexible
A comfortable cotton lining
Great protection without being heavy
CHECK PRICE

Premium Choice

DEWALT Welding Gloves

Seamless design
Fire resistant Kevlar threading
High-quality protective material
CHECK PRICE

Revco Welding Gloves

Classy beautiful design
Waterproof and easy to clean
Heat-resistant and well-insulated
CHECK PRICE

Lincoln Electric Welding Gloves

Supreme comfort
Aesthetically pleasing
Flame and heat-resistant
CHECK PRICE
The 10 Best Welding Gloves in Canada
1. RAPICCA Welding Gloves – Best Overall
| | |
| --- | --- |
| Style: | MIG, Stick, TIG |
| Heat resistance: | 932°F |
| Length: | 16 inches |
| Material: | Leather |
| UV protection: | Yes |
The RAPICCA welding gloves are a favorite brand for most people in the welding community. They are easily our best overall choice because they are high-quality and suitable for general-purpose welding. Besides being functional, they are also aesthetically pleasing, retailing in blue color with a complimentary gold. They are not only great for MIG and TIG welding, but also for other home applications that involve high temperatures.
The outer layer of RAPICCA welding gloves is made from a strong double layer of Kevlar padding. In addition, it is reinforced with a layer of flame-resistant cotton cloth and air-isolated aluminum for extra protection. The interior is also made from sweat-absorbing cotton.
RAPICCA gloves are extremely heat resistant, and capable of withstanding temperatures of up to 932 degrees Fahrenheit (500 degrees Celsius). Compared to the other welding gloves on our list, these gloves are far superior given the double-layer Kevlar reinforcements in high-stress areas such as the fingers, wrist, and palms.
Another noteworthy feature of these gloves is the length. At 16 inches long, you can rest assured that your arms will be protected from welding safety hazards such as hot grinding debris, sparks, and hot coals.
Pros
Thick and durable
Can withstand temperatures up to 500 degrees Celsius
Extra-long to protect your forearms
Flame-resistant and sweat-absorbent
Reinforced Kevlar padding
Cons
Interior lining tends to be loose fitting
A little bulky
---
2. DEKO Welding Gloves – Best Value
| | |
| --- | --- |
| Style: | MIG, TIG |
| Heat resistance: | Yes, but temperature not listed |
| Length: | 14 inches |
| Material: | Premium leather, cotton lining |
| UV protection: | Yes |
If you are in the market for welding gloves that offer the best value for their cost, look no further than the welding gloves from DEKO. These gloves offer all the features of high-end welding gloves at only half the price. The gloves are very flexible, highly durable, and convenient for both extreme environments and less dangerous home activities such as burning wood on a stove or shuffling coal.
In terms of their durability, the DEKO gloves are made from premium leather reinforced on vulnerable areas of the hand. They also feature strong stitching to maximize the safety of the wearer. Their durability makes them ideal for welding and gripping hot materials. These gloves also offer excellent performance, better tear resistance, heat resistance, burn resistance, and insulation.
You will also like the fact they are breathable and very flexible. Unlike the common heavy stick welding gloves, these ones are thinner and very lightweight. They provide more wiggle room to work with your fingers. Moreover, the cotton liner insulation in the interior absorbs sweat without compromising the wearer's safety. They do not easily fade and are easy to clean as well.
With the CE EN420 and EN388 certificates, you can rest assured that the DEKO gloves will reduce the risks of scratches and burns when touching the various hot welding debris. They offer better heat protection to handle extreme heat environments while working. Generally, they are functional gloves that will not break your bank.
Pros
Breathable and flexible
Great protection without being heavy
A comfortable cotton lining that is sweat absorbing
Affordable
Cons
Too lightweight and thin for MIG welding
Lacks extra finger or knuckle padding for impact damage
---
3. DEWALT Welding Gloves – Premium Choice
| | |
| --- | --- |
| Style: | MIG, TIG |
| Heat resistance: | Yes, but temperature not listed |
| Length: | 13 inches |
| Material: | Kevlar stitching, Buffalo leather |
| UV protection: | Unspecified |
The DEWALT DXMF02051MD is our premium pick for welding gloves, and for a good reason. Their seamless design allows for maximum movement of your arms while still protecting you from extreme heat. These welding gloves are suitable for TIG welding endeavors that require dexterity in operation.
They are made from high-quality buffalo leather, which is one of the toughest hides around. Welders will particularly like the extended gauntlet-style cuff and the reinforced Kevlar threading on the gloves. Moreover, the gloves come with fire-resistant cotton padding that helps protect vulnerable areas such as fingers and knuckles from impact damage while welding.
The buffalo leather used on the gloves provides the same protection as cowhide. It is fire-resistant, and it provides superior protection against cuts and abrasions. The entire glove surface also has a Kevlar stitching to provide extra protection against extreme heat from open flames.
The gloves are designed to protect the wearer from all potential welding hazards, including slag, sparks, spall, and open flames. Despite the heavy insulation, they are still very flexible with five different size options, allowing the wearer to achieve a good weld regardless of the hand size.
Pros
Excellent freedom of movement due to seamless design
Buffalo leather is a high-quality protective material
Easy wear gauntlet style with finger and knuckle padding for better hand protection
Fire resistant Kevlar threading
Cons
It might be too tight for larger hands
Expensive
A short cuff provides limited wrist and arm protection
---
4. Revco GM1611
| | |
| --- | --- |
| Style: | MIG |
| Heat resistance: | Yes, but temperature not listed |
| Size: | Small, medium, extra-large, large, xx-large |
| Material: | Top grain leather |
| UV protection: | Unspecified |
REVCO is a classy and sturdy pair of welding gloves made from many varying materials. With dual colors of white/gold, these gloves are aesthetically pleasing and easily stand out from the rest of the brands. Also, with materials such as cotton and split leather reinforced with Kevlar threading, the gloves are suitable for MIG welding endeavors.
The REVCO welding gloves also boast of a padded palm area, which improves the welder's comfort. The palm and finger parts are made from pigskin material, which allows for movability.
It is also very tough and durable owing to a tough cowhide material used on the back portions of the gloves. The flame-resistant Kevlar stitching throughout the glove will also provide ample protection against sparks, slag, and flames while increasing durability.
These gloves also deliver on their promise of performance in terms of protection and dexterity while welding. The interior of the gloves is made from breathable cotton and is heat resistant, and capable of protecting the wearer from moisture and sweat build-up.
You will be impressed by the waterproof feature of the REVCO welding gloves. It is also well insulated and very easy to clean. In addition, these welding gloves are available in varying sizes that can fit different hand sizes.
Pros
Classy beautiful design
Waterproof and easy to clean
Offers excellent dexterity and a high level of protection
Heat-resistant and well-insulated
---
5. Lincoln Electric Traditional Welding Gloves
| | |
| --- | --- |
| Style: | MIG and Stick |
| Heat resistance: | Yes, but temperature not listed |
| Size: | 14 inches |
| Material: | Kevlar stitching, leather |
| UV protection: | Unspecified |
If you are in the market for welding gloves that can comfortably handle MIG and stick welding, the Lincoln Electric gloves are a great choice. They feature industrial-grade qualities expected from a reputable brand without compromising on functionality and comfort. The Lincoln Electric gloves also have an appropriate price tag and a convenient "one-size-fits-most" style.
These gloves are constructed from high-quality cowhide material that is sturdy and reliable enough to withstand high-temperature environments for a long time. The pair is also very comfortable due to the full stock lining integrated into the interior.
You will also be impressed by the durable Kevlar stitching and welted seams strategically fitted with pads. These pads significantly increase the lifespan of the gloves. In addition, the gloves feature a straight-thumb design that increases fingertip sensitivity, allowing you to work in a safer environment.
In terms of protection, the Lincoln Electric welding gloves are not only heat-resistant but also puncture-resistant. Moreover, the in-built cuff offers additional protection to the welders' arms. The gloves also feature soft cotton lining and tough leather integrated into the construction allowing them to withstand extreme temperatures. They can comfortably handle daily exposure to flames, heat spatter, and sparks.
Pros
High durability
Supreme comfort
Aesthetically pleasing
Suitable for both MIG and stick welding
Flame and heat-resistant
Uses high-grade leather for its construction
Cons
Lacks straps
Available in only one size
---
6. WZQH Welding Gloves
| | |
| --- | --- |
| Style: | MIG and TIG |
| Heat resistance: | Up to 932°F (500℃) |
| Size: | 16 inches |
| Material: | Leather |
| UV protection: | Unspecified |
So far, the WZQH are the most suitable welding gloves for anyone looking for MIG welding gloves. They are a perfect fit for experienced welders. These gloves offer multiple layers of protection against abrasions, heat, flames, and impact damage.
They are also extremely heat-resistant. This is because the outer layer is made from genuine cowhide split leather followed by an intermediate composite layer of laminating air-isolated aluminum foil and retardant cotton cloth. The final layer is made from a 100% soft insulated cotton lining, adding extra protection from flames and heat. The cotton layer is breathable, absorbent, and can withstand temperatures up to 932 degrees Fahrenheit.
Another noteworthy feature of these gloves is the extreme wear-resistant protection. You will like the 1.2 mm thick, soft shoulder split natural cowhide with properties including cut resistance, oil resistance, wear resistance, heat resistance, and puncture resistance. The high-strength sewing and reinforced double leather stitching at the palm section are also very durable.
In addition, with a 16-inch long grill glove and 7.5 inches long sleeves, you get superior protection on your hands and forearms. The long cuff length will protect the wearer from safety hazards such as grinding debris, open flames, welding sparks, hot coals, and hot kitchenware. This makes the gloves ideal for extreme temperatures commonly radiated by MIG, flux-core, and stick welding operations.
Pros
Multiple layers for flame protection and heat resistance
Thick, puncture-resistant cowhide leather
Durable reinforced stitching
Oil resistant
One size fits most
Cons
No color variation
Loose-fitting
---
7. Blue Demon Little Demons Kids Welding Gloves
| | |
| --- | --- |
| Style: | MIG and Stick |
| Heat resistance: | Yes, but temperature not listed |
| Size: | XX-small |
| Material: | Cowhide, goatskin palm, and back, cotton lining |
| UV protection: | Unspecified |
They say it's never too early to learn a trade. So, when it comes to teaching your little ones the basics of welding, you will want to ensure that they are adequately protected from the safety and health hazards commonly associated with the welding process. If you are in the market for welding gloves for your kids, look no further than the Blue Demon Little Demons kid's welding gloves.
These top-tier welding gloves retail in a beautiful silver-grey and are essentially made from high-quality goatskin leather and durable cowhide cuff. These materials offer exceptional protection against open flames and heat. Also, the tough cowhide cuff will offer additional protection on the wrists against cuts and punctures.
They also feature a Kevlar threading and a cotton interior which provide additional protection against extreme welding temperatures. The soft cotton interior not only offers comfort but also durability and heat resistance.
All these features protect your kids' hands while honing their welding skills. While there are not many welding gloves designed for kids, the Little Demons welding gloves are somewhat like Tillman1338 in terms of size and the goatskin hide materials. However, Little Demons are better in terms of gloves that can fit smaller hands.
Pros
Perfect fit for smaller hands
Durable goatskin
Highly flexible
Cons
Not water resistant
Unsuitable for heavier duty work or extreme temperatures
---
8. Tillman 1338
| | |
| --- | --- |
| Style: | TIG |
| Heat resistance: | Yes, but temperature not listed |
| Size: | 4 inches cuff; small, large or x-large |
| Material: | Top grain goatskin |
| UV protection: | Yes |
If you are mostly involved in TIG welding, we have found that the Tillman 1338 welding gloves are the best TIG welding gloves on the market. They are simply breathtaking. They come with Kevlar threading, a pearl grain top of goatskin with reinforced glide patches to protect the sides of your hand while welding.
The Tillman 1338 gloves maximize comfort and protection from the debris and extreme heat radiated from TIG welding. The goatskin material is thin and lightweight enough to allow flexibility and breathing room for your fingers. The glide patches added to the gloves offer additional comfort and protect the gloves, especially when dragging a welding gun. Also, the thumb is straight and reinforced to offer protection and strength at the stress points.
With Kevlar threading, you can rest assured that the gloves will protect your hands from open flames and extreme heat environments. These gloves may be made from goatskin like the little demons welding gloves, however, they are way better suited for heavy-duty welding projects because they are more flexible and offer enhanced protection on vulnerable points with reinforcements and extra padding.
Pros
Straight thumb for added strength and comfort
Ideal for smaller hands
Kevlar threading for Heat and flame resistance
Cons
Larger hands may fit too snugly
Not ideal for industrial-grade welding
---
9. BEETRO Welding Gloves
| | |
| --- | --- |
| Style: | MIG, Stick, TIG |
| Heat resistance: | Yes, but temperature not listed |
| Size: | 14 inches |
| Material: | Cotton lining, cowhide leather |
| UV protection: | Unspecified |
It is quite difficult to weld in extreme weather conditions. Most welders would opt to down their tools and stop for the day when temperatures drop to unbearable levels. However, if you want to carry on welding during the winter season, the Beetro Welding Gloves are a great choice. They will easily sort out your winter-welding needs.
They have a thick interior cotton lining that not only provides enough heat protection but also offers superior moisture absorption. They are also warm enough to keep the cold winter bite at bay as well. They are made from a cowhide leather material that is flexible and durable with the bonus of abrasion and puncture resistance.
The interior of the Beetro welding gloves is flame-resistant. It is covered by a cowhide outer layer stitched together with a flame-resistant Kevlar threading for additional protection against welding hazards. These gloves also offer an elastic wristband to protect the interior from welding debris that may slip inside. With a slip-on design, you can easily strap the glove into place while welding.
Overall, the Beetro gloves are made from high-quality materials, have great flexibility, and offer versatility in application. They may be smaller than typical welding gloves but what they lack in size, they more than make up with craftsmanship and durability. The elastic wrist band is a nice touch as well.
Pros
Thick interior cotton lining for extra warmth
Elastic band on the wrist to keep interior clean and secure glove in place
Puncture, flame, heat, tear and cut resistant
Cons
Can be too warm for summer-time use
It does not work for every hand size
---
10. QeeLink Welding Gloves
| | |
| --- | --- |
| Style: | MIG, Stick, TIG |
| Heat resistance: | Yes, but temperature not listed |
| Size: | Adult |
| Material: | Leather |
| UV protection: | Unspecified |
If you are looking for versatility in your welding gloves, then this pair from Qeelink would be a suitable option. They are multifunctional and not only great for welding projects but also ideal for other tasks such as camping, gardening, and handling hot materials at home such as coal and kitchenware.
The gloves are made from thick leather material whose properties maximize the glove's lifespan. The leather is also heavy-duty, flame and heat resistant. The gloves also have a Kevlar threading with locked stitches, which significantly increase the durability of the gloves.
The interior of the gloves is made from soft cotton lining that is not only comfortable but also sweat absorbent for convenience while welding in a high-temperature environment. The exterior is sturdy enough to protect your hands, wrists, and fingers from mechanical and thermal safety hazards commonly associated with welding.
The Queelink gloves also offer flexibility boasting of a reinforced wing thumb design. The design will increase dexterity while operating a welding gun and allows you to hold your welding materials with ease.
Pros
Versatile
Strong and durable
Comfortable and sweat-absorbent
Thermal and mechanical protection
Flexible design
Cons
Can be too stiff for some people
---
Buyers Guide: Factors to Consider When Purchasing The Best Welding Gloves
Before making a final purchase decision when shopping for welding gloves, there are many things to keep in mind. The best welding gloves should improve safety, speed, and welding ability. Also, they should be made from the sturdiest materials lessening the risk of burns.
Some of these considerations may not have the same urgency, but they are still important to ensure that you get a product whose value is worth the price. Below, we have outlined the most important considerations to make your purchase easier.
The Welding Project
Before opting for a brand of welding gloves, you first must consider the specific type of welding project you intend to undertake. Ask yourself, what welding method will I employ for my project? Will I be using a high-precision TIG welding method or will I be using the MIG method that needs speed and precision? Or will I utilize stick welding, which exposes the welder to spatter and sparks? By first determining the project you need to undertake, you will have a better chance of choosing gloves that perfectly fit your needs.
Materials
Generally, leather is the main material used to make welding gloves. The leather is usually combined with fire and heat-resistant fabrics to improve durability and heat resistance. The leather, however, is obtained from tanning hides from different animals.
Every material features varying strengths in terms of weight, breathability, flexibility, and toughness. Moreover, some gloves have multiple layers of materials to maximize the aforementioned qualities. You will realize that TIG and MIG welding will require different materials for different reasons.
For instance, MIG is popular with gloves made from pig and cowhide to improve durability, while TIG welding requires gloves from goatskin and deerskin that are strong and lightweight enough to improve dexterity.
Level of Protection
It is crucial to determine the level of protection that different welding glove brands offer before making a purchase. This involves checking out the different safety hazards such as extreme temperatures that you will likely expose yourself to while welding.
This also includes the length of exposure to a specific safety hazard. You should also check out if your gloves offer additional safety features besides heat and flame resistance such as UV protection.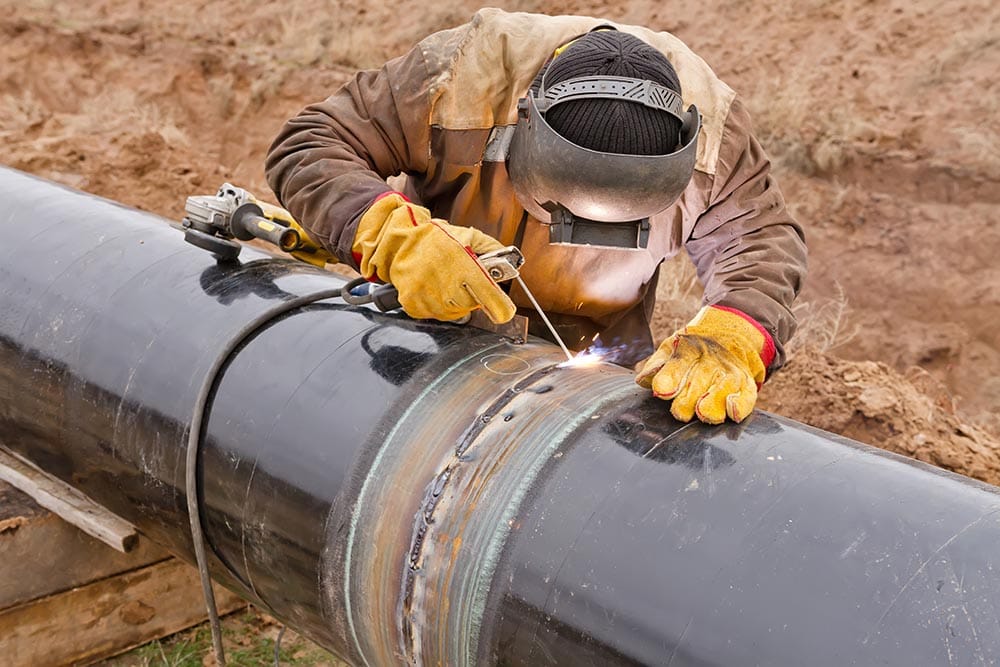 Hand Mobility
Experts also advise that you choose welding gloves that do not limit hand movements. Your choice should not be stiff enough to hamper the dexterity of your hands while welding. Your hands should be able to move freely while still being protected from the welding debris and heat.
Hand movement is a vital consideration in the performance and completion of a welding task. For instance, TIG welding requires a high precision level to produce clean and neat welds. So, if you have welding gloves that limit your movement, this will be hard to achieve.
Size and Length
You must choose a welding glove that is the right size and fit for your hands. The size should also be long enough to protect not just your hands, but your whole forearm from potential welding hazards. This is an important consideration, especially if your job exposes your arms and wrists to weld spatter.
Also, when choosing a glove size, ensure it fits comfortably on your hands without being snug or loose to give you a comfortable welding experience.
While some manufacturers produce a one-size-fits-most option, you can also get gloves in different sizes, specifically XL, large, medium, and small. Remember to check the wrist size of the gloves so that you can get a tight enough glove to prevent debris from getting into the interior.
Overall Glove Performance
It may be hard to judge the performance of a specific welding glove brand, but you can assess it from the build quality. You can also base the performance on the intended purpose of the gloves. For example, most welding gloves retailing in the market today have Kevlar stitching to improve durability. Some even have extra padding at vulnerable areas of your hands.
These features add extra protection to your hands while stabilizing the welding torch. You should check out these features and components before making a purchase. They will give you an idea about build quality and enable you to assess the glove's overall performance.
---
Conclusion
We understand that shopping for welding gloves can be frustrating, especially in a market inundated with varying brand options. However, once you understand your needs and preferences as well as the important factors to consider before making a purchase, you can get a pair of worthwhile welding gloves. They will help protect you from the potential safety hazards associated with welding.
The RAPICCA Welding Gloves were our top pick because they are made from extremely high-quality material. They are also extremely high flame-resistant, with many protections for your hands. We also chose DEWALT DXMF02051MD as our premium pick because it offers excellent dexterity and has easy wear gauntlet style design. The easily accessible DEKO Welding Gloves offer superior features at half the price making it our pick for the best value.
When shopping for the perfect pair of welding gloves, ensure that you pick a brand that guarantees safety and can improve speed and your ability to weld.
---
Featured Image Credit: senlektomyum, Shutterstock