10 Best MIG Welders of 2023 – Top Picks, Reviews & Comparison
Last Updated on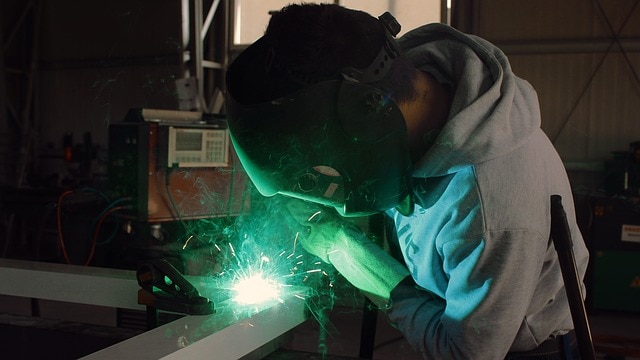 Since the invention of the MIG welder in the early nineteenth century, they have developed into the most sought after and widely-used welding machines. They are by far the easiest to use, and while they don't make the most attractive welds like TIG machines, they speed up complex jobs to make fabrication more affordable.
Due to these facts, it's no surprise they are the most common welder found online. There are easily three figures worth of different machines to choose from, and with more choices, there is more confusion.
So, how do you know which one to choose? If you're an experienced welder who's tried multiple different types of MIG machines, then the task is slightly easier; but for most people, it's almost a guessing game without spending hours doing research.
With many years' worth of MIG welding experience and hours spent in MIG welder research, we have chosen the ten best MIG welders online. We have no bias towards any brand and have included in-depth MIG welder reviews showing what's good and what's not so good about each machine. The quick comparison guide gives you a brief overview, or else feel free to read through our MIG welder reviews to gain a good overview of what will suit you best.
---
A Quick Glance at the Winners of 2023:
Image
Product
Details

Best Overall

Hobart Handler 210 MIG

Good amperage range
Simple to use
Large wire speed range
CHECK PRICE

Best Value

Forney 271 110v MIG

Easy to use
Good quality
Easy to follow instruction manual
CHECK PRICE

Premium Choice

Millermatic 211 MIG

Highest quality
Extensive range of settings
Excellent stock MIG gun
CHECK PRICE

LOTOS MIG175

Includes aluminum spool gun
Affordable for what it includes
Perfect for serious hobbyists
CHECK PRICE

Lincoln Electric K2698-1 Easy MIG

Extensive range of settings
Comes with numerous tips and stock wire
Portable
CHECK PRICE
The 10 Best MIG Welders:
1. Hobart Handler 210 MIG Welder – Best Overall
The best overall MIG welder online is the Hobart Handler 210 MVP MIG Welder. It has a good mix of affordability, amperage range, and high-quality components. It isn't the lowest-priced machine on our list, but it performs the best for its price and has a reputation for reliability.
It has a good range of amperage settings, and a large an even larger range of different wire speeds. This ensures you have complete control over dialing in your preferred setup for each job. The machine doesn't take much skill to set-up and run. It's designed for any environment, including industrial welding shops, but it's easily used by beginners who are learning the basics.
The 210 MVP doesn't suit on-site work or being moved to different locations frequently as it's heavier than other 210-amp welders. Yet, it's ideal for a stationary workbench set-up and is well laid out for ease of use. It produces an incredibly smooth, consistent arc. It doesn't give you any surprises and has minimal spatter issues, unlike other lower-quality MIG machines.
This machine will suit beginners wanting a top-quality machine to learn on, or fabrication shop owners wanting an affordable machine that can be trusted. It's a favorite for many keen welders worldwide and will most likely give you everything you need for a machine with 210 amps of power.
All in all, this is definitely one of the top MIG welders for home use out there right now.
Pros
Good amperage range
Simple to use
Large wire speed range
Accurate welding chart
Affordable for its quality
Includes high-quality parts
Cons
Heavy
No aluminum spool gun included
---
2. Forney 271 110v MIG Welder – Best Value
The Forney Easy Weld 271, 140 MP Welder is the best MIG machine for the money. It's a smaller machine amperage-wise than the Hobart 210 MVP, but it's significantly more affordable and has some nice features.
It's a good-quality machine that is ideal for beginners who want to learn on a lower-amperage machine. The welder is simple to learn with and has a comprehensive instruction manual that makes the process even easier, whether you have experience or not.
The 140 MP is one of the most popular MIG machines on the market, and it also has the capacity to TIG weld if you want to purchase a TIG lead and diversify your skills. The leads on this machine are shorter than we would like, but very few stock leads are long unless you invest in a Miller Electric 907614 MIG Welder or something similar.
The machine is small and lightweight with a tough, heavy-duty case. This makes it ideal for use outside the workshop where it's exposed to potential damage and requires being carried. It also runs well off 110 volts if you need to use where you don't have access to 240-volt power points.
This machine lays a bead almost identical to the Hobart 210 MVP in quality, penetration, and smooth consistency. Considering its price point, we recommend investing in this machine if you don't need to fuse thick sections and want affordability without compromising on quality. Overall, this is definitely one of the best MIG welders for the money as of right now.
Pros
Easy to use
Low price
Good quality
Easy-to-follow instruction manual
---
3. Millermatic 211 MIG Welder – Premium Choice
The Miller Electric Millermatic 211 MIG Welder is a premium machine that is trusted by some of the best professional welders across the world. It's an expensive option that's purchased for its dependable quality, exceptional performance, and portability. It can be used in any workshop setting, but it's ideal for high-level work outside the workshop.
It has a unique smooth start technology that ensures when the wire first forms the arc, that there is no spatter or deformed bead profile like many other machines produce. There are some other larger shop welders that include this technology, but the Millermatic 211 is the only machine in the small MIG category with it.
You won't find a more reliable welder on the market. It does cost more, but its lifetime value and the quality of the work produced makes it a worthwhile investment. The 10-foot gun lead reach isn't as long as we would like, but it's rare to find a stock lead any longer.
There is also a chart on the inside of the spool door if you need some guidance, along with a guide around the voltage dial to give you a quick idea into what amperage you should be running. If you are considering this welder, it's helpful to know Miller offers a money rebate when you buy it through a recommended dealer like their own dealer on Amazon.
Pros
Heavy-duty
Highest quality
Extensive range of settings
Excellent stock MIG gun
Portable
Long warranty
Cons
Higher price
Ground clamp is not top-notch
---
4. LOTOS MIG175 MIG Welder
If you don't mind a lower-quality welder but want more diversity in your MIG welding, we recommend the LOTOS MIG175 175AMP Mig Welder. It has some handy features like the aluminum spool gun that's included. Most MIG machines are capable of welding aluminum, but they won't feed the soft aluminum wire without a specially designed spool gun.
The spool gun that's included feeds the wire smoothly, so it comes out without folding in the lead. The machine itself doesn't include a long warranty, but it's an affordable machine that is known to outlast the warranty long after it expires.
The quality of the weld isn't to the Miller standard, but it's not too far behind and will produce some tidy beads on any kind of weldable metal. It produces mostly spatter-free welds too—as long as you run the welder to the correct settings. There is usually a small amount of spatter, but nothing compared to other poor-quality machines.
The leads and welding gun aren't the best we have seen. The connector is an unusual type that standard guns won't fit, so it's not straightforward replacing it. However, the machine isn't designed for industrial work, so it shouldn't need a high-quality aftermarket torch.
If you're a serious welder wanting a decent machine for doing work at home, the MIG175 is a machine we recommend considering. Particularly if you plan to MIG weld aluminum.
Pros
Includes aluminum spool gun
Affordable for what it includes
Produces tidy welds
Perfect for serious hobbyists
Cons
MIG gun not very good
Not for daily workshop use
---
5. Lincoln Electric K2698-1 Easy MIG Welder
Lincoln Electric is another company that produces quality welders. Their standard doesn't compare with Miller Electric, but the LINCOLN ELECTRIC K2698-1 180 MIG Welder is a machine that stands out above many others.
It has a good warranty that normally ensures you get your money's worth, but its performance doesn't match the high price tag like the Miller Electric Millermatic 211 MIG Welder. However, there is a good range of accessories that come with it, unlike some other machines.
The K2698-1 lays a beautiful bead with minimal spatter on light sections, but you don't want it for heavy welding because of it only reaching 180 amps maximum. Also, the weld isn't as consistent as we hoped it would be for its price. It's a simple machine to set up, and it comes with a helpful manual along with an e-manual if you need it. It has a decent gun and ground clamp, but they aren't exceptional for the price you pay with the machine.
Some people swear by Lincoln Electric products; they have some great helmets and other quality welding products. If you like their style too, then this is the best MIG welder you can go with. Otherwise, the Miller Electric Millermatic 211 MIG Welder is a better premium product at a similar price.
Pros
Good quality
Extensive range of settings
Comes with numerous tips and stock wire
Portable
Cons
Higher price
Weld consistency not perfect
---
6. Weldpro Inverter Stick/Arc MIG Welder
The Weldpro 155 Amp Inverter MIG Welder is a good machine for hobbyists and others who want an affordable machine. It's one of the smallest MIG welders in this size, and with it being capable of plugging into both 110 and 220-volt power points, it is incredibly diverse in its portability.
We also like the 2T and 4T switch. This allows manual and automatic wire feeding depending on the type of weld you're doing or your preferences. If you're running long beads or welding in awkward spots where you can't hold the torch properly, you can let it feed automatically to complete the job easier.
The leads are not as long as we like, but it's a lower-priced model that leaves room for buying additional aftermarket parts like a longer gun lead if you require it. Weldpro is an experienced company at building welders and have been in the market for many years. They excel in building with quality components while keeping the price down. This 155-amp machine is a good example of that.
You can save yourself some money buying this machine and still have a reliable welder. It isn't a Miller and doesn't have quite the diversity as the LOTOS MIG175, but it's great for beginners starting out.
Pros
Lightweight and portable
Easy to use for beginners
Good quality parts
Affordable for what you get
Diverse MIG settings
---
7. SUNGOLDPOWER 200A MIG-Welder
The SUNGOLDPOWER 200A MIG Welder is a lower-priced, lower-quality machine than the Weldpro 155 Amp Inverter MIG Welder. However, it comes with more amperage and produces tidy welds. It welds hot for a 200-amp welder, which gives you good options for different types of welding, including heavy-gauge sections.
The machine is lightweight, but it doesn't compare to Weldpro's 155-amp Welder even though it's a similar size. It includes numerous accessories, but none of them are very useful. The four different leads included are rather small, and the gun isn't very good. They all work, and you can weld on them well, but they are on the lower end of the scale for stock accessories.
All the connectors are standard, so you can use other guns and clamps with the machine. Some budget machines have unusual connectors that don't allow for this, but the SUNGOLDPOWER machines are built for diversity.
We don't recommend this machine if you need to do extensive welding work. Yet, for most hobbyist jobs, even heavy-gauge plate welding on a semi-regular basis, then this is a good machine to consider.
Pros
Lightweight and portable
Low price
Welds hot for amperage range
Well-built machine
Cons
Short leads
Included face shield is no good
No regulator included
---
8. Reboot MIG150 220V MIG Welder
If you want a low-priced machine that's very basic but still welds well, then the Reboot MIG150 DC 220V Inverter MIG Welder is a good choice. The instruction manual that comes with the machine isn't very helpful, but the welder is easy to use, so you shouldn't need it if you have a basic understanding of welding machines.
There are lower-priced machines on the market, but it's likely that they won't weld as good as this. It's a low-quality option, but for light welding, the bead is tidy with minimal spatter. It welds at an average temperature, so with its maximum 150-amp output, we recommend not purchasing it if you need to fuse anything thicker than 3/16-inch material unless you weld multiple passes.
The MIG150 can only run from a 220-volt power point, which makes it less desirable. If you only have 220 volts in your garage, this is fine; but if you need to use it in different locations or don't have access to 220 volts, then we don't recommend this.
Reboot has reasonable customer service. They care about their customers and do their best to serve you; however, their English isn't the best, and they don't know as much about welding as they should. Overall, it's not our favorite welder, but it's good for an affordable option if you're looking for one of the top 220v MIG welders.
Pros
Low price
Clean, tidy weld profile
Easy to use
Cons
Poor instruction manual
Small amperage range
Low-quality welder
---
9. HITBOX Inverter MIG-Welder
The HITBOX Multifunction Synergic 200Amp Inverter MIG Welder is a machine that's handy for beginners, or as a secondary machine. However, it has numerous flaws, which has brought it low down our list.
For what it offers, it's very affordable. It can run 200 amps of power, and the arc gets hotter than most other 200-amp machines. It comes with the option to connect a TIG welder to the machine if you want to invest in a lift TIG torch. But it's a synergic welder with limited preset settings. The synergic machine is preset with specific welding parameters depending on the wire size and amperage you want to run.
This synergic style machine is useful when you're learning as you don't need to know about the right wire speed to amperage rate based on wire and plate thickness. However, it only has the option for two metric wire sizes, and there is no adjustment for adding slightly more or less wire-speed if necessary, as most synergic machines have.
The welder can run for much longer than almost any machine this size before maximizing the duty-cycle. This is useful, but for a lower-quality machine, it most likely won't have the life expectancy as other machines because of this.
We don't recommend this machine as highly as we do other smaller 200-amp welders, but it does lay beautiful welds and is offered at a low price for what you get.
Pros
Multi-process machine
Adjustable preset synergic settings
Low price
Cons
Low warranty
Medium quality product
Inconsistency in the product between customers
---
10. ESAB 120/230-Volt TIG/Stick/MIG Welder
The tenth machine we have reviewed is the ESAB EMP215IC 120/230-Volt MIG/TIG/Stick Welder. It's another synergic machine with multiple functions, including a TIG torch. In theory, this is one of the best welders available.
It comes with adjustable synergic settings that make welding and setting adjustment quick and easy for anyone at any experience level. It has a digital screen that clearly shows all your options, and there are plenty to choose from. There is also a smart internal computer that learns your welding style and adapts the welder to perform at its peak according to your specific welding techniques.
While all this sounds impressive, the EMP215IC is very expensive, and it's known to have a common fault in the computer, which can stop the machine from functioning properly, if at all. The machine is highly advanced, but it doesn't yet have all the bugs ironed out, which can ruin your welding experience.
ESAB'S customer care falls below the required standard, too, which has upset some customers. For an expensive high-class machine, this is unacceptable, which is why we have it last on our list. You may find there is no issue with the machine if you purchase it; if this is the case, then the machine is well worth your money. Yet, it's important to know there is a risk it may turn into an expensive disappointment.
Pros
Adjustable preset synergic settings
Multi-process machine
Durable case
Easy-to-use digital screen
Cons
Poor customer service
Expensive
Is known to have common manufacturer fault
---
Final Verdict – Finding the Best MIG Welder
There is no shortage of excellent MIG machines available, and these ten are the best MIG welders available. You will most likely be satisfied with a good experience from every machine, but we hope the honest cons for each machine sheds light on their true performance for you.
Our top pick is the Hobart Handler 210 MVP MIG Welder. It's a high-class machine that welds most materials as well as almost any other machine, and it's offered affordably. It constantly lasts beyond their warranty offer even though it's a longer warranty than most welders.
The Forney Easy Weld 271, 140 MP Welder is a much smaller machine, but this is the best value welder if you have a small budget but still want a quality welder. It won't weld thick sections like the Hobart 210 MVP, but it's around half the price and is a similar well-made machine.
Thank you for reading through our ten MIG welder reviews. We hope they help you see clearly the true value of each machine so that you don't have to spend hours researching the many welders online.