10 Best Welding Helmets of 2023 – Auto Darkening Top Picks & Reviews
Last Updated on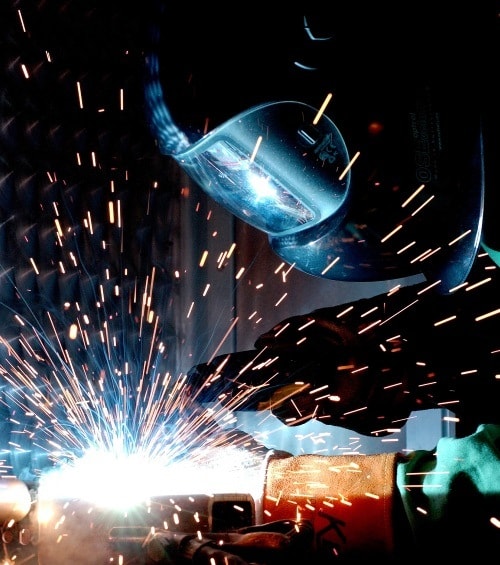 You are deeply immersed in a welding project when suddenly, there's a blinding, burning light. The feeling of hot sand filling your eye sockets creates a pain that is so intense, you're on the verge of clawing your eyes out. This is called arc flash, and if you've never heard of it, then you may not be aware of just how critical proper eye and face protection is during welding. To ensure that you don't experience the unfortunate consequences of purchasing the wrong welding helmet, we've put together reviews of the best welding helmets available right now.
How quickly does your mask adjust once the sparks start flying? Does your mask have enough shade variability to handle bright outdoor conditions, as well as darker environments indoors? What about ventilation? Don't forget about the size of your viewing screen! We've done all the research about welding helmets and their best features. Just read these reviews comparing such features to know which of these best auto-darkening welding helmets will work for you.
---
A Quick Glance at the Winners of 2023
Image
Product
Details

Best Overall

Hobart Impact Auto Darkening

Excellent shade variability for any light conditions
Super comfortable with great ventilation
Auto-darkening in 1/25,000 second
CHECK PRICE

Best Value

Antra Auto-Darkening

Affordable
Eight shade levels
Solar-powered, auto-darkening lens
CHECK PRICE

Premium Choice

Lincoln 3350 Auto-Darkening

Perfect optical clarity
Largest viewing area in class
Comfortable and balanced design
CHECK PRICE

3M Speedglas Auto Darkening

Side windows with level five shade
Equipped with exhaust vents
Large viewing area
CHECK PRICE

Esab SENTINEL A50 Auto Darkening

Looks like the "HALO" helmets
Backlit, color touchscreen control panel
CHECK PRICE
The 10 Best Welding Helmets (Auto-Darkening)
1. Hobart Impact Auto-Darkening Welding Helmet – Best Overall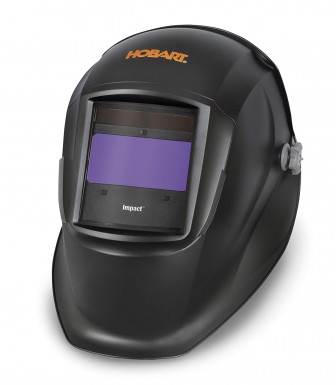 When you're looking for a dependable mask with all the greatest features, it's hard to beat the Hobart 77056, our pick for the best welding helmet overall. Equipped with three arc sensors to control the auto-darkening functionality, this helmet is designed with class-leading LCD technology to keep your eyes protected every time the arc begins to flash. With shade levels adjustable from #8 to #13, you'll have excellent low-light capability for any type of welding, but it still gets plenty dark for the brightest days. Couple this with a split-second reaction time of 1/25,000 of a second, and it's easy to see why this helmet tops our list.
While the metal is heating up, you want to keep a cool head. The ultralight design of this mask, combined with the extra comfortable headgear, makes this helmet a pleasure to wear. You'll still be able to breathe, and sweat won't be dripping into your viewing lens while you work. While it is super comfortable, the incredible adjustability of the headgear is pretty complicated to get it to fit your head.
Pros
Excellent shade variability for any light conditions
Super comfortable with great ventilation
Auto-darkening in 1/25,000 second
Cons
Headgear is complicated to set up proper fit
---
2. Antra Auto-Darkening Welding Helmet – Best Value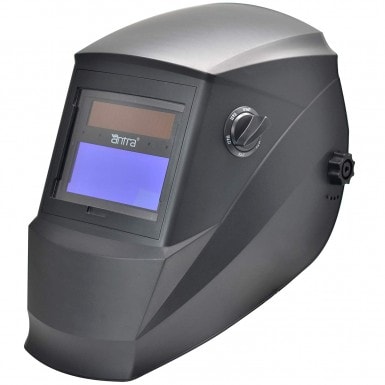 Already spent your budget on the best welder and left the helmet as an afterthought? Don't worry, if you're looking for quality protection on a slim budget, Antra Welding's auto-darkening helmet is the best welding helmet for the money. The solar-powered feature of this helmet means you won't have to constantly worry about battery levels before getting to work.
Being so lightweight makes this helmet much more comfortable when wearing it for long periods of time. With variable shade levels from 5-13, you'll be equipped to work in any light conditions, with any type of welding. Plus, the interference suppression technology works to stop false triggering caused by light sources other than your welding.
What keeps this mask from the number-one position is its lifespan. After several months to a few years of good use, this mask has been known to exhibit problems such as electronics failures or screen flashes.
Pros
Affordable
Eight shade levels
Solar-powered, auto-darkening lens
---
3. Lincoln 3350 Auto-Darkening Welding Helmet – Premium Choice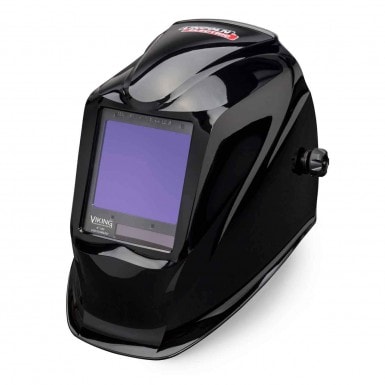 Lincoln Electric is one of the most trusted names in welding. If you need a helmet that provides peace of mind knowing that your eyes are covered by the best protection available, then the Lincoln Electric 3350 welding helmet is a worthy choice. On top of this, the 3350 line of helmets offers the largest viewing area in its class at 12.5 square inches. If you've ever had a difficult time trying to see what you were welding, you'll appreciate this great feature. With the perfect optical clarity offered by this mask, you'll see your work like never before.
Variable shade levels from 5-13, with 1/25,000 second lens switching speed protecting your eyes in all conditions. The X6 headgear keeps you comfortable all day with a balanced design that reduces pressure. Of course, all these exceptional features are accompanied by a premium price that's out of the range of many DIY hobbyists, putting this helmet in the third spot on our list.
Pros
Perfect optical clarity
Largest viewing area in class
Comfortable and balanced design
Cons
High price is out of the budget of many hobbyists
---
4. 3M Speedglas Auto Darkening Welding Helmet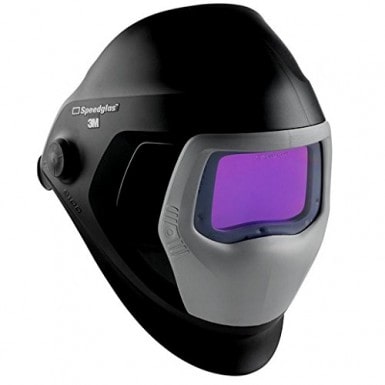 With a viewing area of 12.11 square inches, the 3M Speedglas welding helmet has one of the largest field-of-views available. The side windows with level five shade filters widen your field of vision for one of the most complete viewing experiences available inside a welding helmet. Exhaust vents expel your air from the helmet, keeping you cool with a clear lens. Adjustable shade from levels 5-13 gives plenty of variability to weld in any amount of light.
This helmet provides many awesome features, but the price is difficult to overcome unless you are using this mask every day for professional use. It also falls short of the perfect clarity offered by our number-three pick, even though the 3M helmet is at a higher price point by a good margin.
Pros
Side windows with level five shade
Equipped with exhaust vents
Large viewing area
---
5. Esab SENTINEL A50 Auto Darkening Welding Helmet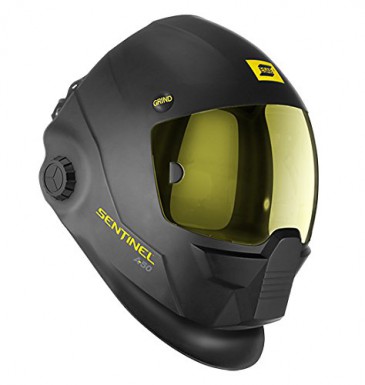 This is another premium welding helmet with a matching price point. While it is equipped with a large viewing area, it's not nearly as sizeable as our third and fourth picks on this list, both of which are similar in price. What sets this auto-darkening welding helmet apart is its backlit, color touchscreen control panel. This allows you to set eight separate memory settings that you can easily recall at any time.
While not necessary to the function of this helmet, it does have to be mentioned that it looks pretty darn cool. If you're a fan of the "HALO" franchise, it may be a selling point to feel like the Masterchief while you spray sparks.
Pros
Looks like the "HALO" helmets
Backlit, color touchscreen control panel
Cons
Very high price
Smaller viewing area than competitors
---
6. Jackson Safety BH3 Auto Dark Welding Helmet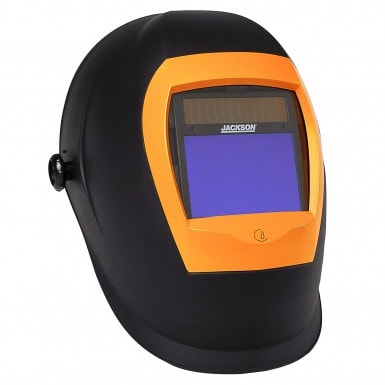 With a perfect optical clarity rating, you're sure to see your work in detail with the Jackson Safety BH3. A high-density plastic shell keeps you safe and protected. The headgear is easily adjusted, though not as comfortable as similar helmets. Its weight of two pounds is quite heavy for the price range and won't be as comfortable for long projects. The shade range is only variable from 9-13, making it less adjustable than the previous suggestions on this list.
To make matters worse, this helmet has been known to arrive DOA, and the manufacturer provides no warranty for the U.S. For the price, the features don't quite match up.
Pros
Perfect optical clarity
Easily adjusted headgear
Cons
Heavy
Not as comfortable as competitors
Low shade variability
---
7. Optrel VegaView 2.5 Auto Dark Welding Helmet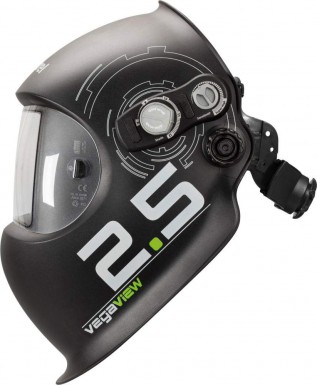 When it comes to mask visibility when you're not actually welding, the Optrel VegaView 2.5 leads the pack. Unfortunately, that seems to be the only place where it does so. With a shade level of 2.5 in the light state, you'll be able to see clearly between welds and in grind mode. The light weight of this helmet also means you'll be comfortable for long hours while working on a project.
While the lens in this mask has the lightest shade available, it sacrifices darkness to get there. Previous helmets on this list went to shade level 13, but this one caps out at 12. For high-amperage welding, you may find this to be inadequate. The high price tag on this mask meets or exceeds the prices of our prior picks, which are recommended as better alternatives.
Pros
Lowest light state shade level of 2.5
Lightweight
Cons
High priced
Only goes up to shade level 12
---
8. Miller Digital Elite Auto Darkening Welding Helmets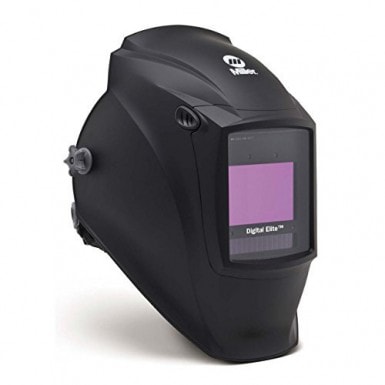 The 281000 series mask from Miller has a decent feature set but lacks reliability. The Clearlight lens technology that it employs means you can see your work. The digital controls are also easy to read and operate.
The headgear is the first real problem. It doesn't seem to return to the same position each time you put it back on your head. This leads to the constant need for adjustment, which can get annoying pretty quickly. The lens has been known to have issues with sensing when to switch back to light state after the welding is finished. The latch that holds the lens in place is also a weak link, commonly breaking after only a few lens changes.
Pros
Great visibility
Digital controls
Cons
Headgear needs constant adjustment
Lens reliability issues
Lens latch is a weak link
---
9. YESWELDER Auto-Darkening Welder's Helmet
This welding mask from YESWELDER offers low-end pricing for those just getting started in welding. Equipped with four sensors and a super large viewing screen, seeing your work won't be the problem. But the inconsistency of the sensors means you'll never know how much protection you're really receiving. Light leaks are a known issue with this budget helmet. Should light leaks occur during the welding process, arc flashes can occur as a result and have happened with this model for some users.
Other lens problems have also been experienced, such as not returning to the light state after welding. For the price, other manufacturers offer a safer and more reliable alternative.
Cons
Known to have light leaks
Does not provide adequate eye protection
Inconsistent sensors change colors while working
---
10. DEKOPRO Auto Darkening Welding Helmet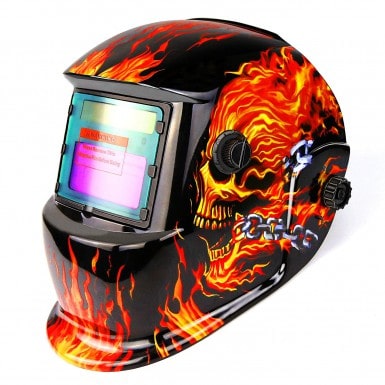 Equipped with a standard-sized viewing screen and a shade variability that only ranges from 9-13, the bottom position on our list is filled by the DEKOPRO DX-850E. It is budget-friendly, a fact reflected in its minimal feature set. While the stated shade range is 9-13, in reality, it feels more like 10-11. This mask doesn't seem to offer enough shade variability to make any light conditions favorable. Worse, this is the only helmet on our list that doesn't offer a way to install a cheater lens.
The best feature on this mask is its ability to charge using solar power, saving you batteries. However, our number-two pick offers solar power in the same price range with a more robust group of features and higher reliability.
Cons
Poor shade variability
Average viewing size
Not dark enough to offer full protection during welding
No way to mount a cheater lens
---
Buyers Guide: How to Find the Best Welding Helmet
You've seen the 10 best welding masks on the market, and you're aware of how they compare to each other. But what are the most important things to consider? What should you know before you make a purchase? In this section, we'll give you all the knowledge you need to be certain of your ability to make the right choice of welding mask.
What is an Auto Darkening Welding Helmet?
This is one of the most important features available in today's best welding helmets. The best auto-darkening welding helmets will protect your eyes without any extra effort from you. Auto-darkening is the ability of your mask's lens to automatically detect the light produced when welding and adjust to block it out. Then, when you finish your weld and the sparks stop, your lens automatically returns to the lightest setting so you can see without having to lift your mask. Not every welding helmet on the market is equipped with this function, though all the ones that made our reviews list have auto-darkening.
Shade Variability
How many different levels of darkness does your welding mask offer? When you need your mask in the lightest state so you can see while you're not actively welding, is your mask light enough for you to work? When you're outside in the bright sun and welding with high amperage, does your lens get dark enough to provide ample protection? Arc flash is a terrible experience that can also cause lasting damage. By purchasing a mask with a high level of shade variability on a high-quality lens, you can rest assured that your eyes are protected in even the brightest conditions.
Size of Viewing Area
If you've ever tried to weld while wearing a mask with a tiny viewing lens, you know how frustrating it can be to have your entire peripheral vision blocked. Some masks have viewing ports of over 12 square inches of viewing space, such as the Lincoln Electric 3350, our number-three pick and favorite premium option.
By enlarging your viewing window, you make it possible to see your work in a whole new way. This helps you improve your welding quality, since it's easier to make out the details. This also increases your productivity — when you can see clearly, it's much easier to work efficiently.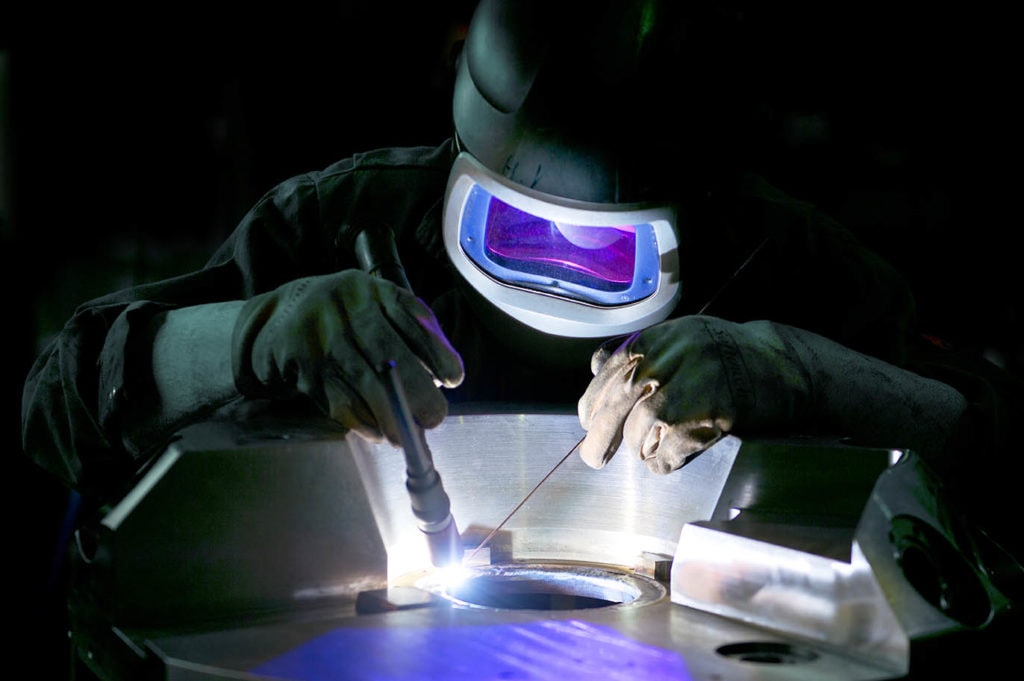 Lens Clarity
Besides the size of your viewing window, level of clarity is one of the most important factors in how well you can see what you're working on. Lenses are tested in four areas and given a rating of 1-3 in each, with 1/1/1/1 being a perfect score. Only a few premium welding helmets achieve this top score in clarity. The Lincoln 3350 Welding Helmet in our number-three spot, for example, has perfect 1s across the board.
Reliability
Reliability is one of the most important factors to consider when it comes to picking out the best welding helmet. It doesn't matter how comfortable the helmet is or how many nifty gimmicks it has. If your helmet can't be counted on to keep your eyes safe, then it's not serving its function. Worst case, it's actually a hazard to your health. That's why you'll want to choose the best auto darkening welding helmet you can find.
Beyond the possible permanent risk your eyes may face from being exposed to welding flashes through a faulty mask, an unreliable lens may also make it difficult to see your work. Flashing different colors and changing levels of shade can be more than just distracting. When you can't properly see your welding work, you're risking your fingers and hands.
Durability
Your welding helmet is an investment. It's a tool that you hope to use for many projects without problems or needing a replacement anytime soon. Nothing is more disappointing than your expensive equipment failing at a critical moment.
Save yourself the headache and heartache of having your gear give out when you need it most. Our top pick, the Hobart 770756, is durable and long-lasting. It will be there to provide you great service for a long time to come.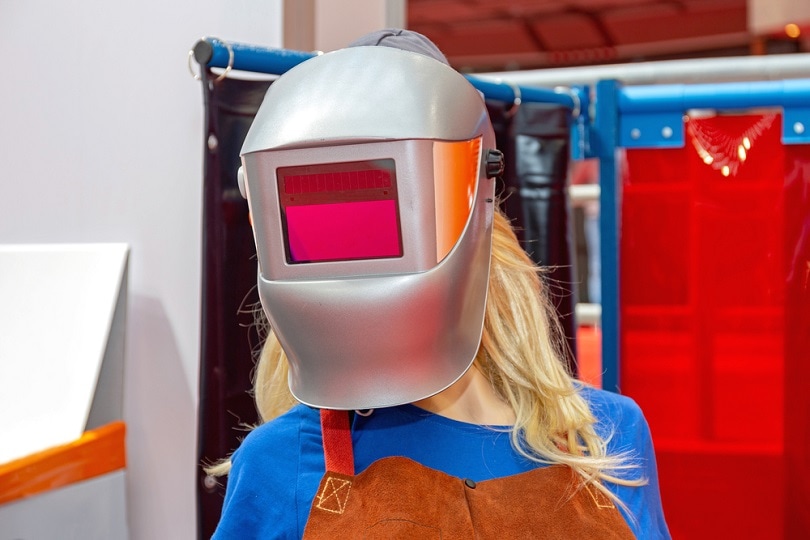 Grind Mode
Sometimes you just need a mask for face protection and not to block out the light, for example, when you're using a grinder and making a great deal of dust and flying debris. In such cases, you'll want to be able to keep your mask in the lowest setting, even when there may be sparks or bright sunlight. For this purpose, many masks come equipped with a grind mode.
This feature is still useful when you're not grinding and just need to be able to see without constantly lifting your mask up. The grind mode is button activated on most helmets, making it simple to use without removing the hood. All the welding helmets on this list have a grind mode.
Price
This is the one place where each person's needs will vary the most. Everyone wants and needs the best protection possible, and we would like to have the most comfortable mask with all the bells and whistles. However, each of us is limited to a certain budget.
If your budget is open-ended, you may consider the Lincoln 3350 Welding Helmet, our premium choice and number-three pick. With perfect optical clarity and the largest viewing window available, it has all the features you would hope to find on a premium welding helmet.
If your budget is a bit more conservative, you may instead opt for the Antra Welding AH6-260-0000, which occupies our number-two position. This mask earned our pick for best overall value for a reason. It's got a price point that's accessible to every hobbyist and enthusiast, with a build quality to rival higher-priced models. If you want a quality welding mask that you can count on without breaking the bank, you can't go wrong with this one.
When you're looking for the best choice overall and you don't want to go broke on it but can afford to get something optimal, our number-one pick, the Hobart 770756 Impact Variable Auto-Dark Helmet, is an all-around excellent choice, as it's packed with every necessary feature, is highly reliable, and has a modest price.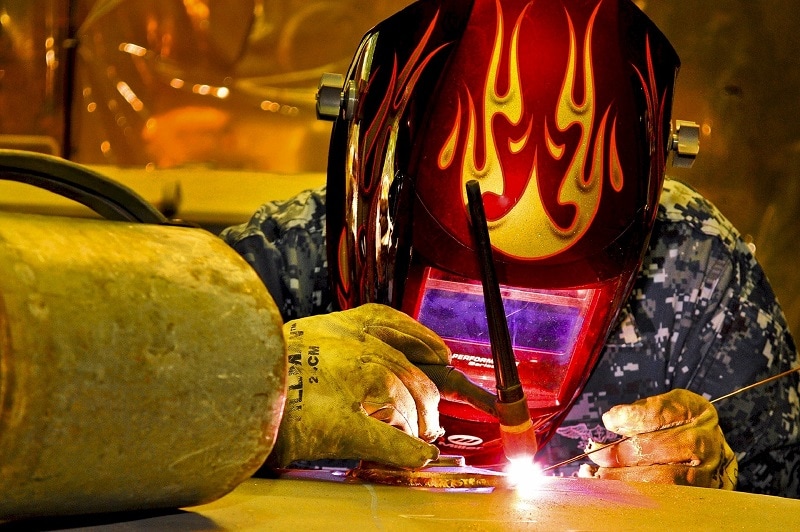 Comfort
It's something that you may not notice right away, but after hours of bending your neck down to see what you're working on, a heavy mask can begin to feel like a small weight hanging on your head. This can lead to days of ache and pain, making the entire experience much less enjoyable. Beyond this, the way your mask's headgear conforms to your head can become unpleasant after hours of use. If the headgear doesn't stay in position, you may find yourself making constant adjustments. The masks in our top positions are all sure to be a comfortable fit that will let you focus on your work instead of your mask.
Cheater Lens
Sometimes, you need a little magnification to clearly see what you're working on. This is where the cheater lens comes into play. This is essentially a small magnifying lens that clamps inside your helmet's viewing window to enlarge what you're looking at. To make it easier to get in and out of your mask, most manufacturers have included a mounting system for cheater lenses.
The only helmet on our list that doesn't feature a cheater lens mount is our final one, the DEKOPRO Auto Darkening Solar Powered Welding Helmet.
---
Conclusion
After reading this article, you should feel well-prepared to purchase the best welding helmet for you. You know which factors are important, and after reading our reviews, you also know how the top masks on the market compare to each other. Let's recap the best auto-darkening welding helmets currently on the market:
The Hobart 770756 is a clear pick for the best welding helmet. With a high shade variability, dependable function, top features, and a modest price, this welding helmet is a standout choice for any welding enthusiast. When you're on a tight budget, the Antra Welding AH6-260-0000 is a great option for the money. Equipped with solar power, eight shade levels, and a budget-conscious price tag, you won't regret purchasing our number-two pick.
Hopefully, at this point, you're secure in your decision of which welding helmet is right for you. We've sifted through all the important information to help streamline your choice as much as possible. Now it's time to make your pick of the best welding helmet and start putting spark to steel!
Note: we also recently reviewed passive welding helmets. Click here to see the winners.