10 Best MIG Welders in Australia in 2023: Reviews & Top Picks
Last Updated on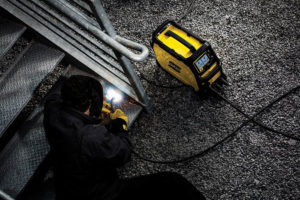 There's nothing worse than thinking you have your MIG Welder dialed in when you drop your hood and squirt out a pile of debris onto freshly prepared steel. There's also nothing better than hearing that perfect sizzle like bacon fat in a pan on a Saturday morning and seeing how smoothly the weld is laying in the joint. It's something you can hang your hat on. However, some machines are better suited for specific applications than others. So, here are our top 10 picks and reviews of MIG welding machines.
A Quick Comparison of Our Top Picks (2023)
Image
Product
Details

Best Overall

Hobart Handler Wire MIG Welder

Good for small or thick material
Comes with spool gun assembly
Great for the price
CHECK PRICE

Best Value

MYYWELD 160A 3 in 1 Welding Machine

Cheap
Multiple Processes
CHECK PRICE

Premium Choice

ESAB Rebel MIG Welder

Large amperage range
Easy to use
Comes with starter pack with leads and other accessories
CHECK PRICE

HITBOX 120A 110/220V DC Mini Inverter

Inexpensive
Lightweight
Portable
CHECK PRICE

YESWELDER FIRSTESS 5-in-1 Welder & Cutter

Versatile
Good for fabrication
CHECK PRICE
The 10 Best MIG Welders in Australia
1. Hobart 500554 Handler Wire Welder – Best Overall
| | |
| --- | --- |
| Amperage Range: | 25-190 |
| Multiple Process: | No |
This one takes the cake for our best overall MIG welder in Australia this year. If you're looking for a consistent wire welder that is going to get the job done, then look no further. For the price, you're not going to find a better welder that can work on materials as thin as 24 gauge and as thick as ¼" in one pass. The wide amperage range makes it extremely versatile. You can work on sheet metal or larger farm equipment. The major drawback is that the duty cycle is only 30%, so you have to give the machine some rest between welding. However, this model should be fine if you are working on smaller projects.
Pros
Good for small or thick material
Comes with spool gun assembly
Great for the price
---
2. MYYWELD Welding Machine 160A 3 in 1 MMA/MIG/LIFT TIG Welding Machine – Best Value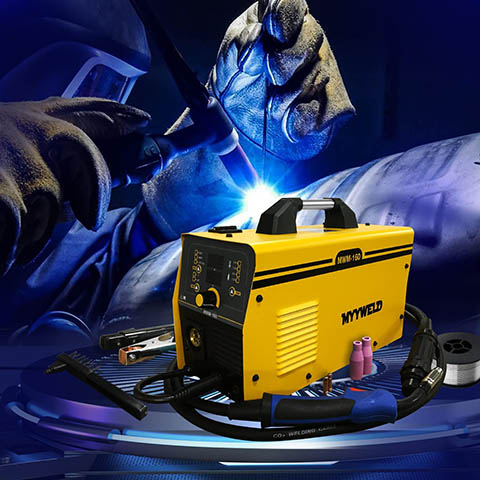 | | |
| --- | --- |
| Amperage Range: | 30-160 |
| Multiple Process: | Yes |
While the Hobart Handler gets our best overall award, we select the MYYWELD as the best MIG Welder for the money. It's great for beginners, and you can also use it for Stick and TIG welding. But don't expect miracles out of this unit; there are better machines out there. For the price, you get a welder that gets the job done, but you'll have to tinker with the machine to find the ideal settings for your projects. If you know someone trying to get their feet wet with welding, this might be just the gift.
Cons
Not user-friendly/Complicated
---
3. ESAB Rebel EMP215IC 120/230 Volt Dual Voltage Professional Grade MIG/TIG/Stick Welder – Premium Choice
Amperage Range:
Multiple Process:
| | |
| --- | --- |
| Amperage Range: | 15-230 |
| Multiple Process: | Yes |
If you thought the higher price was the main reason we chose this machine as our premium choice for MIG welders, then you haven't seen some of the specs on this. This is probably one of the most intuitive MIG welding machines on the market. It's incredibly user-friendly and produces decent welds with MIG even though it's a combo welder. The ESAB Rebel can weld on direct current only but has an incredible amperage range as low as 15 amps and as high as 205. The Smart MIG feature will take any idiosyncratic welder that can only weld on very particular settings and intuit their individual welding characteristics and adapt to the user. It doesn't get much better than that. With Smart MIG, just select your wire diameter and material thickness, and the machine will adapt to you. The Rebel also includes the manual in the software and some helpful tips on how to adjust settings.
Pros
Large amperage range
Easy to use
Comes with starter pack with leads and other accessories
Lightweight and compact
---
4. HITBOX 120A 110/220V DC Mini Inverter
| | |
| --- | --- |
| Amperage Range: | 10-120 |
| Multiple Process: | MIG and Stick |
The HITBOX 120A is more suited to flux-core welding. This welder can perform repairs on small things like a lawnmower, trailer, etc. You won't want to use this to weld anything heavy-duty like farm equipment. However, the advantage of this model is that the amperage range is as low as 10 amps meaning that with care and precision, you can weld on extremely thin materials, if you have an eye for it. We can't vouch for a good quality of customer service with HITBOX, but considering you are paying so little for this welding machine, it might be a chance you are willing to take.
Pros
Inexpensive
Lightweight
Portable
Intuitive
Works with torch cutting
Cons
Only well-suited for light-duty materials
Poor Customer service
---
5. YESWELDER FIRSTESS MP200 5-in-1 Welder & Cutter – Premium Choice
| | |
| --- | --- |
| Amperage Range: | 40-160 (220v), 40-200 (110v) |
| Multiple Process: | Yes |
If it's a multiple process machine you're looking for, the YESWELDER FIRSTESS is it. This is not one of those combo welders that barely make the cut on all its processes. If it's MIG you want, then look no further. It's ideal for fabrication and even includes a cutting mode so you can attach a plasma torch with compressed air. You also have the option of using either 110v or 220v power, so that you can get different amperage ranges. The only drawback is that it is a tad bit more expensive than the others.
Pros
Versatile
Good for fabrication
---
6. Traderight MIG Welder
| | |
| --- | --- |
| Amperage Range: | 20-180 |
| Multiple Process: | MIG and Stick |
This sturdy and dependable MIG welder, which somehow only weighs in at about 13.5 kilos, is ideal for your home projects, but it is not shy about professional work either. In addition to being able to weld mild steel, it can also weld carbon steel, iron, stainless, copper, nickel, titanium, and more. For this reason, it is an incredibly versatile machine. Its versatility does not lie in being a combo welder per se, but because of its lighter weight, it can be carried to hard-to-reach places and used as a Stick welder. Don't be afraid to put this machine to work. It has a 60% duty cycle and an advanced cooling system to help regulate temperature and workload.
Cons
Customer Service is lacking
---
7. Lincoln Electric CO K2698-1 Easy MIG 180
| | |
| --- | --- |
| Amperage Range: | 30-180 |
| Multiple Process: | No |
If it's a feeling of assurance and security that you want, then you can't go wrong with a Lincoln welding machine. This trusted company has been producing quality welders since 1911, and with this machine, that's exactly what you are going to get—quality, backed by excellent customer service and a warranty. Good welds don't happen without being in the zone, and that includes being comfortable. The handle on the MIG gun will keep your hand cooler than other models. The Easy MIG 180 can weld materials as thin as 24 gauge and as thick as ½", but it's not limited to mild steel. The Easy MIG 180 comes equipped to use with a spool gun so that you can tackle any project with aluminum. Overall, you won't be disappointed with this awesome machine produced by a time-tested name.
Pros
Can weld thinner materials
Comfortable
Intuitive
Customer Service
Cons
Not for heavy-duty projects
---
8. DEXGOTHIC Aluminum MIG Welder with Gas DG-2000
| | |
| --- | --- |
| Amperage Range: | 30-150 |
| Multiple Process: | Yes |
If you want to weld aluminum, it's probably best to not use a machine includes the option as a feature slapped on at the end. You need a machine that is specifically designed to weld aluminum, and that's what you get with the DEXGOTHIC Aluminum MIG Welder. Aluminum is one of the most porous metals and requires special care and attention. In addition to its capacity to weld aluminum, it can also handle other metals such as mild steel and stainless. It's easy to carry and not too complicated for neophytes but still can satisfy the veteran.
Pros
Lightweight
Great for beginners
Supports spool gun function
---
9. REBOOT MIG Welder 110/220 V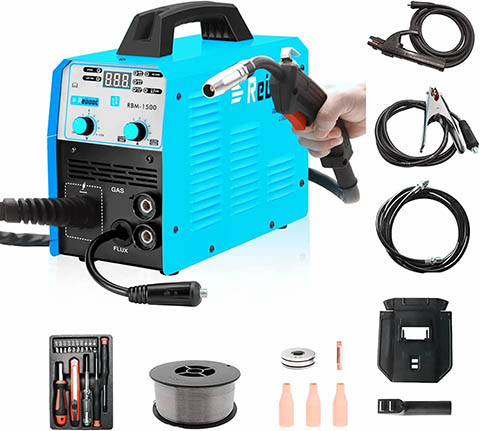 | | |
| --- | --- |
| Amperage Range: | 30-150 |
| Multiple Process: | Yes |
If it's short arc that you want, this is a great machine for you at an excellent price point. When it comes to getting the job done around the house or in your garage, short arc MIG is the way to go, provided that you are welding inside. If you happen to be welding outside, you can swap out the gas coverage and hard wire for some self-shielded flux core wire, like nearly all MIG welding machines. It can also weld Stick and TIG. However, for the price, it's worth it to buy it just for MIG. Although it's great for small projects, it's not recommended for welding thicker materials, as the amperage doesn't get high enough. Another downside is that the fan built into the machine can get quite noisy, but that's nothing a little hearing protection can't block out.
Pros
Price point
Great for short arc
Easy to Use
Cons
Not good for thicker materials
Noisy
---
10. CANAWELD MIG/STICK 202 Welder
| | |
| --- | --- |
| Amperage Range: | 10 – 200 |
| Multiple Process: | MIG and Stick |
If you were blindfolded (or were welding with your hood on), you might not know that this machine compares in quality to a Lincoln or a Miller. That's not an exaggeration. The CANAWELD has an impressive duty cycle and can run 100% of the time when set at 170 amps. That is something you are not going to find in most MIG welding machines that are suited for home use. It's true that at the max amperage of 200, you are only going to get 25%, but if you are not welding 1" thick plate, it probably won't be a problem. The machine also compensates for longer leads. That is, you can use leads up to 50 meters long without a loss in power. Two of the minor downsides are that the gun is a little bulky, and it can be difficult to use in tight spaces. Also, the power switch is on the back of the machine. This makes it a little tricky if you have a cylinder mounted to your welding cart on the back.
Pros
Impressive Duty Cycle
Can use longer leads
Can perform heavy-duty welds
Cons
Gun slightly oversized
Power switch is in an inconvenient location
---
Buyer's Guide: Factors to Consider When Selecting the Best MIG Welder
Here are some tips to help you find the right MIG welder for your needs.
Types of Metal
The vast majority of welding is performed on mild steel in the industry. However, at home that might not be the case. Perhaps the project you have lying around involves welding with aluminum. If that's the case, it's wise to use a welder that is more suited to welding aluminum, like the Dexgothic Aluminum MIG Welder. However, if you only have one aluminum product to complete, you might use a MIG welder that is more versatile and suited to welding steel primarily. Many combo models are adaptable with spool guns that you can use on occasion to weld aluminum.
Amount and Length of Use
You also have to consider the duty cycle of your machine. Are you going to be welding for hours on end without taking a break? You will likely need a machine with at least a 60% cycle in your desired amperage range. However, if you are a hobbyist, chances are that you aren't pumping out too much weld. A 100% duty cycle is not going to be necessary. So, while not having to worry about the longevity of your machine and the potential stress you are putting on your power source is a luxury, it might not be one that you can afford or even need. 100% duty cycle machines are a near necessity in the workforce, but not for the vast majority of hobbyists.
Single Process or Multiple Process?
A good combo welder is great to have if you are working on multifaceted projects. There are occasions where it's helpful to switch from hardwire MIG to TIG or Stick. If that's not you and you prefer a short arc, then consider getting a machine that is more focused on MIG, like the Lincoln Easy MIG 180. In general, combo machines have drawbacks in all processes.
Experience Factor
Are you confident enough to tinker with your settings on the welding machine? If you are a novice, consider getting a machine that is a bit more intuitive. The ESAB Rebel, which we reviewed above, is a great example of this. The Smart MIG adapts to your welding style and requires fewer adjustments.
---
Conclusion
Of all the reviews above, the Hobart Handler comes in as our best overall MIG welder. It combines an excellent price point, trusted name, and dependability for a welder that will get the job done and more. The MYYWELD is our best value since. As a 5-in-1, it cannot only tackle MIG but Stick and TIG as well at a price that is hard to beat. Our premium choice is the ESAB Rebel. It's a trusted name with intuitive technology well-suited to beginners.