10 Best Plasma Cutters in Canada in 2023: Reviews & Top Picks
Last Updated on
To some people, plasma cutters may sound like tools straight out of a sci-fi movie. However, these are incredibly useful and versatile tools used in cutting metal. Using similar principles used in a plasma welder, a plasma cutter can cut through even the hardest of metals. It can cut through brass, steel, aluminum, and other metal varieties.
This method of trimming metal essentially uses an electrical charge to create ionized gas– commonly referred to as plasma, at high temperatures. The plasma is then used to slice through pieces of metal and other sturdy materials into various shapes, forms, and sizes.
It is a great way of cutting metal without the typical noise pollution created by traditional means. These tools, however, vary depending on their abilities, technological advancements, and price. So, shopping for a plasma cutter that can satisfy your needs can be quite frustrating.
We have scrutinized 10 of the best plasma cutters in Canada this year and their specifications to provide you with the necessary information to make an informed purchase decision. Read on to find out.
---
A Quick Comparison of Our Winners (2023)
Image
Product
Details

Best Overall

Hypertherm Powermax30 Plasma Cutter

Max cut: 5/8"
Has 15-foot torch lead
Extended reach gouging
CHECK PRICE

Best Value

Lotos LTP5000D Plasma Cutter

Simple to use
Low price range
Creates clean cuts through rusty/painted metal
CHECK PRICE

Premium Choice

Hynade Plasma Cutter

Extra budget-friendly
DC inverter included
Worthwhile accessories package
CHECK PRICE

Forney Easy Weld 251 Plasma Cutter

Lightweight
13 feet long torch lead
Drag-cutting technology
CHECK PRICE

PRIMEWELD CUT50 Plasma Cutter

Recommended gas Inlet flow
High-frequency non-touch start
Optimized design based on MOSFET transistors
CHECK PRICE
The 10 Best Plasma Cutters in Canada
1. Hypertherm Powermax30 Plasma Cutter — Best Overall
| | |
| --- | --- |
| Input Power: | 110/120 & 220/240 |
| Thickness Cut: | 5/8" |
| Weight: | 997.9 grams |
| Dimensions: | 35.56 x 13.97 x 29.21 cm |
| Output Range: | 15 to 30 Amps |
The Hypertherm Powermax30xp makes it our best overall choice because it offers the most features compared to plasma cutters in its price range and is ideal for both hobbyists and professionals. It produces clean cuts with a beautiful edge. It can also cut metal up to 5/8" thick plates with finer cuts for decorations.
This plasma cutter is also very lightweight and portable, with a strong case protecting inside components. It also comes with a long 15-inch torch lead that makes the cutting experience even more satisfying. With its drag-cutting technology, tracing is made simpler while limiting double arcing.
You can also expect to find an internal air valve in this model. Unfortunately, it tends to leak when overused, especially in an industrial setting. But it is less likely to leak when used lightly in a home setting; if it does, the spare parts are affordable and easy to replace.
Pros
Max cut: 5/8"
Incorporates drag-cutting technology
Has 15-foot torch lead
Extended reach gouging
Makes fine sheet metal cuts
Simple to use
Comes with a three-year warranty
Cons
Internal air valve leaks after long usage
---
2. Lotos Plasma Cutter — Best Value
| | |
| --- | --- |
| Input Power: | 110/120 & 220/240 |
| Thickness Cut: | 3/4" |
| Weight: | 8.8 kg |
| Dimensions: | 15" x 6" x 12" |
| Output Range: | 10 to 50 Amps |
The Lotos LTP5000D Plasma Cutter not only retails with similar features to the Hobart Airforce 40i or the Hypertherm Powermax30Xp but offers the best value worth its price for the quality.
Featuring a cutting range of 10 to 50 amp, and a non-touch pilot arc, this plasma cutter can cut clean and precise welds through rusty or painted metal. Though slightly slower it can cut metals up to 12 inches thick and even thicker if you aim to get rougher cuts.
It also uses drag technology to create clean and precise tracing lines. This plasma cutter is especially popular because it cleans the nozzle while making efficient and effective cuts all through a metal sheet.
It is best suited to hobby welders who need to cut metal plates in no more than 1/2" plate for their weekend welding endeavors. It is light and powerful enough for jobs outside the worksite and robust enough to withstand heavy use.
Pros
High-frequency non-touch start
Low price range
Creates clean cuts through rusty/painted metal
Simple to use
Cons
Only One-year warranty
Max clean-cut: ½"
Not the best standoff available
---
3. Hynade Plasma Cutter, Dual Voltage Plasma Cutter – Premium Choice
| | |
| --- | --- |
| Input Power: | 115/230 V |
| Thickness Cut: | 6 mm |
| Weight: | 8.64 kg |
| Dimensions: | 16.9" x 13.7" x 11" |
| Output Range: | 50 Amps |
Unlike their dual voltage counterparts, the Hynade Plasma Cutter offers more options. It features a built-in inverter using IGBT (insulated Gate Bipolar Transistor) to cut steel with a metal thickness of up to 14 mm and in special cases, even thicker.
It is designed with a 110/220 V with an auto indicate feature. It does not require a hand switch to crank it up. It also features a two-light voltage located at the front panel which lights up to indicate the different voltage levels (Between 110V and 220V).
This machine adopts the inverter tech that is fan-cooled and comes with a large ventilation window to increase performance and durability. The Hynade plasma cutter is especially ideal for stainless steel because it can do quality cuts up to 8mm#70PSI (0.65Mpa) 220V 50Amps with a max metal thickness of 4mm#70PSI 220V 50Amps; in 110V 35 Amps.
This plasma cutter brand also retails with some of the most affordable and highest quality accessories on the market. They include four meters PT31 cutting torch, two pcs torch electrodes, 110V power plug with conversion wire adaptor, 2pcs tip, and a 2-meter-long air horse. Moreover, they offer two years of free after-sales services, in case your unit experiences any difficulties.
Pros
Extra budget-friendly
Worthwhile accessories package
DC inverter included
Cons
Power issues with new products
---
4. Forney Easy Weld 251 Plasma Cutter
| | |
| --- | --- |
| Input Power: | 120V |
| Thickness Cut: | ¼" |
| Weight: | 9.75 kg |
| Dimensions: | 15" x 8" x 12" |
| Output Range: | 15 to 20 Amps |
The Forney Easy Weld 251 is a favorite plasma cutter amongst hobby welders because it is affordable and can cut light sections of material up to a quarter-inch thick. It comes with a two-year warranty and is suitable for metal art, Do-it-yourself, farm, and contractor projects. It is also popular because it uses longer electrodes, reducing the chances of a welder touching the welding arc.
An output range of 20 amps may be lower than most people would like but it gets the job done. You can use the Forney Easy Weld 251 to cut stainless-steel, galvanized steel, aluminum, mild steel, brass, and copper up to a quarter inch thick. It can also cut aluminum up to 3/16".
This machine also features Drag Torch Technology, allowing the welder to directly drag the tip on the material to create smooth and precise cuts. In addition, it's great for weekend hobby welders because you can plug it in a standard 120V home outlet for efficient and easy metal cutting at home. It is also generator friendly.
It may be slightly heavier than some of the other cutters on the list, but it is portable, permitting plasma cutting jobs away from the workstation. It is generally a practical tool that is best suited for casual work.
Pros
Low budget range
Lightweight
13 feet long torch lead
Drag-cutting technology
Cons
Low max cut: 1/4″
Low input and output range
1-year warranty
---
5. PRIMEWELD CUT50 Portable Plasma Cutter
| | |
| --- | --- |
| Input Power: | 110/120 & 220/240 |
| Thickness Cut: | ¼" |
| Weight: | 25 lbs |
| Dimensions: | 15" x 8" x 12" |
| Output Range: | 10–35 Amps |
This is another budget-friendly plasma cutter that is capable of running at 35 amps to cut through a metal thickness of up to 1/2". These cutters are ideal for hobbyists and non-professionals looking for a weekend repair tool that is not expensive. Primeweld Cut50 is not designed for professional metal fabricators and automotive technicians.
Like most Chinese-made plasma cutters, it retails at a reasonably budget-friendly price without compromising on performance. Unfortunately, they do not guarantee durability, making it unsuitable for professional use where welders use the cutters on a daily basis.
However, with a torch lead that can cut ¼ inches, this plasma cutter can comfortably make clean cuts on alloy steel, mild steel, stainless steel, aluminum, copper, and other materials. Even if you have limited power input, the standard 110V and 220V will serve your needs.
The consumables used on the PRIMEWELD CUT 50 Portable Plasma Cutter are also easy to repair and replace. You may, however, have to make prior bookings for consumables from your local store, due to availability issues. Previous brands based in China and offering cheap plasma cutters have gone out of business, limiting the availability of spare parts.
Pros
High-frequency non-touch start
3-year warranty
Recommended gas Inlet flow
Optimized design based on MOSFET transistors
Cons
Minimal max clean-cut: 1/2″
Low quality
Requires 30A breaker
Shuts off if overworked
---
6. Ramsond CUT 50DX Air Plasma Cutters
| | |
| --- | --- |
| Input Power: | 110 and 220 V |
| Thickness Cut: | ¾" plate |
| Weight: | 8.62 kg |
| Dimensions: | 36.2 x 15.24 x 22.86 cm |
| Output Range: | 50 Amps |
The Ramsond CUT50DY is one of the most versatile and easy-to-use plasma cutters on the market today. It comes with an output of 50 Amps and can handle dual voltage (110V and 220V). In addition, it has dual frequency convenience (50 and 60Hz).
This plasma cutter also boasts of a high-quality inverter technology that has been perfected through four generations of models. It has a user-friendly design that features an integrated pressure gauge and an easy-to-read digital amp display with the unit setting information. You don't have to stop cutting to inspect your work, simply check the control panel for updates.
The Ramsond CUT50DY also retails with a cooling system, a carry handle, and an easy-to-read owner's manual to assist in setting up and using the plasma cutter. It creates clean and concise cuts with minimal heat input and distortion.
This cutter is capable of cutting through carbon steel, brass, aluminum, alloy steel, copper, and other materials. It is suitable for both novice and professional welders.
At 19 pounds, this unit is lightweight, making it portable and easy to move around. It also comes with a great set of accessories that are easy to set up and use.
Pros
Pressure gauge and display are on the front of the unit
Comes with a powerful 50-amp digital inverter
Dual voltage use (110/220)
Dual frequency uses 50/60 Hz
Cons
Needs a quality air compressor to be fully effective
Quite pricey for the casual user
Users need practice before mastering finer cuts
---
7. Eastwood Versa Cut 40 Plasma Cutter
| | |
| --- | --- |
| Input Power: | 110V & 220V |
| Thickness Cut: | 3/8" |
| Weight: | 2.27 kg |
| Dimensions: | 55.88 x 33.27 x 36.58 cm |
| Output Range: | 40 Amps |
This is yet another plasma cutter for hobbyists, ideal for light metal fabrication and automotive restoration. It can run on both 110V and 220 V input and requires five to seven cfm of air at 60psi. It also offers versatility, making it a great tool for your farm, ranch, garage, and remote job sites.
With an output of 40 amps, you can cut up to 3/8" thick materials and slice through 24ga. sheet metal. You can use a standard external air compressor from your local store to meet the air pressure requirements.
In addition, this unit features a comfortable torch with a 20ft long lead that allows the user to cut through any electrically conductive metal. No-touch technology makes the Versa Cut 40 suitable for cutting through painted or rusty metals.
This plasma cutter is also made from sturdy materials, making it a reliable unit that offers great value for its price.
The only downside is that the plasma cutter package does not come with a lot of consumables. You need to purchase additional consumables to make the best out of its features. Luckily, the torch is compatible with standard consumables that can be bought from a local welding shop.
Pros
Inverter technology increases versatility and power
Dual voltage plasma cutter
Comfortable torch with long and well-insulated lead
Decent metal cutting performance
Compressed air flow requirements are not that high
3-year warranty
Cons
Does not come with a lot of consumables
---
8. Lincoln Electric Tomahawk 625 Plasma Cutter
| | |
| --- | --- |
| Input Power: | 208/240V |
| Thickness Cut: | 1/2″ recommended; 5/6″ maximum, and a 3/4″ severance cut |
| Weight: | 34 lbs |
| Dimensions: | 15.2 x 8.5 x 18.9 inches |
| Output Range: | 40 Amps |
The Lincoln Electric Tomahawk 625 is a high-end plasma cutter capable of cutting any electrically conductive metal with ease. You can simply connect the machine to an air compressor and start cutting immediately. It runs on nitrogen or air pressure of 80 to 110 psi. This is slightly higher than most plasma cutters on our list.
It is easy to set up and use because it comes with a parts-in-place system that detects correct installation and consumables. So, if you fail to install some of the torch parts such as the swirl ring, retaining cap, or the drag spacer, it will notify you.
The Tomahawk 625 comes with a power output range of 10–40A, which is capable of cutting ½" thick conductive metal with ease. You can also opt to cut a ¾" severance thickness or 5/6" maximum cut. This cutter may only be a 220V power input machine, but it utilizes the latest innovative technology to allow users to use the lowest power input of 208V. Moreover, you can power the unit up with a generator making it convenient for remote job sites.
The only downside to the Tomahawk 625 is the touch start which can be difficult to get used especially for novice welders. It is, however, a reliable plasma cutter that can cut different types of metal at a decent speed.
Pros
High-quality build
You can connect the torch to a CNC table
Easy to operate
Ideal for cutting and gouging
Continuous output control
Quality torch provides a precise cut
Safety feature that detects proper installation
Comes with a 3-year warranty with a possible 2-year extension
Cons
Relatively high air pressure requirements
Touch starts that's difficult to get used
---
9. Amico CUT-50 Plasma Cutter
| | |
| --- | --- |
| Input Power: | 110V & 220V |
| Thickness Cut: | ¾" |
| Weight: | 11.3 kg |
| Dimensions: | 39.93 x 21.64 x 32.64 cm |
| Output Range: | 50 Amps |
The Amico CUT-50 is an affordable plasma cutter that is great for DIY home hobbyists. This plasma cutter is capable of cutting ¾ inch thick metals with a max severance of 1" and can work on cast iron, pig iron, aluminum, stainless steel, steel alloy, carbon steel, and other conductive metals. This results in straight cuts and angles in just a matter of minutes. This makes it great for professional usage, capable of handling demanding construction and industrial work as well.
It is a dual voltage machine running on 110-240 V. It also features auto-voltage that automatically adjusts to the circuit that it is plugged in. You will, however, need an adapter for a 110V power input. Fortunately, it is included in the package. It also incorporates a non-touch cutting technology with a stable Arc.
The Amico Cut-50 is also easy to set up because it features NPT ¼" industry type D coupler that can easily connect with a pre-installed lug on the air compressor. The unit's filter is located inside the machine as well and comes with an automatic air control solenoid valve. Another impressive feature of this cutter is automatic compensation for voltage fluctuation, temperature control, over-current protection, over-load protection, and fan dormancy. Overall, this plasma cutter has impressive capabilities at a lower cost than you would expect for standard cutters in its price range.
Pros
Works with 110V or 240V outlets
Adapters included for 110V electric
Affordably priced
Max severance of 1"
Cons
Needs better quality control
---
10. Tooliom 50A Non-Touch Pilot Arc Plasma Cutter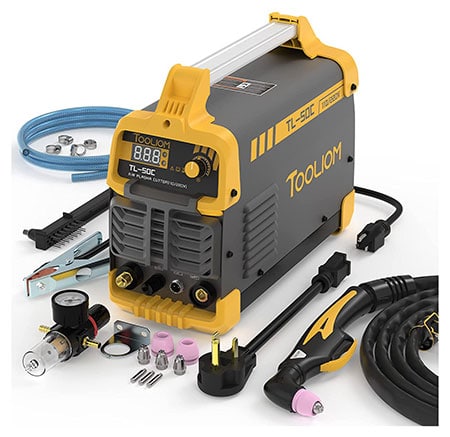 | | |
| --- | --- |
| Input Power: | 110–220V |
| Thickness Cut: | Maximum 1/2″ |
| Weight: | 9.52 kg |
| Dimensions: | 44.45 x 40.64 x 29.21 cm |
| Output Range: | 50 Amps |
Tooliom is a reputable brand that offers plasma cutters with innovative features at an affordable price. This cutting machine is available in both high-frequency and non-high-frequency models and is a suitable choice for anyone looking for a medium-duty plasma cutter. At 13lbs, it is also one of the most portable cutters on the market.
It comes with a high-visibility LCD screen and useful accessories that assist in cutting through copper, stainless steel, alloy steel, low carbon steel, and other materials with relative ease. Furthermore, the pilot cutting mechanism will allow users to work on rough and rusty surfaces such as corroded steel with absolute precision.
With a dual voltage option, you can customize the plasma cutting process and cleanly cut through materials up to ½". It also incorporates an IGBT inverter which regulates the temperatures, thus improving circulation.
In addition, the Tooliom50A Non-Touch Pilot Arc Plasma Cutter is certified by ETL and features temperature control, load protection, and over-current protection.
Pros
Durable and compact
Great value for money
Cuts through rough surfaces
Offers post flow circulation
Cons
Torch length is not the best
---
Buyers Guide: Selecting the Best Plasma Cutter
To avoid post-purchase regrets, there are aspects of a plasma cutter that you need to consider before making a purchase. They include gas supply, duty cycle, cutting capability, and additional features.
Gas Supply
Most standard plasma cutters use oxygen, nitrogen, and argon gas. However, you can still use ordinary air, which is cheaper, efficient, and easier to supply using a compressor. Some models feature inbuilt air compressors, but they are more expensive and can only handle that one job. Separate air compressors are budget-friendly alternatives and offer users more versatility in applications.
While many standard plasma cutters come with sufficient power, it's wise to check the cutter's consumption requirements. You need to check out the pressure, given as pounds per square inch (psi), and the airflow value given in cubic feet per minute (CFM).
Duty Cycle
The plasma cutting process tends to produce a lot of heat. Therefore, these machines need to have safety circuits in place to prevent overheating, but they require some time to cool down.
The active period of using a cutter is referred to as the duty cycle and is given as a percentage of a unit's amp rating. The higher the percentage, the longer the time it will take to cut a metal continuously.
For instance, if a machine has a duty cycle of 60%, it will work continuously for 6 minutes then cool down for 4 minutes. So, before purchasing a machine that will slow your job, check out the relevant information about the duty cycle.
Cutting Capability
Plasma cutters are rated depending on their amperage. When the output amps are higher, the thicker the material it can cut and the faster the machine can cut for an equivalent thickness. However, two different 50-amp machines can have different performance levels.
So, you need to have a closer look at the specific details of a plasma cutter to determine the actual thickness that the cutter can handle.
Most machines in the market can cut into four possible thickness cuts:
Rate Cut Thickness: The maximum depth at a cutting speed of 10 inches per minute (IPM).
Recommended Cut Thickness: Quality plasma cutters work best by combining efficiency and speed. This level is lower than the rated cut so the cuts will be thicker. It is however subjective to the manufacturer.
Clean Cut Thickness: This is the maximum level that a unit can cut while maintaining a smooth finish
Severance Cut Thickness: This is the absolute maximum level that a plasma cutter is capable of regardless of the quality of the end cut.
Most entry-level plasma cutters can only cut up to a 1/8" metal thickness. However, the more high-end models can comfortably slice through 1" thick materials. Remember to avoid exceeding the machine's cutting limits because it affects the cut quality. Also, you will likely use more consumables, which shortens the machine's lifespan.
Other Considerations
Dual Voltage
Many plasma cutters have dual voltage input settings and can work on either 110V or 220V. Such cutters are great for both industrial and home usage.
Torch
The plasma cutter's torch lead is an important tool because it can impact the user's working comfort. Ensure that you get a touch lead that allows you to work comfortably for long without getting fatigued. The standard length is 12 feet, but you can extend up to 25 feet for heavy-duty plasma cutters.
The torch size also matters because it affects the ability to work in tight spaces. There are different torch sizes and shapes, so ensure to get one that is long enough to hold comfortably while working.
Nozzle
Cheaper varieties of plasma cutters require contact between the nozzle and the metal to work. So, you need to have a very steady hand to get accurate results. Non-touch models on the other hand allow users to easily direct the torch onto the surface. They are suitable for cutting metal with an irregular surface.
Drag Technology
With drag technology, users can drag the nozzle on the surface of the metal once the cut has started. This will allow you to accurately trace complex shapes on the metal.
Pilot Arc
Also known as a high-frequency starting, this feature is common in most plasma cutters. It can, however, interfere with TV and radio signals. Non- High=frequency pilot arcs do not experience the same problem.
Weight
This is an important consideration, especially for users who work at a remote job site. The majority of plasma cutters in the market retail with carrying handles. However, you should go for a lighter machine that is easier to move around.
Consumables
Plasma cutters usually come with consumables such as nozzles and electrodes. These accessories affect the total price of a plasma cutter, so it's best to compare different alternatives. You may not have to buy from the manufacturer but it's best to always invest in quality consumables. Cheap options will affect your results and can harm the plasma cutter.
---
Conclusion
Whether you are looking to purchase a plasma cutter for hobby work or one for daily professional use, you need one that can quickly create clean cuts in different types of metals. It can be daunting selecting one that suits your needs, but we have narrowed down to 10 of our top picks to assist in your purchase decision.
The Hypertherm Powermax30 Plasma Cutter is our top overall pick because it can comfortably cut metals with 5/8" thickness, has drag tracking technology and a 15-foot lead. The Lotos LTP5000D Plasma Cutter combines great performance and affordability providing great value for its price. It is also simple to use and can cut ¾" thickness. The Hynade Plasma Cutter is great for professional use because it offers versatility compared to other dual voltage cutters and uses IGBT the to cut metals up to 15mm or even thicker.
Generally, all the machines listed here are worth taking a look, but it's best that you go through the buying guide to help you narrow down the specifics to choose an ideal plasma cutter best suited to your requirements.
You may also be interested in:
---
Featured Image Credit: junpiiiiiiiiiii, Shutterstock