10 Best TIG Welders in Canada in 2023 – Top Picks and Reviews
Last Updated on
While there may be different welding practices used in the fusion of materials, one of the most popular practices this year is tungsten insulated gas (TIG) welding. TIG welding is one of the most difficult welding practices to learn. It requires a great deal of patience, dexterity, and the use of both hands. But when properly mastered, it is undoubtedly the most efficient and high-quality welding method.
You not only get to produce the cleanest and most pristine welds but you can also fuse thinner materials like aluminum with more control and precision. In addition, TIG welders don't need excess filler materials, therefore making them ideal for welding metals with a more solid structural integrity and beautiful finishes.
There are a variety of TIG welding brands available in the market. To help you reduce choice paralysis and make an informed purchasing decision, we have done extensive research to provide you with some technical background as well as an understanding of the benefits presented by different welding brands. Our detailed reviews of the 10 best TIG welders in Canada should provide you with insights to narrow down your search for an ideal TIG welder.
A Quick Comparison of Our Favorites (2023)
Image
Product
Details

Best Overall

AHP AlphaTIG 200 Amp AC/DC TIG Welder

Stainless steel parts prevent rusting
Can fuse a variety of metals
Detailed instruction manual for easy operation
CHECK PRICE

Best Value

YESWELDER 200 Amp TIG/Stick/Arc Welder

Dual voltage
HF start
Easy to use 
CHECK PRICE

Premium Choice

Miller Multimatic Multiprocess Welder with TIG Kit

Portable and lightweight
Can use a generator
Built-in cooling system
CHECK PRICE

Weldpro Digital TIG 200GD 

Enhanced technical support
Strong composition
Features a Professional design
CHECK PRICE

EVERLAST Power ARC 160STH TIG/Stick Welder

Dual voltage
Supports a generator
Arc force control feature
CHECK PRICE
The 10 Best TIG Welders in Canada
1. AHP AlphaTIG 200 Amp AC/DC TIG Welder – Best Overall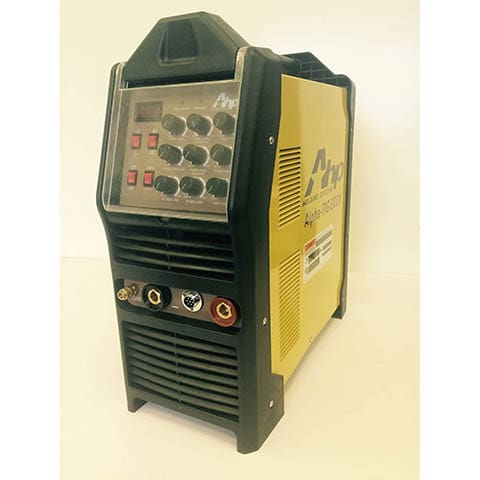 | | |
| --- | --- |
| Dimensions: | 48.26L x 58.42W x 30.48H cm |
| Weight: | 24 kg |
| Amperage: | 150 to 200a |
| Voltage: | 220V |
| Duty Cycle: | 60% |
Our top overall pick is the AHP AlphaTIG 200 Amp AC/DC TIG Welder, which is one of the most versatile welding machines, perfect for professional welding applications. This welder is designed to accommodate both advanced industrial welding and simple home operations.
The welder may look bulky, but at 17 kilograms, it is actually light. Though not as light as the other TIG welders on the list, it is still convenient if you must move around for different jobs.
The AHP AlphaTIG 200 is equipped with a torch package ranging from 150 to 250 amp. It includes a power adapter, a flex head valve torch, and a WP-17V torch for diverse welding needs. Also, with 200a AC/DC, you are guaranteed a thin and precise cut despite the metal thickness. It can fuse metals such as stainless steel, 1/4″ aluminum, and even 3/8″ mild steel fabrication.
This welder is also equipped with a digital display, which allows you to input the exact settings of the required parameters. This also includes memory setting features that store a database of all the previously used parameters for ease of access. At the front panel, you can also adjust the AC balance and frequency, as well as change the machine's pulse frequency from 0.5Hz to 200Hz.
In case you are worried about the exposure of the electronic panels to weather elements, the designers of this TIG welder had the mind to include a strong metal case which improves the welder's durability even in rugged environments. The productivity, features, accessories, and durability make the AHP AlphaTIG 200 the best TIG welder you can buy this year.
Pros
Stainless steel parts prevent rusting
Detailed instruction manual for easy operation
Can fuse a variety of metals
Stable arc
Portable and user-friendly
Cons
Ground clamp is easy to break
---
2. YESWELDER 200 Amp HF TIG/Stick/Arc TIG Welder TIG Welding Machine – Best Value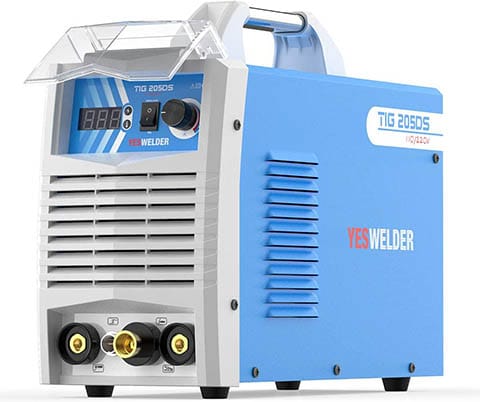 | | |
| --- | --- |
| Dimensions: | 8L x 34.6W x 27.8H cm |
| Weight: | 11.58 kg |
| Amperage: | 15 A–205 A |
| Voltage: | 220V |
| Duty Cycle: | 60% @165A, 100% @127A |
The YesWelderTIG-205DS is one of the most budget-friendly TIG welders capable of handling various welding applications such as DIY projects, garage, and light professional TIG use. It is a powerful High-Frequency TIG machine packed into a compact housing and well worth its price. It can be used in both stick and TIG welding, producing the kind of welding arcs mostly reserved for mid-range or higher TIG welders.
The welder features an amperage range of 15–200 amps, which is good but not the best because TIG work with thin sheets requires amps lower than 15, especially at the arc start. So this makes the welder unsuitable for high-quality industrial-grade use but ideal for lighter TIG projects. But considering its price, it wasn't intended for that market anyway.
However, this TIG welder is very portable, versatile, and powerful. It features an ergonomic handle and a lightweight design with a simple and intuitive user interface for quick and easy adjustments. It is a great starter unit for entry-level welders and professionals who need a cheap and reliable TIG welder that can accomplish the simplest tasks on site.
Pros
Great value considering its price
Dual voltage
HF start
Easy to use
Durable and lightweight
Welds TIG/stick
Cons
The lowest amp setting is only 15 amps.
DC TIG welding only
---
3. Miller 951674 Multimatic 215 Multiprocess Welder with TIG Kit – Premium Choice
| | |
| --- | --- |
| Dimensions: | 34L x 33.02W x 27.94H cm |
| Weight: | 17.23 kg |
| Amperage: | 30 to 230a |
| Voltage: | 120/240V |
| Duty Cycle: | 20% @ 17.6A, 190V |
Whenever there is a conversation about top-quality TIG welding machines, the Miller Multimatic TIG welder is always among the first welding brands that come up. This incredibly smooth machine is designed for reliability and longevity, which is apparent from its construction. Despite not having many accessories and extra features, the welder is robust and user-friendly.
This TIG welder is equipped with a drive motor that starts in a manner and order intended to reduce the spatter. This makes it easier to control the arc while seamlessly creating smoother intersections between the bases.
The Miller Multimatic TIG welder also offers more convenience than any other welder on the list. It offers several aiding features, which include a comprehensive guide sheet and auto-voltage detection, both designed for setups and configuration of the machine.
In addition, this welder is equipped with two gas inputs, making it easier to switch in between the welding process without necessarily having to disconnect any gas tank. This saves time and energy spent on welding.
It's also worth mentioning that the Miller Multimatic 215 comes with a digital display, which makes it easy to take readings. The display is simple to use and comes with nice features, which include an installation guide.
As you can see, this welder packs so many desirable features that many seasoned welders cannot ignore. However, these features come at a very premium price.
Pros
Portable and lightweight
Can use a generator
Built-in cooling system
Dual Voltage Power
High-grade construction
Cons
Cannot weld aluminum without a spool gun
Must purchase TIG kit separately
---
4. Weldpro Digital TIG 200GD
| | |
| --- | --- |
| Dimensions: | 88L x 43.18W x 22.86H cm |
| Weight: | 2 kg |
| Amperage: | 5 to 200A |
| Voltage: | 110/220V |
| Duty Cycle: | 60% for AC TIG and 40% for DC TIG |
If you are a professional welder looking for a portable yet powerful TIG welder, then consider the Weldpro Digital TIG 200GD as a serious contender. Despite the impressive lightweight and compact construction design, this welder doesn't compromise on quality and performance. It is even more versatile with a range of both indoor and outdoor applications.
The welder is inverter-based, and it exploits the cutting-edge technologies mostly found in high-end welders, such as IGBT circuits and pulse width modulation. In addition, it offers more control of the welding process by availing several settings/control options, making it ideal for both beginners and professionals.
It is also a favorite welder for many people because of its ability to connect to both DC and AC power supplies. So, you can work with a range of materials, including aluminum, copper, and steel among others. Moreover, it features an impressive duty cycle of 60% on AC power and 40% on DC power. The duty cycle will consequently allow you to carry out more welding projects within a shorter period compared to other welding models available in the market.
In general, the Weldpro Digital TIG is designed to offer the best performance, which gives users value for their money. The only thing that is likely to put you off is the loud annoying noise that it sometimes produces. Luckily you can remedy this by purchasing some earplugs.
Pros
Enhanced technical support
Strong composition
Features a Professional design
Incredible performance
Simple to use
Cons
Not suitable for 0.25 aluminum thickness
Zero gas approach to the tip
---
5. EVERLAST Power ARC 160STH High-Frequency Start TIG/Stick IGBT Welder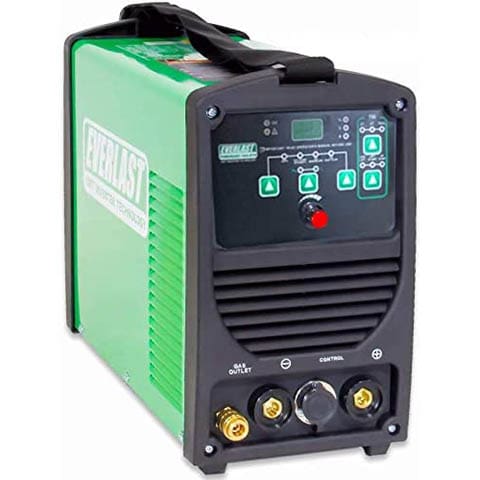 | | |
| --- | --- |
| Dimensions: | 96L x 44.45W x 23.62H cm |
| Weight: | 12 kg |
| Amperage: | 5–200A |
| Voltage: | 120/240V |
| Duty Cycle: | 60% @ 125/200A |
With a dual voltage input of 110 volts and 220 volts, the Everlast Power TIG 200DV TIG Welder is truly a powerful welding unit that can be used nearly everywhere because it can comfortably support 50/60Hz. The IGBT inverter technology used on this welder guarantees you a seamless weld with minimal spatter.
The Everlast Power TIG 200DV TIG Welder also features a digital control that adds to your accuracy while welding. This is an invaluable feature, especially when working with thin metals that require an input of very specific parameters. Such impressive features make the welder ideal for both home and professional applications.
In terms of design and construction, the welder has a compact and portable design ideal for both indoor and outdoor applications. You only need a generator that can support 3500 watts at 120 volts. The compact design also allows you to haul the welder from one location to another if the need arises. Besides being portable, it is very durable given sturdy materials used in the construction.
Furthermore, Everlast guarantees versatility by availing both AC and DC capabilities. It also comes with 240V, which is located at the back and serves as an alternative water-cooling system. However, before purchasing this impressive TIG welder, you must be financially prepared because it retails at a very steep price. Besides that, it doesn't present other potential issues. So, the price is justified for the incredible performance.
Pros
Dual voltage
Supports a generator
Arc force control feature
Adjustable AC frequency
Simple compact and portable design
Color-coded controls
Cons
Requires small torch or gas lens at low voltage
Difficult for entry level welders to use
Fairly expensive
---
6. Lotos Technology TIG200
| | |
| --- | --- |
| Dimensions: | 71.12L x 43.18W x 33H cm |
| Weight: | 26.3 kg |
| Amperage: | 15–200A |
| Voltage: | 110/220V |
| Duty Cycle: | 60% @ 190A, 220V |
If you are in the market for a budget-friendly welding machine, it would be great to consider the TIG200 ACDC Tig Welder from Lotos. Despite its low price, it offers some impressive features normally found on the more expensive welding brands. Moreover, it is designed with durability in mind and allows you more welding hours per day. Plus, the intuitive controls make it easy to understand and use, making it an ideal option for learners and light TIG welding.
Whether a seasoned welding guru or a hobbyist, the Lotos TIG200 ACDC Tig Welder is surprisingly reliable, even when pushed to the limit or exclusively used with the highest power drawl. Granted, it may lack variable and pulse frequency settings, but these are just luxury features and shouldn't deter entry-level welders from fully taking advantage of its enticingly low cost.
Still, it more than makes up for the drawbacks by availing a Papst advanced cooling system. The system ensures that the inbuilt plasma cutter has stable high performance and is very durable.
The Lotos Company also ensures that the TIG200 ACDC Tig Welder is convenient to the user by availing a knob that you can use to switch between the settings. In addition, the welder retails with several practical accessories which further assist in the ease of use, making it enticing for most hobby welders.
Pros
Ease of usage
Runs standard household current input
Supports stick welding
High duty cycle
Can weld all types of metals
Durable and reliable
Dual-voltage options
High power output
Cons
Heavier than most welders in its price range
---
7. Hobart 500551 EZ-TIG
| | |
| --- | --- |
| Dimensions: | 07L x 34.8W x 52.83H cm |
| Weight: | 22 kg |
| Amperage: | 10–165a |
| Voltage: | 220/230/240 V |
| Duty Cycle: | 20% @ 165A |
If you are looking to buy a TIG welder that offers you the best value for your money, it's best to choose a welder from a reputable brand. The Hobart 500551 EZ-TIG is a top-rated product that is easy and fast to operate. Plus, it offers incredible power and performance.
This welder features an easy-to-use interface that allows for convenience when fusing a variety of materials even if you are a beginner. The inverter base used provides consistent power, consequently reducing the amount of energy consumed but still enough to get a consistent arc.
You can also adjust the size of the arc using the controls on the welder. In addition, it operates at an ampere range starting from 10A to 165A, allowing you to get crater filling ability and the most stable arc.
Another commendable feature of the Hobart 500551 EZ is the fan-on-demand capability, which allows you to run the welder's fan whenever you deem necessary. This will allow you to clean out any dust particles or debris that often irritate welders while working.
In terms of weight, this welder weighs 27 kilograms, which is not significantly light, but it offers outstanding portability.
Pros
Compact size lets you save space
Requires only a few steps to weld
EZ interface with a single control conveniently located
Shuts down when it reaches the maximum temperature
Post-flow setting reduces waste and saves on energy costs
Fan setting to reduce debris
Cons
The cooling fan may stop working
Requires the use of other tools
Poor customer service from the manufacturer
---
8. Miller Electric TIG Diversion 180
| | |
| --- | --- |
| Dimensions: | 18L x 25.08W x 60.64H cm |
| Weight: | 22.68 kg |
| Amperage: | 10 A–180 A |
| Voltage: | 120V–240V |
| Duty Cycle: | 60 amps @ 12.4 volt @ 100%; 150 amps @ 16 volt @ 20%; 180 amps @ 17.2 volt @ 10% |
Over the last few years, the Miller welding company has been working tirelessly to produce products that reduce guesswork and the need for thorough technical knowledge. The Miller Diversion 180 TIG is one such welder specifically designed for entry-level welding enthusiasts. It is a small yet powerful machine with an easy set-up process.
The Diversion 180 TIG welder features both 120V and 240V input power capability, which can be upgraded as needed. This feature allows you to take on applications that may require more power than simple DIY home projects.
Just like with the other Miller products (such as the Millermatic 211MG), the diversion 180 is equipped with a multi-voltage plug (MVP) system. This will allow you to switch the plug end for either 115V to 230 V power receptacles without changing the welder settings or using other tools.
The other advanced feature of the Diversion 180 is the no-guesswork set-up for welding mild metals such as Chromoly, aluminum, and steel. You can achieve this with three simple steps-turning the machine on, selecting suitable materials, and setting the material thickness.
The other noteworthy feature of the Diversion 180 TIG welder is a foot pedal control and torch controls for adjusting the amperage. This is a great addition to the welder, especially in salutations where one is welding in odd positions such as lying down.
The price tag of the Diversion 180 may be higher than other welders because of the brand's reputation; however, it is a quality build that offers the best performance to entry-level welding enthusiasts.
Pros
Works with 120V and 220V power input
High-frequency start
Foot pedal included
Fan on-demand feature
Relatively low unit weight and size
---
9. Forney 430 220 ST PRO Welder
| | |
| --- | --- |
| Dimensions: | 72L x 31.43W x 18.735H cm |
| Weight: | 5 kg |
| Amperage: | 220a |
| Voltage: | 120/240V |
| Duty Cycle: | 40% @ 85A and 230V; 35% @ 200A; for stick welding, 40% @ 130A and 230V; 35% @ 220A—TIG |
If you are an experienced welding guru in search of a TIG welder that can support more than one welding technique, then consider going for the Forney 430 220 ST PRO Welder. This powerful and versatile welding machine from Forney is a 2-in-1 model featuring TIG and stick welding. It is suitable for heavy welding on construction sites and farms. It can fuse any type of metal, but it is especially suited for welding aluminum and derived alloys.
The prime usage of this machine is TIG welding. This means that it has an infusible tungsten electrode under inert gas protection with a direct, pulsed, and alternating current. It is specifically designed to offer maximum performance even in rough environmental conditions. Plus, you can connect it to a motor-generator.
Another exciting feature of the Forney 430 220 ST PRO Welder is the digital gauge which allows easy management. The manufacturers also offer a package that includes an input power cable, an electrode holder, and a ground clamp. However, this model does not have a flow metal or even a TIG torch.
At only 14.5 kilograms, this versatile welder is also small and portable and comes with two handles to assist in movement. It can handle a difficult environment, so it is an ideal welder for outdoor projects.
Pros
Includes a built-in pulse control
Can start on high frequency
Both TIG and Stick welding
Cons
Cannot handle MMG welding
---
10. HITBOX TIG 200A
| | |
| --- | --- |
| Dimensions: | 59L x 24.13W x 15.49H cm |
| Weight: | 6.98 kg |
| Amperage: | 10–200A |
| Voltage: | 220V |
| Duty Cycle: | 60% |
While a few people are skeptical about Chinese-made products, the HITBOX TIG 200A TIG Welder is a great product that can guarantee reliability despite being made in China. If still in doubt, you can refer to the necessary certification documents that come with the welder to demonstrate its great quality.
The HITBOX TIG 200A TIG Welder is a good option for the hobbyist or seasoned welder looking for a budget-friendly option. You can use it for a variety of welding options since it features both TIG and Metal arc welding capabilities. However, it is not suitable for industrial welding, which is not surprising considering its cheap cost.
In terms of construction, this product comes with a compact, portable and sturdy design. The housing components of the unit are made from low-alloy steel and stainless steel, while the electrical components are made from premium quality materials that increase the unit's longevity.
Also, at 6.98 kilograms, the HITBOX TIG 200A TIG Welder is one of the lightest TIG welders on the market. Therefore, it is easy to transport to your workplace or home for light welding projects and fixes.
Another exciting feature is the 2-in-1 performance. The TIG method will give you a clean spatter-free welding experience, while MMA welding allows you to work in difficult weather conditions outside. You can also weld up to a maximum of 5/16 inches of steel at maximum power.
The other noteworthy feature is the inverter technology that allows the welder to get to about 100 Khz frequency and even generate 25% more heat in the process. It will help you work much faster and better than other welders within its price range.
Pros
Lightweight construction
Two-in-one technology
IGBT Inverter technology
Affordable price
Cons
Unsuitable for heavy projects
---
Buyer's Guide: Choosing the Best TIG Welder
As you may have probably noticed, many TIG welders appear to be similar at first glance. So, it's crucial to have technical knowledge about TIG welders before making a purchase decision. This guide will come in handy in choosing an ideal TIG welder to suit your needs.
Input Voltage
There are three available options in most standard welders. First, we have the 120V input, which is the standard power supply for most homes. The second option is a 240V input voltage, which requires a generator to run. This voltage offers maximum flexibility, hence allowing for more power. The third one is a combination of a 120/240V volt input.
Duty Cycle
The duty cycle refers to the amount of time that one can use a welder before needing time for rest. Many welders have a 30% duty cycle, which means that you can use the welder for three minutes before needing 7 minutes to cool down. If you need more work done in a shorter period, go for the TIG unit with a higher duty cycle.
Amperage Rate
Amperage is the maximum output current that a welder can produce. The output determines how fast you can weld and the thickness of the metal you can weld with. Most TIG welders have a knob or dial from where you can adjust the amperage in the 35 to 400 amps range. If you work with heavy-duty industrial welding, you need a unit that can deliver up to 400 amps, but if you are working with thin metals like aluminum and steel, 200 amps should suffice.
Weight
TIG welders tend to be bulky, especially the more powerful models. It may not seem like an important factor, but weight affects the welder's ease of use and portability. It determines the storage space and whether you can use the welder for jobs away from your workshop.
---
Conclusion
If you are looking to create clean, precise, and spatter-free weld, then TIG welding is for you. But before choosing a TIG welder that suits your needs, consider your welding applications to eliminate brands with unnecessary functions.
The AHP AlphaTIG 200 Amp AC/DC TIG Welder offers a detailed instruction manual for easy operation. It improves the ease of access, making it ideal for learners and hobbyists. The YESWELDER 200 Amp HF TIG/Stick/Arc TIG Welder offers the best value for money. With dual voltage, it can handle both stick and TIG. The Miller 951674 Multimatic 215 Multiprocess Welder features generator connectivity, dual voltage, and a cooling system perfect for the professional welder working in High-grade constructions.
Our list is based on power, price, performance, and how they differentiate themselves from the competition. While not all of them are suitable for your needs, they all come with amazing features and specifications. We hope the comparison of the best TIG trailers in Canada will help you select a welder that is the right fit for your needs.
You may also be interested in:
Cameron Dekker
Cameron grew up in Allentown, Pennsylvania, a once-proud steel town on the Lehigh River, where he got a taste of TIG welding in his high school shop class. He holds certificates for Certified WeldingEducator (CWE) and Certified Resistance Welding Technician (CRWT) from the American Welding Institute. His interests include scuba diving, sculpture, and kayaking.