10 Best TIG Welders in Australia in 2023: Reviews & Top Picks
Last Updated on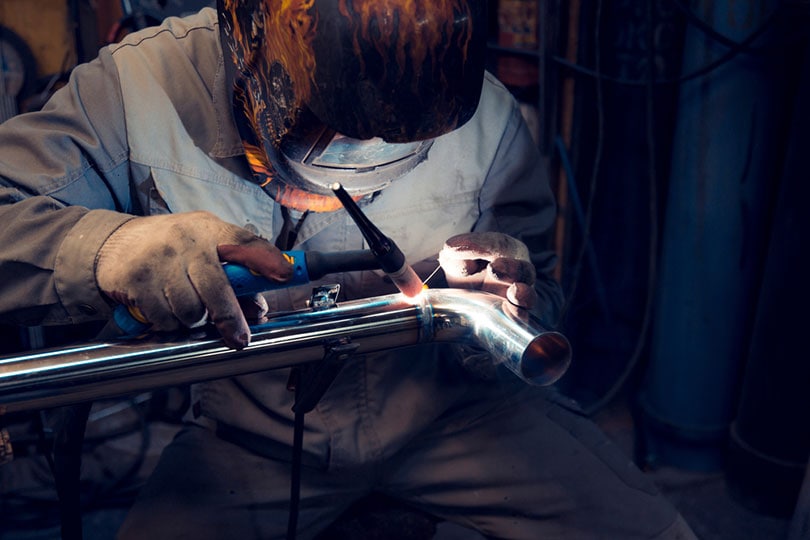 TIG welding is arguably one of the most convenient and high-quality welding methods that adhere to industry codes and standards. It is not only capable of producing better-looking welds with sufficient structural integrity, but it also allows users to handle thinner materials with utmost precision.
This methodology stands apart from other welding processes such as MIG and Stick because it allows more operational command over the weld. Also, it doesn't require excess filler material. Therefore, users can TIG weld different pieces of metals to produce high-quality welds with as little scattering and smoke as possible.
Whether a hobbyist or a professional welder, these machines are definitely handy tools to have in your workshop or construction sites. So, it is pertinent to pick the best TIG welder to get the most benefits. There are different types of TIG welding machines available in the market. Choosing the right welder that can fit your needs can be quite challenging, especially if you don't want to spend more than you absolutely have to.
Luckily, our in-depth and unbiased reviews of the best-rated TIG welders in Australia should provide you with all the necessary information to help you understand the TIG welding landscape. We have also updated our buyer's guide for the year to cover every useful feature that one should look for when purchasing a TIG welder.
---
A Quick Comparison of Our 2023 Winners
Image
Product
Details

Best Overall

AHP AlphaTIG 200 Amp Welder

Stainless steel parts
Produces a stable arc
Can weld a variety of metals
CHECK PRICE

Best Value

Lotos Air Plasma Cutter & Welder

Dual voltage
Additional foot pedal
Plasma cutter, MA, and TIG welder
CHECK PRICE

Premium Choice

ESAB 120/230-Volt TIG Welder

Very portable 
Can be operated in different languages
It is very simple to operate and maintain
CHECK PRICE

Rossi CT-416 Mk II Volcano Series

Digital screen display
Super stable pilot arc control
TIG/MMA/CUT 3-in-1 inverter welder 
CHECK PRICE

Lotos AC/DC TIG Welder

Accurate welder
Less start-up time
Excellent durability
CHECK PRICE
The 10 Best TIG Welders in Australia
1. AHP AlphaTIG 200 Amp AC/DC TIG Welder – Best Overall
| | |
| --- | --- |
| Dimensions: | 48.26 x 58.42 x 30.48 cm |
| Weight: | 17.24 Kilograms |
| Amperage: | 10–200 Amps |
| Voltage: | 110/220V |
| Duty Cycle: | 60% |
The AHP AlphaTIG 200X 200-amp TIG welder is one of the most versatile welders in the Australian market, ideal for professional applications. It is easily our best overall pick because it offers users advanced welding functionality with simple easy-to-use operation. It combines superior inverter technology with pulse width modulation (PWM) technology to get a welder that can handle fabrication on a thickness of 1/4″ aluminum and 3/8" steel with ease.
Besides being a reliable machine, this welder is also affordable. It comes with a torch package that includes a power adapter, flex head, a WP-17V torch, and a valve torch. You can use the TIG torches with an output ranging from 150 to 250 amps.
Depending on your welding project, you can use both AC and DC, adjustable at the digital display unit located at the front control panel. The AHP AlphaTIG 200X also offers a pulse feature that allows users to adjust the frequency from 0.5Hz to 200HZ to control the amount of heat generated during the weld.
Additionally, this welder features a foot pedal for better welding control and operation as well as increased productivity. The sturdy metal casing also helps protect the interior electronic components from weathering elements, thus improving the welder's lifespan.
Overall, this welder guarantees clean and precise welds. The only drawbacks are lack of hose protection and poor-quality clamp that is highly susceptible to breakage.
Pros
Stainless steel parts that don't easily rust
Can weld a variety of metals
Detailed instruction manual for easy operation
Produces a stable arc
Portable and user-friendly
Cons
No hose protection
Poor quality clamp
---
2. Lotos CT520D 50 AMP Air Plasma Cutter – Best Value
| | |
| --- | --- |
| Dimensions: | 33 x 20 x 12 cm |
| Weight: | 5.5 Kilograms |
| Amperage: | 20–200 Amps |
| Voltage: | 240V |
| Duty Cycle: | 60% @ 200A/100% @ 150A |
This TIG welder is considered among the first affordable multipurpose welders in the market, offering users 200A TIG, 200A stick weld, and a 50A plasma cutter in just a single setup. It offers the best value for money by offering premium features at an affordable price. This welder is not only versatile, but is also durable, portable, and very efficient.
First, it utilizes both TIG welding and MMA Arc technology to work with ease and give users the best possible welding experience. In addition, it comes with a 50-amp plasma cutter that can cut metals up to 3/4″ thickness. The plasma uses non-hazardous compressed air, which makes it ideal for cutting steel, copper, and aluminum.
This welder is also very easy and fast to set up. It would take you approximately one minute to get it up and running. The quick setup and quick launch can be attributed to the air filtration system and a D-type plug. Also, the dual voltage setup allows users to work from a workshop or home. However, this will depend on your welding project.
Finally, at only 5.5 kilogram, the Lotos CT520D 50 AMP Air Plasma Cutter is very lightweight and portable. The compact size also makes the storage of this welder very easy. It is a generally powerful welder with a variety of useful features that offer the greatest value for money.
Pros
Plasma cutter, MA, and TIG welder
Additional foot pedal
Small, lightweight, and portable
Dual voltage
Reasonable price
Cons
Function only on DC output, not on AC output
Small-sized cables
A pilot arc is absent
---
3. ESAB EMP215IC 120/230-Volt Dual Voltage Professional Grade MIG/TIG/Stick Welder – Premium Choice
| | |
| --- | --- |
| Dimensions: | 44.91 x 19.81 x 34.7 cm |
| Weight: | 36 Kilograms |
| Amperage: | Combo Set Equipment |
| Voltage: | 120/230V |
| Duty Cycle: | 3 years |
Professional metal fabricators understand the need to purchase a high-quality welding machine at a premium price. The ESAB EMP215IC 120/230 is our premium choice because it offers professional features concerning modern techniques. Furthermore, this welder offers a multi-process performance for the best Lift TIG welding, Flux-cored, MIG, and stick welding.
This welder is also easy to set up and use because it comes with a detailed instruction manual. In addition, being an intermediate welder, one need not know how to configure the default operation method. Once you have turned the machine on, set the correct amplitude, and set the voltage to the appropriate temperatures to create clean and durable metal welds.
The main noteworthy feature of this modern welder includes a unibody steel construction and a unique five-handle roll cage. You will also be impressed by the unit's portability and a 3-year handle-to-handle warranty which is often rare in most TIG welding units.
With a total weight of 79.2 pounds, this welding unit is very portable. Moreover, it can run out of single-phase power, and it retails with several tungsten and cups for various forging forms. The accessories you can expect retailing with the ESAB EMP215IC 120/230 welder include an earth clamp, electrode holder, MIG gun, and TIG torches and regulator.
Pros
Can handle flux-cored, MIG, DC TIG, stick, MIG, DC pulse TIG, and AC TIG processes
Can be operated in different languages
Very portable
It is very simple to operate and maintain
Cons
Some people complain of low-quality internal gear
Wear and tear after continued usage
---
4. Rossi CT-416 Mk II Volcano Series TIG MMA CUT 3-in-1 Inverter Welder
| | |
| --- | --- |
| Dimensions: | 43 x 30 x 17 cm |
| Weight: | 5 Kilograms |
| Amperage: | 20–40 Amps |
| Voltage: | 240V |
| Duty Cycle: | 123A 100%, 160A 60% |
As you may have gathered, Rossi welders may not be as popular as common household brand names, but they produce high-quality machines with a proven track record in reliability, performance, smooth and accurate weld finishes. The NEW Rossi Volcano Series CT-416 Mk II Inverter Welder is no exception.
This powerful welding unit incorporates the latest TIG, MMA, and plasma cutting technology, which is ideal for all-position welding on thin metals without any spatter. This welding unit delivers a strong enduring current with a stable arc force control. It is ideal for metal body works, fabrications, and repairs at home and in your workshop.
Users will appreciate the various Rossi unique features which include an air regulator, overheat/overcurrent/overload protection, and the 2-step power control options. Additional noteworthy features are an industry-leading duty cycle, digital LCD display, and single dial amp control. All these features make the unit a multi-function welding package for all types of welding enthusiasts.
The Rossi Volcano Series CT-416 Mk II Inverter Welder is also very lightweight and portable, capable of welding most metals such as steel, copper, and carbon steel. The plasma cutting option can handle a metal thickness of up to 12 millimeters of solid steel as well.
Pros
Latest TIG/MMA/CUT 3-in-1 inverter welder
Semi-Zener Inverter Technology
Overheat/overcurrent/overload protective circuit
Generator-friendly, ultra-portable, and lightweight
Super stable pilot arc control to cut through rust and paint
Digital screen display
Cons
May require an additional accessory purchase
---
5. Lotos AC/DC TIG Welder
| | |
| --- | --- |
| Dimensions: | 71.12 x 33.02 x 43.18 cm |
| Weight: | 26.31 Kilograms |
| Amperage: | 3/8″ |
| Voltage: | 110/120V; 220/240V |
| Duty Cycle: | Aluminum |
If you are in the market for a TIG welder with dual properties and easy to use, look no further than the AC/DC welding unit from Lotos. This welding unit offers excellent features such as a square converter and arc welder to increase the welding efficiency. Additional features you can expect to find include an argon gas regulator and foot pedal. These functionalities make this TIG unit ideal for novice welders.
Users can utilize this welding unit to handle thinner gauge materials, stainless steel, mild steel, and other metals. It can comfortably weld up to 3/8" (9.5 mm). Additionally, the 20-AC Square wave inverter allows aluminum welding with high precision. With the help of the inverter, users get 80% higher frequency while welding.
Having a dual voltage support capability, you can perform welding at 220 V 50/60 Hz and 110 V 50/60 Hz. The second voltage allows users to weld steel and aluminum with ease. This is made possible by a pigtail offered with the unit. Additionally, the foot pedal and hand control allow for easier handling of the unit to increase the welding efficiency.
Pros
Excellent durability
Less start-up time
Dual voltage and frequency for extra welding time
Accurate welder
Cons
Bulkier torch
Requires Proper cleaning at regular intervals
---
6. YESWELDER MIG-250 PRO Aluminum MIG Welder, 250 Amp 220V, Gas MIG Gasless Flux Core Welding Machine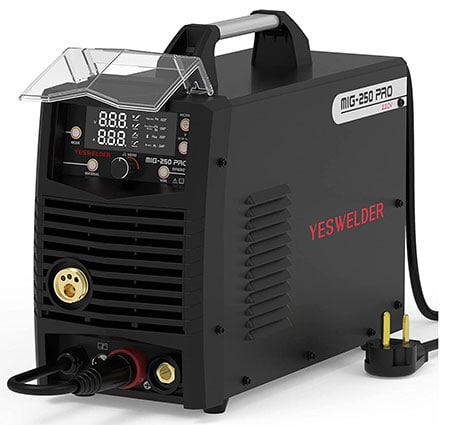 | | |
| --- | --- |
| Dimensions: | 52.07 x 40.64 x 12.7 cm |
| Weight: | 4.99 Kilograms |
| Amperage: | MIG: 40–250A, TIG: 10–250A, Stick: 20–220A |
| Voltage: | 220V |
| Duty Cycle: | MIG: 250A 60%, TIG: 220A 60%, Stick: 250A 60% |
The Yeswelder Pro 250 is known to provide the best quality to price ratio in the market today. This affordable multifunctional welder works great for both novice and experienced welders. The unit may primarily be used for MIG and Flux core welding; but due to a lift arc TIG start, it can also be used for stick and TIG welding endeavors.
With a high-duty cycle, this unit is ideal for heavier welding tasks. If you are looking for a higher output power for deeper penetration, the Yeswelder Pro 250 has got you covered. With 250 amps of raw power, this powerful unit allows users to weld for about 6 to 10 minutes nonstop. At 60% duty cycle, it is significantly higher than most cheaper welders in the market today.
Novice welders will particularly enjoy the fact that it is easy to set up and use. All adjustment settings are located in the front panel display which is straightforward to understand. Moreover, this unit supports Synergic MIG settings which allow users to set the voltage and amperage automatically by simply keying the thickness of the material you are about to weld.
The Yeswelder 250 pro is also sturdy and tightly screwed together. Its sturdy build is durable and can withstand various welding applications in the field. You can easily lift the unit and transport it to any worksite without damaging interior components.
Pros
Multi-functions- MIG synergistic
Lift TIG
Arc control to a crisp or soft finish
Metal wire drive system
Cons
Not a well-known manufacturer
Not ideal for tasks that require high-frequency start
---
7. ROSSI TIG-250E Portable 250 Amp AC/DC GTAW Stick Inverter ARC TIG Welder
| | |
| --- | --- |
| Dimensions: | 48 x 22 x 36 cm |
| Weight: | 19 Kilograms |
| Amperage: | 10–250 Amps |
| Voltage: | 240V |
| Duty Cycle: | 35% @ 250A |
This is one of the most popular welding machines in Australia that offers premium 3-in-one solutions to various metal fabrication endeavors. The unit offers full arc control, MMA, stick welding, and AC/DC TIG welding. What sets Rossi TIG-250E apart from other welders is the fact that it is not only one of the most advanced, precise, and reliable welding units on the market, but it also packs a variety of Rossi's exclusive technology at unbeatable affordable prices.
Thanks to the reliability and efficiency of the Semi-Zener technology, it is in a class of its own, not to mention the IGBT inverter technology that ensures continuous power correction for current conversion exceeding 85%. This allows users to push the unit to the limits. If you work with metal alloys, you will also be impressed with Rossi's highly adjustable AC square wave balance. In AC TIG welding, this innovative feature allows welders to achieve absolute penetration control against oxidation.
Another noteworthy feature of this modern welder is the Rapid Pulse Technology, which utilizes advanced microprocessors to pulse the unit at a fast rate. This will allow users to create high-quality welds at a faster speed, thus reducing time expended and the material costs. Moreover, the welder comes with a heavy-duty foot pedal to reduce burn-through when working with thin aluminum sheets.
Finally, this welder is equipped with a reliable cooling system and a pure copper Toroidal transformer to increase the duty cycle. It is also fully compliant with mandatory EMC legislation, making the welder relatively safe to use. No matter your welding abilities, the ROSSI TIG-250 will cater to your welding needs to produce clean and precise welds.
Pros
TIG, stick & pulse welding capability
Rapid pulse technology
Pure copper toroidal transformer
Semi-Zener Technology
Cons
Not ideal for newbie welders
Slightly pricier
---
8. Lotos LTP5000D
| | |
| --- | --- |
| Dimensions: | 15" x 6" x 12″ |
| Weight: | 26 pounds |
| Amperage: | 10–50 Amps |
| Voltage: | 110V/220V 50/60Hz |
| Duty Cycle: | 60% |
If you are in the market for a welding unit that offers great value for money, look no further than the Lotos LTP5000D welder. It is a highly versatile unit capable of TIG, stick welding, and plasma cutting. This welder has unique features in the same range as other units with the same power output and amperage. However, it has a wide range of welding applications.
With a 220/110V dual voltage capability and a pigtail, the Lotos LTP5000D welder is suitable for both casual and light industrial use. Unfortunately, the unit only produces a DC output. However, the state-of-the-art MOSFET/IGBT transistors provide a higher power output so that you can weld and cut steel plates up to 3/4 "thickness. Moreover, this welding unit uses non-hazardous compressed air to cut through aluminum and steel alloys.
Also, equipped with a non-touch pilot arc, it can efficiently cut through painted, rough, and rusty surfaces with minimal slag. This is because users don't get to touch the tip of the metal while cutting; this leads to a longer lifespan of the consumables and better cutting quality.
The LTP5000D offers a handle for portability and is a great choice for home DIY welding projects as well as light small business projects
Pros
Offers great value for money
Combines TIG and stick welding with plasma cutting
Easy configuration and operation
High-quality components
Cons
Not suitable for heavy-duty use
Only provides DC output
---
9. Traderight MIG Welder 200A MIG TIG MMA ARC Welding Machine
| | |
| --- | --- |
| Dimensions: | 34 x 44 x23 cm |
| Weight: | 13 Kilograms |
| Amperage: | 20–200 Amps |
| Voltage: | 240V |
| Duty Cycle: | 60% |
The Traderight Welding Unit is a professional-grade welding machine designed to meet the needs of commercial welders. It is calibrated to produce an effective output. The unit is highly stable in terms of usability and operations. It is even equipped with advanced cooling fans with fan and shutter controls to improve its durability. This welder is capable of producing impeccable weld finishes with flawless results.
It is designed with high quality sturdy and durable materials for long-term usage. Additionally, it comes with an anti-sticking electrode to produce a smooth arc flow. The electrodes allow the user to utilize the quick start function, making the unit operational in just a few minutes.
The unit also offers an inbuilt dual-screen display in a simple yet effective interface where one can toggle and adjust the various settings. This welder can easily weld solid and flux-core wire, further smoothening the operation of the unit. You can choose between gas and gasless welding.
In a bid to make the operations on this welder safer, the unit comes with a triple protection system that offers voltage and over-current protection. This system automatically cuts off the power supply if a power surge occurs. The excess voltage could easily lead to overheating that may damage the interior components.
The welder is ideal for welding copper, titanium, iron, steel, alloys, and many other metal varieties.
Pros
Advanced cooling system
Triple protection
Adjustable output current range
Current stabilization capability
Stable and smooth arc
Works with different rod sizes
Cons
No warranty
Doesn't offer a torch Kit
---
10. ROSSI CT-140P Portable 140 Amp 3-in-1 Plasma Cutter
| | |
| --- | --- |
| Dimensions: | 29 x 12 x 21 cm |
| Weight: | 12 Kilograms |
| Amperage: | 10–220 Amp |
| Voltage: | 240V |
| Duty Cycle: | 123A @ 100%, 140A @ 60% |
If you are a budget-conscious welder who enjoys DIY home welding projects, you will absolutely appreciate this welder. A product from Rossi, the CT-140P 3-in-1 Inverter is a powerful yet lightweight welding unit that does it all. It is equipped to handle operations such as stick, TIG, and plasma cutting to produce desirable welds.
Users will love the DC inverter technology, efficiently utilized to combine three different machines into one unit that provides a smooth and stable work experience.
If you employ the plasma cutting feature, the CT-140P 3-in-1 Inverter Welder can pump out 40 amps for precision cutting of up to 12 mm in metal sheets and plates. It also employs HF Pilot-Arc-Start to penetrate through painted and rusted surfaces while increasing the consumable's lifespan. The unit can weld ferrous metals, such as Chromoly, mild steel, and stainless steel, among others. While working with the Stick function, you can run up to a 4 millimeters rod with perfect arc stability.
The CT-140P 3-in-1 Inverter Welder also utilizes inverter technology for an instant start and deep welds. Moreover, the advanced cooling system offers a large fan that dissipates the heat for continued durability and high performance.
This welder is generator compatible as well, and at 7 kilograms, it is portable and ideal for working on remote worksites. Finally, since Rossi products are Australian based, the welder is C-Tick approved and fully compliant with mandatory EMC legislation.
Pros
Offers both TIG and plasma torch
Unique coating to prevent shock transfer
Pure copper toroidal transformer
Latest Super Stable DC Inverter Technology
Cons
You may need to buy additional accessories such as a gas bottle and air compressor
---
Buyers Guide for Selecting the Best TIG Welding Machine
AC/DC Welding
When it comes to TIG welding, there are two methods you can utilize. You could opt for Direct Current (DC), which welds different types of metals except for aluminum and magnesium alloys. Alternating Current (AC) mainly welds aluminum and magnesium alloys only. So, to determine the power input you require in your welder, you only need to figure out if welding aluminum is a prerequisite.
Gas Delivery
Since TIG welding requires inert gas shielding, users need a method of connecting and using inert gasses on their weld. Most modern and sophisticated welders come equipped with an in-built gas valve, automatically turned on when the torch trigger is activated.
Such machines will also have pre-gas and post-gas features which the users can set at a time to add gas to purge the weld zones before the welding begins. They also continue gas flow to prevent oxidation of the weld pool. The less sophisticated traditional option will require a torch with an in-built manually operated valve.
So, you have to first consider the TIG workload and the frequency of using your TIG welder. If TIG is the main task, you need a gas valve, but if the unit is used only on occasional projects, the automatic gas valve won't be necessary.
Arc Starting
This is a major consideration in TIG welders. There are three different start styles you can utilize. The scratch start is commonly associated with the transformer of a welding machine. However, it is not common since the inception of inverter machines.
The lift start is possible with an inverter machine which runs by gently touching the tungsten. The control circuit senses and waits for the tungsten to be lifted before quickly igniting the torch. A high-frequency start allows the arc to start without the tungsten touching the metal. HF is a great option to minimize contaminants in the weld pool.
Machine Size
The best way of selecting a machine size that fits your needs and preferences is to balance daily use and large job expectations. For instance, if you want to weld thin sheets of steel, a compact 140A welder might be sufficient, whereas welding 5mm aluminum would need at least 200A.
Duty Cycle
This is a welder's ability to operate for an extended time without rest. Expressed as a percentage, the duty cycle is the maximum time a welder can work at an output of 40 degrees ambient temperature over a 10-minute cycle. When the output current is lower, the duty cycle is raised.
Every welding machine has different specifications of the maximum duty cycle, 100% duty cycle current, and most often 60% duty cycle current. This information will help you determine the requirements. If you are working with small joints, each requiring a different setup time, then a duty cycle of 20% should suffice. However, welding large metal plates requires a higher duty cycle.
---
Conclusion
If looking to purchase a new TIG welding machine, there is a lot to consider. The purchasing decision must cater to your unique welding needs and budget. If you don't plan to weld aluminum or magnesium alloys, then there is no need to buy something with an AC power input.
While there are different brands of TIG welders to pick from, we consider the AHP AlphaTIG 200x 200 Amp TIG welder to be the best overall pick. It may be similar to other high-end welders, but it retails at unbelievably affordable prices while offering premium features that welding enthusiasts can enjoy. The Lotos CT520D 50 AMP Air Plasma, on the other hand, is a 3-in-one welder that guarantees the best value for the money. The ESAB EMP215IC is a great professional welder capable of handling Flux-cored, MIG, DC TIG, stick, MIG, DC pulse TIG, and AC TIG processes.
When purchasing a TIG from our list of the best TIG welders in Australia, you can expect above-average quality and performance. However, first consider the power input, welding needs, and personal preferences in order to make a worthwhile purchase decision.
---
Featured Image Credit: ads861, Shutterstock