8 Best Welders for Home Use (MIG, TIG, Stick) – Top Picks & Reviews 2023
Last Updated on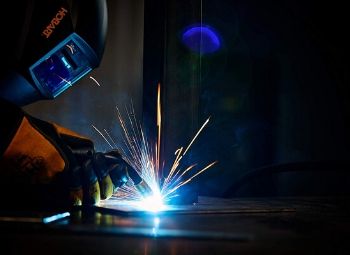 It has been said that half the battle is having the right tool for the job. If you've ever dealt with the frustration of a poorly functioning welder or one that wasn't suited for your needs, then you'll probably feel that there is some truth to this statement.
How thick of metal can your welder handle? Do you have 220v hookups, or do you need to be sure to get a welder that works on a standard 110v outlet? Will you need to run new wire with a higher amperage breaker to satisfy your new welder's power requirements? How much cost will that add? If you're starting to sweat a little, don't! We've simplified the normally complicated process of choosing a new welder. Our reviews will compare these important features for each of the eight best welders available right now.
---
Our Favorites of 2023 Compared
Image
Product
Details

Best Home MIG Welder

Hobart 500559

Highly adjustable
Plugs into a standard electrical outlet
Five-year warranty
CHECK PRICE

Best Home TIG/Stick Welder

AHP AlphaTIG 200X

Offers TIG and stick-type welding
Welds ¼" aluminum and 3/8" mild steel
Three-year warranty
CHECK PRICE

Best Value

Forney Easy Weld 261

Infinite voltage and wire feed speed control
Plugs into a standard outlet
Tiny footprint
CHECK PRICE

Lincoln Electric K2278-1

Modestly priced
Very small
Runs on standard 110v electric
CHECK PRICE

Lotos LTPDC2000D

TIG and stick welding in one machine
Plasma cutter built in
CHECK PRICE
The 8 Best Welders for Home Use
1. Hobart Handler 140 – Best Home MIG Welder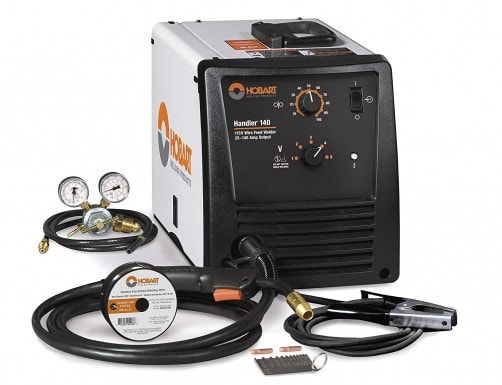 At 140 amps, this is the strongest MIG welder that you can plug into a standard electrical socket. Unless you want to do major electrical surgery to your home, drastically raising the price of your welding hobby in the process, then this welder is probably your best bet. With five different levels of voltage selection and a wire feed speed range of 40-700 IPM, the Hobart 500559 has all the adjustability you need to dial in the perfect weld. The amperage can be set from 25-140, giving you great control over weld depth.
Able to weld up to ¼" mild steel, this welder will be more than adequate for most hobbyists and enthusiasts. The five-year limited warranty shows how much faith Hobart has in their product. The only drawback to this welder is its rather hefty weight. At 57 pounds, it's still portable, but you'll probably want to get yourself a cart if you do a great deal of welding on the move. All in all, this is still one of the best all-around welders of the year.
Pros
Highly adjustable
Plugs into a standard electrical outlet
Five-year warranty
Welds up to ¼" mild steel
Cons
Pretty heavy at 57 pounds
---
2. AHP AlphaTIG – Best Home TIG/Stick Welder
If you like to undertake a versatile group of projects, then one type of welder may not satisfy your needs. Of course, having two different welders can get unwieldy to move around and store. This is where the AHP AlphaTIG 200X shines. Combining both TIG and stick-type welding into one unit means you don't have to pick between the two.
Since it can use 110v and 220v electric, the AlphaTIG will fit into most shop setups. It can weld up to ¼" aluminum and 3/8" steel, making this versatile welding machine flexible enough to suit any project. A three-year warranty provides peace of mind knowing that AHP stands behind their machine. All this adds up to make it the best TIG and stick welder for home use. The one drawback of this machine is that it weighs a whopping 69 pounds! Moving it around may be a nuisance unless you set it on a wheeled cart.
Pros
Offers TIG and stick-type welding
Welds ¼" aluminum and 3/8" mild steel
Three-year warranty
Can run on 110v and 220v electric
---
3. Forney 261 MIG Welder – Best Value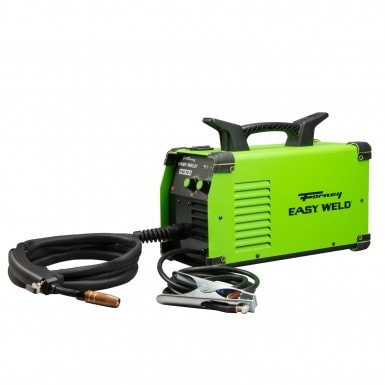 For many DIY welding hobbyists, budget is one of the biggest factors when making a tool purchasing decision. If you're worried about having money left over for your project's materials after you obtain the welder, then look no further than the Forney Easy Weld 261. This inexpensive welder can easily handle mild steel up to ¼" thick. The infinite voltage and wire feed speed control allow you to dial in the perfect settings for every weld, every time.
Forney's easy weld machine plugs into a standard 110v outlet. It produces amperages from 32 to 140. At only 19 pounds, it is extremely portable, and you can use it on the move with no problem. It's also got a tiny footprint, so when not in use, it won't be taking up any of your precious workspace. All this comes at an economical price with a one-year warranty.
Pros
Infinite voltage and wire feed speed control
Plugs into a standard outlet
Tiny footprint
Only 19 pounds
---
4. Lincoln Electric K2278-1 Home Welder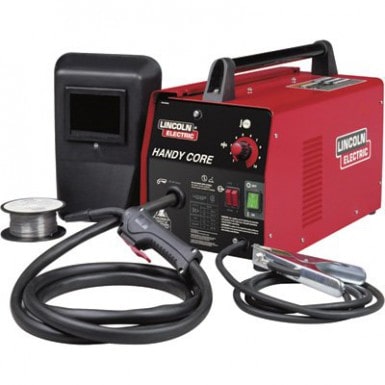 This handy little MIG welder is small enough to pack away in a cabinet. At 45 pounds, though, it's much heavier than its small size would lead you to believe. It's built to plug into your standard household outlet.
This welder has an output range of 35-88 amps, not nearly as wide as the previous models. Because of this, the Lincoln Handy Core is only capable of welding mild steel up to 1/8" thick. For minor hobby work, this may be sufficient. If you're building anything structural, consider a unit with higher capabilities.
Pros
Modestly priced
Very small
Runs on standard 110v electric
Cons
Only a 35-88 amperage range
Can only weld up to 1/8" mild steel
45 pounds is heavy for its size
---
5. Lotos LTPDC2000D Plasma & TIG Welder
Lotos has made a somewhat unique offering with the LTPDC2000D. This is another combination welder that combines TIG and stick welding. Rounding out the package, they've also included a plasma cutter setting! That's three useful tools built into one portable machine. The plasma cutter can make a clean cut on metals up to ½" thick. The TIG and stick welder settings both operate from 15-200 amps. Unfortunately, this model doesn't include a foot pedal for TIG welding, and it's not capable of TIG welding aluminum.
Although it's able to be used on 110v or 220v electric, it isn't meant to run on a standard home 20AMP circuit. Instead, you'll need a double 50AMP breaker and thicker wires than what's probably in your walls now. You're best off powering it with 220v, something not everyone is able to do. At 42 pounds, it's not the heaviest, but it's not super portable either.
Pros
TIG and stick welding in one machine
Plasma cutter built in
Cons
Needs 220v electric, or 110v with double 50AMP breaker
Can't TIG weld aluminum
No foot pedal for TIG welding
---
6. Reboot Stick Welder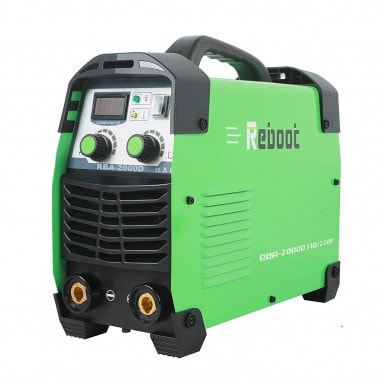 Weighing in at around 13 pounds, this stick welder from Reboot is the lightest and most portable welder on our list. An included converter allows it to use 110v or 220v electric. It's capable of producing up to 120 amps on 110v, and up to 160 amps on 220v. Unfortunately, the converter has been known to malfunction. When this happens, the welder will only run for a few moments before dying.
One positive to this unit is that it is modestly priced. However, the build quality does match the price tag. This product feels a little cheap and DOA units have happened on occasion. If you're looking to save money, there are other budget offerings with better reliability.
Pros
Very light and portable
Cheap
Cons
Poor build quality
Power converter is known to malfunction
---
7. SUNGOLDPOWER MIG 150A Welder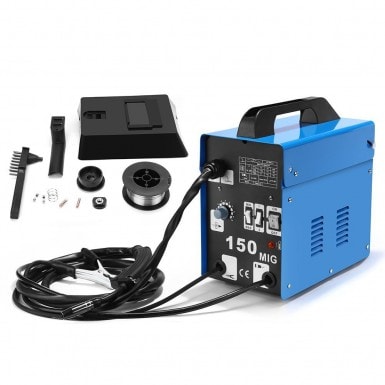 If you're really on a penny-pinching budget and simply need the cheapest setup you can find, the SUNGOLDPOWER MIG 150A welder might be it. At one of the lowest price points on our list, this welder even includes welding wire and a mask. Of course, the saying that "you get what you pay for" absolutely rings true here. Don't expect this welder to have plug-and-play functionality like the top welders of this list.
Problems plague this low-priced product. Although designed to be run on a 110v outlet, you'll need a 40- or 50-amp breaker. The wire feed mechanism is known to sometimes go bad, refusing to feed the electrode. Obviously, this makes the machine frustrating to use.
Cons
Needs 40- or 50-amp breaker
Wire feed mechanism often breaks
---
8. Goplus MIG130 Welder for Home Use
This MIG welder from Goplus is low priced, and you'd know it without seeing the tag. It comes as a package with a mask, wire, and brush as a starter set for beginning welders. You can choose from four welding speeds and 10 levels of wire feeding speeds. At 35 pounds, it's pretty portable, and you shouldn't need a cart to get it around.
While it is advertised as a MIG welder, in reality, it's a flux core wire welder and does not offer true MIG welding. It's also a unit prone to problems. The wire feed speed is inconsistent, making it extremely difficult to get a clean bead. When you're first starting out, this will only make learning welding more frustrating. This product often arrives broken, and there is only a three-month warranty. Overall, this machine doesn't inspire much confidence. Better choices are available for the price.
Cons
Not a true MIG welder
Often arrives broken
Erratic wire feed speed
Three-month warranty
---
Buyer's Guide: Things To Consider
After reading our reviews, you're probably wondering about what makes one welder better than another. Let's look at common features of welders that you should consider before making a purchase.
Type of Welder
Stick Welder
In stick welding, the electrode holder is hand-held. Your welding machine is also connected to your base metal. When your electrode makes contact with the base metal, electricity flows between them, creating the arc.
The welds produced by stick welding are not the most beautiful. There is a great deal of spatter, and they will require cleanup. It's also a more difficult type of welding to learn, so your welds will be even less attractive during the extended learning curve. It's good for welding outside and on dirty surfaces, but not great for thin metals.
MIG Welder
A MIG welder extends a wire electrode when you pull the trigger. Electricity passes between this wire and the base metal you're welding, creating an arc that melts the wire. When melted, the wire becomes filler metal that joins with the base metal, producing a high-strength weld.
MIG welding is the easiest type of welding to learn. It produces clean welds with no slag and much less cleanup required. It can be used on metals of varying thicknesses, depending on the amperage of your machine. MIG welding works well indoors and is a great choice when welding in the garage.
TIG Welder
TIG welding is a more complex type of welding that is most often used on very thin metals. The electrode is made of non-consumable tungsten and shielded by a shielding gas nozzle. It can be used with different thicknesses of filler rods of different types of metal. It can also be used without a filler rod if your surfaces meet up with clean enough edges, a process called fusion.
This type of welding allows the most control, but it's also the most complicated. Your foot must control the heat, one hand must control the filler metal rod, and the other hand must control the electrode to produce the weld. While it is difficult to master and slower than other welding methods, TIG welding produces the highest quality welds with equally high strength. It also allows greater control over the weld, allowing TIG welds to be more aesthetically pleasing.
Power Supply
Imagine that you purchased your new welder and are excited to get it home and start breaking it in! But when you open the box, you're disappointed to see that it requires a 220v plug and you have nowhere to plug it in. Or maybe it does have a 110v plug, but it keeps tripping your breaker every time you use it! Why is this happening? It could be designed to be run on a much higher amperage breaker than is generally found in homes.
Your home likely has 15-amp and 20-amp breakers powering the outlets. Some welders, although rated for 110v electric, are meant to be run on a 50-amp or even 60-amp circuit. If your home isn't currently equipped for this, it will take running wire and adding a higher amperage breaker in order to run your new welder. Consider this ahead of time to save yourself the confusion, headache, and disappointment later down the road.
Amperage
The strength of the electrical current produced by your welder is measured in amperage. Melt-off rate and the depth of your weld's penetration are both controlled by amperage. Higher amperage will make a deeper weld filled with more material. A lower amperage weld will use less material and only achieve shallow penetration.
Voltage
Voltage is basically electrical pressure. It mainly affects how the visible part of the weld is formed on top and doesn't have much of an effect on the depth. Low voltage welds will form taller, thinner welds. Higher voltage welds will be wider and flatter with smoother edges. Finding the right voltage for your material will be crucial for achieving a good-looking, high-quality weld.
---
Conclusion
After reading the buyer's guide, you now know exactly what to look for in a welder. You've seen our reviews of the top eight welders for home use, and you know which features are important to you.
The Hobart 500559 is our top pick as the best home MIG welder. It can plug into your standard 20-amp home outlet and provides great adjustability for a perfect weld. It's also reliable, which Hobart backs up with a five-year warranty.
In the second spot, the AHP AlphaTIG 200X offers both TIG and stick welding. It's capable of welding up to 3/8" mild steel and can run on 110v or 220v electric. Add a three-year warranty to that, and it's obvious why it's our pick as the best TIG and stick welder.
Finally, for the best value, the Forney Easy Weld 261 earns our third position. Modestly priced, infinite voltage and wire feed speed control, and the ability to be plugged into a regular outlet make this tiny, 19-pound welder the best value for the money.
You've got the information, now it's time to pick your tool and start making sparks!
Related Pages: