10 Best Stick Welders (Arc Welders) of 2023 – Reviews & Top Picks
Last Updated on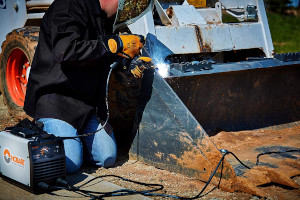 Did you know stick welders are far superior to MIG and TIG welders for two key reasons?
We love MIG and TIG welders, and they are valuable resources in the workshop and out onsite, but there are two reasons we discuss in the buyer's guide that show why MIG and TIG welders have yet to push stick welding out the door.
However, first, we have found our top five favorite stick welders available online and written reviews on what we like and dislike about them. Feel free to see what we thought, and you're welcome to leave your own opinion in the comment section below.
---
A Comparison of Our Favorite Picks for 2023:
Image
Product
Details

Best Overall

Lotos LTPDC2000D 3-in-1

Low price range
Output range: 15 to 200 amps
One-year warranty
CHECK PRICE

EVERLAST PowerARC 140

Low price range
Multi-purpose machine
Five-year warranty
CHECK PRICE

Best Value

Amico ARC-160D

Low price range
Electrode clamp lead: 10'
One-year warranty
CHECK PRICE

Hobart Stickmate 210i

High quality
Output range: 25 - 210 amps
Five-year warranty
CHECK PRICE

HITBOX 160A Inverter

Low price range
Weight: 9.5 pounds
One-year warranty No multi-purpose functions
CHECK PRICE
The 10 Best Stick Welders (Arc Welders) – Reviews 2023
1. Lotos LTPDC2000D 3-in-1 Stick Welder – Best Overall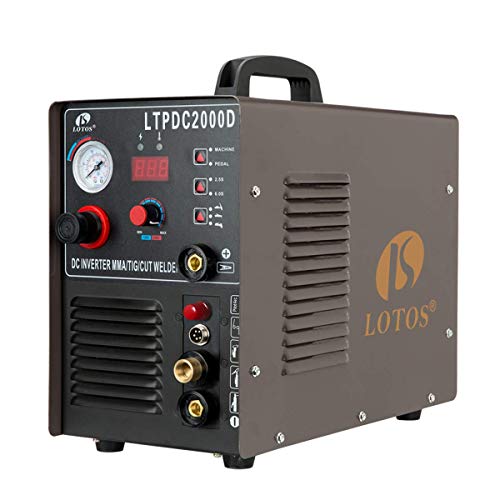 Lotos does a good job of making quality machines at an affordable price. We really like what it designed in the LTPDC2000D Plasma Cutter/Tig/Stick Welder. It not only lays a beautiful weld, but it's a portable three-in-one machine that will accomplish most tasks a welder needs done onsite.
The electrode clamp is short at six feet. However, it's not uncommon for stock electrode clamps to have six-foot leads. It definitely works, but an extension can easily be added if people want it longer.
With a dual voltage input for stick and TIG welding, and a plasma cutting function (with a one-year warranty) that's capable of a 15- to 200-amp range, it's a steal for the price. This machine deserves our top pick ranking.
Pros
Input voltage: 110/120 & 220/240
Low price range
Output range: 15 to 200 amps
Weight: 43 pounds
Dimensions: 5" x 8" x 12"
Multi-purpose machine
One-year warranty
Cons
Electrode clamp lead: Six feet
---
2. EVERLAST PowerARC 140 TIG / Stick Welder
The Everlast PowerARC 140 welder came in at a close second. It's slightly higher in quality, with an incredible five-year warranty, and it has longer leaders at about eight feet in length. However, it costs the same as the Lotos LTPDC2000D and maxes out on a significantly lower amperage. It also doesn't include a plasma cutter, which is handy for a portable machine to have.
If you only desire a lighter stick welder and have no use for a plasma cutter, this is the machine we would recommend. It's surprisingly light, and will definitely go the distance for both a hobbyist and industrial worker.
Pros
Input voltage: 110/120 & 220/240
Low price range
Weight: 24.8 pounds
Dimensions: 20" x 12.5" x 13.5"
Electrode clamp lead: Eight feet
Multi-purpose machine
Five-year warranty
Cons
Output range: 10 to 140 amps
---
3. Amico ARC-160D Stick Welder – Best Value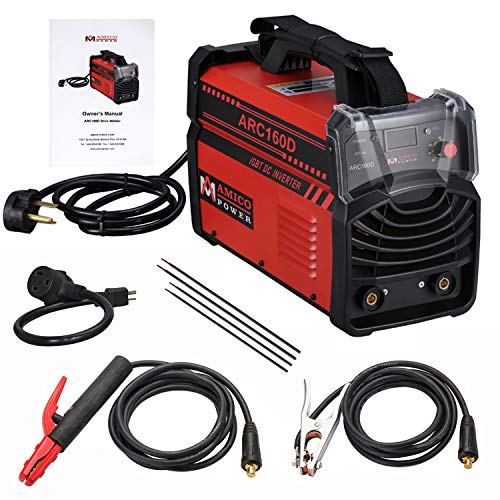 This is one of the best 110v stick welders for someone on a low budget. The Amico ARC-160D Inverter's cost is low considering the quality. It won't hold up against something you'd pay a bit more for, but it lays a nice bead, is lightweight to carry around onsite, and comes with a dual-voltage input option.
Its case is sturdy, and there's a handy shield that covers the setting adjustments to protect it from damp. The earth and electrode clamps are an impressive 10 feet and are made with higher quality than other stock leads. Overall, this inverter welder is a great choice for beginners, and definitely one of the best arc welders for the money this year.
Pros
Input voltage: 110 & 220
Low price range
Weight: 15.4 pounds
Dimensions: 6" x 11.8" x 7.5"
Electrode clamp lead: 10'
One-year warranty
Cons
Low quality
No multi-purpose functions
Output range: 20 to 160 amps
---
4. Hobart 500571 Stickmate 210i Stick Welding Machine
Hobart produces quality products, which its five-year warranties demonstrate. The 500571 Stickmate welder is no exception to that. It's not higher-ranked because it doesn't come at a low-price range for what it offers, compared to the other three welders ahead of it.
It produces the nicest stick weld out of them all, is exceptionally lightweight, and has the highest quality. We like the longer ten-foot leads it provides. We don't appreciate that it only comes with a single volt input of 220/240v, as it's useful having the 110/120 option as well.
The Hobart 500571 Stickmate 210i is quality nonetheless, and we are confident to have it stay in our 4th place position.
Pros
Weight: 15.5 pounds
Output range: 25 – 210 amps
Dimensions: 4" x 10.5" x 7.1"
Electrode clamp lead: 10'
High quality
Five-year warranty
Cons
Medium price range
No multi-purpose functions
Input voltage: 220/240
---
5. HITBOX 160A Inverter Arc & Stick-Welder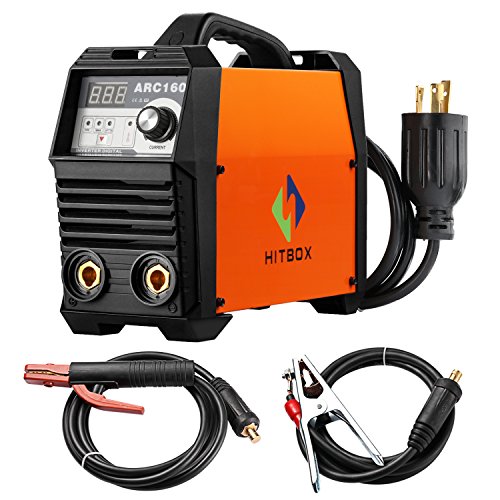 The HITBOX ARC Welder 160A Inverter Stick Welder is not the highest quality welder, but it does weld well for its low price range. It's the lightest of almost any stick welder available, and is ideal for a portable onsite welder, which we like.
The one-year warranty gives people certainty that this welder is indeed reliable, but its quality is low, and it maxes out at 160 amperage, which is minimal for heavier gauge jobs. We also don't like that it only has a 220/240 volt input option with 5.5′ leads. However, like the Lotos LTPDC2000D with short leads, it is easy to extend or buy a longer lead if you need it.
Overall, it's much more affordable than most stick welders available. For a light machine, it's a reasonable option to consider.
Pros
Low price range
Weight: 9.5 pounds
Dimensions: 3" x 13" x 9.8"
One-year warranty No multi-purpose functions
Cons
Input voltage: 220/240
Low quality
Electrode clamp lead: 5.5'
---
6. Forney Easy Weld 298 Arc Welder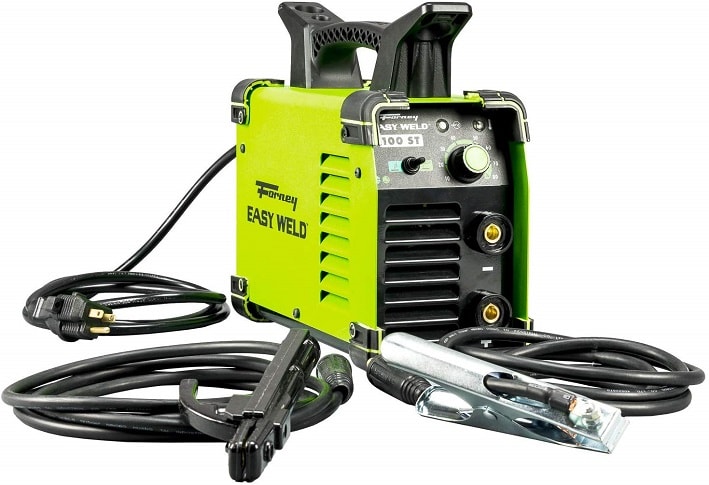 The Forney Easy Weld 298 Arc Welder gives testament to a trustworthy brand that produces excellent welders at a lower price than most of its high-quality competitors. Even though it's a low amperage machine, it's extremely well-built at such an affordable price.
The machine is excellent for beginners wanting to learn on a simple machine. It has a good instruction manual that's written by a native English writer who understands welding. You would assume this is the case with all welder manuals, but it's surprisingly rare to find.
The welder starts the arc well, but for a 90-amp welder, it runs colder than you would expect. Therefore, don't expect to weld anything more than light sections. It welds exceptionally well within its small range, but the range is small, which is why we have it lower on our list.
The electrode and ground clamps are of good quality. They generally get good contact and are comfortable to use, but the leads themselves are a little short for what we like. For light-gauge welding, the Forney 298 is a worthwhile investment. Otherwise, the Amico ARC-160D is a similar machine with a larger amperage range.
Pros
Low price for welder quality
Lightweight machine
Good quality
Good welder instructions
Cons
Small amperage range
Welds cold within amperage range
Short leads
---
7. S7 200-Amp Power AC-DC 110V Stick-Welder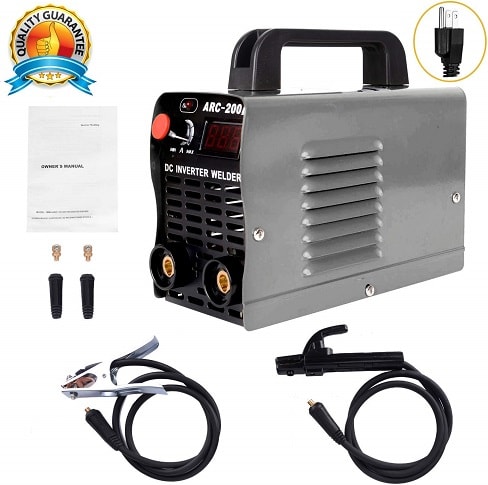 The S7 200-Amp Power Beginner Welder is a machine with a good range of amperage at an even lower price than the Forney Easy Weld 298 Arc Welder. It offers excellent value for its price, considering its performance, but it doesn't offer the same quality.
The machine doesn't weld as well as other 200-amp welders like the Lotos LTPDC2000D, because it can't run off 220 volts. This makes the weld run colder for the same settings on other 220-volt welders, but it's still a useful machine if you only have access to 110-volt power points.
The instruction manual isn't useful, so if you're unfamiliar with setting up a new welder, we recommend doing your own research or watching helpful videos before you start welding. The leads are short on the S7 200-Amp Welder, too. For small jobs at a bench, this shouldn't be a problem. However, if you're welding larger projects requiring you to travel more than six feet from your welder often, it will save you time by buying some aftermarket leads.
Overall, it's a good high-amperage machine for 110-volt power points. It's not a top-quality welder, but for the price, you will most likely be satisfied with purchasing it for basic hobbyist-type work.
Pros
Affordable welder
High amperage range
Good amperage range for welder price
Cons
Poor instruction manual
Short leads
Welds cold for amperage range
---
8. SUNGOLDPOWER 200A ARC Welder
The SUNGOLDPOWER ARC MMA 200A Inverter Welder is a similar machine to the S7 200-Amp Power Beginner Welder. It has the same amperage range maxing at 200 amps. It's also a small, lower-quality machine at a highly affordable price.
It can run off both 110 and 220 volts, which gives it more diversity and enables it to reach a hotter temperature based on the same amperage range as the S7 200-Amp Welder because of this. However, the leads and clamp are much poorer quality. They are just as short but don't produce reliable contact as we would like.
The LED screen is also inaccurate. If you're running off 220 volts, then it works reasonably well, but the adjustment doesn't switch over properly for 110 volts, which makes it a guessing game for determining the right amperage for your welds.
The SUNGOLDPOWER 200A Welder is still a worthwhile machine to consider for domestic work. Every machine has its own unique differences that take time getting used to, and the discrepancies in the amperage gauge are easy to get used to over time.
Pros
Low-price welder
Good amperage range for welder price
Dual voltage plugs
Cons
Struggles to start
Poor leads and clamp
Inaccurate LED screen
---
9. C.M.T Pitbull 100-Amp Arc/Stick Welder
If you have used older style stick welders before, the C.M.T Pitbull Ultra-Portable 100-Amp Electric Arc Welder might be a machine you like. It runs off 110 volts and provides a good arc for a 100-amp maximum welder. It welds various types of rods, but most people agree that 6013 rods perform the best with this machine.
The welder is reliable even though it's a basic machine with old-style functions. Once you purchase it, you can trust that it will keep welding consistently for many years. However, it requires at least a 20-amp breaker to run at a lower amperage range, and a 30-amp breaker to run it without restrictions.
The machine also shuts down to cool after a short session of welding. This is why it is so reliable—it never gets overworked; however, it makes completing jobs a slow process. The leads and clamps are of poor quality. They do work, but they're short and don't provide easy and sufficient connection.
Also, the amperage dial has no clear indication of what amperage you're running. It comes down to trial and error to determine what the machine should be set on. Welders who are used to old-style machines prefer the Pitbull more than people who have only used a newer-style machine. This machine wouldn't suit the latter group.
Pros
Low-price welder
Reliable machine
Similar to older style stick welders
Cons
Overheats and shuts off easily
Need 30-amp breaker
Difficult to start and get used to
Low-quality leads and clamp
No clear amperage dial
---
10. Campbell Hausfeld 115 Volt Arc Stick Welder
The Campbell Hausfeld 115 Volt, 70 Amp Arc Stick Welder is similar to the C.M.T Pitbull. It's a much easier machine to set up and use, but it has less amperage and cost about the same price.
The machine has a similar problem with shutting off after a short period of time, so we don't recommend it if you need to weld numerous long runs quickly. There are three settings to the machine; off, low, and high. This makes the welding process incredibly simple, provided you are welding light sections and using the right rods. 6011 or 6013 rods that are no bigger than 1/16-inch diameter work best.
However, the Campbell Hausfeld 70 Amp Welder doesn't create reliable contact through the clamps. They are both hard-wired into the machine, too, so you can't easily replace them. It's more difficult than other machines to weld on, but many people find it reliable for basic household projects that are small and remote. This is the machine we recommend least amongst our list, but it does a reasonable job if you keep within its parameters.
Pros
Low-price welder
Easy welder to set up
Good machine for basic home repairs
Cons
Only two amperage settings
Overheats and shuts off easily
Difficult to get good contact for arc
Low-quality leads and clamp
---
Buyer's Guide: How To Choose The Best Stick Welder
Stick welders are the simplest of the welding machines. They're a valuable option to achieve what a MIG or TIG welder simply can't. Many forms of tanks or sealed containers are exclusively fused with stick welders due to the impeccable quality of a good stick weld, along with their predictability, and their superior speed once you're set up for it.
MIG welding is definitely a faster and easier process, but it doesn't produce the same quality of weld for a seam that must be sealed. TIG welds are very predictable and the easiest to distinguish between a quality and a poor weld; however, it's a slow, costly process.
Stick welders are not on the front covers of magazines like they used to be, but they're timeless in producing the dependable welds pressure tanks or sealed containers require, not to mention their usefulness onsite, outside, and underwater.
What should you consider before buying one?
Amperage
A welder's amperage range is a critical determiner of what stick welder to buy, as it distinguishes exactly what you can and can't weld. Almost all stick welders can fuse every kind of weldable metal, but it requires a welder with the right amperage range to weld different gauge sections.
Some grunty stick welding machines can run a nice thick bead through a chunky slab of steel, but they won't touch a thin ⅛" tube without blowing an ugly hole through it. Likewise, a 140-amp stick welder won't make a dent in a two-inch joint needing to be filled.
Choose a welder with the right range of amperage for the type of welding you need it for. As a general rule, go for a welder with 20 to 50 amp more than the specs recommend you'll need for your section, as there are always unknown variables. Welding slightly cold is far worse than welding with a maximum amperage range somewhat higher than you need.
Volt input
Your electrical capacity affects the type of welder you should buy. Welders come suited for either 110/120v input or 220/240v input as single-phase power, or they come requiring three-phase 240v input. Three-phase welders are the heavy-duty machines designed for industrial use.
Single-phase 110/120v and 220/240v both come available from standard household power points, although the 220/240v usually needs to be hooked up by an electrician if you don't have 220/240v already.
Be aware of what input you're capable of providing to a welder, so you don't buy something that you can't run.
Additional functions
There are some additional functions that stick welders can come with. Heavy-duty welders with a high amperage range can be used to gouge welds and other parts of metal; however, this is becoming less common due to the rise of plasma cutters.
Plasma cutters themselves are an additional feature for stick welders. We consider them one of the most valuable features. The Lotos LTPDC2000D includes a plasma cutter, which is a big reason it's in our top place.
Other functions include different welding processes like a TIG welding function, or a MIG/flux core welding process. These additional functions are useful for switching between functions quickly, at a low cost in one machine.
They don't serve much purpose if your only need is for a stick welder, but if you need to do plasma cutting or different kinds of welding, getting a multi-function machine is well worth the money.
Quality
The quality of the welder you buy is an essential consideration, as it determines the price and expected life of the machine. A machine dedicated to one process, like the Hobart 500571 Stickmate 210i, will usually have the highest quality parts for stick welding. However, the price you can pay for additional processes is often the same, and sometimes lower when you get more for it.
The price of the welder and the warranty it comes with are the two best ways to tell how much quality is in a machine, but this is not always entirely accurate. It pays to read reviews and check that what a company promises is in fact what customers get.
More equipment we've reviewed that relates to stick welding:
---
Conclusion
Stick welding is an important part of the welding industry, which made us excited to put together this list of reviews on the best stick welders online. All in all, we think this is the best stick welder available this year: Lotos LTPDC2000D Plasma Cutter/Tig/Stick Welder 3 in 1 Combo. It has top-quality parts capable of stick welding at high amps, while having options to TIG and plasma cut when needed.
We also believe the best deal is the Amico ARC-160D Inverter STICK Welder, because it runs a tidy bead, costs next to nothing, and has a one-year warranty. We were highly impressed with it.
Thank you for stopping by our reviews. We hope you enjoyed reading and found the information you were looking for. Feel free to leave a comment below or ask any further questions.