8 Best MIG Welders under $1000 – Reviews & Top Picks 2023
Last Updated on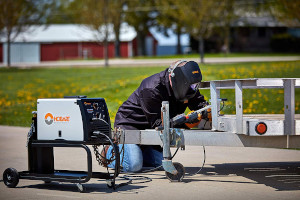 MIG welding is the most common form of welding and by far the easiest to learn. It's no surprise that MIG welders are the largest range of machines online and come with the most differences between the machines.
Because of this, we have decided it's necessary to write some reviews on eight of the best MIG welders under $1000 online. With almost every well-known brand making our list, plus a few others, you may find just what you're after. If not, we have a buyer's guide to help you in your quest to find the best welder to suit your needs.
WaterWelders' Top Picks (updated in 2023)
Image
Product
Details

Best Overall

Hobart Handler 210 MVP

Maximum output: 210 amps
Quick select drive wheel
Three-year warranty
CHECK PRICE

LOTOS MIG175

Maximum output: 175 amps
Wire spools: four and eight inches
30-day money-back guarantee
CHECK PRICE

Forney Easy Weld 261 MIG

Maximum output: 140 amps
Weighs 19 pounds
Eight-foot leads
CHECK PRICE

Weldpro Multi-Process

Amperage output: 200 amps
2T & 4T switch
Two-year warranty
CHECK PRICE

Forney 318 190-Amp MIG

Eight-foot leads
Weighs 19 pounds
110/120 & 220/240 voltage input
CHECK PRICE
The 8 Best MIG Welders Under $1000
1. Hobart Handler 210 MVP MIG Welder – Best Overall
It was a tough call picking between the Hobart Handler 210 MVP MIG Welder and the LOTOS MIG175. In the end, this Hobart machine just made our top spot. It does cost slightly more, with a touch more weight. But overall, it's a higher quality machine with a longer duty cycle, more overall amperage, longer leads, a better warranty, and more desirable features all around.
We particularly liked the 11 voltage settings with an infinite wire speed gauge that enables the control to adjust your overall amperage and welding specs exactly how you like. It's not the sort of welder you want to lug around on site as it's undesirably heavy, but once it's set up this welder is ideal for any kind of MIG welding. It can handle more than most single-phase welders with a 110/120v input option.
If you're looking for a top-quality welder with more than enough welding adjustment over a range of weldable materials, the Hobart Handler 210 would serve you well.
Pros
Maximum output: 210 amps
30% duty cycle at 150 amps
Dimensions: 24" x 18.6" x 13.2"
110/120 & 220/240 voltage input
10-inch leads
Three-year warranty
11 voltage settings
Infinite wire speed settings
Accurate wire/amperage settings chart
Quick select drive wheel
---
2. LOTOS MIG175 MIG Welder
For a welder to make the runner-up position among the whole range of MIG machines under $1000 is impressive, and the LOTOS MIG175 deserves it. It sits only slightly under the Hobart Handler 210 MIG welder in amperage range and duty cycle; however, it runs just as nice a bead under 175 amps and has a lower price.
The one-year warranty on this machine is not as long as we'd like a MIG in this range to have, but it is reasonable quality nonetheless. There's a thirty-day money-back guarantee if you're considering it and want some security. Longer warranties can usually be purchased at a slightly higher price.
One feature unique to this welder that we like is the free aluminum spool gun that comes included. It's a desirable feature for many MIG welders, and to receive this free is a significant bonus. This is a welder we highly recommend to anyone wanting a MIG under the 200-amp range.
Pros
Maximum output: 175 amps
30% duty cycle at 135 amps
Dimensions: 18" x 12.5" x 10.5"
5' leads
Aluminum spool gun included
Wire spools: four and eight inches
30-day money-back guarantee
Cons
Weighs 85 pounds
220/240 voltage input
One-year warranty
---
3. Forney Easy Weld 261 MIG Welder – Best Value
This little welder has highly impressed us. The Forney Easy Weld 261 doesn't have the largest amperage range, but it has a higher duty cycle than the matching Lincoln machine, and it runs a tidy bead.
The price of this welder is extremely low for what you get. There was no doubt in our minds that this welder deserved being ranked best for your money with all that it offers. It's small, but within the range of 140 amps, there's nothing significant we can criticize.
We would like a longer warranty on a welder, but for this price, there is no way Forney could make it longer. We prefer 25' leads; however, no welders offer these as a stock lead. Overall, if you're on a low budget but need a decent 140-amp welder, this is the best option to buy.
Pros
Maximum output: 140 amps
30% duty cycle at 90 amps
Weighs 19 pounds
Dimensions: 16.7" x 12" x 8.1"
Eight-foot leads
110/120 & 220/240 voltage input
---
4. Weldpro Multi-Process Tig / Arc/ Stick/ MIG Welder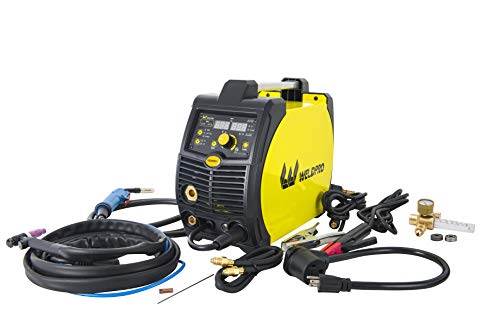 The Weldpro 200 Amp Inverter Multi-Process Welder is an excellent unit all around. It offers TIG and stick welding functions, which is very handy, and it has a high duty cycle rating, one of the highest we found for under $1000.
We like the 2T and 4T switch, which allows manual and automatic wire feeding. It's handy when you're running long runs, or have to weld in an awkward spot where you can't hold the torch properly or need to move hand positions as you weld.
The leads are a good length, and it's a very light machine for its capacity. However, as a MIG welder, we don't like the synergic settings that predetermine the wire feed rate based upon the specific amperage that's been set. This is a slight adjustment you can make with more or less wire feed within the prescribed parameters, but it's a small range and takes a while to adjust, as opposed to a standard wire feed/amperage adjustment setting. Aside from this feature, it's a nice welder and worth buying for the price it costs.
Pros
Amperage output: 200 amps
30% duty cycle at 200 amps
Dimensions: 7" x 8.7" x 15"
Weighs 30 pounds
110/120 & 220/240 voltage input
10' to 13' leads
Two-year warranty
2T & 4T switch
---
5. Forney 318 190-Amp MIG Welding Machine
The Forney 318 welder lays a tidy bead and comes as a high-quality welder. The torch and leads are above reasonable quality, and the warranty surpasses the Forney 140-amp welder seen above. However, its adjustment settings are not very good, with only three amperage settings and no option for 110/120v input.
Forney does make good welders, and if you need something with a bit more amps, we recommend this one. It's much more expensive than the LOTOS MIG 175 machine, which is only 15 amps less and includes a free aluminum spool gun. That would be our first choice at this amperage range.
Pros
Maximum output: 190 amps
25% duty cycle at 120 amps
Dimensions: 20.2" x 10.2" x 16"
10' to 15' leads
Wire spools: four and eight inches
Three-year warranty
Cons
Weighs 74 pounds
Low range of amperage settings
220/240 voltage input
---
6. LINCOLN ELECTRIC K2697-1 Easy MIG Welder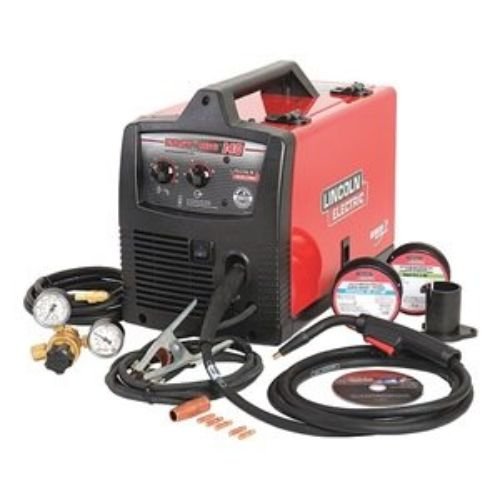 Lincoln is a trustworthy company that produces high-quality machines, and the K2697-1 Easy MIG welder is no exception. However, it's a light-duty machine designed only for the hobbyist and is a little heavy for what it offers.
The three-year warranty will give you confidence that it lasts. It lays a tidy bead on light sections and is simple to set up and use. It has a decent gun and ground clamp with a higher-end regulator than the standard ones most welders provide.
We like the machine, but for the price it costs and the range of materials it's capable of welding plus the low duty cycle, we'd recommend something lower-priced that offers more.
Pros
Maximum output: 140 amps
Dimensions: 20" x 15" x 16"
Three-year warranty
10-inch leads
Wire spools: four and eight inches
Cons
Weighs 62 pounds
20% duty cycle at 90 amps
110/120 voltage input
---
7. HITBOX 200Amp MIG Welders
The HITBOX MIG Welder 200Amp Inverter comes at an affordable price and has up to 200 amps capable of TIG and stick welding, similar to the Weldpro 200 Amp multi-process machine.
It also has a synergic function. This gives limited options to adjust the wire feed rate, as it's predetermined by the specific amperage range, a feature we're not overly impressed with.
Remarkably, this machine has a 40% duty cycle at 200 amps, which is high for a welder this size. This is a desirable quality, but it means the life expectancy may be lower because of it. Overall, this is a good machine and will serve you well over a longer period if you weld on a smaller scale with it.
Pros
Maximum output: 200 amps
40% duty cycle at 200 amps
Dimensions: 20.1" x 16.1" x 13.4"
Wire spools: four and eight inches
Multi-process machine
Weighs 19.4 pounds
Cons
Synergic settings
220/240 voltage input
One-year warranty
Low life expectancy
---
8. Goplus 130 MIG-Welder
In our eighth spot, we have chosen the Goplus MIG 130 welder primarily due to its incredibly low price. It's a light and low-quality machine that welds well within its spectrum but has one of the smallest ranges available.
It can only hold one- and two-pound spools, and you don't want to try running too many amps for long, as its duty cycle is minimal. This welder only runs off a 110/120 volt input. It isn't too heavy but has more weight than much gruntier welders. If you want a warranty, you have to buy one separately.
There are many downsides to this welder. However, if you want to pay next to nothing for a machine you can run some nice welds with, this is definitely the welder. Its leads are short, but if you can cope with always welding close to this welder, it actually lays some quality welds on thinner sections.
Pros
Maximum output: 130 amps
Dimensions: 13.5" x 7.5" x 11.5"
Weighs 35 pounds
Very low price
Cons
20.4% duty cycle at 90 amps
Warranty bought separately
110/120 voltage input
Five- to six-foot leads
Only holds four-inch wire spools
---
Conclusion
There is a broad range of quality in MIG welders available online under $1000. They all have their unique strengths. Many of them will serve you well; however, we believe the Hobart Handler 210 MVP MIG Welder is the top welder online in its price range, due to its exceptional quality and extensive range of welding capability.
We also found the best machine for your money, the Forney Easy Weld 261, 140 FC-i MIG Welder. It's a small machine and doesn't quite reach the standard of Hobart's 210 MIG, but you can't find a welder online with a better deal in offering the most for its price.
Thank you for stopping by our reviews page. We hope it has helped you in your hunt for a welder under $1000. Feel free to leave us comments below. We are always glad to hear your input.