7 Best Multi-Process Welders of 2023 – Reviews & Top Picks
Last Updated on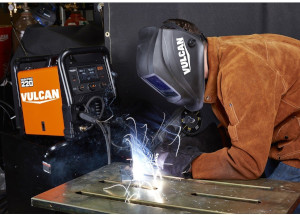 Are you interested in switching between MIG, TIG, and stick welding, all within minutes, with the same machine? Multi-purpose welders are an incredible option for the modern workshop or hobbyist who wants some diversity at a low cost. With over 100 different options online ranging from under $500 to $10,000, it's difficult knowing where to start.
We've done the hard work for you, including extensive research, to reveal the seven best multi-process welders at realistic prices. Check out our reviews of brands such as Lincoln, Miller, Forney, and a few lesser-known brands that will surprise you in their quality.
We hope you enjoy our reviews and buyer's guide. Feel free to write any questions or thoughts below in our comment section.
Our Favorite Picks of 2023
Image
Product
Details

Best Overall

Lincoln MIG210

Includes foot pedal
Includes aluminum welding extension
Three-year warranty
CHECK PRICE

Best Value

Everlast 211Si

Maximum output: 210 amps
Max wire speed range: 600 IPM
Five-year warranty
CHECK PRICE

MILLER MULTIMATIC220

Multi-voltage plug
Pro-set feature
Two regulators
CHECK PRICE

ESABESAB 120/230-Volt

Durable case
Weighs 40 lbs
Maximum output: 240 amps
CHECK PRICE

Forney 322 MIG/Stick/TIG

10' leads
Weighs 38 lbs
Five-year warranty
CHECK PRICE
The 7 Best Multi-Process Welders
1. Lincoln MIG210 Multi-Process Welder – Best Overall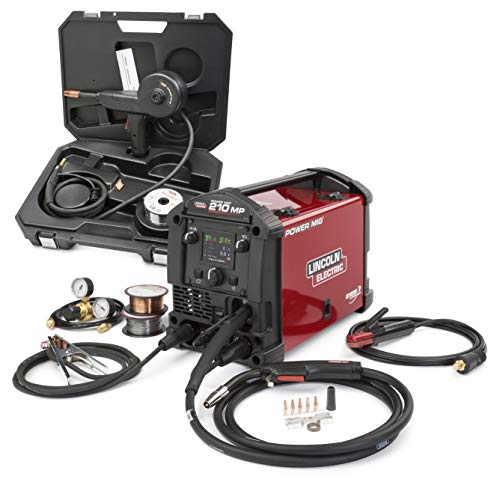 Our top pick is the MIG 210 MP Multi-Process Welder from Lincoln. It's been designed with top-quality materials, while its layout functions very predictably, making it easy to get used to. The instruction manual isn't the most helpful, but it's so simple to set up and use that a manual isn't really necessary.
This multi-process welder can weld almost any metal, except for TIG welding aluminum, as it doesn't have an AC output option. However, we like the Magnum PRO 100SG aluminum spool gun it comes with for aluminum MIG welding. It's the best MIG welding feature available online for aluminum welding. Other welders come with Teflon sleeves and rollers designed for aluminum welding, but this kit ensures the soft wire has no restrictions anywhere from the spool to the gun tip. It feels like you're feeding steel wire.
Overall, this welder performs the best over all the other multi-process welders here, in the widest range of materials. It's a high-quality welder, and we believe it will comfortably surpass the three-year warranty it comes with for anyone thinking of buying it.
Pros
Maximum output: 200 amps
25% duty cycle @ 200 amps
Dimensions: 14" x 10.75" x 19"
Weighs 40 lbs
Max wire speed range: 500 IPM
110/120 & 220/240 voltage input
10' leads
Includes foot pedal
Three-year warranty
Made with quality
Includes aluminum welding extension
Cons
Unclear operating manual
No AC output for aluminum TIG
Touch start TIG technology
---
2. Everlast 211Si Multi Process Welder – Best Value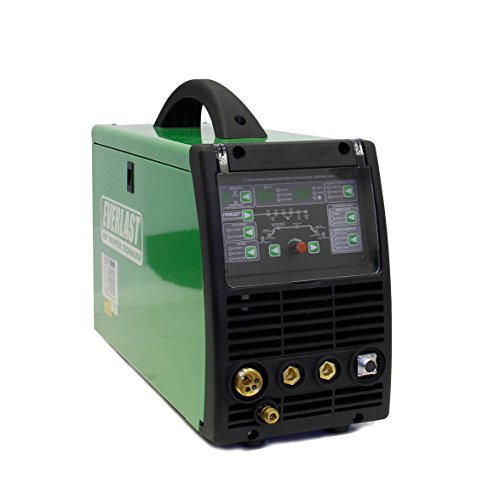 We were highly impressed with this Everlast machine. It's not quite up to the same standards as the Lincoln 210 MP welder, but for its price and the five-year limited warranty it offers, it's definitely worth considering. It weighs twice as much as the Lincoln machine and numerous other welders available, but it runs slightly higher amperage, has a faster wire speed availability, and offers both HF TIG start and lift start functions.
The 2T and 4T switch give options for manual or semi-automatic MIG wire feeding, and it's always handy having a foot pedal in a TIG welding kit like this has. However, it doesn't have the AC TIG option or an aluminum spool gun for aluminum welding. It isn't as well designed as the Lincoln 210 MP welder, and has an even worse operating manual.
The Everlast Power MTS 211Si isn't made from the highest quality materials, even though it welds nicely. When you consider its price, however, it definitely offers the most for its low-price range.
Pros
Maximum output: 210 amps
35% duty cycle @ 210 amps
Dimensions: 25" x 19" x 16"
Max wire speed range: 600 IPM
110/120 & 220/240 voltage input
10' to 12' leads
Five-year warranty
HF TIG start & lift start
2T / 4T technology
Foot pedal
Cons
Light-duty MIG torch
No power setting chart
Unclear operating manual
Weighs 80 lbs
---
3. MILLER MULTIMATIC220 AC/DC Multi-Process Welder
As Miller welding fans, we knew we would like this multi-process welder. The MILLER ELECTRIC MULTIMATIC 220 offers more than most other packages online. It has everything a multi-process welder needs except an aluminum spool gun, but it sits in the higher price range, which brought it down to our number three position for our overall multi-purpose welder rankings.
This machine puts out 200 to 230 amps through a 10' MIG lead. It has a 13' stick holding clamp, and a 12.5' HF start TIG torch with a foot pedal. It can also run an AC TIG output, which is needed to TIG weld aluminum.
The quality of this welder is top-notch. If it cost a little less, we would undoubtedly have it ranked first place.
Pros
Maximum output: 230 amps
15% duty cycle @ 230 amps
Dimensions: 21.5" x 17.5" x 11.25"
Weighs 56 lbs
Wire feed speed range: 600 IPM
110/120 & 220/240 voltage input
10' to 13′ leads
AC & DC TIG welder
Pulse function
HF TIG start
Three-year warranty
Foot pedal
MIG & TIG torches can stay connected
Multi-voltage plug
Pro-set feature
Two regulators
Cons
Expensive
Doesn't include aluminum spool gun
---
4. ESAB 120/230-Volt MultiProcess Welder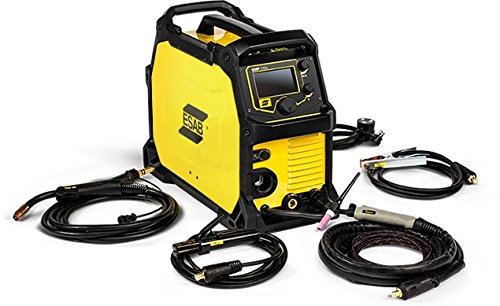 We like ESAB's EMP215IC multi-process welder. It's lightweight and compact, with a heavy-duty case that includes five handles to transport it around. The shell is designed for agricultural field welding, so it's built to withstand a beating, which it does; however, the internal electronics and external connections are more delicate, so you still need to be careful with it.
The leads are short, it has one of the slower wire feed rates available, and there are no options to weld aluminum unless you buy additional parts or aluminum electrodes for stick welding. Overall, it's a nice welder but a little expensive for what you get.
Pros
Maximum output: 240 amps
25% duty cycle @ 205 amps
Dimensions : 23" x 16" x 9"
Weighs 40 lbs
Wire feed speed range: 476 IPM
110/120 & 220/240 voltage input
Durable case
Cons
Not dependable with warranties
Low-quality internal gear
Expensive
Six-foot leads
---
5. Forney 322 MIG/Stick/TIG Multi Process Welder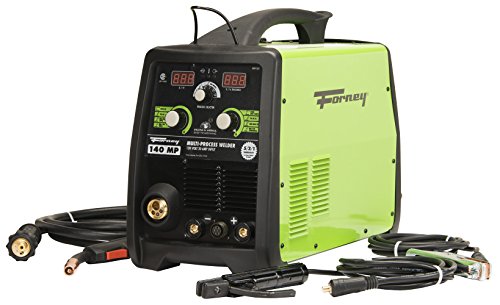 Forney's 322 140-Amp multi-process welder is a good option for the hobbyist with a low budget who doesn't require as wide a range of welding options as most multi-process machines provide.
It's a quality welder with a reliable five-year warranty. We have no doubt Forney ensures its customers are satisfied with their welders for the warranty it offers. You must buy a separate TIG torch, which brings the price up a bit more, to get the full multi-purpose use out of it, but it runs a nice TIG weld as long as you don't need high amps.
We recommend this welder as a quality option for lighter jobs, but if you want the best deal for your money, the Everlast Power MTS 211Si is our top recommendation for low-cost multi-purpose welders.
Pros
Five-year warranty
Dimensions: 19" x 9.5" x 16.5"
Weighs 38 lbs
110/120 & 220/240 voltage input
10' leads
Cons
Low amperage output: 140 amps
Doesn't include TIG torch
20% duty cycle @ 100 amps
---
6. Vulcan OmniPro220 Multi-Process Welder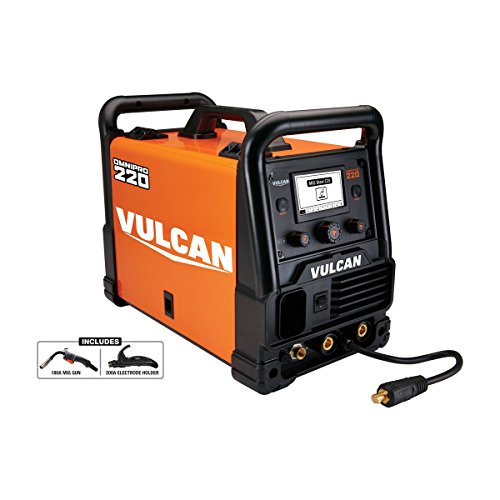 The Vulcan OmniPro 220 Multi-Process Welder is similar to the Forney 322 140-Amp welder, but it costs more and doesn't match it in quality. It has a broader range of weldability with an extra 80 amps peaking at 220 amps, yet it won't last as long.
It doesn't work with standard TIG torches, as the gas line needs to be connected directly to the TIG lead, rather than passing through the machine as usual. The MIG gun is also low quality and would require an upgrade if you're doing any significant welding with it.
It's not a bad welder, and we're happy to have it at our number six place among other multi-purpose welders, but it's more suited for home use than more intensive workshop or on-site welding.
Pros
Amperage output: 220 amps
25% duty cycle @ 200 amps
Dimensions: 21" x 17" x 12"
Weighs 49 lbs
Wire feed speed range: 500 IPM
110/120 & 220/240 voltage input
10' leads
Cons
Doesn't include TIG torch
One-year warranty
Lower quality
---
7. Weldpro 200 Amp Inverter MultiProcess Welders

The Weldpro 200 Amp Inverter is a good choice. It sits at the lower price range for multi-process welders, and it offers a wide range of features and attachments.
It has a synergic adjusting feature that determines the wire feed and amperage based upon its technology. You can only change the amperage with minor voltage adjustments up or down minimal amounts. It can be useful for beginner welders, but it doesn't give a wide adjustment range and takes getting used to.
The quality is much lower than that of other welders, but it does have a reliable two-year warranty, which gives some security. If it had more parameters for wire feed adjustment and came with more quality, this welder would be much higher on our list, as the price is very affordable for what you get.
Pros
Amperage output: 200 amps
30% duty cycle @ 200 amps
Dimensions: 7" x 8.7" x 15"
Weighs 30 lbs
110/120 & 220/240 voltage input
10' to 13' leads
Two-year warranty
2T & 4T switch
Cons
Synergic self-adjustment
Low quality
---
Buyer's Guide – Finding the Best Multi-Process Welder
Multi-purpose welders are excellent for people who weld with multiple processes and want the accessibility and affordability of a single machine to do it all. But how do you find the best multi-process welder for you?
We have created this buyer's guide to run through the main things to consider before you purchase your next welder: primary function, material usage, welder quality, and budget.
Primary function
Most multi-process welders have a stronger lean towards one welding process. Know what you'll be using it for most often, so you can choose the best-suited welder. If you will be doing lots of welding in all four processes, something like the MILLER ELECTRIC MULTIMATIC 220 AC/DC is a good option. It excels in all the different processes and comes with a variety of features beneficial for every kind of welding.
If you will be MIG welding more than TIG and stick welding, and particularly need aluminum MIG options, the Lincoln Electric MIG 210 MP multi-process welder or something similar will provide excellent MIG options while still offering a range of diversity when you need it.
When TIG is your primary process, but you need a range of MIG or stick alongside it, the Everlast Power MTS 211Si 110v/220v multi-process welder is an exceptional machine that is specifically designed for TIG projects while still being capable of stick and MIG jobs.
The ESAB EMP215IC 120/230-Volt MIG/TIG/Stick Welder was designed with deep agricultural roots, which makes it an exceptional stick or flux core welding machine. Something along this line is good if you're primarily doing gasless welding but also want options for MIG and TIG operations.
Material usage
The type of material you'll be welding has a significant effect on the best multi-purpose welder to buy. This includes both the type of metal and the different gauge sections you need to weld.
Most quality machines will produce reasonable welds in steel and stainless steel projects with the right consumables and settings. The capacity to weld aluminum is more specialized and requires a more careful selection than the general capabilities of machines.
If you want to TIG weld aluminum, a machine with both an AC and DC capability is necessary. A typical welder with a DC output won't work for aluminum welding. Having a TIG pulse function also helps with aluminum welding. The MILLER ELECTRIC MULTIMATIC 220 AC/DC welder has both of these.
The amperage range of the multi-process welder will determine what plate thickness you can weld up to. If you're only welding light sections, there's no need to buy a welder with a wide amperage range. A welder like the Forney 322 140-Amp MIG/Stick/TIG, which welds up to 140 amps, would be a better option than spending more on a gruntier machine.
Welder quality
The quality of the machine you buy will largely determine how long it lasts. This can be gauged by the warranty range, with the higher quality machines having longer warranties, but make sure you're aware of the fine print. There are often clauses with this, and sometimes the leads or torches have less of a warranty on them.
You pay more initially for welders with long warranties, but a more expensive machine will save you money over time if you do a significant amount of welding. A consistent welder used over an extended period won't need to get replaced or fixed frequently, saving you on repair work and downtime.
After-market torches are also a worthwhile investment. They have a much higher quality than stock torches and offer a range of longer leads, which makes the welding experience significantly better.
Budget
Your budget will ultimately determine what welder you can or can't buy. A multi-purpose welder is already a money-saving machine joining multiple processes into one unit, but which one to buy can be difficult when they have such diverse prices.
A lower price often purchases lower quality, and you can lose money in the long run. Some quality options in lower-cost welders are the Everlast PowerMTS 211Si 110v/220v and the Forney 322 140-Amp, which come at a low price but offer quality nonetheless.
---
Conclusion
After reviewing many brilliant welder options online in the multi-purpose range, the Lincoln Electric MIG 210 MP is our choice for the best multi-process welder. It has a reasonable price and a broad range of features at the highest quality compared to others.
The Everlast Power MTS 211Si 110v/220v is our second choice for the best multi-process welder because it offers the best range of welding solutions for your money among all the welders we looked at.
We hope you have enjoyed these reviews and found value in our buyer's guide. Please send any questions you have, or let us know your thoughts on your favorite multi-purpose welder in our comment section.