6 Best Welding Tables of 2023 – Top Picks, Reviews & Guide
Last Updated on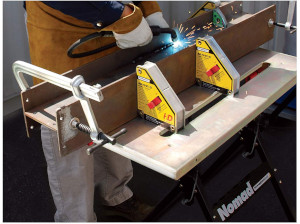 Tables are one of the best ways to speed up welding projects while sparing peoples' bodies by providing the means to work in a healthy position.
Many of us know what it's like crawling around on the concrete to weld for hours on our knees, burning our bodies, and piercing our knees with wire or bits of metal on the ground. This not only wrecks us, but it's an inefficient way to complete projects.
Because of this, we have decided to write six reviews of our favorite welding tables and a buying guide to help with the selection process, in the hope that it helps you find a solution to this problem. There is an extensive range of welding tables to choose from online, so we hope this helps you narrow down what's best.
A Quick Overview (updated in 2023):
Image
Product
Details

Best Overall

Miller 60SX Arcstation

Load capacity: 1000lb
Heavy-duty
Caster wheels
CHECK PRICE

Best Value

Nomad Portable

Low cost
Adjustable angle +/- 90°
Weight: 30lb
CHECK PRICE

Miller Portable ArcStation

Very stable
Load capacity: 500lb
High quality
CHECK PRICE

Strong Hand Tools

Includes 28-piece clamping kit
Makes clamping fast and easy
63" clamping holes
CHECK PRICE

Rhino Cart Welding Table & Fixture Kit

Includes 66-piece clamping kit
Load capacity: 1500lb
Includes caster wheels
CHECK PRICE
The 6 Best Welding Tables – Reviews:
1. Miller 60SX Arcstation Welding Table – Best Overall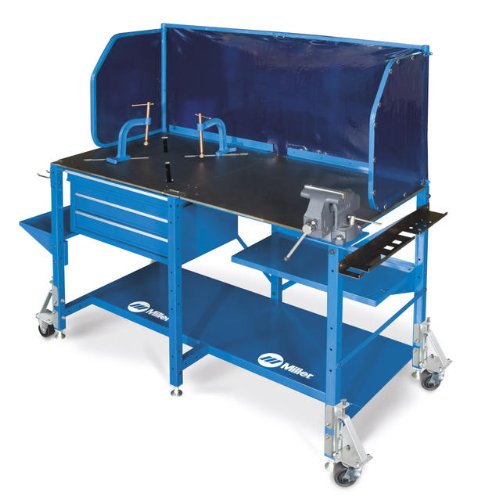 After much consideration, we have chosen the Miller 60SX Arcstation as our top pick. It suits the most diverse range of welding applications, has the largest surface area, and comes with high quality and heavy-duty materials.
A downside is that it's one of the heaviest tables available at 318 pounds. Once it's set up, it can either remain stable on its six legs and become a hub for your welding and cutting needs, or be moved around on its four caster wheels. These make it easy to move around your workshop or garage.
It comes at a higher cost than most of the other tables available, but it includes the most diverse range of features and suits both hobbyists and industrial workshops alike.
Pros
Table size: 60" x 30"
Height: 35"
Load capacity: 1000lb
Heavy-duty
Caster wheels
Numerous types of fixtures
Hangers and drawers
---
2. Nomad Portable Welding Table – Best Value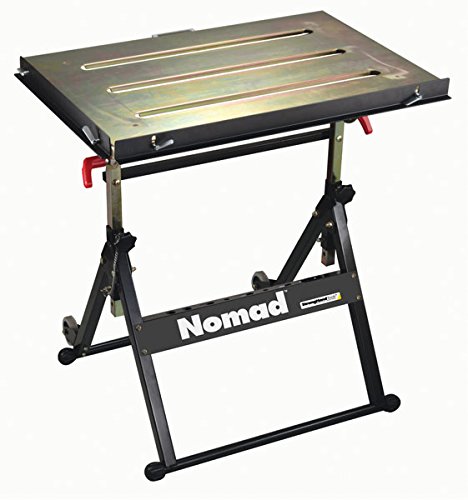 The Strong Hand Tools Nomad Portable table has a very different style than Miller's 60SX Arcstation, but it's an affordable option with a diversity of purposes. It's the best portable welding table for the price: lightweight, small enough to carry around, and strong enough to bear 350 pounds of load.
It also has an adjustable feature that allows for positioning the tabletop +/- 90° around one axis, with three long slots to attach clamps to it. It's much smaller than most other tables, but for a light, portable option at a low cost, we're happy to recommend it to anyone wanting a low-priced option with slightly lower quality.
Pros
Low cost
Table size: 30" x 20"
Adjustable height: 26" to 32"
Weight: 30lb
Load capacity: 350lb
Adjustable angle +/- 90°
1" clamping slots
Cons
Not 100% stable
Doesn't include clamps
Low quality
---
3. Miller Portable ArcStation 29×29 Welding-Table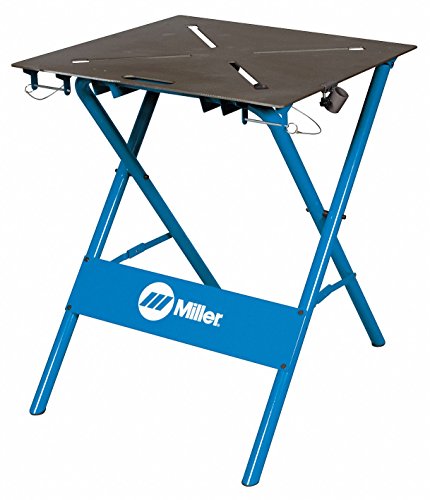 The Miller Portable ArcStation table is similar to the Strong Hand Tools table, but it doesn't include much more while being more expensive. It does have a more stable leg structure and is significantly higher in quality, being able to bear a much heavier load. However, for a portable table, it's heavy and doesn't have a tilt function.
We liked the slots. They are designed well, in an X shape rather than parallel lines. This layout allows a useful range of clamping positions. It also lasts much longer than the Strong Hand Tools Nomad table due to higher quality components. It eliminates the need for locking and clamping devices, which are generally the first to break.
It sits in 3rd place because of its price and it offering less, but it's still an excellent option for a high-quality portable table if you need something more suited for industrial use.
Pros
Table size: 29" x 29"
Height: 35"
Load capacity: 500lb
Very stable
Clamping slots
High quality
Cons
Medium cost
Doesn't include clamps
Weight: 74lb
---
4. Strong Hand Tools Welding Table & Kit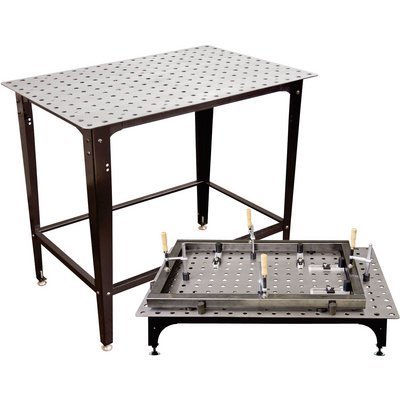 The Strong Hand Tools FixturePoint Table, with a start-up clamping kit, is one of the best types of tables on the market. It comes with a series of 0.63″ (16mm) holes, with a vast range of fixtures that sit into the holes without the need for nuts and bolts. It makes clamping frames very quick and easy and gives a wide range of options.
It's in the medium price range and specialized as a clamping table. If clamping is often necessary for your welding projects, a fixture point table like this is invaluable.
These tables require frequent cleaning and aren't suitable for small components due to the holes. However, this table comes in a useful size. It's adjustable in height and makes repetitive shapes easy to duplicate with the stops and clamps it provides.
Pros
Table size: 36" x 24"
Height: 34"
63" clamping holes
Includes 28-piece clamping kit
Makes clamping fast and easy
Cons
Medium cost
Requires frequent cleaning
Weight: 72lb
---
5. Rhino Cart Welding Table & Fixture Kit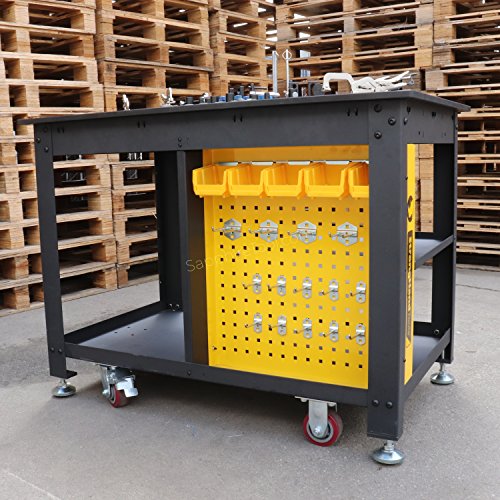 The Rhino Cart is an impressive wheelable table that includes everything a clamping table needs. This is the most heavy-duty table available, and quantity-wise, it offers more than what 99% of other tables on the market do.
Why it's in 5th place and not higher is because it's a more expensive option like our top pick, the Miller 60SX Arcstation. It's a specialized table for projects requiring clamping and detailed set-ups. It can be used for any big project, but it's designed for securing with precision to create the exact set-ups you desire consistently among multiple projects.
It's a heavy table, but it's surprisingly easy to roll around with its heavy-duty caster wheels and secure structure. It can also bear an impressive 1500 pounds of weight.
Pros
Table size: 48" x 30"
Height: 36"
Includes 66-piece clamping kit
Load capacity: 1500lb
63" clamping holes
Includes caster wheels
Makes clamping fast and easy
Heavy-duty
Cons
High cost
Overall weight: 500lb
Table weight: 400lb
Specialized
---
6. Champ Welder's Table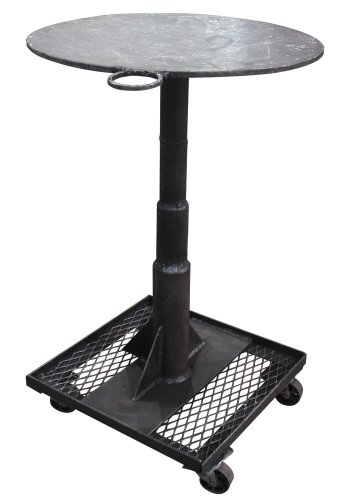 We liked what the Champ Welding Table offers in giving you a convenient place to weld small components. It's taller than most tables available, which is useful when you want to see your welding close-up while protecting your back.
We don't like the fact that there are no fixture points on it unless you make your own. However, the included torch loop is handy for resting your torch in. It doesn't have enough room for larger projects, and although it's ideal for bringing work up to you, there are no adjustments if you want to work lower down.
Overall, this is our least favorite table out of the six we've reviewed. It's worth the price and is an affordable option if it's what you're after. However, for a welding table, it's easy to fabricate for yourself at a lesser price, unlike all the other options which are much more complicated.
Pros
Low cost
Height: 37.5"
Swivels 360° Lacks diversity
Includes caster wheels
Cons
Overall weight: 112lb
Table size: 24" diameter
Lacks diversity
Unstable
No fixture points
Easy to make yourself
---
Buyer's Guide: How to Choose the Best Welding Table
Tables come in various shapes and sizes with different features in a vast price range. While we have reviewed our top six favorite welding tables, which one to get is determined mainly by personal preference. The choice of what table you'd like may differ from someone else's. Here are some things to consider.
Table size
Welding tables range in size from a 30″ square surface area to over 100″ square surface areas, with many options in between. They're usually taller than a regular table's height, but the range can differ from 25″ to almost 40″ tall, and sometimes they're adjustable.
Horizontal size
The sizes people choose for welding tables are determined by where they will be located, what they'll be used for, and the buyer's budget.
Unless the table is meant for portable use, a bigger surface area is generally better. The space in your garage or workshop will determine how big it can be. In a large space, a big table is a brilliant feature. You can keep projects off the ground and conveniently move around it to weld the various sections without clambering across concrete.
In a small space, a large table gives you no room to move around. You can still keep larger projects off the ground, and even use the table as a resting place for your welder if it's small, but more often than not a large table in a small space turns into a hassle. We recommend smaller tables for smaller areas.
If you want a portable table, a smaller one is better. You don't want to carry around a large, heavy table. Often, bigger tables have decent caster wheels to make them easy to roll around, but they aren't portable like small, light tables.
Height
A taller table is beneficial for most welding purposes. You won't have to bend down too much when welding, and you'll have a good view of your project. It protects your back from constant arching over and makes stabilizing your arms easier during welding travel when your project is higher.
It can also be useful having height adjustment in a table. Sometimes tall isn't the best height, and making it small can be beneficial. The height of a welding table is generally a secondary choice; however, often a table meets all your other needs and its height is what it is.
Location
Where you'll be using your table affects what table is best. Larger spaces have room for larger tables, while smaller areas give fewer options. The location will also determine whether you'll want wheels on your table to transport it around your workshop or outside.
Something else location determines is what quality of table you get. If it will be in an industrial environment, consider heavy-duty options so it can withstand a beating.
If it will be used outside, you'll want a coating on it, or a stainless or aluminum structure. Thinking about the location is an essential step in the buying process and will result in the best choice for what you need.
Usage
Welding is diverse, with different processes over a range of materials, shapes, and sizes of projects, not to mention the various activities welding requires along the way. What you'll be doing on your welding table determines the best table to buy.
You may have a wide range of projects you plan to do on it, and if this is the case, a larger table with many different features at a higher quality is preferable. Something like the Miller 60SX Arcstation or even the Rhino Cart offers a range of different functions.
RELATED READS: see also our overview of the best welding carts of the year here.
If your projects are too large to fit on a table, but you want something small to assist you that's portable and can easily move around to different locations, lighter portable tables like the Strong Hand Tools Nomad Portable Welding Table or the Miller Portable ArcStation are useful.
Some people keep a larger table as their base welding spot and have a portable table to transfer around when their projects are far away or won't work on their main table. Whatever your needs are, knowing what you'll use it for helps narrow down the options.
Features
The unique aspects of welding tables differ from table to table and provide an exciting range to choose from. We like the diversity of Miller's 60SX Arcstation as it has almost everything you would need with a table. Narrowing down what features are useful will help you choose the best table.
Fixture points
These are parts of the table that provide a way to secure your project while you cut or weld it. They can come in the form of clamps or vises, and are either bolted or self-locking to your table. They are one of the most useful features of a table and often entirely necessary to complete jobs.
Fixture points that are bolted to your table are useful as they're secured very tightly, but they don't always give options to adjust easily or change location.
Self-locking clamping systems that fit into slots or holes are best. They can secure just as tightly as bolts, but they're adjusted or moved within seconds and usually have a massive range of diversity.
Welding screen
Welding screens are an affordable and easy way to protect peoples' eyes from your weld when they're nearby. They often come as a single product and can be moved around anywhere you need, but they can also be a useful feature of a welding table.
Caster wheels
These are wheels designed to move tables easily, while withstanding their weight and whatever is on the table. Sometimes they're the only contact point between the table and the ground. When this is the case, they usually have brakes for stability.
There are also ways to move them up and down so that they take the table's weight when moving. When stationary, they're adjusted up out of the way, so the table sits on the legs instead.
Storage
Tables can also have storage options. They're useful for keeping consumables clean and dry out of the way, and providing a convenient place to put things, so they aren't lying around on your bench.
The storage can be in the form of shelves or drawers, and be under the table or above the table. Peoples' preferences vary on what the better options are, but regardless, they're a valuable feature.
Hangers
These are either rings, slots, hooks, or holes to hang various items you use when welding. The most common hanger is a ring or tube that's attached to the table where you can set your torch between welds.
You often need both hands to adjust or move your project, so this keeps your torch out of the way, clean, and protected, but it's still nearby. When your job is repositioned, you can quickly pick the torch up and begin welding again.
Other hangers keep hammers, pliers, chippers, and exposable consumables in a convenient spot. We highly recommend them to anyone thinking of buying a table.
Quality & Price
All these aspects of a welding table come with a price. Considering what you think is necessary, along with your budget, will determine what table to buy. The quality also distinguishes them in price as well; pricier tables will generally last much longer.
There can be two welding tables, like the Strong Hand Tools Nomad Portable Welding Table and the Miller Portable ArcStation, that only differ slightly in their application; however, the price of each is significantly different, as one is much higher in quality.
Cheaper options are sometimes necessary, and it's good we have them when we can't afford much, but it's notable that the more expensive option often saves money in the long run because it lasts. When a pricier table does break, it's easily fixed, unlike the cheaper options.
News from the blog:
---
Conclusion
Among the ample range of welding tables available online, our top pick is the Miller 951413 60SX Arcstation, which gives the most extensive range and variation with the highest quality.
The Strong Hand Tools Nomad Portable Welding Table (TS3020) is best for the money if you're after an affordable option with portability and some handy functions, both onsite and in the workshop or garage.
Thanks for dropping in to read our reviews and buyer's guide. We hope you've learned something new and have found help in considering a welding table to buy. Please feel free to leave any comments or questions below in our review section.