5 Best Chipping & Slag Hammers for Welding 2023 – Reviews & Top Picks
Last Updated on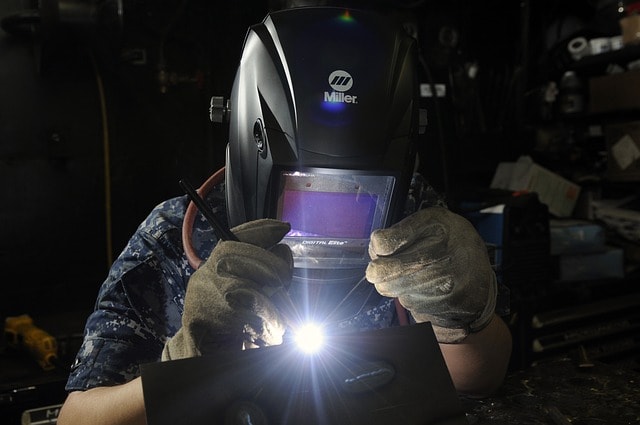 There is nothing worse after a welding session than slaving away trying to clean up ugly, stubborn slag residue with a blunt chipping hammer, especially one with an uncomfortable grip that lacks shock absorption.
Most of us have been there before, but if you haven't, you don't want to start now! We have a list of our five favorite chipping hammers found online to ensure you don't experience this. While all five will effectively save you from a bad experience wasting time and money, and maybe a few blisters, we think our first pick outperforms every product on the market.
Have a read-through and see what you think. We hope these reviews help you on your journey to clean your next project effectively and in good time.
---
A Quick Glance at our Favorites of 2023
Image
Product
Details

Best Overall

Estwing BIG BLUE

Industrial grade
Comfortable handle
Unique shock-absorbing grip
CHECK PRICE

Hobart Hammer with Brush

Includes attached brush
Good weight balance
Shock-absorbing spring
CHECK PRICE

Best Value

Pit Bull Slag Hammer

Chisel and pointed ends
Shock-absorbing spring
Long hammer
CHECK PRICE

US Forge Economy

Shock-absorbing spring
Chisel and pointed ends
Low price
CHECK PRICE

VASTOOLS Hammer Kit

Shock-absorbing spring
Chisel and pointed ends
CHECK PRICE
The 5 Best Welding Chipping Hammers
1. Estwing BIG BLUE Welding/Chipping Hammer – Best Overall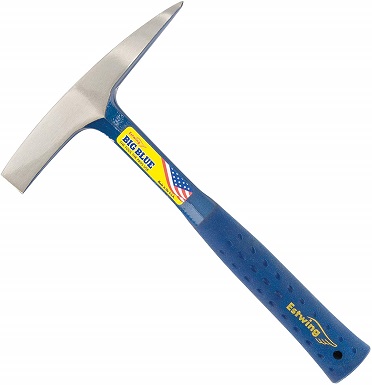 The Estwing BIG BLUE Hammer is one of those products that most other hammers just can't compare with. While a traditional hammer comes with a spring handle or rattles your arm with a standard hammer handle, the Estwing BIG BLUE is completely unique.
It's forged in one piece without a spring handle to help make it unbreakable, and it withstands the shock of every hit through a specially designed grip for chipping. It's made to absorb an impressive seventy percent of the shock, removing all those dreadful feelings that make you want to give up before you begin.
It's built with toughened steel that's durable enough to withstand constant hammering and chipping away at spatter while preserving the edge. One end is a medium width chisel used for chipping off large areas of spatter quickly. The other end is narrow, with a sharp, strong point to help you get into corners and awkward spots where the chisel end won't fit.
If you're serious about welding and require frequent chiseling of spatter or slag from your projects, this tool helps you speed up the finishing stage of projects while providing the best experience in the process. The price is slightly higher than other hammers, but its performance is worth the cost.
Pros
Industrial grade
Comfortable handle
Unique shock-absorbing grip
Forged in one piece
Sharp, durable chisel and pointed ends
---
2. Hobart Welding Chipping Hammer with Brush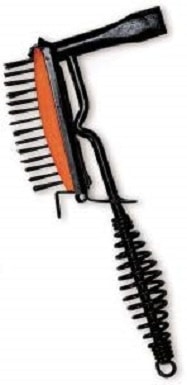 Our second pick for weld chipping hammers is the Hobart 770069 Welding Chipping Hammer. It's a useful tool we highly recommend, though it doesn't come anywhere close to our favorite choice, the Estwing BIG BLUE.
This is a standard spring handle hammer, which, other than a fully forged, anti-shock hammer, is the best design to date. These hammers are useful for absorbing the shock of frequent chipping; they do a good job, but are uncomfortable to hold. However, what's unique about this hammer is that it has a weld cleaning wire brush attached to it.
Some people consider this gimmicky, but it's surprisingly useful. You can finish a whole project with the same tool, and it gives the brush a solid grip to hold onto, unlike the old wooden ones. It's a fast and effective way to clean up your project. The wire brush stays on the handle firmly, making it a strong solution to cleaning the weld. If you eventually want to replace the wire brush after extensive use, it's easy to take it off and fit a new one onto the chipping hammer.
You may not have the same comfortable chipping effect using this tool as with the Estwing BIG BLUE, but this is still a useful lower-priced option. If you need to use a wire brush often for your projects, this chipper hammer saves you time and hassle compared to having a separate chisel and wire brush.
Pros
Includes attached brush
Good weight balance
Shock-absorbing spring
Low price
Cons
Uncomfortable spring steel grip
---
3. Pit Bull Welding Slag Hammer – Best Value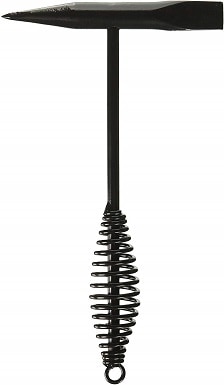 The Pit Bull CHIH058 Chipping Hammer isn't anything special for a chipping hammer, but it's offered at a price that gives all the other hammers on the market a run for the money. It's not a poor-quality hammer, either.
It certainly won't give you the performance an Estwing BIG BLUE does, nor does it offer versatility like the Hobart 770069 Welding Chipping Hammer. However, it will chip away all the spatter you need it to, and it will endure a significant amount of chipping and hammering of steel before needing to be sharpened.
It comes with a double-sided head, with both a chisel and a pointed end for diversity in your chipping needs. For a low-priced option, if you don't require much brushwork on your welds, the Pit Bull is a more suitable option. It costs less and is a better hammer for solely chipping purposes.
If you're on a low budget and want to pay the minimum price possible for a welding hammer, this is the best deal for your money. Even though it's one of the lowest-priced welding hammers on the market, it's one of the largest at an impressive twelve inches long.
Pros
Low price
Chisel and pointed ends
Shock-absorbing spring
Long hammer
Cons
Uncomfortable spring steel grip
---
4. US Forge Economy Welding Chipping Hammer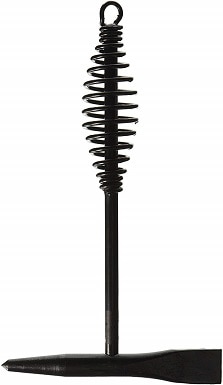 In our fourth spot is the US Forge Welding Economy Chipping Hammer. It's almost identical to the Pit Bull CHIH058 Chipping Hammer, only it costs a tiny bit less, and it's less than half the size.
It's another surprisingly durable hammer for its low price. Normally hammers this price are low in quality. It's not a bad hammer design-wise, though it lacks the size and weight for significant projects. The head of the chisel is smaller and narrow. It has a tip like a center punch on the pointed end, which effectively keeps it from becoming blunt or damaged quickly, but it's not the most effective pointed hammer end to use for chipping.
If you're a hobbyist welder with light hands and aren't used to extensive workshop work, we recommend this as a worthwhile option. Otherwise, it's too small for completing big projects efficiently.
Pros
Shock-absorbing spring
Chisel and pointed ends
Low price
Cons
Uncomfortable spring steel grip
Small size
---
5. VASTOOLS Welding Chipping Hammer Kit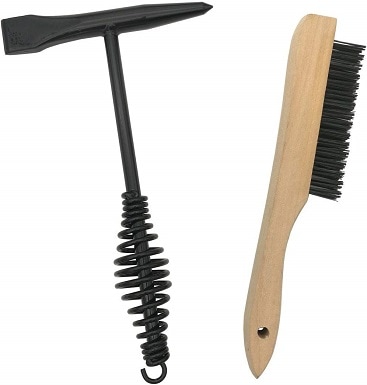 The last tool on our list is the VASTOOLS Welding Chipping Hammer, which comes with a separate wire brush. The hammer itself sits in a range between the Pit Bull CHIH058 Chipping Hammer and the US Forge Welding Economy Chipping Hammer.
It has a slightly narrower head than we would like, making it less heavy, so it doesn't chip as well. However, this is good for preserving your arm during extensive use. The pointed end is not as narrow and sharp as the Pit Bull hammer's end, but it's a good middle-of-the-range point, giving it good shape to chip with, without becoming blunt quickly.
Its length is also between the other two hammer sizes, making it an overall mid-range hammer, not either a lightweight or a full-sized tool. It costs more than all the other hammers except our favorite, the Estwing BIG BLUE, and the wire brush it comes with is good for very little. It doesn't come attached to the handle like the Hobart 770069 Welding Chipping Hammer, and it doesn't last long in the best of conditions.
If you only do light wire work on your projects or want a separate hammer and wire brush, this is a good option to consider. Otherwise, we recommend the other hammers in our reviews as a better value for your money.
Pros
Shock-absorbing spring
Chisel and pointed ends
Cons
Uncomfortable spring steel grip
Low-quality detached brush
---
Buyer's Guide
What do you look for when buying a new chipping hammer online?
There is a range of differences in weld chipping hammers, but it all comes down to personal preference. The price differences aren't that significant, and most hammers will effectively clean up projects for you. This buyer's guide points out what most people consider before buying and how each hammer choice will affect your experience and the results.
Anti-shock feature
It's important for a product to withstand hammer shock effectively, to give you a comfortable consistency of use without the pain of constant hammer-to-hand impact. However, the way hammers achieve this differs, and some are more effective than others.
Spring handle hammers separate your hand from the main shaft through a unique spring. This is the most common form of anti-shock feature in these types of hammers, as it's easy to absorb the shock this way. The downside is that it's uncomfortable for some people to hold, and isn't as responsive as a traditional hammer handle.
New technology has emerged to make anti-shock handles that look and feel like traditional hammer handles, but with much better shock absorption. This gives you a better feel of what's happening with the hammer and more control over it, while absorbing the shock as the spring handle does.
These hammers have been improving slowly, and eventually, the Estwing BIG BLUE was born. This has dominated the original designs and reduces the shock passing into your hands significantly better than other hammers, giving you a comfortable grip with complete responsiveness.
Handle comfort
Handle comfort doesn't matter too much if you don't use the chipping hammer often, but with frequent use, it can make for an unpleasant experience. This factor is primarily a personal preference, but it's necessary to consider before buying a new hammer. You don't want to spend your hard-earned money on something that chips well but isn't comfortable to use.
Size
Chipping and slag hammers for welding come in a range of different sizes to suit different needs. Some people have two sizes to use for different parts of their projects, while others prefer to use the same size for everything.
Large hammers provide more weight and swing to remove spatter and slag without requiring much additional force, other than swinging it. However, a hammer that's too long and heavy can be slow to maneuver, depending on your strength and coordination. The right size will mean you can most effectively clean up your project with speed.
Durability
Every welder wants a durable weld chipping hammer, but not everyone wants to pay for it. Durable products generally cost more, but they usually save you money in the long run. Most weld chipping and slag hammers are made from materials that aren't easy to break, so this is rarely the problem. However, they can come loose between the handle and the head.
This is the main problem with lower-quality hammers. Make sure your hammer is securely fastened, or even better, made from a single forged piece of steel like the Estwing BIG BLUE. Another durability factor is how quickly the tool becomes blunt. There is no tool that doesn't go blunt over time, but some last much longer than others.
While a tool going blunt doesn't make it useless, it does mean it needs to be sharpened more frequently, which is a hassle. Find a chipping hammer that can withstand significant use. You will be thankful when time spent sharpening is minimized dramatically compared to a hammer made of low-grade steel.
Wire brush
Chipping hammers and wire brushes go hand in hand when cleaning welds. Not everyone uses a wire brush, but especially for stick welding, it can quickly make an ugly weld very pretty once it's chipped. It also reveals any hidden surface impurities.
Some hammers come with a wire brush due to their frequent use together, although not all these brushes are good quality. It's sometimes a low-grade wire brush only there to make you buy the product. When this is the case, it's best to pay slightly more for a separate wire brush that works well and will last.
Another solution is buying a chipping hammer with a wire brush attached to it, like the Hobart 770069 Welding Chipping Hammer. It's a handy way to save you time by enabling you to wire clean as you go. You can chip away the spatter and slag from your weld with one side of the hammer, and then spin it around to clean the remaining residue, without constantly grabbing separate tools.
This is a useful option; however, be mindful that the hammer end only comes with a chisel, not a chipping point. If you don't use a hammer's pointed end, it won't affect you, but the wire brush is positioned where this is normally on the opposite side of the chisel.
---
Conclusion: Best Chipping & Slag Hammer for Welding
Of these five effective chipping and slag hammers for welding, our favorite is the Estwing BIG BLUE Welding/Chipping Hammer. It's a great tool because of its high-quality and durable material, with an outstanding shock-absorbent grip.
If you're on a low budget and don't require the best tool available, you can pay next to nothing for the Pit Bull CHIH058 Chipping Hammer, which performs exceptionally well for a low-priced option. It doesn't compare to the Estwing BIG BLUE, but many people like it nonetheless, and it's a good deal.
---
Featured image credit: Pixabay