7 Best Welders for Beginners (MIG, TIG, STICK) 2023 – Reviews & Top Picks
Last Updated on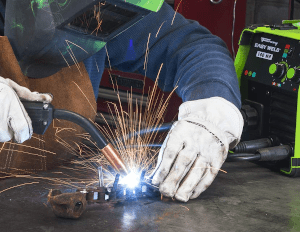 How do you choose from all the welders online when you're a beginner welder? You can take a chance and see how it goes, or you can read a set of honest reviews like this and get some guidance on the best options.
We know what it's like at the beginning of the welding journey. Sometimes the deep end feels daunting, but you're not alone; all of us have been at the start, and a few tips will help you get the best boost forward.
We have chosen our seven favorite beginner welders and given you a rundown on their pros and cons to help you decide what will suit you best. Not every choice will be right for you, but there is a wide range to learn from, and every option here will serve a beginner well.
Comparison of our Favorites for 2023
Image
Product
Details

Best Overall

Weldpro 200 Multi-Process

Machine determines complex settings
Automatic welding switch
Easy to set up and use
CHECK PRICE

Lotos TIG200 Beginner

Easy-to-start arc
Includes foot pedal
Excellent beginner torch
CHECK PRICE

Best Value

Forney Easy Weld 271

High quality
Simple to use
Low price
CHECK PRICE

ESAB 120/230-Volt MIG/TIG/Stick

Durable case
Easy-to-use digital screen
Machine determines complex settings
CHECK PRICE

Lotos MIG140 Flux Core Beginner

Low price
Automatic welding switch
Aluminum welding capabilities
CHECK PRICE
The 7 Best Welders for Beginners
1. Weldpro 200 Multi-Process Welder – Best Overall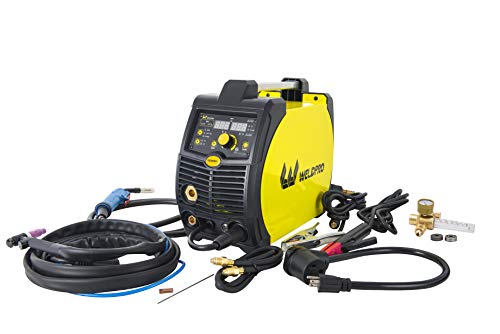 The Weldpro 200 Amp Inverter Multi-Process Welder is our favorite choice. It isn't too expensive, it offers both MIG and TIG functions, and it's one of the easiest machines to learn on.
It has pre-set internal parameters that calculate the best mix of settings for you to weld with, so all you have to do is turn it on and weld. You can increase or decrease the heat, but there is no need to worry about the other smaller details that often make the initial learning phase a challenge.
There is a button to adjust between automatic wire feeding or manual wire feed, which lets you focus on maneuvering the torch easily without worrying about holding the trigger. It's also a smaller machine, making it easy to transport around, and it's capable of a wide range of welding at a very reasonable price. This is our all-around favorite beginner welder for getting a basic overall feel of welding.
Pros
Machine determines complex settings
MIG and TIG
Automatic welding switch
Easy to set up and use
Cons
Yellow color dirties easily
---
2. Lotos TIG200 Beginner TIG Welder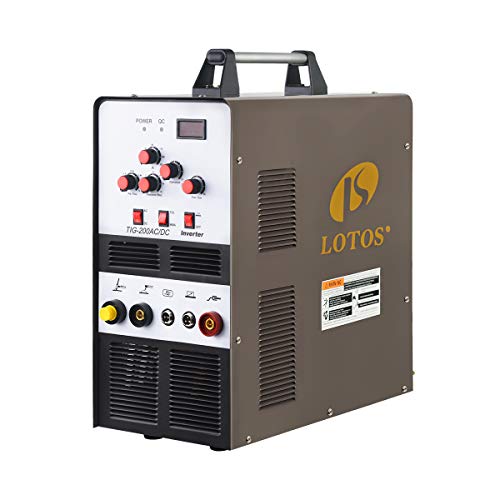 The Lotos TIG200ACDC is the best TIG welder for the beginner welder. It has enough settings to give room for progressing, without a dashboard of confusing options to stop beginners from getting started. It isn't a basic TIG welder like many people first start with. Basic welders are low-priced but terribly difficult to learn with. This one is affordable, and one of the easiest TIG machines to start on.
This welder sits in the ideal range of capability and simplicity. It can weld any kind of metal; just remember to switch it to AC mode when welding aluminum, and DC for every other kind of metal. The settings panel comes with a few basic adjustments, but you can leave most of them alone if you only want to get a feel for TIG welding without knowing all the parameters.
There is an easy-to-use foot pedal included, which is helpful for getting the feel of welding with different temperatures easily. Without a pedal, you need to stop and frequently start to change the temperature.
We really like this welder. If you're looking into TIG welding exclusively, this is our top choice. Otherwise, it comes in as our overall runner-up for beginner welders.
Pros
Easy-to-start arc
Includes foot pedal
Excellent beginner torch
Can weld any metal
Simple to use
---
3. Forney Easy Weld 271 MIG Welder – Best Value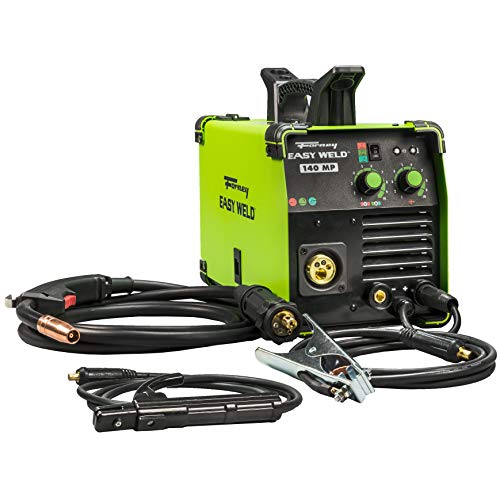 In our third spot, we have chosen the Forney Easy Weld 271 as our favorite MIG welding machine for the money. It's also capable of TIG welding, which is handy if you want to head towards expanding your welding ability, but it doesn't come with a TIG torch.
This is primarily a MIG machine, and it's an excellent option for beginners to learn with. It doesn't have a huge range of welding capacity for thick sections of metal, but it's ideal for any light and medium gauge welding, which most beginners focus on.
Forney has some of the best welder manuals to follow, so you shouldn't have any trouble setting up and running this machine. Our favorite part about it is the price. It's a quality welder and offers a lot for any beginner welder, without the expense other machines have.
In terms of MIG, this is the best welder for beginners among all our online options. The TIG capacity provides an extra bonus for anyone wanting to branch out to a new welding process.
Pros
High quality
MIG and TIG capability
Simple to use
Low price
Easy-to-follow welder manual
---
4. ESAB 120/230-Volt MIG/TIG/Stick Welder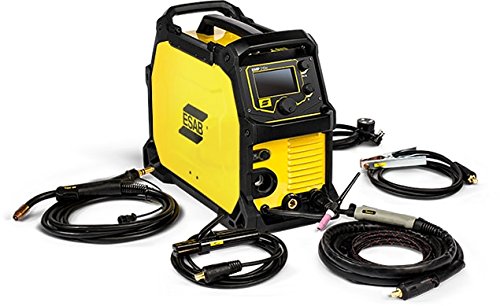 The ESAB EMP215IC is one of the best machines to learn on with both MIG and TIG settings. It's simple to set up, along with changing any welding settings, similar to the Weldpro 200 Amp Inverter Multi-Process Welder. All the complicated settings are determined and initiated for you. You only need to worry about which welding process you want to run and the weld temperature.
The downside to this welder is that it's a slightly more expensive option. What it offers is definitely worth its price tag, but it's not a welder you would buy if you're testing out the waters. However, if you want to pay slightly more to get a firm foot into welding while having a machine that's simple to learn with, this is an excellent choice.
This machine is not designed for welding aluminum, although you can MIG weld aluminum with a few minor adjustments. If you want to TIG aluminum, the Weldpro 200 Amp Inverter Multi-Process Welder is a very similar option and provides the AC function required for aluminum welding.
Pros
MIG and TIG
Durable case
Easy-to-use digital screen
Machine determines complex settings
Cons
Expensive
Not designed for aluminum welding
---
5. Lotos MIG140 Flux Core Beginner Welder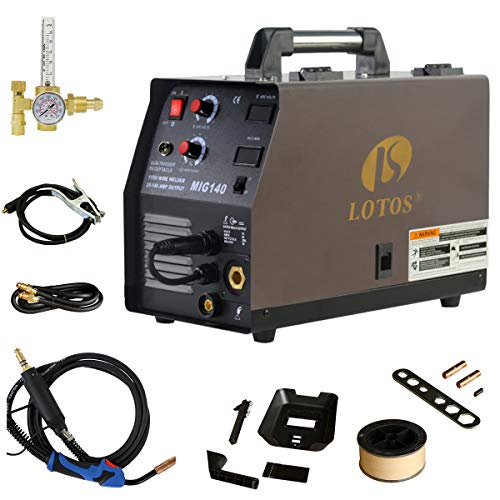 The Lotos MIG140 is an excellent choice for a beginner wanting to test the waters with MIG welding. It isn't as simple to use as the Weldpro 200 Amp Inverter or ESAB EMP215IC, but it's one of the easiest to weld with out of the MIG machines requiring manual setting adjustment.
It comes with a useful switch called a 2T/4T switch, which gives you the option for manual feeding and automatic feeding of your welding wire. This enables you to focus more on welding technique rather than holding an awkward trigger.
This welder is designed for flux welding, which doesn't require gas. Having this capability provides an affordable option to begin welding, without needing the expense or hassle of setting up gas to weld with.
If you're on a low budget, this option is worthwhile. It isn't as high-quality as other welders on our list, but it's a good beginner welder.
Pros
Low price
Easy to use
Automatic welding switch
Aluminum welding capabilities
Cons
No TIG function
Has no welding chart
---
6. Hobart Handler 210 MIG Welder for Beginners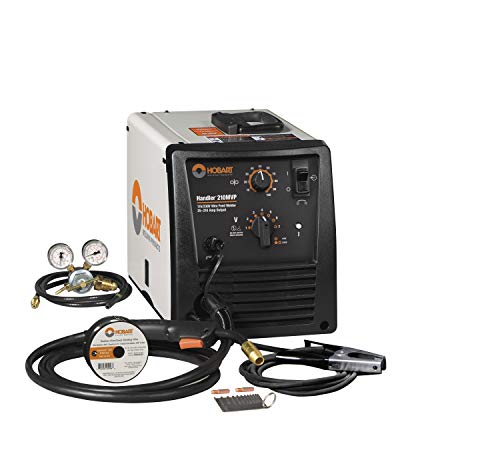 Hobart's Handler 210 is a high-quality machine designed to last a long time. It's also one of the simplest manual MIG machines to set up and use, but you do have to figure out your own combination of amperage to wire feed settings to get the correct weld for each project you use it on.
We don't like how heavy it is. It's primarily designed for sitting in one space, as opposed to transporting it around, unless it's on a trolley. You can weld any size project a beginner welder would need to use it for, so ease of progression is a bonus of this machine.
It's not an expensive welder, but it does offer less for its price compared to other machines available. However, if you're looking for a quality MIG welder with many welding adjustments over a range of weldable materials to progress with, this is an option worth considering.
Pros
Quality machine
Simple to use
Wide welding capability
Cons
Heavy machine
No TIG function
Not designed for aluminum
---
7. Amico TIG160 ARC Stick Welder

The Amico TIG 160 Amp machine is one of the most affordable TIG welders available online. It's a good choice if you have a tiny budget, but it's a more difficult machine to begin with. TIG welding is difficult to learn, and using a low-quality machine like this usually makes the learning curve more challenging.
It's designed for welding thin to medium thickness sections, although it's a struggle to weld sheet metal on it due to its poor welding ability. Most people would buy this for stick welding, or as a low-priced TIG welder for basic welding. It's not designed for helping someone progress in their welding ability.
You can't weld aluminum with it, and there are very few functions to help you TIG weld. There's only a dial to change the welding temperature. There is also no MIG function; it's only a basic machine at a low price. It's worth buying to get a feel for TIG welding, but be mindful that it's not easy to learn on.
Pros
Low-priced machine
Small welder size
Simple to set up
Cons
Difficult to TIG with
No MIG function
No aluminum capability
Low quality
---
Buyer's Guide: How To Pick The Best Welder For Beginners
What do you look for when choosing a new welder to buy? Excellent question. There are several factors, and not all of them will apply to you, but knowing the difference will change the overall results drastically. We hope these help you.
Process
The first step is to figure out what processes you want to focus on. Reading our TIG vs. MIG: Which Welding Process to Choose? article will give you a helpful rundown on both options to consider.
It's helpful to focus on one area for a while to increase repetition and ensure you learn the most in the shortest time possible. Starting with one initially is often your best bet. MIG welding is by far the easiest. It gives any new welder a helpful base to understand the role of a welding arc and how the molten puddle works, along with its behavior in different conditions, temperatures, and metals.
Whatever you decide to begin with, deciding beforehand will change your decision on which welder to buy. There are many welders that you can MIG and TIG with, but the process you want to begin with will determine which welder to buy.
End Goal
Once you have chosen a process, you'll want to start welding with or even during the process. It helps to know what your end goal is for welding. If you only want to play around and get a feel for welding, this will significantly affect which welder you'll want to buy, as compared to completing a specific project, or turning your welding into a side business.
Consider your end goal so you can choose the right welder. There are lower-quality welders that are an affordable way to play around with welding in your garage, but this type of machine won't offer the options for progression that you may desire.
Welders like the Weldpro 200 Amp Inverter or ESAB EMP215IC are good if you're a beginner with goals of quickly progressing towards large projects and even a side business [include link]. But they aren't the most affordable options for playing around with.
If you want to focus only on TIG welding, the Lotos TIG200ACDC 200A AC/DC Aluminum Tig Welder will ensure you can begin easily and make good progress without needing to worry about MIG welding.
The Forney Easy Weld 271, 140 MP Welder, and Hobart Handler 210 MVP MIG Welder are designed similarly to help a new welder learn faster and excel in quality welding.
There is a range of options, but the first step is determining your aim for buying a welder and how far you'll go with it, and at what speed.
Price
The price of the welder you buy is a big consideration and is determined primarily by your end goal. The faster you want to learn and the more you want to weld with your machine, generally, the more you will pay, but this is not always the case.
Our top spot welder, the Weldpro 200 Amp Inverter Multi-Process Welder, is an incredible welder for beginners and is capable of much more than most machines. The price is surprisingly low, even though it's high-quality and a top-notch all-around welder.
However, generally speaking, the more you want, the more you will pay. Paying less for a welder will save you money upfront, but rarely does it save you money in the long run. The Amico TIG 160 Amp Torch ARC Stick DC Welder's cost is amazingly low. However, it's not expected to last a long time and may eventually break and need replacing. Thinking over your end goal for purchasing a welder will help you make the best decision.
The Conclusion:
There are plenty of good welders for beginners to choose from, and our favorite is the Weldpro 200 Amp Inverter Multi-Process Welder. It's very affordable and gives ample options for MIG and TIG welding, with a simple function that determines complex settings for you.
Another welder that's a good buy for your money is the Forney Easy Weld 271, 140 MP Welder. It doesn't offer as much as our top pick of best welders for beginners, but it comes at a very low price. It gives you excellent MIG welding capabilities and an option to TIG weld if you want to buy a separate TIG torch with it.
Consider the primary purpose you have for buying a welder and think about your long-term goals, and you will be sure to find an excellent choice to buy. We hope these reviews have been helpful. Feel free to leave any comments or questions below for us.