10 Best Plasma Cutters in the UK in 2023: Reviews & Top Picks
Last Updated on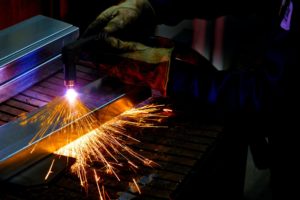 There are many ways that one can cut metal. Most traditional methods of cutting metal may get the job done, but they also bring out inconveniences such as a messy workplace, loud grinding noises, and even rough and inaccurate welds. However, if you are looking to make quick, clean, and smooth metal cuts, plasma cutters are the tools for the job.
A plasma cutter makes clean and precise welds by using an ionized gas torch, heated up to melt electrically conductive materials to make a clean division. Most of these portable tools come with dual power inputs, allowing you to perform metal fabrication projects from your home.
Investing in these ingenious devices will not only give you clean welds but will save you money eventually. However, Plasma cutters vary in terms of price and functionality. In fact, the range has been increasing over the last few years with new technologies rolling out, thus adding to the price confusion.
Since plasma cutters don't come cheap, you need some insights into the best brands in the market to make a wise decision. We have compiled a list of the 10 best plasma cutters this year that will give you a lay of the plasma cutter world in the UK. Our buyer's guide will also explore the different factors you need to consider before purchasing a Plasma cutter.
A Glance At Our Favorites in 2023
Image
Product
Details

Best Overall

Reboot Cut50 RBC5000L

20–50A power output
Maximum cutting thickness: 15 mm
Rear-mounted cooling fan
CHECK PRICE

Best Value

FlowerW Cut50

50A power output
Maximum thickness cut of 12 mm
Air filter and internal pressure gauge
CHECK PRICE

Premium Choice

Hypertherm Powermax30 XP Cutter

Dual voltage compatible
Sturdy build in a portable design
Maximum cutting capacity: 5/8"
CHECK PRICE

Lotos LTP5000D Plasma Cutter

Portable and durable 
Pilot arc increases application range
Great value for money
CHECK PRICE

Xiaoniubenben Cut50

20–50A power output
20 mm thickness cut
LCD digital display
CHECK PRICE
The 10 Best Plasma Cutters in the UK
1. Reboot Cut50 Plasma Cutter – Best Overall
| | |
| --- | --- |
| Input Voltage: | 110/220V |
| Duty Cycle: | 60% at 50A |
| Weight: | 16 kgs |
| Output Range: | 20–50A |
| Thickness Cut: | 15 mm |
Our best overall pick for the best plasma cutter available this year is the RebootCut50. It is one the most popular and perhaps the best in metal fabrication, retailing at a highly affordable price in the UK. This cutter is ideal for cutting aluminum, carbon steel, copper, and stainless steel. The RebootCut50 has a wide range of applications which increases its versatility and convenience for any home workshop.
With an output range of 20–50A, this plasma cutter will allow you to cut a metal thickness of up to 15 mm. For best performance, experts recommend using an air compressor with a 60-psi rating. It also features a cooling fan located at the rear side for dissipating heat radiated from the welding or cutting project. The cooling fan allows RebootCut50 to manage huge workloads at a duty cycle rating of 60% at 50A.
This impressive tool packs a variety of useful accessories to assist in plasma cutting. You can expect to find a four-meter long PT31 cutting torch and a pilot ignition, among other useful accessories that ensure that you have everything you need before starting your projects. The torch is reliable and can cut at high speeds to produce smooth surface cuts. You can purchase an extra set of accessories from your local dealer as well.
Unfortunately, the RebbotCut50 may prove to be challenging for newbies. The instructions from the owner's manual are too detailed at best or too vague at worst. The power cord could also use some improvements.
Pros
20–50A power output
Rear-mounted cooling fan
Maximum cutting thickness: 15 mm
Pilot ignition
Includes 4-meter PT31 cutting torch & other accessories
Cons
Short power cable
Poor quality build air valve regulator
---
2. FlowerW Cut50 Plasma Cutter – Best Value
| | |
| --- | --- |
| Input Voltage: | 220V |
| Duty Cycle: | 60% at 50A or 100% at 30A |
| Weight: | 11.8 kgs |
| Output Range: | 50A |
| Thickness Cut: | 12 mm |
If you are looking for a reliable plasma cutter without committing a big chunk of your bank account balance, consider the FlowerW Cut50. This is a basic model that offers a variety of applications at an excellent value for money.
This cutter is suitable for use with painted or rusted metal surfaces because it is equipped with a high-frequency start. You can use it to cut up to 12 mm thick pieces on metals, including aluminum, stainless steel, mild steel, alloy steel, and copper. It is an excellent tool for carrying out DIY cutting projects and general repairs around your home.
The FlowerWCut50 weighs 11.8 kilograms and has a strong handle weighing just 9 kilograms, making it a lightweight and portable cutter for jobs outside the workshop. With a high 50A power output, this plasma cutter will allow you to cut through metal at high speeds with precision cuts.
Consumables you can expect to find with this cutter include a plasma cutting torch, an air filter, an internal pressure gauge, and an accessory kit. It also has a rear-mounted cooling fan and side ventilation to prevent overheating. The ventilation unit will allow you to handle longer cutting projects at a duty cycle of either 60% at 50A or 100% at 30A.
However, if you use the FlowerW Cut50 at maximum capacity, you will require a 32A electrical socket. The European-style plug offered may be suitable for UK residents, but you can change it if necessary.
Pros
50A power output
Air filter and internal pressure gauge
Maximum thickness cut of 12 mm
Easy-to-use front panel
Includes plasma cutting torch & accessory kit
Cons
It may need a 32A socket
Power lead may be short
---
3. Hypertherm Powermax30 XP Plasma Cutter – Premium Choice
| | |
| --- | --- |
| Input Voltage: | 110/120 & 220/240 |
| Duty Cycle: | 50% |
| Weight: | 2 kg |
| Thickness Cut: | 5/8" |
Anyone accustomed to the metal fabrication world will instantly recognize this high-end and powerful plasma cutter by Hypertherm. It is our premium pick because it retails at a heavy price tag while offering premium features unavailable in the most common plasma cutters. It also has a sturdy build from materials that increase its durability.
Whether you are a hobby welder or an experienced welding guru, the Hypertherm Powermax30 XP Cutter will be able to cut metal thickness up to 5/8" wide. It is designed to provide high-speed precision cuts with featured cuts for decoration. Dual voltage compatibility allows users to switch between 110–240 V. You only need to plug the plasma cutter into your home electrical outlet and work with full cutting capability.
Despite its sturdy solid build, this plasma cutter is surprisingly lightweight allowing for easy transportation. It also features a 15-feet long torch lead to better protect the user from the heat radiated while cutting. The lead is also made from a heat-resistant material with a smooth grip to give users a steady grip while handling the torch.
Another noteworthy feature of the Hypertherm Powermax30 XP Cutter is the use of drag-cutting technology to simplify the tracing process. This cutter offers a variety of accessories that are easy to purchase and replace. They include power adapters, glasses, shoulder straps, a carrying case, and extra consumables.
Pros
Dual voltage compatible
Maximum cutting capacity: 5/8"
Sturdy build in a portable design
Longer torch lead with heat-resistance material
Suitable for home use
Cons
Air valve leakage after extensive usage
Slightly expensive
---
4. Lotos LTP5000D Plasma Cutter
| | |
| --- | --- |
| Input Voltage: | 110/120 & 220/240 |
| Duty Cycle: | 60% |
| Weight: | 8 kilograms |
| Output Range: | 50A |
| Thickness Cut: | ½" |
The Lotos LTP5000D is perhaps one of the most popular plasma cutters in the welding world. It has had many people fawning over it because it offers premium features at an unbelievably affordable price. It is one of the only cheap cutters available in the market that can create clear and concise cuts at 50 amp output.
Another impressive feature of this plasma cutter is the non-touch pilot arc technology, which allows users to precisely separate metal plates up to ½' thickness. This includes rusty steel plates. Furthermore, it weighs a mere 11.8 kilograms and is fitted with a comfortable handle for optimum portability.
You will also appreciate the dual voltage capability of 110V and 220V, which means you can plug it in most UK households. Working with the Lotos LTP5000D plasma cutter is also easy, owing to the pre-installed air filter, an air connector, and a pressure regulator.
This machine is also reliable and safe due to a built-in cooling system that utilizes non-hazardous cutting air to prevent overheating. Despite being an affordable plasma cutter, it's not without its faults. Some of the components are made from poor-quality materials, which discourage professional use. It also offers a short warranty period of one year.
Pros
Portable and durable
Great value for money
Pilot arc increases application range
Easy to set up and use
Cons
Unsuitable for heavy-duty cutting
The ground cable may be too short
Short warranty period (1-year)
---
5. Xiaoniubenben Cut50 Plasma Cutter
| | |
| --- | --- |
| Input Voltage: | 220V |
| Duty Cycle: | 80% and 85% |
| Weight: | 9 kgs |
| Output Range: | 20–50A |
| Thickness Cut: | 20 mm |
If you are new to the plasma cutting scene, you don't need an overly complicated cutter to hone your skills. You need a compact, easy-to-use and affordable plasma cutter and Xiaoniubenben's Cut50 Plasma Cutter fits that criteria. It has a wide range of consumables and a full accessory kit.
It is a favorite choice among newbie welders because it offers a front panel LCD displaying necessary information such as the current level. Moreover, unlike the other cutters on our list, this one can cut a maximum thickness of 20 mm. It also has an optimum cutting thickness of 10 mm to ensure higher quality and a smooth finish.
The Xiaoniubenben's Cut50 is mostly used for severe metals for DIY home projects and hobbies. These include cast iron, alloy steel, mild steel, stainless steel, and copper. At just 9 kilograms, this cutter is fitted with a sturdy carry handle to improve portability. Able to adapt to 220V, it is also used in a professional setting due to over-voltage protection and voltage compensation settings.
The only downside to the Cut 50 plasma cutter is the fact that the air regulator and power switch are located at the back. This is likely to bring inconveniences depending on your workshop setup and the cutting task at hand. Also, you may need to upgrade from a 13A standard plug to a 16A circuit for full power consumption.
Pros
20–50A power output
20 mm thickness cut
LCD digital display
Lightweight with a sturdy carry handle
Cons
The power switch may be less accessible at the rear
Air gauge could be bigger
---
6. Hobart Airforce 12ci Plasma Cutter
| | |
| --- | --- |
| Input Voltage: | 120V 60Hz |
| Duty Cycle: | 35% |
| Weight: | 1 kilogram |
| Output Range: | 12A |
| Thickness Cut: | 1/8" |
If you are looking for a small, compact, and lightweight plasma cutter with convenience and excellent ease of use, look no further than the Hobart 500564 Airforce 12ci Plasma Cutter. It has plenty of handy features to make your fabrication experience exciting and safe.
At only 12.1 kilograms, this unit may be small but you will be surprised by the power it can handle. It can comfortably cut through metal plates from 1/8" to 1/4" mild steel. It is also highly flexible in terms of the materials it can cut. This is due to the pilot arc design which increases its versatility.
The innovation also allows the unit to cut through painted, rusted, and rough surfaces without damaging the tip. It can cut through copper, aluminum, galvanized steel, and stainless steel, making it ideal for artists and hobbyists with a broad range of materials for their metal fabrication projects.
Another noteworthy feature of the 12ci is the handy cooling system for maintaining optimum temperatures during plasma cutting operations. After immediately releasing the trigger, the unit activates post-flow, which cools down the torch and other components, thus extending the consumables' lifespan. The plasma unit also offers a torch, batteries, and a cable control strap.
Pros
Lightweight and highly portable
Easy to set up and use
Does not require an air compressor
High-quality and durable build
Inverter Technology
Allows clean cutting with minimal warping
Cons
Uneconomical use of consumables
Limited cutting width
Not recommended for heavy-duty projects
---
7. Vevor Cut-520 3-in-1 Combo Plasma Cutter
| | |
| --- | --- |
| Duty Cycle: | 60% and 85% |
| Weight: | 15 kgs |
| Output Range: | 50A or 200A |
| Thickness Cut: | 7 mm |
If you are in the market for a plasma cutter that can handle multiple operations, then the Vevor Cut-520 is the best choice. This versatile 3-in-1 unit is capable of handling plasma cutting, MMA, and TIG welding projects. It is suitable for DIY projects and general repair jobs at home. Since this unit comes with dual voltage capabilities combined with automatic voltage compensation, you can also use it for professional heavy-duty applications.
Vero Cut-520 features two different output modes including 50A plasma cutting mode and 200A welding mode. The output voltage allows the cutter to create excellent 19 mm thickness cuts and a standard severance cut of 12.7 mm thickness at impressively high speeds. To toggle between the two modes, you only need to flip the switch from the onboard switch system and confirm your current setting via an LCD monitor located on the front panel.
The non-touch pilot arc technology allows the Cut-520 to cut through painted and rusty metal plates with minimal slag. It also offers a duty cycle with 60% and 85% efficiency to fulfill most of your metal fabrication needs. Moreover, it is made from a sturdy and lightweight material for easy transportation.
Pros
3-in-1: Plasma cutter, TIG, and MMA welding unit
50A power output with 200A for welding
Can cut the thickness of 19 mm
Non-touch pilot arc torch
Dual voltage for home and professional use
Cons
May retail with an EU plug
The instruction manual is written poorly
---
8. Draper 85569 Plasma Cutter
| | |
| --- | --- |
| Voltage: | 40V |
| Dimensions: | 24 x 35.2 x 60 cm |
| Weight: | 3 kgs |
| Thickness Cut: | 12 mm |
Some metal fabrication projects such as arts and crafts require precision to create clean and neat cuts. In such situations, the Draper plasma cutter would come in handy. If compared to typical acetylene torches, this unit can cut and produce accurate and efficient cuts without damaging the metal pieces. It is also a safer alternative because it does not rely on hazardous gasses for its operations.
Generally, the Draper plasma cutter cuts intricate designs on art pieces or fabrication on any electrically conductive materials. When combined with a separate air compressor, you can create fast, clean, and smooth cuts through aluminum and stainless steel. This makes the cutter a great addition to any commercial or DIY workshops. This cutting unit works best with thin 24-gauge metal sheets with a 10 mm thickness; however, it can also make severance cuts of up to 12 mm on mild steel.
With inverter technology, the Draper cutter outputs a stable current to produce more cutting power. Its lightweight build also improves portability. This unit offers a comprehensive tool kit that features an earth lead, air hose, regulator, a chipping hammer, and a plasma torch. Since the unit does not offer a pilot arc, you must use a strike ignition to start your cutter.
Pros
Easy to set up
Combines both electrical power and an air compressor
Can cut through metals up to 12 mm
Portable design
Cons
No pilot arcs
May is not as durable as other models
---
9. Dirty Pro Tools Professional 50 Amp
| | |
| --- | --- |
| Input Voltage: | 220V |
| Duty Cycle: | 60% |
| Weight: | Unspecified |
| Output Range: | 10–50A |
| Thickness Cut: | 12 mm |
If you work in a fast-paced workshop, you may require a plasma cutter that can produce clean cuts on steel and other conductive materials easily and quickly. If you are such a person, consider purchasing the professional Cutter by Dirty Pro Tools. This reputable brand is known to produce cutting units to fit the needs of the professional metal fabricator.
This unit retails with a useful accessory kit that includes a ground clamp, an air hose, and a PT31 plasma torch with a 3-meter cable. This high-powered plasma cutter utilizes 10–50A output to cut a metal thickness of 12 mm. It is also equipped with a large cooling fan to reduce the heat radiated during operations and increase durability. It can smoothly cut through aluminum, cast iron, copper, steel, and its alloys to give your metal sheets a professional-grade finish.
This cutting unit is both ROHS compliant and CE marked. Also, it offers overvoltage and overcurrent protection. The unit ensures there is a stable cutting current to create a steady plasma arc for the best cut quality. With a 60% duty cycle, the cutter can easily handle small to medium cutting projects with ease and precision. It is also compact and lightweight enough to support portability.
Pros
10–50A cutting power
Large cooling fan
Stable cutting current with a steady arc
A variety of accessories included
Maximum cutting thickness of 12 mm
Cons
May need to change the plug if using the domestic power grid
Poor customer service
---
10. Sealey PP40E Plasma Cutter
| | |
| --- | --- |
| Input Voltage: | 240V |
| Duty Cycle: | 60% at 40A and 100% at 30A |
| Weight: | 132 Kilograms |
| Output Range: | 8–40A |
| Thickness Cut: | 11 mm |
The Sealy PP40E is a popular plasma cutter that utilizes an inverter power supply to cut through copper, aluminum, steel, and brass. This plasma cutter boasts a 1P21S protection rating against water ingress and safe usage. It is a very handy unit and a great addition to any fabrication workshop.
It features a cutting power output that ranges between 8 and 40 A, which is enough power to cut through a metal thickness of up to 11 mm thick. The Sealy PP40E, however, requires a 250 liter-per-minute compressed air supply to produce clean cuts.
The accessories you can expect to find retailing with this cutting unit include a gas regulator and a two-meter-long gas hose. Also, you will find a ground cable that is significantly longer than other budget plasma cutters and a good-quality plasma torch.
The Sealy PP40E is also easy to set up and use due to the digital Amp display and two front panel LEDs. These panels usually indicate overload and main power values. You will also be impressed by the high-performance cooling fan with a high-duty cycle ranging from 60% at 40A to 100% at 30A. It also comes with a wide working voltage range.
This cutting unit is convenient when working for an extended time, and can produce smooth and clean cuts through metal sheets such as carbon steel, stainless steel, and other conductive materials. The Sealy PP40E is designed with a sturdy material that is lightweight and compact enough for portability.
Pros
Maximum cutting thickness of 11 mm
Front panel digital amp display
Includes a 4.6m plasma torch
IP21S rated
Cons
May need to order additional accessories
May need a 32A power supply to use at full power
---
Buyers Guide: Choosing the Right Plasma Cutter for Your Needs
Getting the right plasma for metal fabrication projects can be a challenging task. You may struggle to select a suitable cutter brand because there are so many plasma cutters retailing at local and online stores like Amazon. So, it's best to go for one that specifically caters to your needs. As such, there are several factors that you need to consider before spending your hard-earned cash on faulty or redundant plasma cutting units.
Power Source
Plasma cutters rely on two sources for power. Electrical and pneumatic (air pressure) systems. Both are essential, however, some new models are relying on gasses to power them but most cutters use pneumatic. Your choice will depend on which source is readily available for you.
Pneumatic Systems: If you are using a pneumatic system, ensure that you have a separate air compressor to feed the air out of the nozzle to run the unit. Some cutters may come with an inbuilt compressor; however, it is advantageous to have a separate compressor because most affordable plasma cutters do not include it in their system. But if you have a big budget, inbuilt compressors will equally work for you.
Electrical Systems: If you opt for an electric system for a power source, you must consider the input voltage that the cutter can handle. Some plasma cutters require a 240 V three-phase power supply but most smaller cutters rely on single-phase power input of 110/220V, 220/240V, or both.
240 V 3-phase electrical input plasma cutters are mostly used in industrial settings. However, you need a specific power point plug which tends to cost extra. You don't necessarily have to incur these additional costs, but if you need to cut through ½ " plates or thicker, you just have to make the financial sacrifice.
The 110V input is the standard power point in most people's homes. It is the standard for domestic home use. Since it is easy to connect to this voltage input, plasma cutters with 110/120 V are desirable. However, they do not produce enough power to cut through metal sheets with more than ¼" thickness.
Thickness Gauge to Cut
Normally, a plasma cutter will slice through any type of metal like a hot knife through butter. So, the plate thickness will determine the most suitable plasma cutter to use. The thicker a plate is, the more amperage is required to make a successful cut.
Most plasma cutters can cut different gauge plates with the same amperage. The output voltage will depend on the metal being cut. For instance, a plasma cutter that can handle 3/8" max thickness on aluminum plates could also cut 5/8" steel plates and ½" stainless steel. Never exceed your unit's limits because it will produce poor-quality cuts. Leave some wiggle room.
Cut Finish
Different plasma cutters will produce different quality finishes. Even though a cheap cutter can handle the same gauge as a slightly pricier unit, it doesn't mean they will have similar cut finishes. Well, this may not matter unless you are fabricating decorative pieces. However, nice clean cuts will save you time on clean-up duties even if you are trying to shave off pieces to use in welding operations. Either way, determining your cut finish will help you choose the best plasma cutter for your needs.
Type of Torch
Plasma cutting torches are available in different varieties. However, they all fulfill the same purpose of burning a cut-through metal from different approaches. For instance, Lead torches affect the welding experience depending on length and durability. Longer leads will be great if you cut through different sections of a metal plate while the unit is stationary. Also, thinner and poor-quality leads will likely get damaged and render the torch unusable.
On the other hand, high-frequency non-touch torches create cuts a small distance away from the metal being cut without the nozzle touching it. This torch has a standoff feature, which can adjust to different heights to change the type of cut required.
With drag technology, you get to cut smoothly through metal with the top of the torch touching your work. This technology prevents the nozzle from sticking to the metal through a double arc fault while cutting. This method eliminates possible inconsistent cuts caused when the torch and metal stick together. It is a great option for precision cutting on decorative pieces.
---
Conclusion
Regardless of your experience as a metal fabricator, a plasma cutter is a worthwhile addition to your workshop. It creates clean and precise cuts on different materials and thicknesses for use in fabrication. The above-listed plasma cutters have been tried and tested and are considered the best 10 cutters in the UK this year.
RebootCut50 was our top overall pick because it boasts a variety of useful features such as pilot ignition, PT31 cutting short, and can cut up to 15 mm thick metal plates. Hypertherm Powermax30 XP Cutter clinched the premium choice because it offers various useful features at a premium price and can cut 5/8" thickness. With a 50A power output and an easy-to-read front panel, the FlowerW Cut50 also offers a variety of premium features at a low price.
When purchasing a plasma cutter, consider aspects such as cut finish, type of torch, power source, and thickness gauge cut. After you find a plasma cutting unit that matches your criteria, you can finally decide on quality and price.
---
Featured Image Credit: Russ Ward, Unsplash