10 Best TIG Welders of 2022 – Top Picks, Reviews & Guide
Last Updated on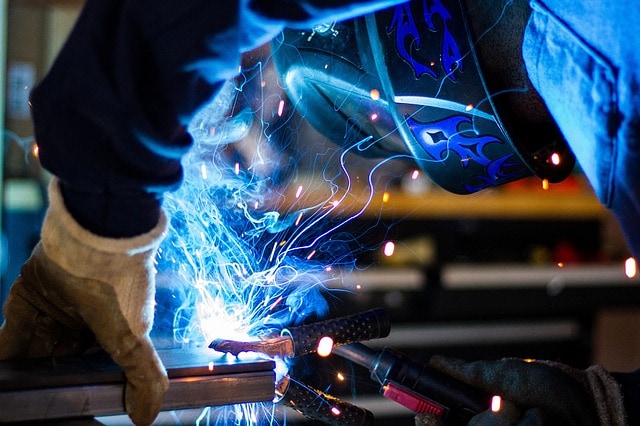 As TIG welding is the most complicated process in fabrication, you want to have good insight into choosing the right machine for your projects. There are plenty of machines to choose from online, and most of them will sell themselves well. But how do you really know what they're like?
It's simple! Search through hundreds of reviews for each different brand and model. It's a viable solution if you have lots of time, and it's the only way to know the full story without a hands-on trial period. However, the downside is that most people don't have this time to spare. It takes hours to complete properly unless you know about all the different brands before you start.
Don't stress; we aren't going to send you off searching. We've done this hard work for you. Take an instant look at our quick comparison guide, or read through our ten in-depth reviews on each of the best TIG welders available online. We have a top pick, the best value, and the top premium pick, along with seven other great machines you may like.
---
A Quick Glance at the Winners of 2022
Image
Product
Details

Best Overall

AHP AlphaTIG

Affordable for what you get
Pulse arc capabilities
High-frequency start
CHECK PRICE

Best Value

S7 110V/220V TIG

Easy to use
Low price
Good quality
CHECK PRICE

Miller Maxstar 150 STL

Heavy-duty
Highest quality
Easy to set up and use
CHECK PRICE

PRIMEWELD IGBT

Pulse arc capabilities
Supreme customer service
Weld aluminum well
CHECK PRICE

Weldpro ACDC Stick TIG

Affordable
Pulse arc capabilities
Excellent all-around TIG welder
CHECK PRICE
The 10 Best TIG Welders
1. AHP AlphaTIG Welder – Best Overall
Our top pick machine among all the models available online is the AHP AlphaTIG 200X 200 Amp Welder. It's an excellent all-around welder to fuse anything from fine sheet metal jobs to thick fillet welds. You can comfortably weld any material a TIG machine is used for, including aluminum. In fact, it's a welder that's sometimes bought exclusively for aluminum fabrication.
While it welds exceptionally well, the earth clamp isn't as high-quality as we would like, and the foot pedal could be more comfortable to use. Yet, considering the incredibly low price for its high performing capability, these two areas are not much to complain about.
The welding machine is priced like a budget option, but it sits on par with high-tier welders like Miller and Lincoln machines. The torch is a high-frequency non-touch type that enables your arc to form every time without contamination or struggle. This is to be expected in any high-end model, which is another reason why the AlphaTIG 200X is a worthy contestant for our top spot position.
It comes with a handy finger switch if you don't like the feel of the foot pedal, and there are numerous accessories to change the torch cup, your voltage, your tip size, and plenty more within its low price. There are also many settings for you to tune it for various welding scenarios. Settings like pulse arc, different square wave sizes, ramping up or down your amperage, and many more.
It also comes with a long warranty to give you peace of mind after buying it. Even though the machine doesn't cost much, you can be sure it won't let you down.
All in all, this is one of the best AC/DC TIG welders on the market right now.
Pros
Affordable for what you get
Pulse arc capabilities
High-frequency start
AC/DC for welding any (TIG) weldable metal
Includes foot pedal and finger switch
Numerous welder settings
---
2. S7 110V/220V TIG Welder – Best Value
The Welding Machine 200 Amp HF Inverter Welder is hardly comparable to our top pick; however, it's an incredibly low-priced machine. If you're on a low budget but need a reasonable welder, then this is the machine for you.
It doesn't have many functions, but it has plenty of amperage for good quality, basic machine. We like how easy it is to use, yet you don't want to rely on the instruction manual. It's one of the most unclear guides among all the welding manuals you can find. But, if you have any basic understanding of welding, you can set it up without a problem. If you don't have an understanding before you purchase it, you can learn online through a video or article.
This is a great beginner welder, as you don't need to worry about learning how to set the correct settings. Once you have the right polarity, turned the machine on, and set your amperage to the correct temperature, you will be set to weld and can focus on mastering the basics of welding technique.
The 200 Amp HF Inverter Welder is the our favorite product for the money. It's lightweight and can easily be transported anywhere you may need it. The welder also has a heavy-duty case that keeps the internal components safe if it's knocked around. It runs off any single-phase power point and comes with numerous cups and tungsten collets for different types of welding. If you're learning or on a low budget, we highly recommend this affordable machine.
Pros
Easy to use
Low price
Good quality
Lightweight
Cons
Instruction manual not useful
Short leads
---
3. Miller Maxstar 150 STL Welder
If you're not restrained by budget and want a top-of-the-line TIG welding machine, the Miller Electric TIG Welder, DC, Maxstar 150 STL is an excellent choice to consider. It's the best premium option online for a reasonable price, even though it looks tiny. It's more expensive than every other machine amongst these reviews, but it packs a premium punch.
Miller Electric is one of the most reliable welding brands on the market, and their machines are priced accordingly. Because they are made to the highest quality for extensive workshop use, hobbyists tend to purchase other units. However, the Maxstar 150 is a different story. It's no less reliable than other Miller machines and will outlast almost any other machine available, but it's commonly bought by hobbyists and even beginner welders.
It comes with a Weldcraft™ A-150 12-foot torch, a size larger than most stock torches. The heavy-duty case fits everything safely inside for ease of use and maximum protection.
Apart from the many accessories, it doesn't look like much of a welder, but that is part of its value. There is much more built into the compact design than other larger machines have, only this is light, small, and easy to transport. There are not extensive settings like the more complex Miller TIG machines, but for a basic, easy to use welder that won't let you down, it's a welder we highly recommend.
Pros
Heavy-duty
Highest quality
Easy to set up and use
Excellent stock torch
Compact and portable
Long warranty
---
4. PRIMEWELD IGBT AC/DC Welder
The PRIMEWELD TIG225X 225 Amp Welder is an excellent welder that's similar to the AHP AlphaTIG 200X 200 Amp TIG Welder, but in our opinion comes up just short. It has a similar range of settings to initiate many useful functions for different job requirements.
With AC welding and the available pulse settings, it's a great machine for aluminum. The machine is significantly heavier and not as user-friendly. It has the same kind of adjustment settings as the AHP AlphaTIG 200X 200 Amp Welder, but they are more complicated for people who are just starting out.
The TIG225X comes with both a foot pedal and a finger switch. These mid-weld adjustment features allow you to change your amperage on the fly. The pedal isn't the comfiest to use, but it's still useful and makes getting the job done easier.
The air-cooled CK Superflex Torch is one of the best features of the welder, especially for low amperage welding. It's comfortable in-hand, flexible, and lightweight for easy maneuvering in different scenarios. Although, be aware that it's not water-cooled, so it will heat up with extensive high-amperage welding.
Lastly, PRIMEWELD is second to none for customer service. Most welding sellers look after their customers, but Mike from PRIMEWELD takes customer care to the next level. He will make sure you are completely satisfied with your welder.
Pros
Pulse arc capabilities
Supreme customer service
Weld aluminum well
Includes foot pedal and finger switch
Easy to start arc
Excellent range of settings
Cons
Foot pedal lacks user comfort
Heavy machine
---
5. Weldpro ACDC Stick Welder
Weldpro's Digital TIG200GD Welder is incredibly low-priced for what you get. There is very little difference between this machine and many other machines at four times the price. It is the most affordable welder in its range, but there are still a number of downsides to the machine, which has brought it lower down our list.
It is similar to the AHP AlphaTIG 200X 200 Amp Welder and PRIMEWELD TIG225X 225 Amp Welder. However, the torch is unusual to get used to if you've used other models before. It comes standard with a Euro-style torch most people struggle to get used to, but you can pay more for a CK Superflex Torch.
It's designed for welding aluminum and comes with a good range of settings to improve your welding for specific applications. However, the layout of the settings isn't as user-friendly as other machines. There is also no finger switch included, but the foot pedal is one of the best on the market. It makes adjusting your amperage while you weld a simple task, unlike most stock foot pedals.
There is no option for lift TIG starts. Some people like those in certain scenarios, but the high-frequency non-touch start is easy to use and does a good job ensuring the weld isn't contaminated. Overall, it's an excellent choice if you want a machine that performs well at a high level for both hobbyists and industrial welders.
Pros
Affordable
Pulse arc capabilities
Excellent all-around TIG welder
High-frequency start
Well-designed foot pedal
Sloping functions
Cons
Not the best torch
No finger switch
The settings are not the easiest to change
---
6. Everlast PowerTIG 185 Welder
The Everlast PowerTIG 185 DV AC/DC Welder is another affordable machine with remarkable performance. Like the Weldpro Digital TIG200GD TIG Welder, it sits in a close range to the AHP AlphaTIG 200X and the PRIMEWELD TIG225X. It has a similar price tag and similar features, but runs less amperage, and doesn't quite have as many features. Most of all, it isn't as user-friendly.
Nonetheless, it's popular among many fabricators, and some people consider it the best affordable welder. It produces a smooth, stable arc for fine stainless steel welding and can weld fairly thick aluminum clean, too.
The machine itself is lightweight, more so than most other machines in this caliber. What we don't like about the PowerTIG 185, is that it doesn't include a foot pedal. There is a finger switch, but it isn't as useful as the Everlast foot-pedal is that you can purchase separately.
Also, Everlast customer service is known to be disappointing. It's not guaranteed you will be treated poorly, but you certainly won't get the kind of treatment PRIMEWELD gives you. Otherwise, we recommend this welder as a worthwhile machine for hobbyists and even some workshop use.
Pros
Weld aluminum well
Includes finger switch
Smooth stable arc
Easy to use
Lightweight
Cons
Poor customer service
No foot pedal included
---
7. Lotos 200 AC/DC Aluminum Welder
Situated in a lower tier, the Lotos TIG200ACDC is a good choice if you want an affordable machine with more functions than the Welding Machine 200 Amp HF Inverter Welder. It's especially well-built for beginners wanting to improve their welding ability. The machine is easy to weld with as there aren't too many functions to learn, but there is enough variety to help you increase your skills beyond physical welding techniques.
The foot pedal that's included with the machine is not as user-friendly as we would like. There is a lack of accuracy and responsiveness, which minimizes the effectiveness of mid-weld adjustments. There is also no finger switch, so it's not a machine recommended for beginners learning how to adjust amperage mid-weld. However, with a bit of practice, you can get used to using it if you don't want to upgrade to a better foot pedal.
Lotos welders are generally not high-quality machines, but they're affordable and easy to use. The TIG200ACDC is one of their best single-purpose machines, although it does have stick welding capability, too. It's not designed for heavy-duty use for tradesmen welding daily, but some fabrication shops use this regularly and find it a good secondary machine.
If you're an experienced TIG welder wanting a top of the range machine, this welder most likely won't suit you. Yet, it's a great 200-amp welder for anyone wanting an affordable welder to hone their skil.
Pros
Low price
Good for aluminum welding
Includes foot pedal
High-frequency start
Perfect for beginners wanting to progress
Cons
Foot pedal isn't the best
No finger switch included
No pulse arc capabilities
---
8. Amico TIG-225 Welder
The Amico TIG-225 220 Amp welder is a low-priced welder similar to the Welding Machine 200 Amp HF Inverter Welder, but with a higher price and more amperage. It is designed for hobbyists wanting to learn on something basic and easy to use but with a high amperage range.
It isn't the best machine for this kind of welding, apart from it being easy to operate. Most people buy this for stick welding, but it's on our list because it's affordable, high-quality, and has a good high-amp performance within its basic design.
Because it's light and very portable, the TIG-225 makes a good on-site welder if you need to run heavy welds away from your workshop or garage. It also comes with a heavy-duty case that can withstand the harsher on-site environments. However, we recommend not using it for light-gauge welding requiring fine, high-quality welds as it cannot produce tidy welds in fine sections.
This machine doesn't compare to high-quality TIG welders, and it doesn't have many features. However, it's an affordable machine that's easy to use and can weld thick.
Pros
Low price
Small welder size
High amperage range
Heavy-duty case
Cons
No additional TIG welder settings
Low quality torch
No foot pedal or finger switch
---
9. Mophorn 160 Amp Welders
The Mophorn 160 Amp Welder is a useful machine for anyone with a low budget. It's particularly good if you're starting out and want to learn the basics of TIG welding techniques. Yet, there are some faults with this machine, which brings it down to a lower place in our list.
It's the lowest-priced machine on our list, but it's also the lowest quality. It's a light-duty machine that won't TIG thick sections, and it can't weld aluminum, either. On the bright side, we like its ease-of-use. There isn't much you need to know to get it up and running, but the instruction manual isn't helpful if you have any trouble. However, Mophorn is known for looking after their customers, and many people come away satisfied with the experience even if they have issues with the machine.
The Mophorn 160 Amp Welder is lightweight and suits transporting to different locations if necessary. This makes it ideal for an on-site welder, although the amperage range is too small for significant on-site work.
If you don't mind a lower quality welder, then we recommend this machine as an affordable place to start. Otherwise, the Welding Machine 200 Amp HF Inverter Welder is a similar price but has better features and more diverse welding options for people starting out.
Pros
Good customer service
Low price
Lightweight and portable
Easy to use
Cons
Lower quality machine
Poor instruction manual
Light-duty
---
10. Lincoln Electric K5126-1 Welder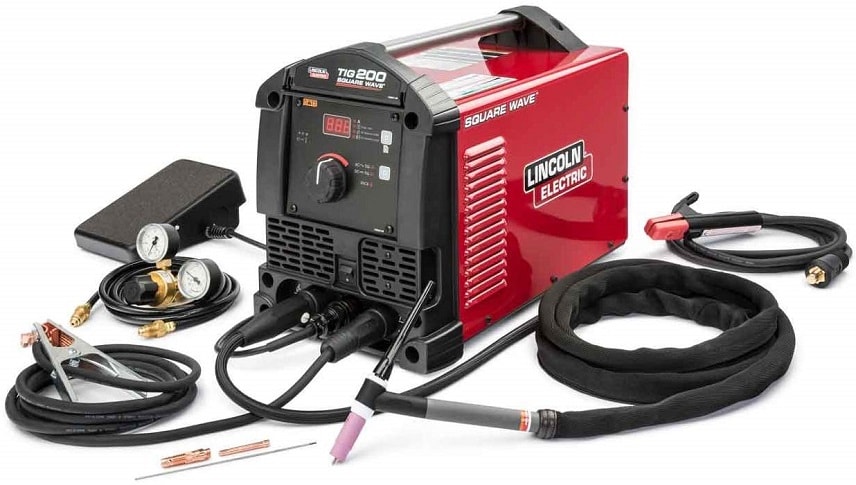 It is unfortunate to see such a well-respected brand of welders appear so low on our list. But the Lincoln Electric Square Wave TIG 200 Welder falls short in many crucial areas that we couldn't put them any higher.
This is a well-designed machine with smart placement of the different settings and decent foot pedal and torch. It's also an easy to use machine. The instruction manual is clear, but somewhat redundant, since there is very little you need to know to run it well.
However, we don't like the price. It only runs 200 amps and has minimal options to adjust the settings, including the post flow, which constantly runs at 15 seconds. Some customers who receive the machine either don't get to use it because it arrives broken, or it starts off working, but it breaks in a short period afterward.
Lincoln usually replaces it under their warranty system, but they don't have the best customer service, which makes the experience less pleasant. Given the price tag, this is unacceptable for such a well-known brand. We would recommend investing in a more expensive Miller machine which is guaranteed to be reliable. Or else, spend much less money on the AHP AlphaTIG or PRIMEWELD TIG225X and have a reliable machine with extensive welder settings.
Pros
Well-designed setup
Easy to use
Excellent foot pedal
Nice torch
Cons
Expensive
Poor customer service
Lack of welder adjustment including post flow
Numerous machines have arrived broken before use
---
Buyer's Guide: Finding the Best TIG Welder
When purchasing a new TIG welding machine, there are a lot of factors to consider. It can start to be overwhelming if you're new to welding and you're seeing so many variables from machine to machine. In this short buyer's guide, we're going to attempt to declutter some of that messy information and help you cut to the heart of what traits you need from a TIG welder. If you keep these in mind and prioritize the right features and functions, you'll be sure to pick the right machine to fill your needs and beads.
DC and AC TIG Welding
AC/DC is a rock band, but they don't have anything to do with welding. When we talk about AC and DC with regards to TIG welding, you're discussing the way that the current is used to perform the weld. There is a lot of technical information that could be discussed on this topic, but it's not necessary to understand what you need. The short of it is that DC is appropriate for welding steel and iron, but AC is what you need to weld aluminum. You can't weld aluminum with DC, so if you want to weld aluminum at all, you'll need a TIG welder with AC capabilities. Not all of them offer it, but some of the better models do. Be aware, it's a feature that you'll probably be spending a bit more to get.
Duty Cycle
Duty cycle is an important specification to consider on any welder that you purchase, but many people don't even know what a duty cycle is. The short explanation is that it's the amount of time that the machine can run continuously without overheating or shutting off. Duty cycle is expressed in a percentage, such as 20% or 60%. So, a 20% duty cycle means that the welder can run for two straight minutes out of every 10 minutes without shutting down. If you're just welding in your garage and taking lots of time between welds to clean up and prep, then you may not be too concerned with a high duty cycle. For commercial applications, a high duty cycle is necessary so you can keep welding all day without worrying about your machine shutting off.
Unfortunately, duty cycle gets a bit more complicated when you bring amperage into the equation. If a duty cycle is rated at 40% at 200 amps, that means it can run for four whole minutes out of every ten when the machine is running at 200 amps, which is likely full load. On the same machine, it may have a duty cycle of 100% at 150 amps. This means that if you're welding at 150 amps, you can keep it running continuously with no issues. For hobbyists, 20%-40% duty cycle may be sufficient. For professionals, 60%-100% duty cycle will be a safer bet.
Multi-Function Machines
You're buying a TIG welder, but why not get even more out of it? These days, welders aren't limited to a single type of welding. Many offer up to three different types of welding in the same machine. It's not uncommon to see MIG, TIG, and Stick welding all bundled into the same device. Some of them even have a plasma cutter built-in. This can save you tons of workshop or work truck space by combining several separate machines into one package. Moreover, it can boost the functionality of a single machine by allowing you far more versatility in what you can do with it. If you like the idea of being able to expand your horizons beyond just TIG welding, then you may consider purchasing a multi-function machine instead of a dedicated TIG welder.
What's Included?
TIG welding is a pretty complicated process that involves one or both of your hands as well as a foot to control the amperage pedal. While you can weld without the foot pedal, you won't get the same level of control. Unfortunately, the foot pedal is commonly neglected and not included with many of the TIG welders we've seen. If you already have a welder control pedal laying around, then this may not be an issue. But if you're hoping that your TIG welder includes everything you need to get started, you may want to make sure that you're choosing a machine that includes the foot pedal.
---
Final Verdict:
While there are so many different models to choose from, we believe the AHP AlphaTIG 200X 200 Amp TIG Welder is one of the best TIG welders overall. It's comparable to high-end Miller and Everlast machines—at half the price. It performs exceptionally in every area you would want this tool to perform and is made with durable parts, including an excellent torch.
However, the S7 Tig welder is a great option at a low price point. It doesn't have extensive settings, but it has a good amperage range for its price and can pay itself off with only a few side jobs. As you can see, none of the machines are perfect, but they all have valuable aspects to them, which have satisfied many different welders. We hope these reviews have been helpful to you. If you plan to be welding stainless steel with your welder, then check out our improvement to your stainless steel welding post.
It's also worth mentioning that we have a post that goes over the differences between TIG & MIG welding. And a roundup of the best MIG welders.