10 Best TIG Welders of 2023 – Top Picks, Reviews & Guide
Last Updated on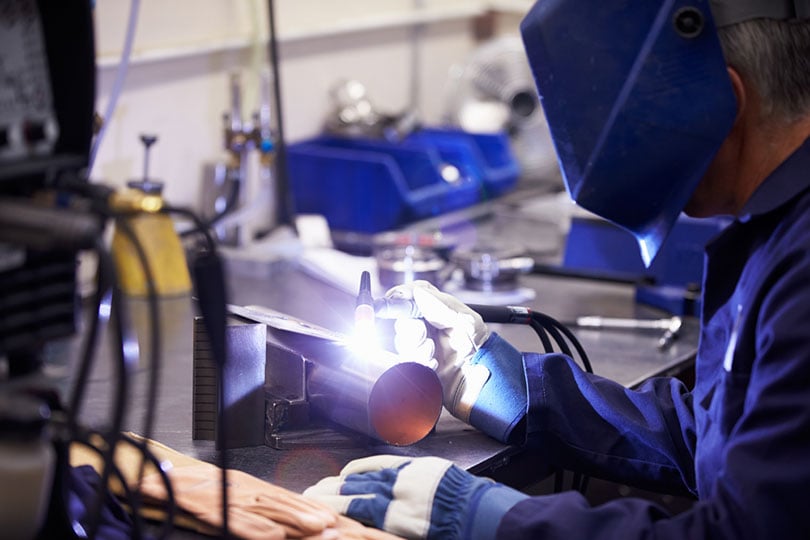 Are you looking for the best TIG welder? We've got you covered! While a TIG welder isn't as well-known as a MIG or stick welder, it offers several advantages, thus becoming increasingly popular.
TIG welding is undoubtedly one of the most convenient and high-quality welding processes. It not only results in a better-looking end product but also allows you to weld thinner metals with more precision. Also, they don't need excess filler material. It makes them suitable for welding almost every metal.
There are different types of TIG welders available in the market. So, having a technical background and understanding the benefits of each is crucial. This way, you can choose the one that will work for your project.
Our buyer's guide, along with in-depth reviews of the best TIG welders should give you an excellent idea of which TIG welder is right for you.
---
A Quick Comparison of Our Favorites (Updated in 2023)
Image
Product
Details

Best Overall

AHP AlphaTIG 200 Amp AC/DC TIG Welder

Foot pedal control
Adjustable AC frequency
Advanced Inverter Technology
CHECK PRICE

Best Value

HF 200 Amp TIG and ARC Portable Inverter Welder

Energy-saving
60% duty cycle
Faster welding speed
CHECK PRICE

Best for Beginners

Everlast PowerTIG AC/DC 185 Amp Welder

35% duty cycle
Programmable memory
Digital microprocessor control
CHECK PRICE

Weldpro TIG AC/DC 200 Amp Digital TIG/Stick Welder

Dual voltage
30% duty cycle
Foot pedal control
CHECK PRICE

PRIMEWELD TIG225X IGBT 225 Amp TIG/Stick Welder

Pulse function
40% duty cycle
High-frequency start
CHECK PRICE
The 10 Best TIG Welders
1. AHP AlphaTIG 200 Amp AC/DC TIG Welder – Best Overall
Adjustable AC frequency
Foot pedal control
Advanced Inverter Technology
High Frequency (HF) starting feature
60% duty cycle
3-year limited warranty
The AHP AlphaTIG 200X 200 amp TIG welder is one of the most versatile welders for professional applications. It's designed for advanced welding functionality and simple operation.
This 200A AC/DC TIG machine is perfect for aluminum, stainless steel, and mild steel fabrication. It also comes with a torch package that includes a WP-17V torch, flex head valve torch, and power adapter.
It allows you to use TIG torches ranging from 150 to 250 amps. The digital display facilitates the exact setting of the required parameters and includes a memory setting feature.
You can adjust the machine's pulse frequency from 0.5Hz to 200Hz. The front panel controls also allow adjustment of AC balance, frequency, and AC. The metal case protects the advanced electronics providing long life in rugged environments.
All in all, we think this is the best TIG welder you can buy this year.
Pros
Doesn't rust as it has stainless steel parts
Detailed instruction manual for easy operation
Can weld a wide variety of metals
Produces a stable arc
Portable and user-friendly
Cons
The ground clamp that comes with the TIG welder can break easily
---
2. HF 200 Amp TIG and ARC Portable Inverter Welder – Best Value
60% duty cycle
Under-voltage, overload, and over-voltage protection
Energy-saving
2-in-1 welder (TIG and Arc welder)
Faster welding speed
3-year warranty
The HF 200 amp TIG and ARC portable inverter welder is a compact but durable TIG welding machine. No doubt, it's one of the best welders in the market, carrying all the power you need. With its portability, you can move it around without breaking a sweat.
This welder can produce a powerful 200-amp weld. Put this unit together with 200 amp of power, and it's suited to do almost all welds you can imagine in your small steel garage or workshop. It is one of the most affordable AC/DC inverter welders on the market. It's an absolute bargain.
The HF 200 Amp TIG and ARC Portable Inverter Welder is an excellent option for beginners and light application users. This compact machine can handle all types of metal. It also has plenty of power.
Pros
Generates flawless welds
Easy to operate
High-quality components
Ideal for welding various metals
Cons
Not suitable for welding aluminum
---
3. Everlast PowerTIG AC/DC 185 Amp Welder – Best for Beginners
35% duty cycle
Digital microprocessor control
Programmable memory
Adjustable AC balance and AC frequency
High Frequency (HF) and lift arc start
5-year warranty
Everlast PowerTIG 185 is a dual voltage TIG welder. So, you can use it all around the world. This machine uses either 110 volt or 220-volt electricity, bringing great flexibility. Besides, the variety of welding modes and precise control settings make it easy for users to weld with different materials.
The machine is versatile, and you can use it for aluminum, stainless steel, and copper. It's undoubtedly one of the best TIG welders for beginners because it's easy to learn. Once you master the basics of TIG welding, you can begin experimenting with new techniques right at home.
The unit is made from high-quality materials. So, you don't have to worry about its longevity as long as you take good care of it. The machine comes in a robust metal case to protect it during storage and transportation. Even if you drop it accidentally, your unit remains safe.
Pros
Fast and easy set up for a welding enthusiast
Comes with gas pre-flow and post-flow for enhanced shielding
Ideal for commercial and industrial use
Affordable
Cons
Though easy to learn, it can be challenging for a beginner to operate
---
4. Weldpro TIG AC/DC 200 Amp Digital TIG/Stick Welder
30% duty cycle
Foot pedal control
Dual voltage
Adjustable pulse
AC/DC
3-year warranty
Weldpro Digital TIG/Stick Welder is a 120V and 240V machine. It welds aluminum, stainless steel, and mild steel. The welding machine includes advanced features such as very high starting amperage of 200 A.
You can set the adjustable pulse welds from 0.1 to 1 second. This digital display device is user-friendly. It has an adjustable frequency and fully automated cleaning modes. And the best part, it comes with an extra torch attached to the main device.
Weldpro TIG AC/DC Digital TIG/Stick Welder comes at a reasonable price. It's an excellent option for your welding shop if you're running low on budget. It has many professional-level functions and features. It can operate in both the AC and DC modes. Whether you are an enthusiast or a professional, this unit offers functionality for home and industrial uses.
Pros
Post-flow and pre-flow for clean welds
Powerful
Ideal for many welding applications
Compact and portable
Cons
The foot pedal isn't of high-quality
---
5. PRIMEWELD TIG225X IGBT 225 Amp TIG/Stick Welder
40% duty cycle
Pulse function
Advanced inverter technology
Foot pedal amperage control
High-Frequency start
3-year warranty
The PRIMEWELD TIG225X IGBT 225 Amp TIG/Stick Welder is an excellent choice ideal for light industrial manufacturing and construction applications, maintenance services, and repairs.
The unit has a dual voltage of 220V/110V and a power output of 200 amps. It makes it the most reliable option to cut through tough materials with ease. It can weld steel and stainless steel ranging from 22-gauge to ¼-inch thick.
It features a design with a transistor. The unit produces dependable performance in a small package. But the biggest selling point of this welder is its high duty cycle.
The TIG welder has upgraded features. It protects against surge control, arc blow control, and over-heat protection. It delivers excellent performance in all welding conditions, from home to industrial settings.
The included foot pedal makes it easy to control the welding arc manually. Also, it gives you control over your welding speed.
Pros
You can use it in many welding applications
HF start extends electrode life
It has an ergonomic design
Precise width control
---
6. LOTOS AC/DC 200 Amp Aluminum TIG Welder
35% duty cycle
High Frequency (HF) start for TIG
TIG and DC stick welder
High-quality parts
1-year warranty
The LOTOS TIG is a versatile machine that's great for use at home and workplace. It comes with most of the features you may want in a welder. It includes HF and Pulsed arc starts. It makes it easier to get those tricky pieces to weld smoothly.
It also has added accessories to help you weld aluminum. If you have the budget for it, this AC/DC 200 Amp TIG Welder from LOTOS is an excellent choice.
One of the best features of this machine is dual voltage capability. It has 110V or 220V dual voltage. It makes it a great TIG welder for beginners and pros.
It has simple controls with two knobs with which you can easily adjust the amperage to set the weld. Additionally, the model has dedicated settings for each type of metal that you'll be welding. If you want a high-quality welder that's easy to set up, the LOTOS 200 Amp TIG Aluminum welder is worth checking out.
Pros
Welds aluminum accurately
Portable as it's lightweight
User-friendly
Intuitive controls
Affordable
Cons
Somewhat heavy
The operating controls can be confusing to a beginner
---
7. Amico 225 Amp High-Frequency TIG/Arc/Stick DC Welder
60% duty cycle
Synergic controlled
Under-voltage, over-voltage, and overload protection
HF start
Automatic selection function
1-year warranty
One of the best TIG welders is the Amico High-Frequency TIG Welding machine. You can use it for welding steel, alloy steel, stainless steel, nickel alloys, copper, brass, and bronze.
It comes with a dual voltage input that can work with 110/220 volts. One excellent feature of the TIG welder is an adjustable pulse frequency from 0 to 200Hz. It'll allow you to get a crisp and clean weld result.
Besides, it also has advanced inverter technology that offers greater control. The unit uses IGBT technology that makes its performance more powerful, efficient, and reliable. It also comes with a digital display for easy operation.
The Amico Welding machine is a 225-amp welder that you can use as a stick, TIG, or ARC aluminum welder. It's a perfect choice for small welding projects and repairs. This TIG welder is also lightweight, making it easy to use when doing repetitive welding tasks.
Pros
Portable
Affordable
Suitable for welding metals with different thicknesses
Ideal for construction and industrial tasks
Cons
Doesn't have an HF start
Cannot weld aluminum
---
8. Maxstar DC 150 STL TIG Welder
30% duty cycle
Thermal overload protection
Lift arc start
Flow gauge regulator
In-built gas solenoid
3-year warranty
The Maxstar DC 150 STL welder is a stylish and powerful TIG welding machine. It can work on different types of metal such as steel, stainless steel, and nickel.
This TIG welder comes with an inbuilt high-frequency starter that makes the production of electric arcs easy. Similarly, it is fitted with a spot weld timer. It allows the user to weld metal parts for a specified period.
The Maxstar 150 STL is unlike any other welder on the market. It's because it's a DC-only TIG welder. One of the unique features is the STT or Stick TIG feature, which allows you to use it as a stick welder.
There are many positives when using the stick welders and the AC version. One of these is that it will ensure that the tool lasts longer.
Pros
Easy-to-use interface
Full function remote control
Portable
Long-lasting
Cons
The TIG welder is somewhat expensive
---
9. Mophorn 160 Amp Dual Voltage TIG and Stick Welder
60% duty cycle
Adjustable amperage knob
Dual voltage
Lift arc starting
Powerful cooling system
3-year warranty
Mophorn is a high-end quality TIG welder. It's characterized by metal aluminum construction. Also, it's a 160 Amp machine with the best features in the market. It can weld aluminum or steel, thanks to its HF start.
The amazing machine has two voltage systems of 115V and 230V that you can use depending on your preference. There's also a transformer circuit installed to change the input when needed.
This machine is effective for the hobbyist or extremist outdoor worker, as you can use it in all weather conditions. The stick welding capabilities make it ideal for those that need to weld outdoors without extra equipment.
The digital display makes it easy to adjust the settings as needed, including the power frequency and arc force. There is a switch to protect it from short circuit damage. Also, this TIG welder has an anti-overheating system that ensures long working life.
Pros
It has a wide range of applications
Inexpensive
Generates high-quality welds
Cons
It doesn't have a foot pedal
The gas valve gets faulty after sometime
---
10. Lincoln K5126-1 Electric Square Wave 200 Amp TIG Welder
60% duty cycle
Easy-to-use interface
High-Frequency start
Pulse mode feature
AC balance control
3-year warranty
If you are looking for a heavy-duty TIG welder that can handle welding jobs in tight spaces, look no further than the Lincoln K5126-1 TIG welder. It features a quick-release torch plug that removes any air pockets that can create a hazard during use.
The unit also has an automatic self-cleaning function. This way, there is never any cloudy buildup or debris left behind after you've worked on your project.
It's equipped with adjustable pulse and frequency. It enables you to make excellent-looking welds for many years to come. Also, it delivers high-quality welds by regulating the width of its output. This way, you can remove harmful oxides from your workpiece.
The Lincoln K5126-1 Square Wave 200 Amp TIG Welder is among the machines you can rely on to get the best welding results.
Pros
Ideal for fabricators, hobbyists, novices, and craftsmen
It's lightweight and, therefore, portable
It has an excellent regulator
Cons
Not adjustable to weld thin metals
It's somewhat costly
---
Buyer's Guide: Choosing the Best TIG Welder
If you're looking for a dependable, high-quality TIG welder, it's crucial to do your homework before making a purchase decision. After all, it's an investment you'll use for years to come.
If you're confused by the variety of choices available to you when looking for a TIG welder, don't worry. We have put together this buyer's guide to help you choose the best TIG welder for your needs.
Type of Input
There are two common types of TIG welders: AC/DC and DC only. AC/DC welders can use both alternating current and direct current. So, you can work with a wide range of metals.
Direct current electrode positive (DCEP) is the most common type of TIG welding. Electricity flows from the metal to the tungsten electrode. This type of welding works on metals such as brass, magnesium, aluminum, and copper.
The other one is a direct current electrode negative (DCEN). Electricity flows from the electrode to the metal. You need to reverse the polarity for this type of input. Otherwise, it might not work at all.
It's best for jobs that need small amounts of heat such as carbon steel, nickel alloys, and stainless steel.
Alternating current (AC) flows back and forth between positive and negative outputs. It works with low conductivity metals such as aluminum and copper.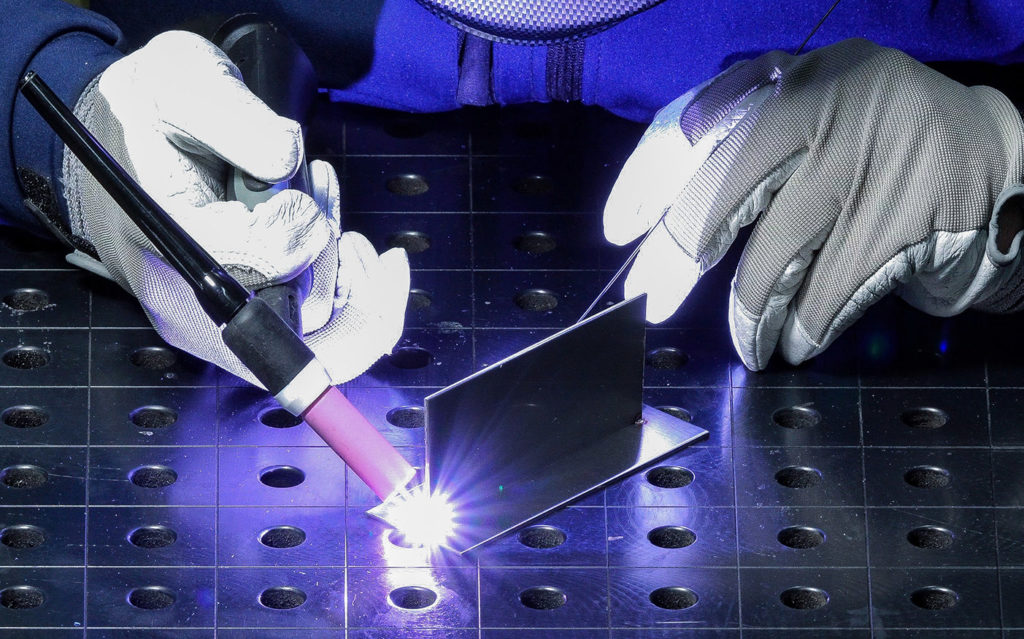 Metal Thickness
The thickness of the metal can impact your choice of a TIG welder. If you're planning to weld thin gauge materials, a TIG welder will do an excellent job. On the other hand, you will need a MIG welder when welding thicker metals. But you can always buy an industrial-grade TIG welder that can weld all types of metals and materials.
Usually, TIG welders can weld steel up to 3/8 inch thick. Also, if you need to weld aluminum or other non-ferrous materials, choose a model that supports non-ferrous metal welding.
Ampere Rating
The ampere rating is the maximum output current that your welder can produce. It determines the metal thickness you can weld with the machine, and how fast you can weld it.
Most TIG welders have an ampere range that you can adjust to your needs with a knob or dial. They're rated in amps in the 35 to 400 amps range.
If you're planning on joining heavy-duty metals such as steel, you'll need a powerful machine that can deliver up to 400 amps. But if you are working on thinner metals such as aluminum and stainless steel, a TIG welder with an ampere rating of at least 200 is enough.
However, the best TIG welder should have a high ampere rating. A TIG welder with a higher ampere rating can handle welding projects that require a lot of power.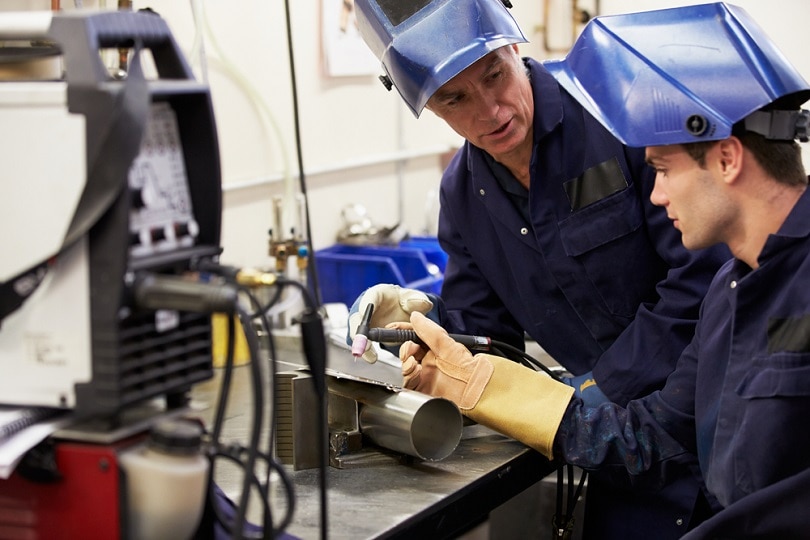 Weight
TIG welders can be heavy, especially if they are more powerful. Although this is not a deal-breaker, it's a crucial consideration. The weight of the machine will affect its portability and ease of use.
You don't want to be carrying around a heavy machine all day and have it hinder your work. But if you only need to weld in one place and the welder has wheels, then the weight becomes less crucial.
The weight of the machine is also related to its size. It affects the storage space. If you have limited space where you'll be working, a smaller unit might be better for you. It's particularly true if you're working in a small or crowded garage or workshop.
It's also worth considering whether the machine has handles. Handles help with transporting it from one place to another.
Duty Cycle
The duty cycle refers to the amount of time you can use the welder before it needs a rest. Most machines have a duty cycle of 30%. It means you can use it for three minutes before the TIG welder has to cool down for seven minutes.
30% is enough for most welding projects. But, if you want to get more done in a shorter period, look for a machine that offers a higher duty cycle.
But again, you don't need a high duty cycle unless you plan to use your welder extensively without stopping. Even with the lower duty cycles of some TIG welders, they still perform well as long as you give them plenty of time to cool down between jobs.
Warranty
If you're spending your hard-earned money on a TIG welder, make sure that the manufacturer stands behind the product. That's why it's crucial to buy a TIG welder with a warranty.
Many manufacturers include warranties on their TIG welders, but they aren't equal. Some welders come with a three-year warranty. Others have a two-year or a one-year warranty.
Any machine can have issues at some point. So, be sure that the manufacturer is willing to fix any problems. A long warranty also shows that the manufacturer has confidence in their product and doesn't expect it to break down anytime soon.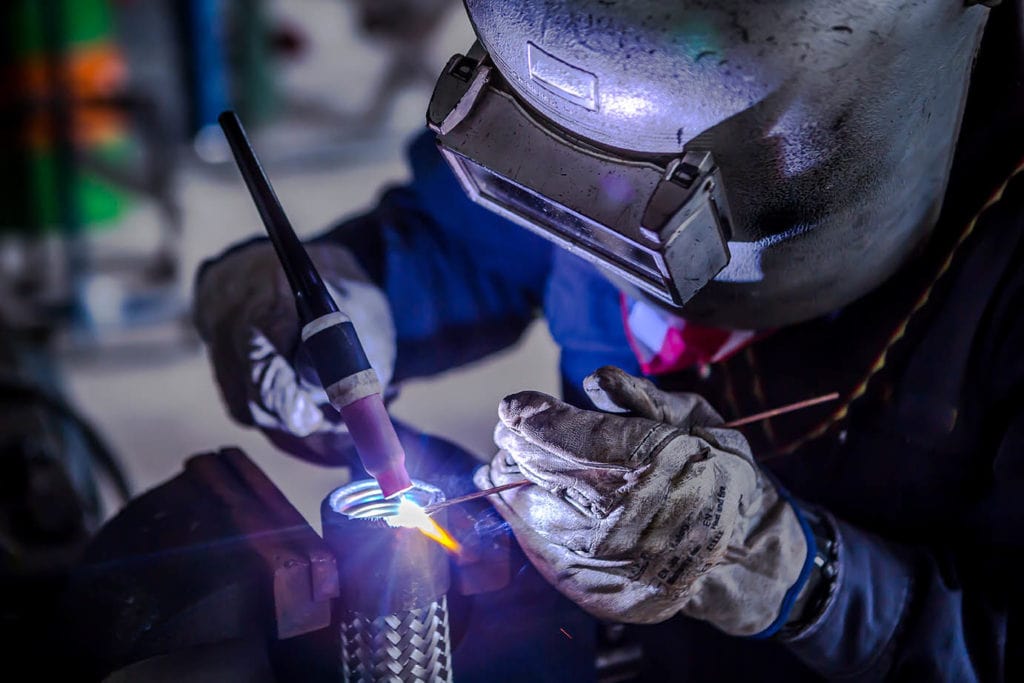 Digital Control
There are a few features that separate TIG welders from other welding machines. For instance, digital control is one of the leading features TIG welders boast of.
Digital control keeps the welding machine's current at a steady rate, regardless of any changes in the input voltage.
The most common digital control is pulse frequency and pulse time variation. With these variations, you can adjust how the current flows through your machine to suit your needs.
Digital control is crucial because it gives you more versatility when welding. If you're using a machine without digital control, you have less freedom to experiment with your welds.
Type of Ignition
The ignition type can make a massive difference in welding time. There are two types of ignitions: high-frequency and lift. The high-frequency ignition starts by striking an arc between the tungsten electrode and the weld surface.
On the other hand, lift starts by lifting the electrode away from the weld surface. You can use either. But, high-frequency offers more control when welding thin materials. It's because it's less likely to start at a hot spot.
It also reduces the amount of contamination in your weld pool because it doesn't cause spatter. Lift is easier to use on thick materials. It's because it produces more heat, but it's harder to get right and may cause spatter with thin metals.
---
Conclusion
If you're looking for a high-quality TIG welder-of course you want to get the best one, these are high-quality products with great value. All of them come with amazing features and specifications.
Our top pick is the AHP AlphaTIG 200 Amp TIG Welder. It's the most powerful and versatile TIG welding machine on the market. Also, you can use it in many welding applications, making it versatile. Another great TIG welder is the HF 200 Amp TIG and ARC Welder. It's the most affordable option on this list.
This list is a great place to start if you're looking to get into TIG welding. It should narrow down your search to the models you'll want to take a closer look at. Then, you can do a more in-depth research on them to help you make your final decision.
---
Featured Image Credit: Monkey Business Images, Shutterstock