8 DIY Welding Table Plans You Can Build Today (With Pictures)
Last Updated on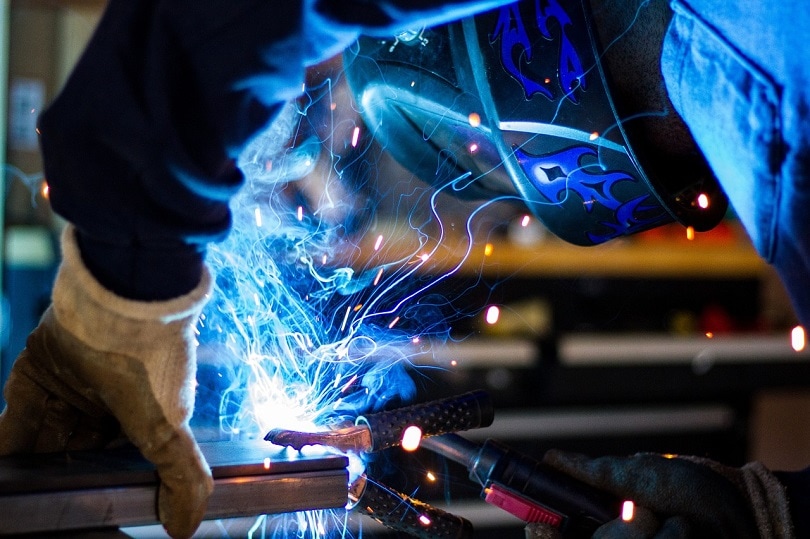 When you start getting serious about your welding, you need to get the proper tools of the trade. One of the most important tools in any welder's workshop is their welding table, where all of the magic happens.
A good welding table can be a pretty substantial investment. But since you've already got some DIY building skills, it might be a better idea just to make your own. You can save money, improve your skills, and pick out precisely the features that you want and need, all at the same time. If you're ready to jump into this project, we've found 10 great sets of plans that will help you see it through to completion.
How to Build a Welding Table – The Plans
There are tons of different ways to build a welding table, depending on what you think you need from it. We suggest taking a look at all 10 of these plans before deciding on one set to build. You might realize that another table has more features that you'll find really handy!
1. Sturdy Welding Table by Instructables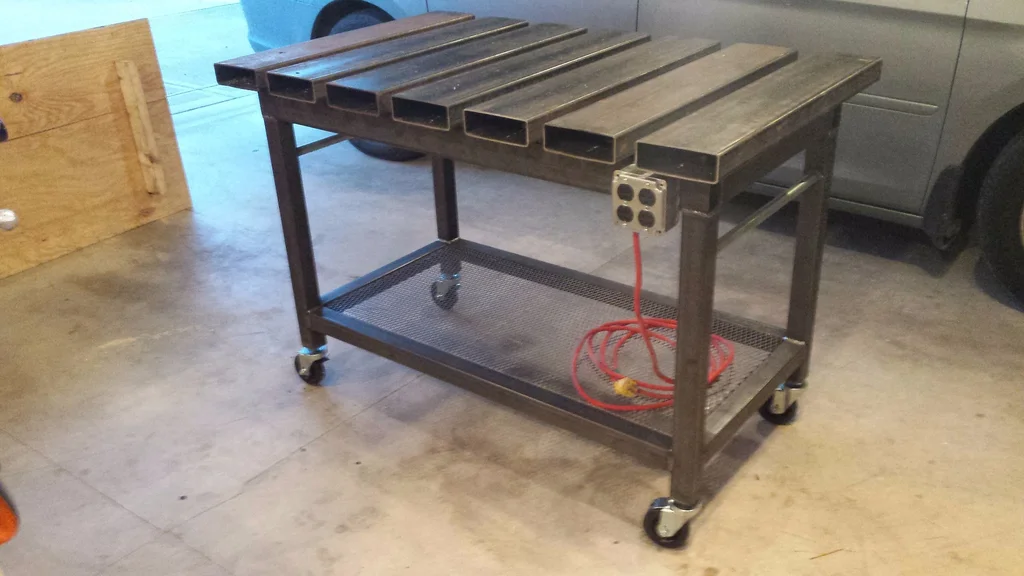 Here's an awesome DIY welding table build that's extremely sturdy and offers plenty of functionality. There's even a four-outlet receptacle attached with a long cord to plug into the nearest available power. With slats on the tabletop, you'll be able to use clamps to securely hold your work in place. You'll need to employ your welding skills to build it since it's mostly constructed of rectangular steel tubing. In all, it costs about $
---
2. Rolling DIY Welding Table by Phil Vandelay
This rolling welding table uses three smaller pieces of 6mm plate welded together to form the tabletop so you don't have to haul around a giant, heavy steel plate. There are casters on the bottom of this welding table so you can move it around if necessary. Thankfully, the casters lock so you can keep the table steady when you're ready to work.
---
3. Flat Welding Table by Fireball Tool
This flat DIY welding table was built by Fireball Tool and the plans are available on their website. The finished product is incredibly versatile and sturdy; a perfect combination for a welding table. There are no casters though, so make sure you know where this table is going to stay! It's too heavy to be moving around without casters. But you'll get tons of functionality with a tabletop comprised of multiple plates with a multitude of holes for attaching clamps and more.
---
4. DIY Professional Grade Welding Table by JT Makes It
Just because something is professional quality doesn't mean it has to be expensive or complicated. Take this DIY professional grade welding table, for example. It's one of the easier builds on this list, but it's incredibly stable, sturdy, and offers excellent functionality for any welder. The entire tabletop and even a few inches of each side are covered in holes you can easily use to clamp down your work and there are even wheels on the bottom so you can easily move it around.
---
5. DIY Welding Table Build by The Metalist
A proper welding table includes functionality for clamps, other tools, and more. This DIY welding table build integrates all these necessities in a simple build that you can weld together in a few hours. But just because it's simple doesn't mean it's not effective. It's a well-thought-out design with wheels for easy moving and plenty of additional functionality.
---
6. Welding Table Build by PF Create
This welding table build is pretty complicated, but it provides you with some excellent features and functionality. You have storage for all of your tools, many places to clamp your work down, casters so it's easy to move, and feet that lock into place so it's stable when you need to work. It's all constructed from steel, so you'll need your welding skills to build it, but it will be very sturdy when you're finished.
---
7. Heavy-Duty Welding Table by The Improvement Channel
This welding table is built for heavy-duty work. You won't find anything that will break this table down! It's a basic build though, requiring just some square steel tubing, a steel plate for the tabletop, and some basic welding skills. Of course, you'll need to be able to cut everything, so a miter saw with a metal blade will be a big help.
---
8. DIY Welding Table by Instructables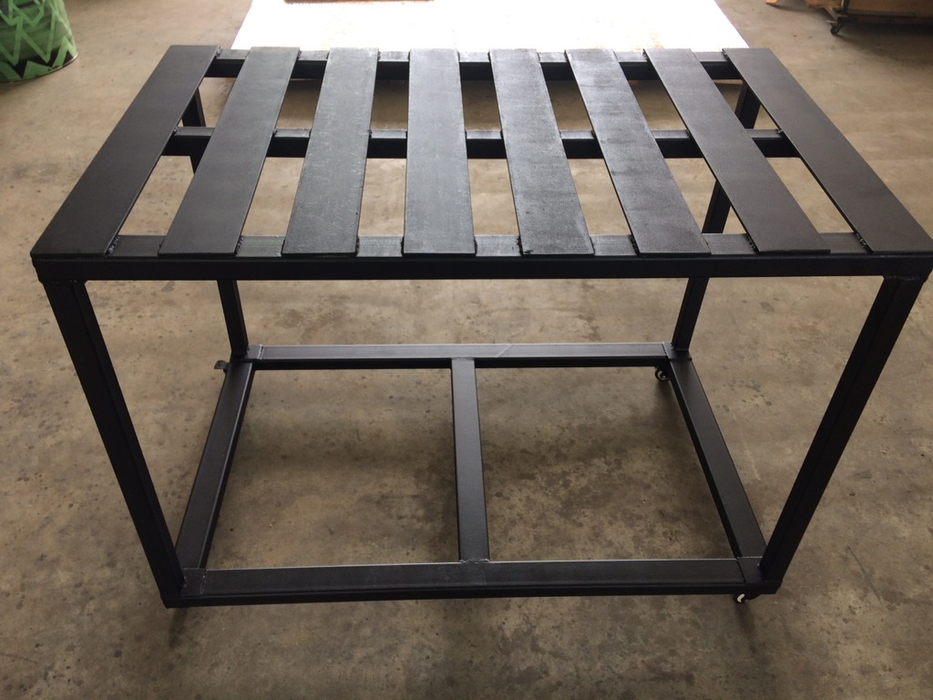 This DIY welding table is one of the simplest on this list, but it still offers plenty of places to clamp down your work. It's also extremely sturdy since it's crafted from square steel tubing and strips of steel plate for the tabletop. You can probably put this together in a few hours if you're an adept welder. Likewise, it's not going to cost much since the materials are few and very basic. Since it is so simple but still so useful, we think it offers a great return on your investment of time and money.