5 Best Welding Pliers for MIG & TIG 2023 – Reviews & Top Picks
Last Updated on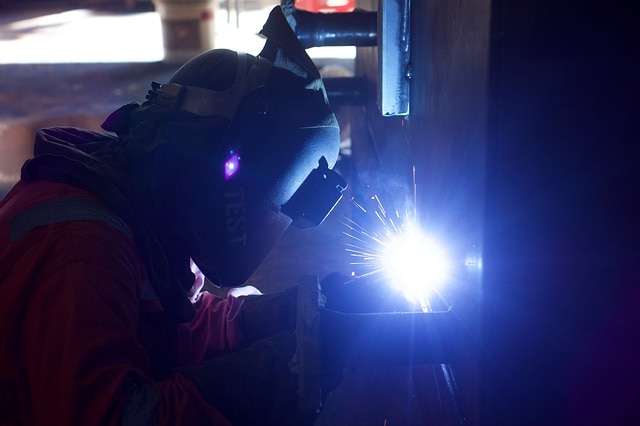 There are over thirty different types of welding pliers online, with many different brands and styles under each plier type, leaving a massive list to search through to find a good pair of welding pliers. What pair do you choose, and how do you know they're good?
We have sorted through the masses and written five reviews on our favorite options. Welding pliers are a necessity for hobbyists, and in the workshop, so we know it's essential that you find the best pair for your work. Whether you want a good, low-priced pair, or you want the best of the bunch regardless of price, we have found a range of different ones.
A Quick Summary of our Favorites:
Image
Product
Details

Best Overall

IRWIN VISE-GRIP 8-Inch

Comfortable grip
Sharp cutter
Hardened teeth
CHECK PRICE

Channellock 360CB 9-Inch

Hardened tips
Multi-function
Comfortable grip
CHECK PRICE

Best Value

Capri Tools 7.5-inch

Comfortable grip
Sharp cutter
Low price
CHECK PRICE

Weldflame Antirust MIG

Sharp cutter
Medium length
Hardened teeth
CHECK PRICE

Hobart MIG Multi-Function

Multi-function
Hardened teeth
Low price
CHECK PRICE
The 5 Best Welding Pliers:
1. IRWIN VISE-GRIP 8-Inch MIG Pliers – Best Overall
The IRWIN VISE-GRIP 8-Inch MIG Pliers are our favorite welding pliers you can buy online. Irwin has always made top-notch hand tools, so their effectiveness on the job has been no surprise to us.
This is a comfortable tool to use, with easy-grip rubber handles that are loaded with a spring to give you quick, responsive usage. The cutter has sharp induction-hardened surfaces which cut through gauged MIG wire on the first try, and can effectively cut through thicker wire without being damaged.
There are various sections of the pliers lined with sharp teeth to help you grip onto and cut many items when necessary, giving them diversity for other applications in the workshop. The ends of the plier tips are strong and thin, able to reach into a MIG nozzle to clean out spatter effectively. Out of all the pliers online, these are our favorite due to their comfortable size, affordable price, and high quality.
Pros
Comfortable grip
Sharp cutter
Hardened teeth
Multi-function
Medium length
Cons
Arrives covered in grease
---
2. Channellock 360CB 9-Inch Welding Pliers
Channellock has produced a long pair of welding pliers which give the IRWIN VISE-GRIP 8-Inch MIG Pliers a run for their money. While the 360CB pliers didn't impress us quite as much, they are an effective tool we recommend in our second spot due to their price and length being slightly more than others.
Some people like a longer pair of pliers, but we find them to be slightly less comfortable to use for welding work. A long pair like these will always cut and grip better because they have more leverage. They stand out with red and light blue handles, which makes them handy in the shop because you can spot them quickly among the duller colors typically surrounding them.
They have sharp teeth which grip steel effectively and cut through wire like it's thread, making them one of the most reliable pliers on the market. When you bring them out, they will make a clean cut the first time and grip with minimal effort, which is convenient.
They do cost slightly more than many other pliers, but they deliver for their cost. If you like a longer tool for welding work, we certainly recommend these.
Pros
Long length
Sharp teeth
Hardened tips
Multi-function
Comfortable grip
---
3. Capri Tools 7.5-inch Welding Pliers – Best Value

The Capri Tools 10110 7.5-inch Premium Welding Pliers are what we consider the best pliers for your money. At 7.5 inches, they are about half an inch shorter than the IRWIN VISE-GRIP 8-Inch MIG Pliers. This is good for small hands and nimble work, but they do require more effort for cutting and gripping onto jobs effectively.
This is a multi-functioning pair of pliers with cutting, crushing, clamping, crimping, and nozzle cleaning capabilities. The grip has a durable yet soft texture on it for comfort and long life, and the rich blue handles with a touch of black make them look great without dirtying easily.
Crucial parts of the tool are heat-treated to ensure it remains sharp and is tough enough for extensive use. It isn't the highest-grade tool on the market, but it's not far behind, and due to the price, we highly recommend it if you want the best tool for the lowest price.
Pros
Comfortable grip
Sharp cutter
Low price
Hardened teeth
Multi-function
---
4. Weldflame Antirust MIG Welding Pliers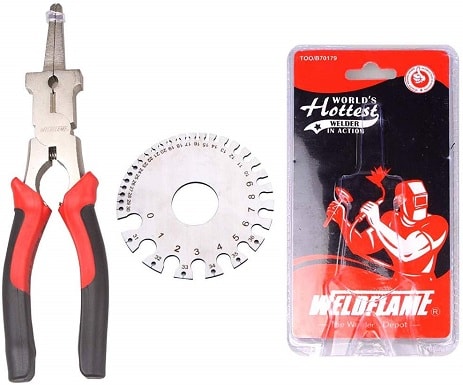 High-grade pliers are most effective with high carbon content, but with carbon comes rust. The Weldflame Antirust MIG Welding Pliers have a nickel-iron plating which keeps them tough and durable, without the negative rust effect like so many other tools.
The black and red grips are not as sleek as other pliers, and they aren't the comfiest pair available. However, they aren't bad considering their cutting and gripping capability. Most pliers are made of hard high-carbon steel, but they are heat or induction hardened at their main contact points. This results in a black color showing in the hardened section, as you can see with most high-quality pliers. These pliers are hardened too, even though there is no black color. The plating has removed the black section on the pliers, giving a nice uniform metal look.
This is an effective tool for cutting MIG wire and cleaning the nozzle out when it gets filled up with spatter. It's also useful for guiding the wire into the feed system or getting out broken bits of wire from it. The tool works well and is affordable. If rust is a concern for you, we recommend this option to ensure your tool remains rust-free much longer than other pliers.
Pros
Sharp cutter
Medium length
Hardened teeth
Multi-function
Anti-rust surface
Cons
Bulky handle
Grip lacks comfort
---
5. Hobart MIG Multi-Function Welding Pliers
The Hobart 770150 MIG Multi-Function Welding Pliers are quite a good tool, considering that the price is low. However, for the Hobart name, they're not as good we would have hoped. They cut and grip quite well, but they appear lower-quality than the rest of the welding pliers in our review.
There are many welding pliers much worse than these, but if you're looking for the best pair available, we recommend considering another tool. The handles are also quite short, making them difficult to use with gloves on. Without gloves, the leverage is restrictive for cutting comfortably like other pliers.
The plain orange handles are easily spotted among other tools or equipment, but the molding hasn't been done well like a name brand's tool should be. It's a hardened tool, though, and the edges and teeth for gripping or cutting work are durable enough to last a reasonable amount of time. If you are convinced you want a pair of Hobart pliers, then these are not bad, but we recommend the other four pliers before these.
Pros
Multi-function
Hardened teeth
Low price
Cons
Short handles
Unappealing molded handle
Lower quality
---
Conclusion:
These five tools are some impressive welding pliers, the best affordable options you can find online. While all of them will serve you well over a range of welding work, our top pick is the IRWIN VISE-GRIP 8-Inch MIG Pliers. We like their size and the comfort of their grips most.
They are capable of lasting a long time with extensive use, and while they may rust slightly from extensive and continuous moisture without a grease or oil coating applied occasionally, this is because of the high-grade steel they're made from. A little maintenance will keep them nice and shiny.
If you only want to spend the lowest amount possible for a good pair of pliers, we recommend the Channellock 360CB 9-Inch Welding Pliers. They aren't the absolute best, but they do an excellent job for their price and are surprisingly durable without compromising on comfort.
We hope these reviews have been helpful to guide you through the range of pliers online, so you can cut to the chase and buy the best pair for you. Feel free to leave us any questions or thoughts below in our comment section.
---
Featured image credit: vespaburoks, Pixabay