5 Best MIG Welding Wires of 2023 – Reviews & Top Picks
Last Updated on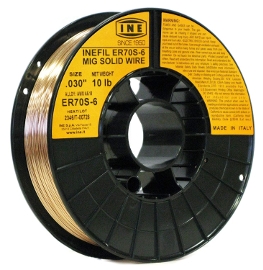 There are various kinds of MIG wire manufactured for different purposes, but the main characteristics of quality welding wire ensure the weld is strong and sound regardless of the metal or your welding position.
We have written reviews on the five best MIG welding wires choices for mild steel we found online. Consumables are expensive in general for how quickly they are used up, so purchasing online is a good way to keep costs down.
With many different options online, we hope these five reviews will give you the insight you need to find the right MIG wire for your next project.
A Quick Glance at our Favorite Picks of 2023
Image
Product
Details

Best Overall

INEFIL ER70S-6 .030-Inch

Low spatter
Feeds well
Low to medium price
CHECK PRICE

Lincoln L-56

Low spatter
Feeds well
Low price
CHECK PRICE

Best Value

HYW 2-Rolls MIG Wire

Low spatter
Low price
Flows nicely
CHECK PRICE

Hobart H305406-R22

Feeds well
Flows nicely
Welds dirty steel effectively
CHECK PRICE

Harris E70S6F9 ER70S-6

Welds rusty steel
Feeds well
Flows nicely
CHECK PRICE
The 5 Best MIG Welding Wires
1. INEFIL ER70S-6 .030-Inch MIG Wire – Best Overall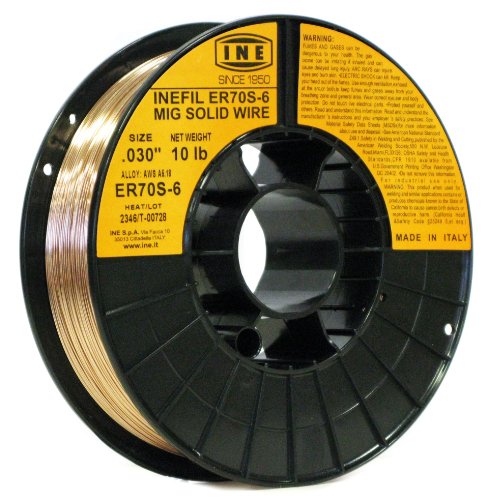 For our top pick, we've chosen the INEFIL ER70S-6 MIG wire due to its outstanding all-around performance for welding steel. It feeds exceptionally well, so you won't suffer wire jamming or inconsistent feed rates.
When you're welding, the pool flows better than most other MIG wires; this produces a predictable welding experience and a tidy-looking bead when it hardens. There have been a few cases when the roll has turned up cross-wound, which doesn't produce as nice a feed, but 95 percent of the time they're excellent.
This is our favorite MIG wire. It's affordable and welds just as well as, if not better than, high-cost wires.
Pros
Low spatter
Feeds well
Low to medium price
Flows nicely
Welds dirty steel effectively
Cons
Occasionally arrives cross-wound
---
2. Lincoln L-56 MIG Welding Wire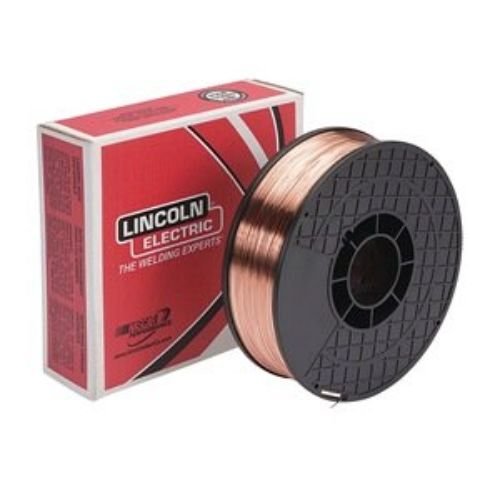 It was a close call between our top two wires, but we concluded this one is best as our runner-up wire, even though Lincoln is known by most welders to be excellent. The Lincoln ER70S-6 wire has an outstanding weld appearance and is consistently smooth to work with under enough heat.
We rate this wire very highly, as it's made to an excellent standard and contributes minimal spatter when running well. However, it doesn't come with as wide a range of wire and spool sizes, and costs more than the INEFIL ER70S-6 wire. This can be overlooked, though. If it's the size spool you need and you value a good-looking bead appearance, we strongly recommend it.
Pros
Low spatter
Feeds well
Low price
Flows nicely
Excellent weld appearance
Cons
No spool sizes less than 12.5 pounds
---
3. HYW 2-Rolls MIG Wire – Best Value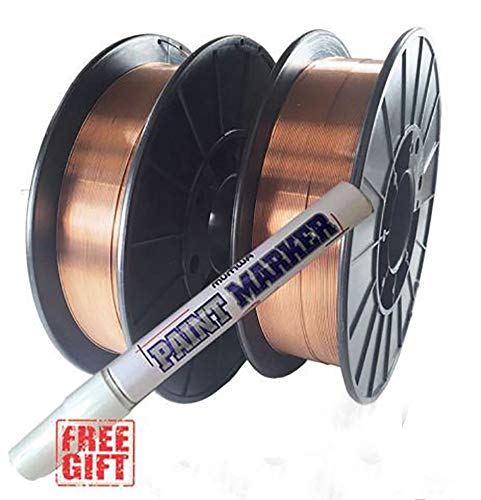 The standard of the HYW PRODUCTS ER70S-6 wire is not quite up to the Lincoln ER70S-6 wire, or the INEFIL ER70S-6, but it's not far behind and costs significantly less per wire footage. It produces minimal spatter, and flows very nicely with sufficient heat, so there is less finishing work required to make it look good. The weld profile is also easy to make uniform due to this fluidity.
This wire is very feedable as it has been wound carefully, making it predictable to feed while adding to the weld quality. Out of all the wire found online, we rate this the best buy for your money, due to the standard of the wire and its price, which is significantly lower than most others this size.
Pros
Low spatter
Feeds well
Low price
Flows nicely
Cons
Have to buy two 10-pound spools
---
4. Hobart H305406-R22 MIG-Welding Wire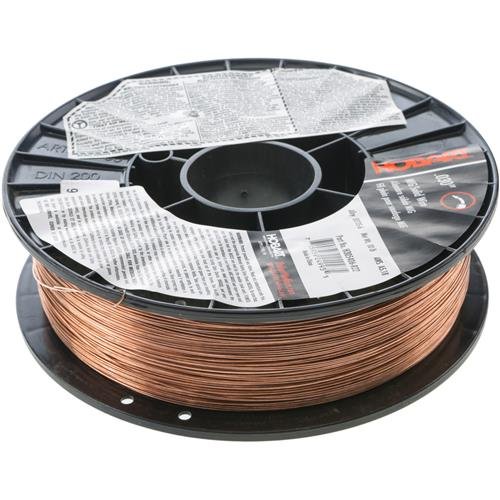 Hobart is trusted for making excellent welders and helmets. Its 10-Pound ER70S-6 wire is good, but it doesn't match the same standard as the other three options we've reviewed, nor Hobart's other products. This wire is pleasantly low-priced and welds dirty steel effectively, which makes it suitable for agricultural and onsite welding.
What we don't like is that Hobart's packaging lacks the quality standards we want. Damaged spools are more likely to turn up from Hobart than from other brands, which can drag the purchasing process out too long. The spatter with this wire is worse than other ER70S-6 wires, but compared to different wire options, it's a desirable choice and sits in our fourth place.
Pros
Low price
Feeds well
Flows nicely
Welds dirty steel effectively
Cons
Poor packaging
Medium spatter
---
5. Harris E70S6F9 ER70S-6 MIG Welding Wire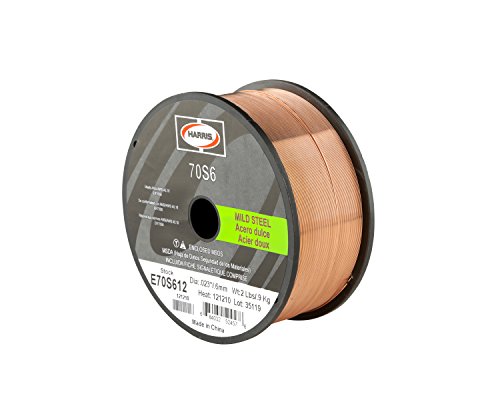 Our last favorite MIG wire is the Harris E70S6F9 MIG wire. The quality of the product is similar to Lincoln's and Inefil's wires; however, it's more expensive, and Harris isn't very good with packaging products. Spools often turn up broken, or moisture can get in, which can rust the wire.
Other than the shipping issue, the material welds rusty steel quite well, and the weld pool flows nicely in the heat. If the spools turn up intact, they feed wire through the rollers well, and they seem to be wound tightly and accurately, so there are no issues with loose or crossed-over wires.
We recommend this wire from the Harris Product Group, but the company needs to improve its shipping standards. Otherwise, it's good wire, even though it's more expensive than the others on our list.
Pros
Welds rusty steel
Feeds well
Flows nicely
Cons
Medium price
Poor packaging
---
Buyer's Guide: How to Choose the Best MIG Welding Wires
Buying consumables is both an easy and a challenging task. They cost much less than large electrical tools like welders and fabricating machinery, which means the choice is not so consequential. However, consumables are purchased much more frequently and have a significant effect on the results of your project.
The following list points out how to choose the best MIG welding wires, what makes a difference between wires and how they can have a big effect on the overall project they're being used for.
Spatter
Spatter is the term used to describe little blobs of molten metal that spray out from a weld during the fusing process. This is a large problem in welding and can be adjusted by a few simple steps. One of the steps is using low spatter wire. Some wires produce much more spatter than others, and you want to choose a wire that's cleaner in this way.
Feed
Wire feeds differently through roller systems and out of the torch nozzle depending on its quality. Wire feeds poorly because of irregularity in the welding wire and flaws in its coating or surface. It also changes depending on the wire spool. If it's been wound correctly and with enough pressure, it will unravel smoothly.
If wire doesn't feed well, then your welding will be irregular or unpredictable. It's best to have as much control over your wire feed as possible and keep it consistent to lay a smooth bead.
Flow
When you're under the hood laying a bead, the weld pool you're pushing along can change in fluidity depending on the wire used. All MIG wire will melt and eventually push along the joint you're filling, but wire that has good flow means the process runs smoothly and an attractive weld is produced.
High fluidity can assist in bringing impurities out of the metal, like dirt and surface coatings, and it also helps you control the weld to produce a tidy work of art. Wire that lacks fluidity is not pleasant to weld with.
Sizes
The size of your MIG wire is crucial, both in the spool, and the wire itself. Some welding machines are not capable of taking certain spool sizes because they have a spindle that's too big or small. Other machines won't take certain wire diameters. Make sure you're aware of your machine's capabilities before purchasing wire.
While you want MIG wire that fits your machine, the type of welding you're doing also determines what wire to get. Different wire sizes are made for welding different gauged material, joints, and positions. If you're doing a variety of welding, buying a middle-of-the-range size like 0.030-inch or 0.035-inch will give you a good variety to cover most of your projects.
The thicker a section you weld, or the more material you want to put into the joint, the bigger diameter a wire you should use. Regarding the spindle size, if a larger-sized wire fits into your welder, it's a good option to purchase this over a smaller spindle. The more wire you buy at once, the less it will cost overall.
Price
Price is a crucial aspect of buying consumables because it has a direct effect on how much money you spend or make on a project.
The more you pay for consumables, the more your overall project price will add up. They are also bought on a much more regular basis than welders themselves, so buying a consumable that's more expensive than necessary will have a significant financial effect in the long term. Be mindful that not all expensive welding wire is better than low-priced options. Find out through reviews like this about the actual welding wire's quality and performance for your particular job.
Buying wire online is always a good option to keep costs down, as the price is usually much lower than store-bought wire.
Note: you can also see our breakdown of the top 5 flux core wires of the year here.
---
Conclusion:
Thank you for reading these reviews of the best MIG welding wires. Our top pick is the INEFIL ER70S-6 .030-Inch on 10-Pound Spool Carbon Steel Mig Solid Welding Wire. It's a fairly unknown brand, but its wire matches Lincoln and Miller for wire quality and performance for feed and under the heat. It also sits at a much lower price range.
It's handy to find highly economical options as we found in the HYW PRODUCTS 2 Rolls ER70S-6 .023″ .030″ .035″ 10-LB Spool Mild Steel MIG Welding Wire (2 Rolls of 0.030″). It costs a similar price as other 10-pound rolls, but you get two spools for the price of one. This wire is comfortably ranked the best buy for your money.
We hope you have found what you're looking for among our list of the best MIG welding wires. Be sure to share your thoughts with us below in our comment section.