How Much Are Welding Salaries in the UK? 2023 Statistics
Last Updated on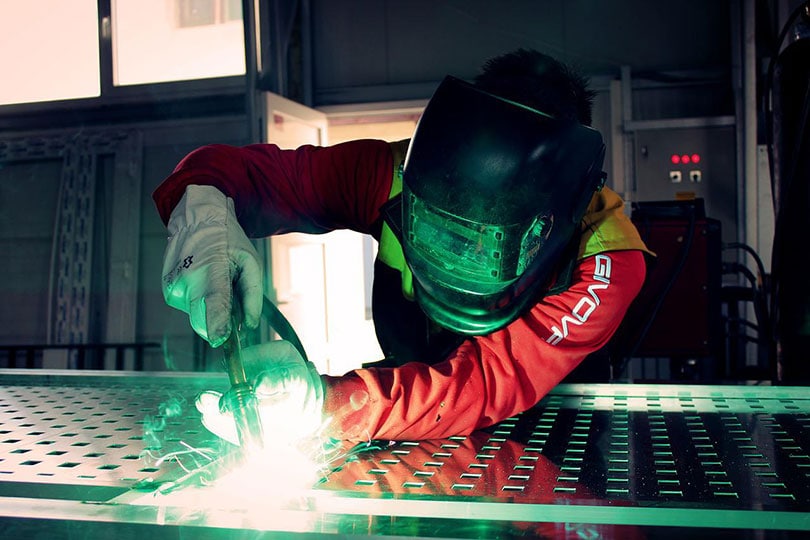 Welding is a popular career choice. Although physically demanding, there are many benefits to consider, one of them being the high salaries. The career itself is a skill that will last you a lifetime, regardless of the field. You may be working at a construction site, a car shop, or any other welding area. With the right guidance and training, you will make quite a career out of it.
If you are aspiring to be a professional welder in the UK, you may want to know a welder's salary. In this guide, we'll give you a detailed breakdown of the salaries welders in the UK receive.
Let's jump right in!
---
Average Welding Salary in the UK
The average salaries for welders vary by education and experience level, industry, and gender. We'll look at that later in this guide.
Welders are in high demand across many industries and sectors such as maintenance and repairs, construction, or manufacturing.
Usually, the average annual welding salary is £30,177.
There are many types of welders in different industries. These industries have different modes of payment. Some of them pay hourly, daily, weekly, and monthly. Let's look at the breakdown of this.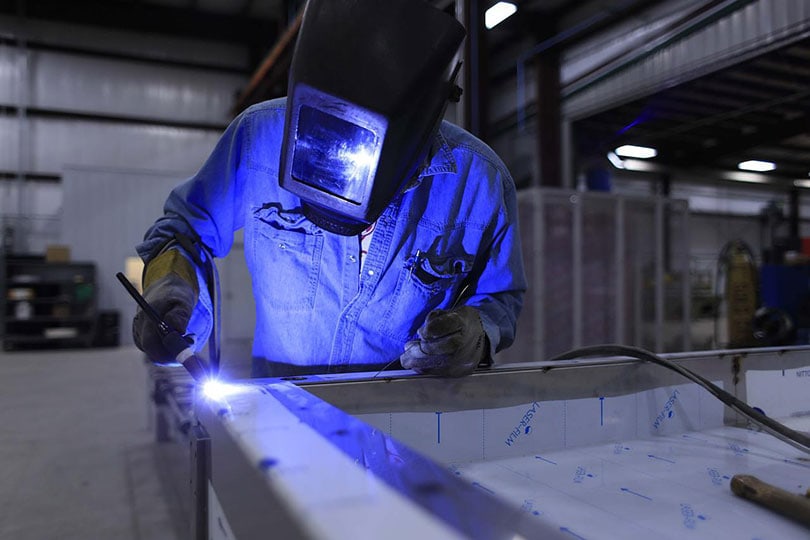 Hourly Earnings
In one hour, a welder is expected to make £11.66, but this will differ depending on the location.
Welders living in London may earn more than those living in other cities. It may be because there are more opportunities for higher-paying jobs within the capital city.
Daily Wages
The average welding salary per day adds up to £181.
Weekly Salary
The average welding salary in the UK per week is £558 GBP.
Monthly Salary
Some welders in the UK receive their salaries every month. The average monthly salary is £2,159.
Highest-Paying Cities for Welding Jobs in the UK
The UK is rich in history, architecture, and culture, thanks to its four countries: England, Wales, Scotland, and Northern Ireland. If you're searching for a welder's job, there's no better place than one of the UK's most famous cities. The same can be said for welders who want to increase their salary.
Here are some of the highest-paying places in this vibrant country and their average welding salaries.
| | | |
| --- | --- | --- |
| City | Annual Welding Salary Range | Annual Average Welding Salary |
| Nottingham | £25,000 to £31,947 | £28,372 |
| Derby | £27,149 to £32,935 | £31,307 |
| Leicester | £22,492 to £26,851 | £24,224 |
| Blackburn, Lancashire | £20,536 to £24,449 | £22,492 |
| Manchester | £18,579 to £32,229 | £23,475 |
| Coventry | £20,536 to £26,406 | £22,492 |
| Birmingham | £22,739 to £26,851 | £23,911 |
| Sheffield, South Yorkshire | £21,000 to £23,000 | £22,492 |
| Abingdon | £28,372 to £32,500 | £31,307 |
| Rotherham | £24,449 to £31,787 | £24,449 |
| Stoke-On-Trent | £20,536 to £26,406 | £25,000 |
| Lancaster | £21,524 to £32,500 | £27,633 |
| St Helens, Merseyside | £16,632 to £24,449 | £20,536 |
| Leeds, West Yorkshire | £19,557 to £24,449 | £20,536 |
---
Factors Affecting Welding Salaries in the UK
Experience and the education level are the two major factors that determine the salary a welder commands. However, there are other factors as we shall discuss below.
Years of Experience
If you have more years of welding experience, you will command a higher salary. For instance, a welder who has been in the industry for five years will make more than one who has only been doing this job for one year. Employers know that they will perform better than a less experienced welder. They have learned new skills. Also, they have developed their abilities during those four extra years.
Here's a breakdown of the average salaries based on experience.
| | |
| --- | --- |
| Years of Experience | Average Annual Salary |
| 0 to 2 years | £11,400 |
| 2 to 5 years | £14,700 |
| 5 to 10 years | £20,200 |
| 10 to 15 years | £25,000 |
| 15 to 20 years | £26,800 |
| 20 years and more | £28,600 |
Education Level
To become a welder, you will need to study the course first. You can attend a vocational school or community college. The higher your education level, the more you can expect to earn as a welder. The more qualifications you have, the more valuable your skills are to companies looking for welders.
If your education level is high school, your average welding salary will be £16,100 per year. On the other hand, you may have a certificate or diploma in welding. You can expect an average salary of £26,600 per year in this case.
Gender
Generally, women welders in the UK earn less than men in the same roles. But in some instances like in aerospace welding, women may earn more than men. Due to their smaller body size compared to men, they can fit in confined spaces, thus, making them more suitable and in demand.
Industry
The industry that you choose to work in will impact your salary. For example, if you work in the oil and gas industry, you can make more money than when working in the construction industry.
But, if you want to work offshore, your salary will be higher than those who don't work offshore.
Do Welders in the UK Receive Benefits and Bonuses?
Yes, they do. Besides holiday pay, welders may also receive extra benefits and bonuses from their employers. These include:
Training
Some companies offer training courses for their employees. This way, they can learn new skills or improve existing ones. It helps them to keep up with new technology in the welding industry.
Health Insurance
Health insurance can include medical or dental coverage. Some companies will pay part of your premiums if you choose to take out private health insurance, too.
Performance-Related Bonuses
These are paid out when an employee has done an exceptional job and exceeded expectations. They're also a way to reward loyalty if someone has been with a company for many years.
How to Become a Welder in the UK
Welding needs a great deal of training and education. The first step is to get your high school diploma or equivalent. Then, you'll need to attend a welding school. Also, you can attend an accredited technical college or university where you can take courses in welding.
After that, it's time to start learning on the job while working as a welding apprentice. This is the best way to learn everything you need to know about the job. You'll gain hands-on experience while still learning from an experienced professional. You'll also get paid while training.
After completing your apprenticeship, you'll need to take a welding assessment test. You can take exams through organizations such as The Welding Institute (TWI) or C&G (City & Guilds Group).
These organizations offer several levels of certification for welders. They may include certificates or diplomas. After passing through all these stages, you can now be counted as a certified welder in the UK.
---
Is Welding Dangerous?
Apart from learning about salary expectations for welders, it's also important to note some of the risks associated with the profession. This way, you can weigh the benefits and earnings before taking the job.
Here are some of them.
Electrocution
When metal is heated, there is an increased risk of electrocution. The metal becomes more conductive as it heats up. Also, it comes into contact with electrical cables or other wires, which could cause an electric shock.
Burns
The arc produced by the welder can attain very high temperatures. If this heat touches your skin, it can cause severe burns.
Welders should always wear gloves and protective clothing when welding. Also, they should always use asbestos gauntlets when handling electrodes.
Dust Inhalation
All welding processes produce dust, but some processes generate it more than others. For example, flux-cored wire produces less dust than stick or MIG welding. It's because it uses a slag that floats on top of the molten metal and acts as a shield against dust particles.
You can breathe in dust particles from the welded metal. These dust particles can become embedded in your lungs, leading to severe health problems such as silicosis or lung cancer.
Fires
Welding sparks and electric arcs can cause fires. Besides, hot welds can ignite flammable materials nearby. Sparks can also set fire to clothing, hair, and skin.
---
Final Thoughts
The welding profession has many perks, including decent wages and a flexible schedule. The number of people pursuing this profession in the UK is growing every year. It offers a lot of career prospects as a skilled trade. There are many paths to take, such as pipe welding, shipbuilding, and many others!
Along with an excellent salary, it's easy to see why this trade is becoming more popular.