How Much Is A Welding Engineer Salary in Canada? 2023 Statistics
Last Updated on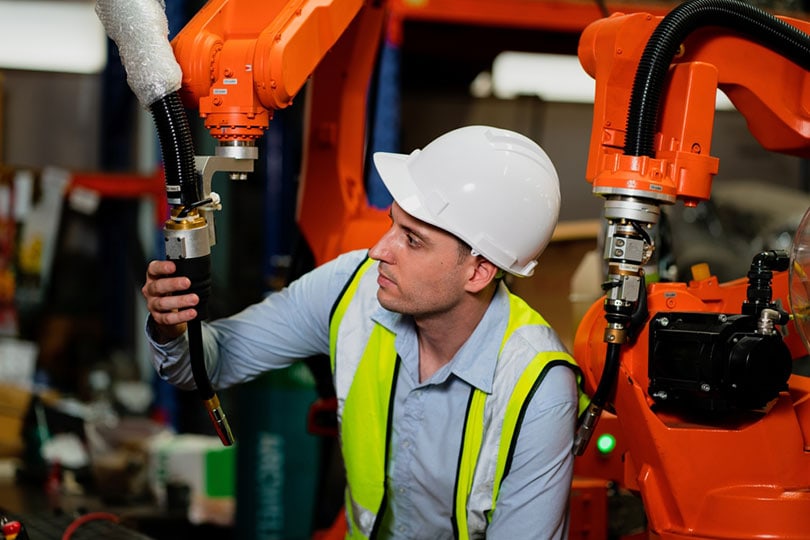 As a welding engineer, you spend most of your time thinking and talking about welding. What about the money? How much do you expect to make as a welding engineer?
Like most professions, the definitions and qualifications of a welding engineer are evolving. They're being restructured by industry and government bodies. If you're considering becoming a welding engineer, it's crucial to understand your potential salary.
A welding engineer job in Canada pays well. But many factors determine the actual amount one stands to make. In this guide, we'll delve into welding engineer salaries in Canada. We'll also tell you how to become a welding engineer. Keep reading!
---
Skills of a Welding Engineer
The skills of a welding engineer are crucial to the success of a welding project. A skilled welding engineer with years of experience and a strong portfolio of projects will also command a high salary. This salary exceeds the national average.
Here are several skills a welding engineer needs to succeed in the welding field:
Attention to Detail: Welding engineers ensure that the welding job is done well, on time, and within the budget. They plan all aspects of the work, including equipment, personnel, and material procurement.
Mathematical Skills: Welding engineers perform many calculations, including those involving geometry and trigonometry. They also read blueprints and interpret sketches. All these need excellent mathematical skills.
Problem Solving Skills: Welding engineers must be problem-solving-oriented. They have to think outside the box and come up with solutions to problems. Besides, they must analyze situations fast. It comes in handy when working on a job site.
Physical Abilities: A welding engineer needs physical ability to perform the welding duties well. A skilled welding engineer must lift heavy objects and perform other physically demanding tasks.
Communication Skills: The ability to communicate effectively is an essential skill. The work of the welding engineer needs a high level of communication (both verbal and written) with other team members and customers.
Administrative Skills: This includes organizing and managing a team of people for various projects. Welding engineers should work in teams. They should also coordinate all the activities involved in a welding project.
Average Welding Engineer Salary in Canada
Welding engineering is a lucrative profession. Many welding engineers in Canada earn more than the national average, but not all welding engineers are paid equally.
The average annual salary is $72,500. Entry-level welding engineers earn $62,500.
On the other hand, experienced welding engineers make $130,650 per year. Experience is one of the factors that determines a welding engineer's salary. We'll discuss these factors later in this handy guide.
First, let us look at this breakdown of welding engineer salaries.
Hourly Wages
Usually, welding engineers work for large corporations and government organizations. Some work for individuals or small companies. Most of these companies pay per hour. The average hourly welding engineer salary is $37.18.
Daily Earnings
Many welding engineers in Canada work eight hours a day. The average welding engineer's salary is $279 per day.
Weekly Salaries
A welding engineer in Canada makes an average of $1,394 per week. Entry-level welding engineers earn $1,202, while experienced welding engineers make $2,513.
Biweekly Salaries
Some welding engineers receive their salaries after a fortnight. The average welding engineer's salary is $3,021 every two weeks.
Monthly Salaries
The average monthly salary is $6,042. Entry-level welding engineers earn $5,208, while the most experienced welding engineers make $10,888.
Let's now look at several highest-paying cities for welding engineers.
---
8 Highest-Paying Cities for Welding Engineers in Canada
Welding engineers are in high demand across Canada. Some regions pay more than others due to several factors like demand and the high living cost in some cities.
So, we have put together this list of eight cities where you can find the highest-paying welding engineering jobs in Canada. Take a look!
| | |
| --- | --- |
| City | Average Salary (Per Year) |
| Calgary, Alberta | $130,707 |
| Vancouver, British Columbia | $129,718 |
| Hall Beach, Nunavut | $126,978 |
| Whitehorse, Yukon | $123,294 |
| Hamilton, Ontario | $122,263 |
| London, Ontario | $119,284 |
| Toronto, Ontario | $110,000 |
| Bengough, Saskatchewan | $109,948 |
Point to Note: All the figures in this guide are in Canadian dollars.
How Much Do Welding Engineers Make in Selected Countries
Welding engineers are in demand worldwide. The salaries may vary depending on your experience, location, and position at a particular company.
Here's how much welding engineers make in selected countries worldwide.
| | | |
| --- | --- | --- |
| Country | Average Annual Salary | Average Annual Salary in US Dollars |
| United States (US) | $81,969 | $81,969 |
| United Kingdom (UK) | £40,696 | $50,084 |
| Australia | A$98,705 (Australian dollars) | $68,827 |
| Germany | €83,420 | $88,226 |
| France | €43,102 | $45,585 |
---
Factors Affecting Welding Engineer Salary in Canada
A welding engineer's salary depends on several factors. Here are some of them.
1. Years of Experience
Usually, welding engineer salaries depend on years of experience. Experience helps you advance your career and earn higher salaries. As you gain experience, you can perform more complex tasks.
Take a look at this table showing welding engineer salaries based on the years of experience in the field.
| | |
| --- | --- |
| Years Of Experience | Average Salary (Per Year) |
| 1 to 4 years (Early Career) | $66,000 |
| 5 to 9 years (Mid-Career) | $71,707 |
| 10 to 19 years (Experienced) | $77,419 |
| 20 years and more (Late Career) | $102,500 |
---
2. Education Level
The education level of welding engineers is one of the primary factors affecting salary. Welding engineers should have a bachelor's or master's degree in welding engineering. It's a two-year program.
Depending on the employer, some may need a higher level of education. In some cases, an engineer can earn more money by completing a master's degree program.
Welding engineers must have a minimum of a high school diploma and apprenticeship experience.
---
3. Company Size
Usually, large companies pay welding engineers higher salaries than small businesses. It's because large companies have more resources compared to small businesses.
---
4. Local Economy
A weak economy can affect welding engineers' salaries negatively. It reduces demand for their services. Also, it causes layoffs across industries that depend on welding engineers for their services. It means less work for welding engineers, resulting in lower wages.
---
Annual Benefits and Bonuses
Welding engineers in Canada enjoy a wide range of benefits and bonuses. One of them is the health benefits. It provides financial protection if one has major health problems. Many employers also offer partial coverage through self-insured health plans. Health benefits include medical, dental, and vision benefits.
Welding engineers also receive bonuses annually besides their regular salaries. Usually, bonuses depend on performance. So, there's no guarantee that you will receive one every year.
Some welding engineers may not receive bonuses if they don't meet their goals. They'll also not receive bonuses if they haven't performed well enough during the previous year.
How You Can Increase Your Welding Engineer Salary
Strengthen your Skills
The first step to increasing your welding engineer salary is to build up your skills. You can take classes and get certified for the welding skills that are in-demand in your area.
Some skills you need as a welding engineer are welding processes and metallurgy. You also need welding inspection and equipment knowledge.
Get an Excellent Performance Review
Your performance review will come up soon if you have been with your company for a few years. It's an excellent opportunity to show your skills and abilities to your employer. This way, you can get a higher salary or benefits from them.
Know Your Value
Knowing your value means knowing what you are worth, where you can get a job with the highest pay, and how much it takes to get there.
How to Become a Welding Engineer in Canada
If you want to become a welding engineer in Canada, first complete a bachelor's degree program in welding engineering. It will give you the knowledge and skills necessary to become a certified professional.
The second step is to take the Canadian Welding Engineer Exam (CWE). This exam tests your knowledge of welding processes, materials, and safety procedures.
You must pass this exam before becoming a certified welding engineer. After that, apply for a license.
---
Final Thoughts
Welding engineering offers many opportunities. It's vital to the construction and manufacturing industries. If you're interested in joining this profession, there are several things you must consider.
Besides, it's crucial to go into this line of work prepared with the right education and training. The more skills and qualifications you can add to your resume, the more money you will make.
We hope this guide has been helpful in giving you a comprehensive overview of the average welding engineer salary so that you are well prepared for the job market.
---
Featured Image Credit: NABODIN, Shutterstock