What is a Welding Engineer, And How Do You Become One?
Last Updated on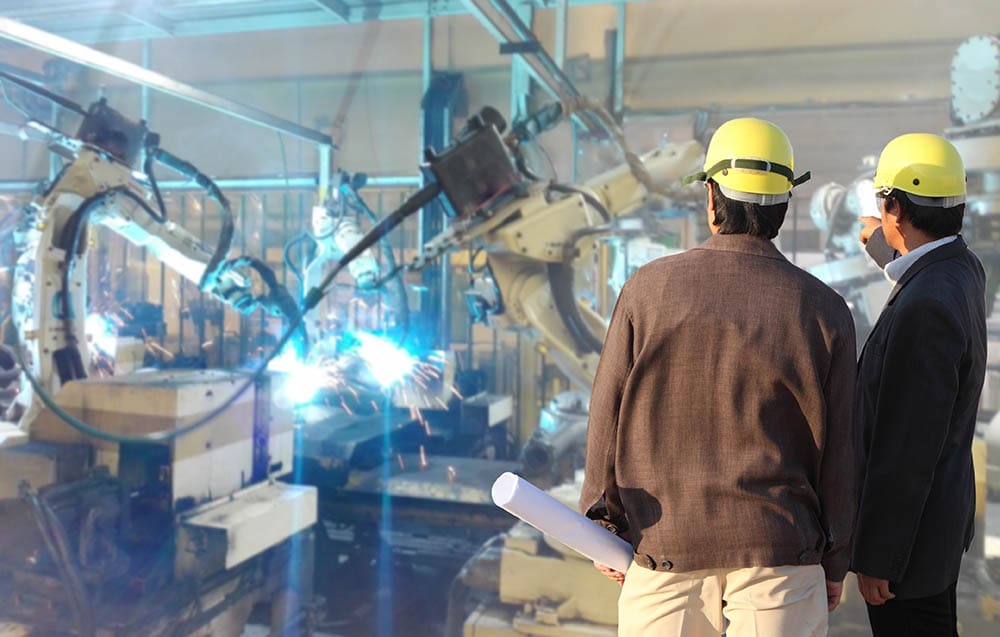 Are you considering making a career change? Or are you setting your sights on becoming a professional engineer? You might consider welding engineering.
Welding engineering is distinct from other types of engineering because the systems and designs they implement do not just affect human beings — they also influence machines.
A welding engineer ensures that products designed are made of consistent, high-quality materials.
This article will detail who a welding engineer is, discuss what you will need to become one, and provide advice for being hired.
---
Who is a Welding Engineer?
A welding engineer is a professional who is trained to design and analyze welded parts. Welding engineers design all aspects of welding processes. They also perform research on new and modified welding equipment and ensure quality control.
A welding engineer plans and performs engineering functions in:
Structural engineering
Product design
Construction management
Project management
Maintenance management, among other things
Welding engineers work in areas such as aerospace, automotive, construction, and mining.
Responsibilities of a Welding Engineer
Welding engineers oversee the welding work in any project they are working on. They not only provide direction for this work but also ensure its quality.
Welding engineers should be well-versed with the latest industry standards and specifications. Their scope of work is vast. It involves the production of machinery, weapons, steel bridges, and almost anything that calls for welding.
Below are several responsibilities of a welding engineer.
Conduct welding experiments and tests within a laboratory
Operate welding equipment, such as tensile, hardness, and ultrasonic testers
Conduct welding tests on materials such as steel, aluminum, and stainless steel. It helps determine whether they meet the welding requirements
Prepare reports summarizing the results of welding experiments and tests
Analyze the data they receive from welding experiments and tests
Perform calculations and conversions. It enables them to determine the most suitable welding processes, equipment, and techniques to use
Devise methods of improving welding processes and products
Administer a welding department
Communicate with welding technicians and engineers
---
How to Become a Welding Engineer
Becoming a welding engineer can be a long and treacherous journey. It takes a lot of hard work and dedication. But, for those who love to do metalwork and understand the hidden mechanisms of this fascinating field, it can be a satisfying and well-paying job.
By following the steps in this guide, you should be well on your way to becoming a licensed welding engineer.
1. Obtain a Bachelor's Degree
You will need to complete four years of college. Most of the time, this will need taking courses in:
Chemistry
Mathematics
Physics
English
Calculus
Design
Trigonometry
It is recommended that you major in welding engineering. But, if you major in another discipline, you have to obtain the necessary credits or prerequisites to earn your bachelor's degree in Welding Engineering.
Welding engineering programs tend to start with a few lectures on the welding process. The rest of the welding engineering program involves material science, engineering materials, and manufacturing processes. Students also gain practical engineering experience through term projects.
Some bachelor's degree programs have a pre-professional focus. The programs help students prepare for graduate school.
2. Consider Joining a Graduate School
You should consider graduate school if you are:
Ready to dedicate yourself to studying
Good at reading and writing
Willing to take the time away from family, friends, and work
Good in math
You feel passionate enough about a particular field
You feel that graduate school will give you the training and exposure you need
You have a solid plan about how to use your graduate school education
You can afford the time and money
You expect to work in a field closely related to your graduate studies
Many of the top welding engineering schools offer graduate and undergraduate degrees. They also offer a two-year master's program. Graduate degree programs are geared toward providing a depth of study beyond the undergraduate degree. They can give students a foot in the door at many of the top welding engineering firms.
3. Apply for an Entry-Level Position as a Welding Engineer
If you are starting, the first thing you should do is find a welding engineering job. Since welding engineering is a specialized occupation, your first job will be an entry-level job. An experienced welding engineer is paid more than an entry-level engineer. The pay will be commensurate with your education, experience, and ability.
Start looking for an entry-level welding engineering job right from your college's career office. If you are going back to school, your college will have a complete listing of job openings.
Also, you can find jobs through professional organizations, such as:
If you plan to become a welding engineer, you will have to work your way up through the ranks through a succession of entry-level positions.
Entry-level positions for welding engineers are easy to find. Most employers, even small companies, have positions for them. Larger companies, such as railroads or aerospace companies may have dozens.
4. Obtain a License
Welding engineers should have a license. A candidate must successfully pass a written and a practical exam to obtain a welding license. These examinations will test a candidate's knowledge of welding techniques and procedures. The exam is administered by the American Welding Society (AWS).
The examination covers a variety of topics, such as:
Metallurgy
Welding symbols and procedures
Welding processes
Welding engineering
Safety
Welding codes and standards
Welding Inspection and testing
AWS also offers certification in welding engineering and mechanical welding inspection. The examination is offered twice a year. You can apply to take the exam in August or January.
5. Obtain a Certificate
In many fields, certification will help your career. For welding engineers, it is a requisite. While many employers will consider your diploma or degree sufficient, some will also want proof of certification. Even though certification is not mandatory, it is highly recommended, and it can help you get ahead.
If a career in welding engineering interests you, the first step is to consider certification. There are two main options available. They are the Certified Welding Engineer (CWE) and Certified Welding Inspector (CWI). Both are offered by the American Welding Society (AWS).
Both certifications require passing an exam. CWE needs five years of experience, while CWI needs four years of work experience and a passing score on a welding exam.
---
Is Becoming a Welding Engineer Challenging?
Many factors determine if a career in welding engineering is a challenge. First, you have to think about the types of welding engineering jobs available to you and how much they will pay.
From there, look at what you will need to become a welder engineer. By understanding each of these things, you can decide whether it is worth it.
How Long Does It Take to Become a Welding Engineer?
It takes years to become a welding engineer. If you want to get an engineering degree, you will need to spend at least four years in college. The three years you spend getting your engineering degree are intense. But most engineers spend at least five years in college.
If you want to work in the government or industry, you will need to take classes in management also. You will also need to take a six-week computer skills course if you want to work in the industry.
Skills Welding Engineers Need
Welding engineers are highly skilled people. To do their work, they need a set of skills essential for the jobs they perform. We have listed them and explained the importance of these skills. It will help you understand how these skills assist them in doing their jobs better.
Physical Abilities
Welding is a physical job. It involves the use of hand movement to manipulate hand-held welding tools to lay down weld beads. Physical abilities include manual dexterity and hand-eye coordination.
Administrative Skills
As a welding engineer, you will be expected to handle a lot of documents, back-office duties, and emails from clients. Administrative knowledge is crucial for you to do your job well. You need to know how to make reports and presentations.
Problem-Solving Skills
Problem solving is the key ability that welding engineers must possess. The ability to process information is essential to determining the cause of problems and devising ways to solve them.
It involves addressing the root cause. Welding engineers should look at factors, such as process parameters and sequence of operation. They also look at the workstation setup before recommending corrective action.
Attention to Detail
One of the key skills a career in welding engineering needs is attention to detail. It's necessary because of the intricate steps involved in designing, manufacturing, and setting up the machines. Good attention to detail will help you avoid any flaws or mistakes that could be potentially disastrous.
Technological Knowledge
Technology is a crucial aspect of a welding engineer's job. Welding engineers use technology to complete diverse tasks and solve problems. A welding engineer should understand the latest developments in welding technology. It will help them to come up with innovative solutions for customers.
Mathematics Skills
Welding engineers use basic arithmetic, algebra, geometry, and trigonometry. In addition, they solve welding problems with the help of calculus and statistics.
---
Final Thoughts
So, are you thinking of pursuing a career in welding engineering? A welding engineer will help manufacturers create safe, strong, and high-quality welded assemblies that last for years.
Welding engineer jobs are in constant demand due to the growth of the manufacturing industry. People with previous welding experience can become weld-engineering technicians. In terms of compensation, welding engineers earn well, which will make it worth your while if you wish to pursue this career.
Featured Image Credit: MNBB Studio, Shutterstock