How Much Do Welders in Ohio Make? 2023 Salary Statistics
Last Updated on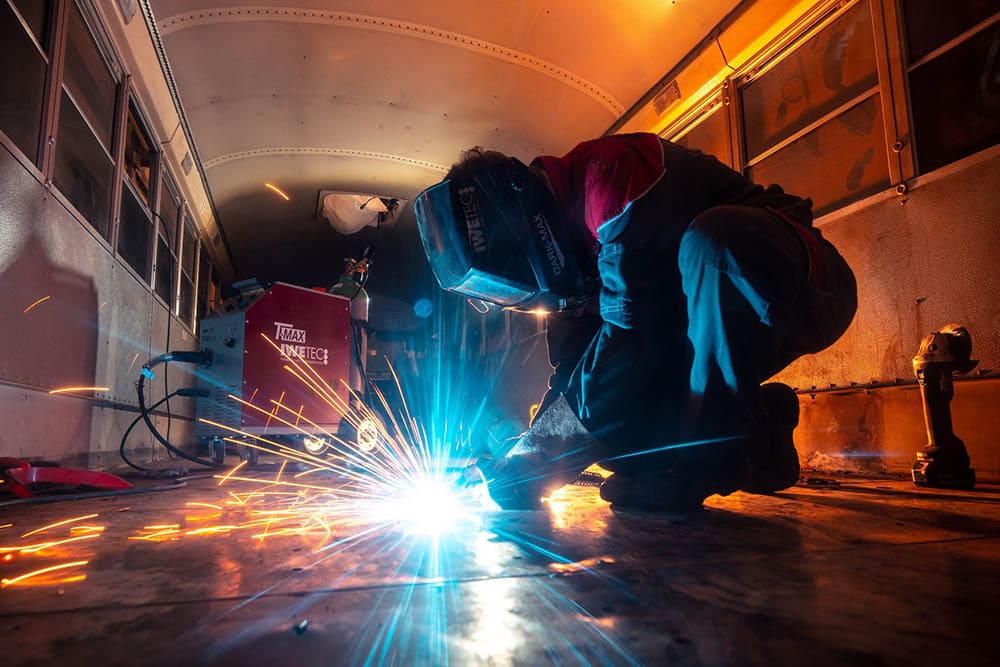 Are you thinking about becoming a welder in Ohio? As a welder, there are various job opportunities in this state. Furthermore, the salary can be lucrative in this state.
Welding provides a stable career, and depending on where you work, it can offer excellent benefits and vacation time. Welders in Ohio do well compared to other states in the United States in terms of compensation and job satisfaction ratings.
This article will give you a detailed breakdown of how much salary welders make in Ohio, including average salaries for entry-level, intermediate, and experienced welders.
---
Average Welder Salary in Ohio
The average salary for a welder in Ohio is $39,390 per year. An entry-level welder can make between $20,000 and $30,000 per year. An experienced welder makes between $40,000 and $60,000 per year. However, this salary will vary depending on the job title and location.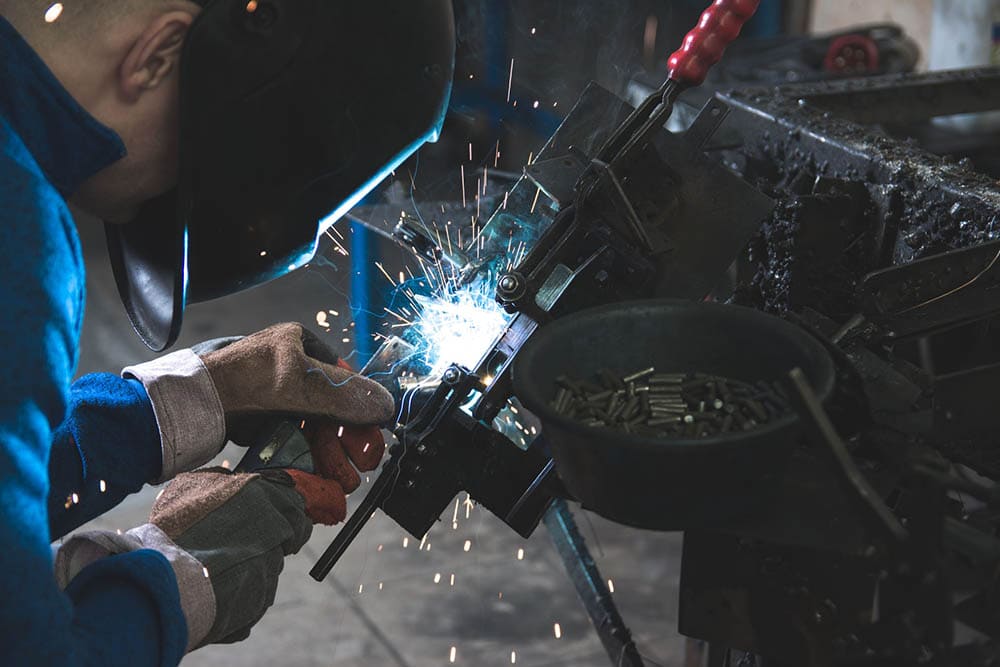 How Much Does a Welder Make in an Hour in Ohio?
Many factors affect the hourly welder earnings in Ohio. They include how much the welder charges per hour, where they work, and the type of metal welded.
Ohio is a central state for welding professionals. It has several big-name employers who offer many job opportunities for welders. The average hourly wage for welders here is $21, according to PayScale.
Daily Welder Earnings in Ohio
Since the average rate for a welder in Ohio is $21.47 per hour, it comes to $160 in a day according to recent data from the Bureau of Labor Statistics.
Like other welders, sometimes you get to work overtime. Other times you have to sit at home waiting for something to need repair. Therefore, your wages might not always be the same from week to week or month to month.
Weekly Welder Salary
How much do welders make in Ohio in a week? Well, the average welders' salary in Ohio is $730 per week. If you are new in the field, the amount you can earn depends on several factors such as location and employer, but most importantly your certifications.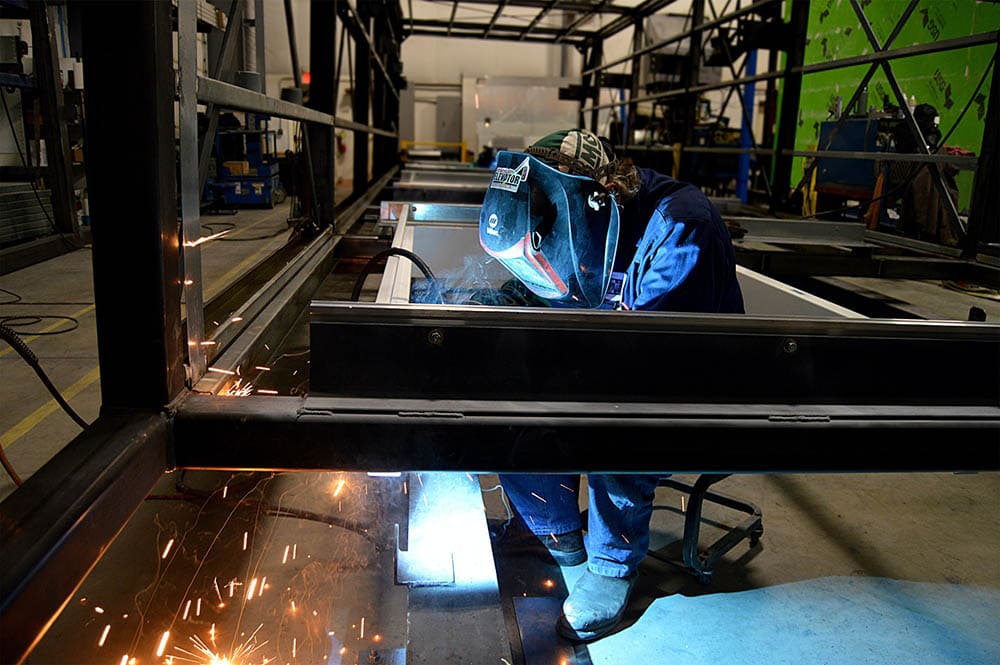 How Much Does a Welder Make in a Month in Ohio?
The average salary for a welder in Ohio is $3,400 per month. Wages typically start from $2,500 and go up to $5,000 every month.
How Much Does a Welder Make in a Year in Ohio?
According to the United States Bureau of Labor Statistics, welders in Ohio make an average yearly wage of $39,000. Different jobs require different skills and educational backgrounds. Therefore, the median salary for welders varies by industry.
There are about 30 welders employed in Ohio for every 100 jobs. The highest-paid welders will make $63,000 per year, while the lowest-paid make $20,580.
Besides the salary, welders have a lot of benefits and bonuses. Many welders receive health insurance and retirement benefits. Some employers even provide housing for the welders and even pay for the welders to get further education.
The job outlook for welders in Ohio is good. Employment is projected to grow 19% from 2016 to 2026. It is faster than the average for all occupations in the state. The growing need for energy and infrastructure is expected to lead to job growth, and the industry needs workers to keep up with demand.
---
Types of Welders and the Average Salary in Ohio
If you are interested in learning how to weld, there are many types of welders to choose from. Each one has unique training requirements and salary averages.
Here is a quick breakdown of the most popular welders and hourly earnings.
| | |
| --- | --- |
| Type of welder | Average wage (per hour) |
| MIG Welder | $18.01 |
| Welder/Fitter | $19.06 |
| TIG Welder | $17.86 |
| Production Welder | $18.26 |
| Metal Fabricator | $18.38 |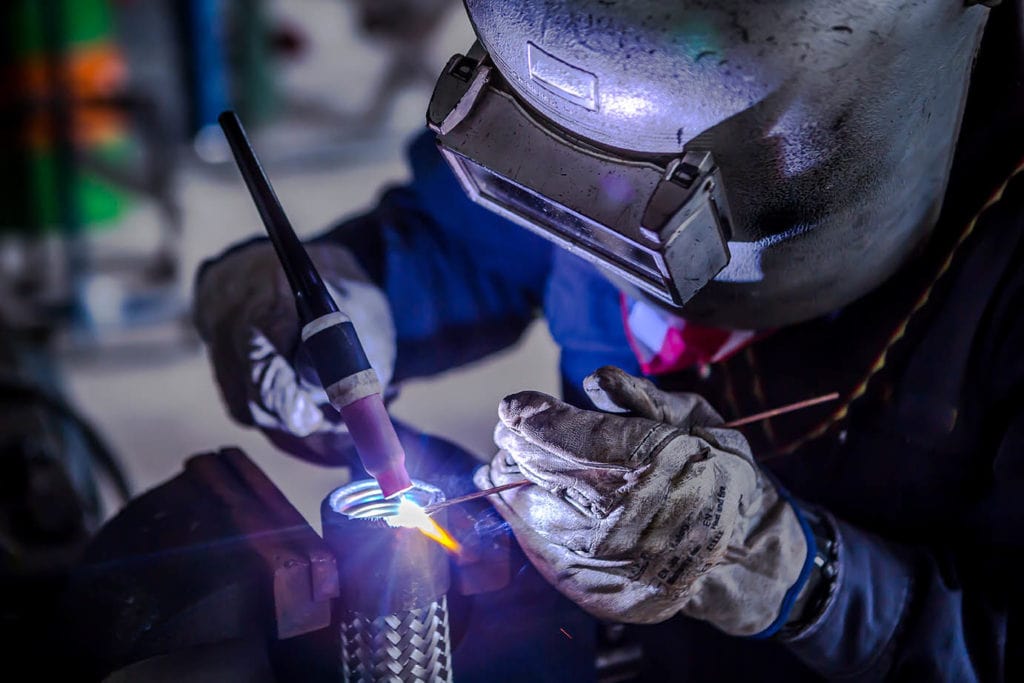 A Welder's Salary by Rank in Ohio
Top-Level Welders
The average salary for top-level welders in Ohio is $57,640 per year or $27.71 in an hour. It is much higher than the average salary for other jobs in the state. Welders often work overtime and remain on their feet for long periods.
Most welders work in the construction industry, which pays well and provides good benefits. However, some welders work in other fields, such as manufacturing, which pay less and offer fewer benefits.
Senior-Level Welders
According to the Bureau of Labor Statistics, the average salary for senior-level welders in Ohio is $47,950. However, this number does not account for all senior-level welders in the state.
About 6% of all senior-level welders make more than $100,000 per year. These higher-earning welders are concentrated in the Cleveland and Dayton areas.
Mid-Level Welders
Mid-level welders make around $39,390 a year or $18.94 per hour. Its high compared to most jobs, but this is an average figure, which depends on experience and education level.
While entry-level jobs pay much less, they are also less flexible in working hours. Welding jobs can be physically demanding work. So, it's crucial to work at your own pace and carry out your job duties without experiencing fatigue.
Junior-Level Welders
The average annual wage for welders in Ohio is $33,250. However, this salary varies widely depending on where you work.
For example, in Columbus, the average welder earns $28,000 a year. While this figure may seem relatively low, keep in mind that this number includes wages paid to all workers irrespective of their age or education level.
Starting Level Welder
The average annual salary for a starting-level welder in Ohio is $27,920 or $13.42 in one hour. It doesn't include benefits, such as health insurance or retirement contributions. If included, the actual figure will be closer to $33,000.
The starting salary for welders can vary by experience and company size. Some employers will keep wages close to a starting level, while others hire welders with more experience and give them higher pay.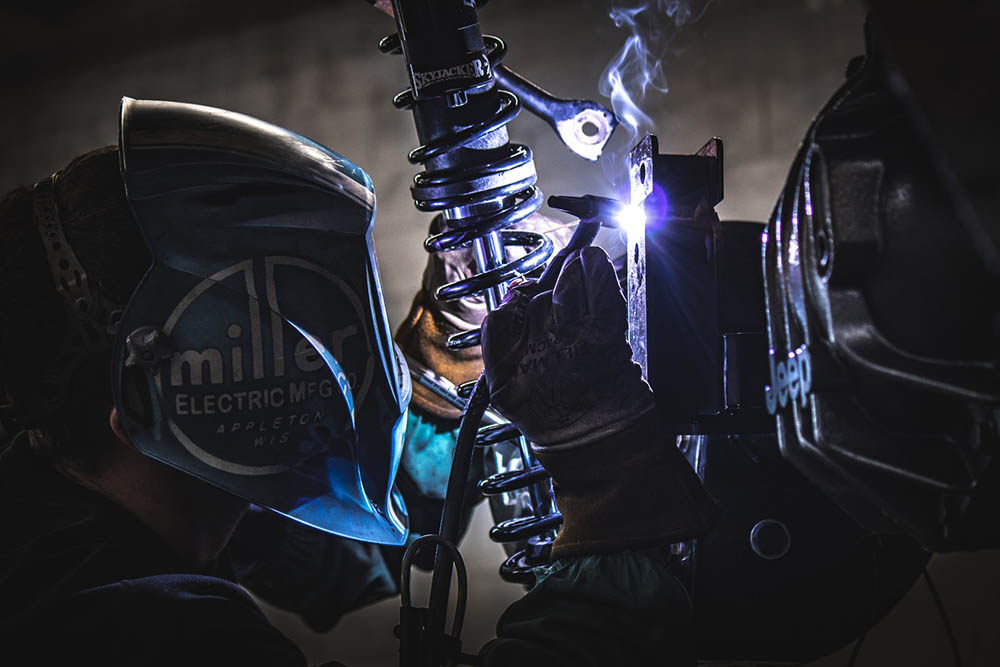 Average Welder's Salary across Cities in Ohio
Because of the vastness of today's market, people are looking for jobs that pay better, are more secure, and offer better benefits. Welding is one viable option to consider. It may not be the industry with the highest salary offers by far, but if you are looking for a decent living income, this should be at the top of your list.
The average welder salary varies greatly across Ohio, depending on what city or town you work in. Here is a breakdown of the average salaries for selected Cities in Ohio. Keep reading:
| | | |
| --- | --- | --- |
| City | Average Wage (Per Year) | Average Wage (Per Hour) |
| Cleveland | $34,474 | $16.57 |
| Columbus | $33,264 | $15.99 |
| Lima | $34,908 | $16.78 |
| Dayton | $32,733 | $15.74 |
| Troy | $32,588 | $15.67 |
| Mansfield | $32,726 | $15.73 |
| Russia | $32,525 | $15.64 |
| Kent | $32,689 | $15.72 |
| Toledo | $33,036 | $15.88 |
Top 5 Highest-Paying Welding Jobs in Ohio
Perhaps you have been looking for top-paying welding jobs in Ohio. Have you found the right welding job yet? How do you know if there are high-paying welding jobs available in your area? And if there are, how do you find the highest-paying welding job in Ohio?
Below are the top five highest-paying welding jobs in Ohio.
| | | |
| --- | --- | --- |
| Job Title | Average Salary (Per Year) | Average Salary (Per Hour) |
| Work From Home Field Welder | $60,649 | $29.16 |
| Director Welder | $69,618 | $33.47 |
| Refinery Welder | $60,056 | $28.87 |
| Self-Employed Welder | $69,605 | $33.46 |
| Relocation Welder | $60,451 | $29.06 |
Note that some welding jobs require additional education and certifications. Some states issue various licenses to welders allowing them to work in specific fields or locations, such as nuclear facilities or marine docks.
Several welding organizations offer certifications for experienced welders when they undergo in-depth training in specialized welding methods.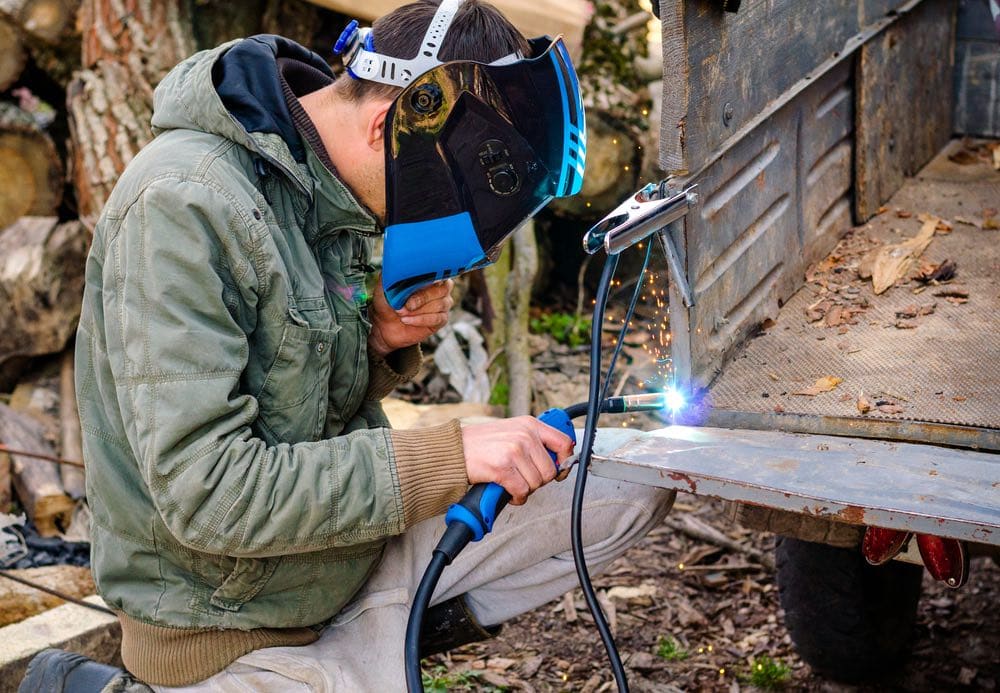 The top employers of welders in Ohio are:
Industrial Machinery Manufacturing
Machinery Manufacturing
Oil and Gas Extraction
Other Nonmetallic Mineral Mining
Transportation Equipment Manufacturing
Construction
Mining
Welder jobs are projected to grow as fast as the average for all occupations through 2026. Demand for welders is likely to increase as the state increases spending on infrastructure. Repair, renovation, and construction of buildings, roads, bridges, and highways will require more welders.
---
Final Thoughts
In this article, we have discussed how much welders in Ohio make in a year. We have looked at the average hourly rate and average annual salary. This information will help you determine if welding is the job for you in Ohio. We hope that this has helped you understand more about the average pay of a welder in Ohio.
As seen, there are no fixed rates and the experience level, industry, and location of work are just a few factors that will determine the exact amount.