How Much Do Journeyman Welders Make? 2023 Salary Statistics
Last Updated on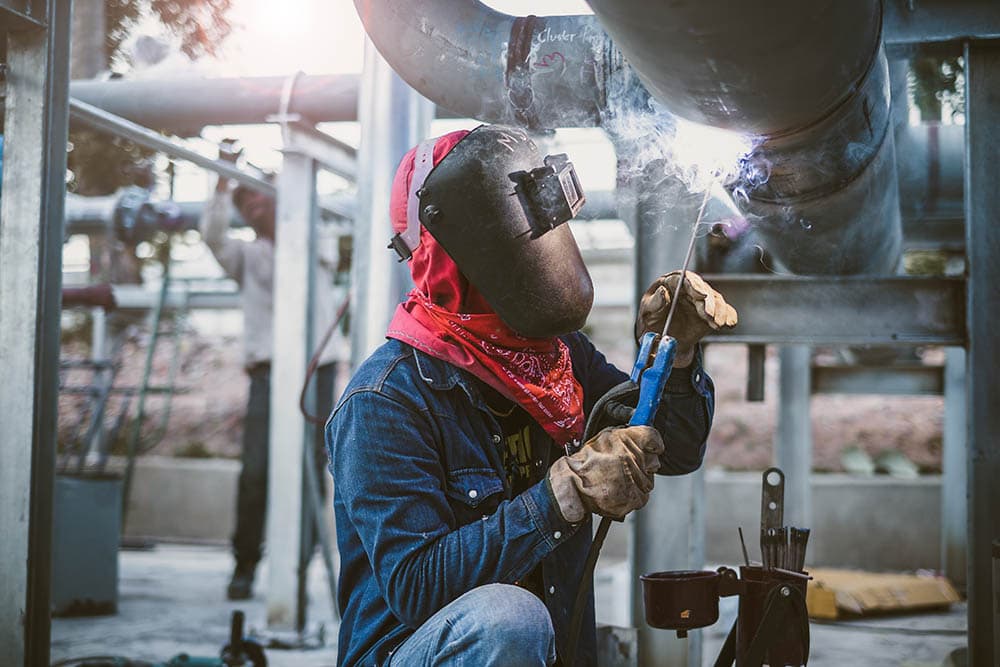 Welding is a discrete trade that requires skill, experience, and knowledge to master. It is a critical profession with many applications that go far beyond simple construction and is in high demand. Like most careers, welding has different levels of expertise.
Some are complex, and others are more on the basic level. They also pay differently with other variables in play. Before we dive into the salary figures, it is a good idea to cover the basics.
---
What Is a Journeyman In Welding?
Also referred to as a pipe welder, a journeyman is someone who fuses metals together. The job entails reading blueprints, maintaining a safe workplace, and operating welding equipment.
Typically, a journeyman welder is someone who has already gone through all training programs, including apprenticeship and qualified. This qualification gives the welder all the needed technical knowledge and skills to perform duties. They may also learn any relevant industry computer software.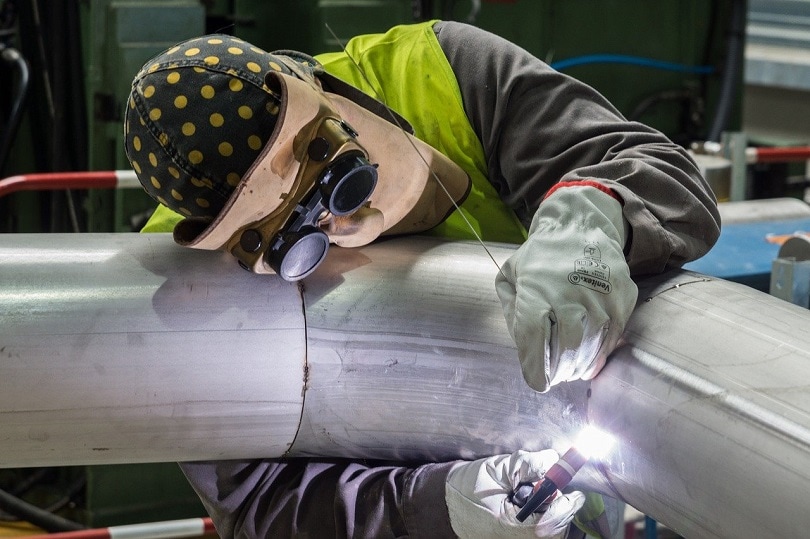 How Much Do Journeyman Welders Make?
There is a wide range of salaries for a journeyman welder. It all depends on the employer, type of work, and most importantly, the industry. For example, income in the oil and gas industry is usually very high, especially for people in high demand.
The same applies to shipyards in the regions that build ships. Many employers also offer benefits. Therefore, it is crucial to find out what they are before accepting a position.
That is not all other factors that play a role in the salary one gets. The geographic location plays a significant role. Some states with high demand for welders will pay better than others.
Even experience level will influence how much one makes as a journeyman welder. Additionally, freelance welders can charge more for their services.
However, with all variables in place, the average annual pay for a journeyman welder as of October 2021 is $45,127. That is according to ZipRecruiter.
That translates to approximately $21.70 per hour or $868/week, or $3,761/month. Keep in mind this is only for the United State of America.
Other countries like Canada may pay more. According to Talent, the average pay for a journeyman welder is $67,431. That is about $34.58 per hour.
In Australia, the average salary is even more at $70,200 annually according to Indeed. That is understood that these figures are averages, so it is possible to make much less or more than the given amount.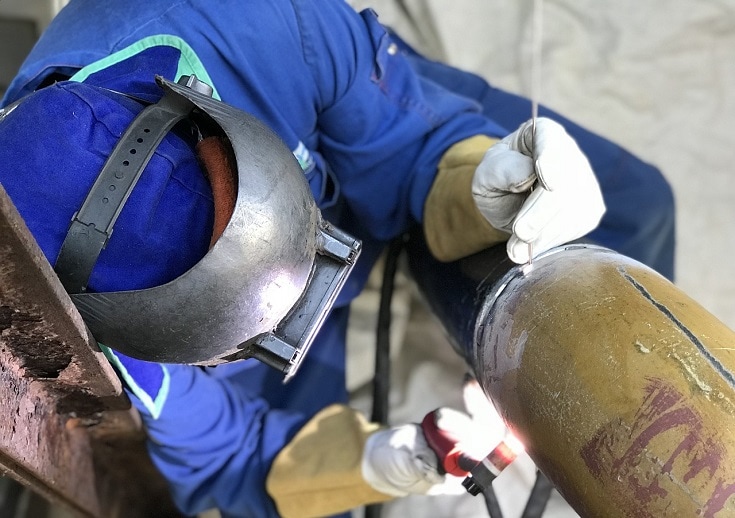 Income of a Journeyman Welder by Experience
Like every other profession, you will need enough experience to earn a higher salary. Journeyman welder is no different. The more experienced one is, the more they are likely to earn higher pay. So, what is the average salary for starters and senior welders?
Entry-Level Journeyman Welder Salary
At this level, an inexperienced welder will make less than someone with more experience. The main reason is that they do not have as many skills and responsibilities as the experienced ones in the industry. Inexperienced welders will mostly get duties that do not require a lot of welding acumen.
Entry-level journeyman welder salary is at around $31,255 annually on average, according to ZipRecruiter. That is about $15.03 per hour, which is slightly more than minimum wage in the USA. This pay ranges from $27,500 to $37,500 annually across the country.
The range suggests that regardless of location, the pay does not increase that much. That is not to say that the income will not eventually increase with experience.
Experienced Journeyman Welder Salary
After the first few years in the industry, one becomes much more experienced. They will bear most responsibilities at the workplace and even train or manage new employees. With such expertise comes a lot more pay.
Experienced journeyman welder salary is at around $49,973 annually on average, according to SalaryCom. That is about $25.61 per hour. This pay ranges from $44,353 to $56,863 annually across the country.
---
Journeyman Welder's Income by Industry
Welders are not the same across levels. Many positions exist for this trade, and within those, various industries may require a different skill set or impose a different set of responsibilities on one.
Some industries are more complex and sophisticated than others, and it's only natural that they will need highly skilled individuals. That automatically translates to higher pay.
For example, people who work for oil companies will make more than those working at steel mills. The reason is that the job at the former is more complex and requires skills not required daily on the latter.
The industry where a journeyman welder works will influence their pay. In fact, jobs in the manufacturing, technology, and construction industries tend to pay better.
Technology Industry
Working in the technology industry can be very rewarding for a journeyman welder. Of course, experience plays its role, but this is one of those industries that pay well regardless.
The industry as a branch requires the highest skilled welders to work on complex and sophisticated machinery. Therefore, it is no wonder that they pay much more than other industries. According to Zippia, the welder's salary in the technology industry is $47,927 on average.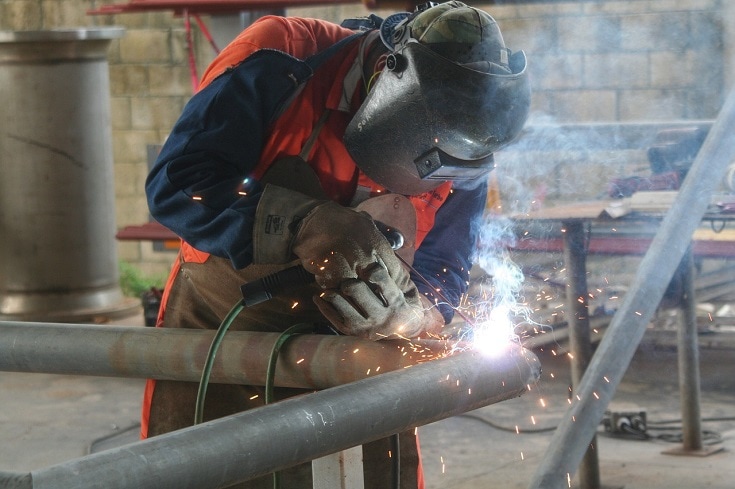 Manufacturing Industry
Manufacturing companies need different types of workers to survive and flourish. They employ people on all levels, including welders. The industry pays well, according to Zippia. Welders in this industry make at least $46,637 annually on average.
Construction Industry
The construction industry requires a lot from welder's hands. Structures can't be built without welders, and as such, this industry also pays well to its workers.
There are plenty of responsibilities in this industry, and not everyone can handle them. According to Zippia, welders in construction make at least $45,412 annually on average.
Government Industry
This industry may pay less, but it does not mean that it cannot be rewarding. In fact, workers get to deal with a lot of responsibility in the government-industry. Some workers are trained to work on complex equipment, which is not seen much in other industries.
The pay range for journeyman welders in the government-industry is at $34,000 to $54,000 with an average of $40,003. Although the pay is low compared to other industries, the experience gained at the workplace is definitely not something to ignore.
Journeyman Welder's Income by State
Location is a critical factor for income one makes in most careers. Going to places where there are not many welders can potentially increase the pay you get. Likewise, locations with low demand for welders may pay less.
So, before you choose welding as your preferred career path, make sure you know which states pay well and which do not. Here are average incomes for a journeyman welder by state.
| | | |
| --- | --- | --- |
| State | Hourly rate | Avg. annual salary |
| Alabama | $18.20 | $37,864 |
| Alaska | $28.05 | $58,345 |
| Arizona | $19.84 | $41,262 |
| Arkansas | $16.94 | $35,243 |
| California | $21.72 | $45,177 |
| Colorado | $20.96 | $43,589 |
| Connecticut | $27.16 | $56,493 |
| Delaware | $26.86 | $55,873 |
| District of Columbia | $26.20 | $54,495 |
| Florida | $18.09 | $37,635 |
| Georgia | $16.44 | $34,202 |
| Hawaii | $22.49 | $46,783 |
| Idaho | $21.09 | $43,863 |
| Illinois | $20.51 | $42,651 |
| Indiana | $21.99 | $45,742 |
| Iowa | $19.22 | $39,985 |
| Kansas | $20.75 | $43,169 |
| Kentucky | $18.55 | $38,587 |
| Louisiana | $21.09 | $43,872 |
| Maine | $19.29 | $40,122 |
| Maryland | $23.92 | $49,762 |
| Massachusetts | $25.23 | $52,478 |
| Michigan | $19.62 | $40,811 |
| Minnesota | $22.68 | $47,170 |
| Mississippi | $20.54 | $42,716 |
| Missouri | $19.21 | $39,950 |
| Montana | $22.58 | $46,961 |
| Nebraska | $20.34 | $42,302 |
| Nevada | $23.78 | $49,461 |
| New Hampshire | $21.63 | $44,980 |
| New Jersey | $24.89 | $51,769 |
| New Mexico | $22.28 | $46,339 |
| New York | $21.30 | $44,313 |
| North Carolina | $18.91 | $39,323 |
| North Dakota | $24.59 | $51,151 |
| Ohio | $18.39 | $38,242 |
| Oklahoma | $19.11 | $39,754 |
| Oregon | $26.91 | $55,968 |
| Pennsylvania | $21.68 | $45,097 |
| Rhode Island | $26.44 | $54,989 |
| South Carolina | $18.11 | $37,675 |
| South Dakota | $20.90 | $43,478 |
| Tennessee | $17.46 | $36,310 |
| Texas | $41,537 | $19.97 |
| Utah | $21.56 | $44,838 |
| Vermont | $23.31 | $48,485 |
| Virginia | $21.37 | $44,441 |
| Washington | $29.26 | $60,867 |
| West Virginia | $21.28 | $44,256 |
| Wisconsin | $21.29 | $44,292 |
| Wyoming | $14.99 | $31,169 |
How Does One Become a Journeyman Welder?
To become a welder journeyman, one has to complete an apprenticeship program. Like any other trade, the process takes time and dedication. It requires good mathematical knowledge, mechanical ability, and the right attitude. They will also need to pass the necessary state licensing requirements.
The time required to complete this apprenticeship program varies slightly. However, most last 3-4 years with a high school diploma or GED. Those who already have a trade certificate or associate degree in another field can complete the program in a shorter time.
For most people, the 3-4-years program is the primary route to finally becoming a journeyman welder. During the program, one undergoes extensive real work experience with occasional classroom work. This experience will be under the supervision of a higher-level welder.
Additionally, some employers may request one to pass a couple of drug tests. That is not the case for every employer, but some may require it as a condition of employment. Other qualifications include interpersonal skills, familiarity with different welding techniques, and attention to detail.
---
Final Thoughts
Consequently, it is safe to say that welding is a rewarding career, especially if you take up the profession seriously. As with any job, if you do it well, you will be compensated accordingly. Given the above statistics for journeyman welder, it is evident that the career is worthwhile regardless of the location of your practice.