5 Best Stick Welders under $500 of 2023 – Reviews & Top Picks
Last Updated on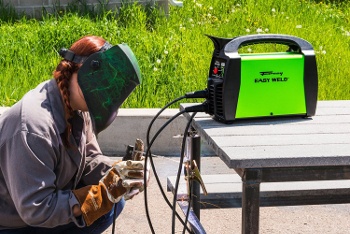 You have plans. First, you wish to rule your neighborhood with an iron fist. Then, the world. Part of that is erecting an antenna to share your thoughts with the world's Ham radio operators. But, you also need to build a cage for your enemies. So many enemies. You're going to need something to do welding, but you have to work on a budget because global conquest doesn't come cheap.
Or, perhaps your goals are much more modest, like repairing metal patio chairs or welding into place a support frame for the trailer you use to haul furniture.
We admire your sense of ambition, big and small, and wish to feed it by helping you find just the right stick welder to suit your needs.
We've taken a look at the best stick welders under $500 and ranked them based on performance and value. A guide to buying a stick welder follows our reviews to assist you in making the best choice possible.
A Quick Glance at the Winners of 2023
Image
Product
Details

Best Overall

EVERLAST PowerARC 200ST

Durable
Portable
Easy to use
CHECK PRICE

Amico ATIG2017-200A

Great value
Portable
Great arc
CHECK PRICE

Best Value

Forney Easy-Weld 298

Best value
Great starter welder
Very portable
CHECK PRICE

Amico DC-160A

Lots of power for such a small machine
Good value
CHECK PRICE

Campbell Hausfeld WS099001AV

Cheapest, pricetag wise
Recommend using 1/16" and 5/64" welding rods
CHECK PRICE
The 5 Best Stick Welders Under $500
1. EVERLAST PowerARC 200ST Stick Welder – Best Overall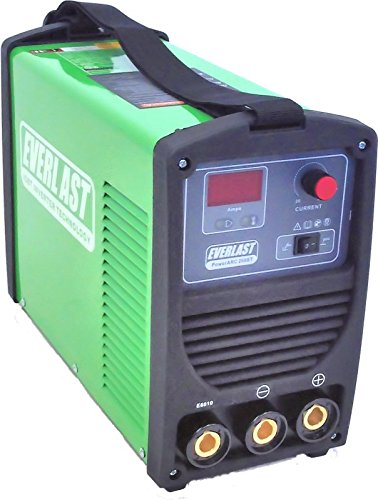 We really liked the PowerARC 200ST. It arrived, we unboxed it and it was in use very quickly. That's usually a very good sign. Tools that require a learning curve to get running often produce poor results, not because of tool performance but because it's difficult for operators to figure out how to make them hum.
And hum this one did. We had difficulty knowing it was even turned on. But it was, and soon after removing from the box we cleanly joined two pieces of sheet metal. Not bad. Not bad at all.
We also liked its portability. It's light enough that you can carry it around a job site and work closer to where you need to weld without it being a giant production. It also felt durable enough to take the movement without falling apart.
What we didn't like was customer service. A lot of online reviews complain about Everlast's customer service, so we decided to fake a problem and give them a call. Everlast definitely needs to ramp up its customer service department if it ever wants to eat supper at the adult table.
Pros
Durable
Portable
Easy to use
Cons
Customer service needs work
---
2. Amico ATIG2017-200A Stick Welder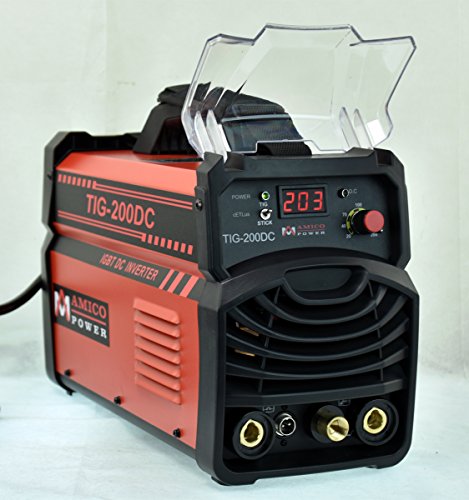 If it came down to pure welding, the Amico ATIG2017-200A would have been our top choice. It delivers a better arc and cleaner welds than the Everlast PowerARC, is as portable and also comes ready for use.
We also like its for-dollar value. It can do everything that a home enthusiast might want it to do, but at a much lower cost than a tool that might satisfy professional standards.
What we didn't like was that the adjustment knobs weren't all that precise. The gas regulator knob didn't work very well, and the amperage shown on the LED screen was not the amperage it was using. A skilled operator can quickly adjust what they're doing, but this makes it hard for a first-time home hobbyist. So, while it's a great welder for the price, it's not a great welder for people new to welding. Tools that are simple enough for anyone to use right out of the box get ranked tops; tools that bank on a user's experience to adjust on the fly get ranked runner-up.
Pros
Great value
Portable
Great arc
Cons
Adjustment knobs not precise
---
3. Forney Easy-Weld 298 Stick-Welder – Best Value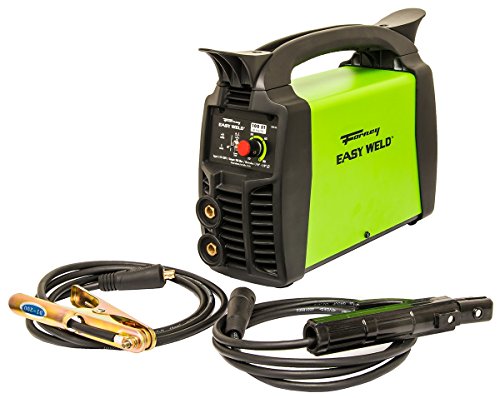 Among the best stick welders we tested, the Forney Easy Weld is easily the best for-dollar value if you're looking for something to do light work. It's highly portable, intuitive, and delivers quality welds at high temperatures. If you want something that can do odd jobs around the house for as little money as you have to spend, this welder was designed for you. It's also light and very portable.
What it doesn't do well with is welding at lower temperatures. At high temperatures, it can compete with more expensive, bigger models. At lower temperatures, there is a noticeable dropoff in quality. That makes its utility in welding aluminum pretty marginal, which in turn limits the kinds of jobs it can effectively handle.
All in all, the Forney Easy Weld is the best value of the stick welders we tested, but if you need to work with a metal that requires lower heat you might want to look at a different option.
Pros
Best value
Great starter welder
Very portable
Does well for around-the-home welding
Cons
Performance dropoff at lower temperatures
---
4. Amico DC-160A Stick-Welding Machine
We were impressed by the power output of such a small machine. We ran it on 220v and were surprised that it was able to give 160A output at a 60 percent duty cycle. We expected less from a machine of its price.
What impressed us much less was that it took a minute to really get up to speed. When you want to weld, you want to weld and not wait for the machine to get itself ready. We also found that its performance at 110v was not what we'd wanted. Other models we tested delivered much better at this input.
As for the stinger … if you plan to purchase this model, add a replacement when you do. You'll thank us for this piece of advice.
Overall, it's a decent value for its low price, but it failed in a few key metrics. We wouldn't recommend it as enthusiastically as we would the others, but it's still a workable option.
Pros
Lots of power for such a small machine
Good value
Cons
Cold starts
Underpowered at 110v
Subpar stinger
---
5. Campbell Hausfeld WS099001AV Stick Welder
The Campbell Hausfeld WS099001AV is to stick welders what the Easy Bake oven is to ovens, a cheap child's toy.
We had difficulty getting anything out of it beyond the lightest, most basic work. Like, if you need to weld together a rabbit cage, it can handle that. Anything more durable and you're probably better off putting it together with zip ties. It's so limited in what it can do that you're better off spending a little more
Oh, it also has a super short duty cycle, a super short power cord and the stinger is practically melt-in-your-hand quality. That's great for ice cream or chocolate but terrible for a dangerous power tool.
On the plus side, it's easily the most affordable of the models we tested.
This was far and away the worst model we tested. Normally, we like to think about what conditions would make us recommend a product, but with the Campbell Hausfeld WS099001AV, we just can't.
Cons
Cheapest, construction-wise
Short power cord
Stinger a menace to society
Limited utility
---
Buyer's Guide: How to Choose the Best Stick Welder under $500
Stick welders are a versatile entry point into welding and are especially popular for home hobbyists. They are suitable for just about everything you'd need one for around the house. They are also pretty forgiving when it comes to the condition of the metal and the operational conditions. But, ultimately, the key to just which one is the best starts by asking questions of the user. Too much of a complicated machine in the hands of a raw novice will produce terrible results longer than if that person had started with something more affordable. Here are some things to keep in mind when you are shopping for one.
Why am I buying this?
The first step in determining which stick welder is right for you starts with an honest appraisal of what you need it for. The more powerful a welder you buy, the more you have to consider whether the wiring of where you're going to use it can handle it. If all you're going to do is putter around the house with it and make very simple welds, you should look for a model that isn't going to require extra buttressing or continually trip your breakers.
This includes considering the temperature ranges you plan to weld in. Our best budget model, the Forney Easy Weld, did great at hotter temperatures but not so well at lower temperatures, for instance. If you need a low-temperature welder, you will want to account for that in your shopping.
Inverter or Transformer
Once you've figured out what you need it for and what kind of infrastructure support it'll require, then you can start looking at specific models. The first question in choosing a stick welder is: inverter or transformer.
Inverters are more portable and deliver a sleeker weld. The transformer stick welder is bigger, bulkier and delivers cruder welds. But it also continues to pound away dependably, year after year after year.
Power input
Something else to consider is the kind of power your stick welder uses. It is AC, DC, or AC/DC?
AC units are perfect for most home enthusiasts. They are smaller, lighter and more affordable, and perform ably for a light workload. DC welders are more expensive, but operate more smoothly and deliver sleek welds. A combo unit is the priciest choice but delivers the best results.
Duty cycle
Duty-cycle is simple, out of 10 minutes how long can a welder operate without overheating. A longer duty cycle means more than just more time able to work, but it is often indicative of the quality of construction. If you are looking at two otherwise identical models, the duty cycle is a great way to settle the issue, especially if the two are also very close in price.
---
Conclusion:
Normally, when we test products for review, there is a pretty tight cluster of quality, and the one that gets ranked the best edges out the rest of them by offering something superior in the margins. In the case of the best stick welders under $500, the Everlast PowerARC 200ST was a pretty clear winner. Amico ATIG2017-200A delivered a little better performance in experienced hands, but the adjustment knobs weren't precise to make it less useful for casual users. And because no weld is better than the person using it, we think in the long run that means it delivers lower quality welds. The Forney Easy Weld was an easy pick for getting the best value. We were less impressed by the Amico DC-160, and just feel bad for anyone who buys the Campbell Hausfeld WS099001AV.
If you come away from this review unconvinced or at least want to look at other models, we hope you read our buyer's guide tips to help you make a better-informed choice.
Related: