5 Best Welders For Sheet Metal 2023 – Top Picks & Reviews
Last Updated on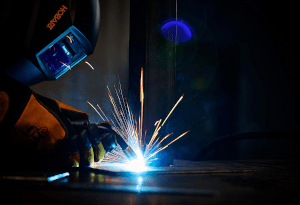 Sheet metal welding is no easy task, but with a bit of practice on the right welder, it can be mastered like any other type of welding. Unfortunately, welders are not generally advertised for specific types of welding like sheet metal welding. Therefore, we have written reviews of five of the best machines to use for thin sections to help you find one suitable for you.
We have a range of TIG, MIG, and multi-process machines we've reviewed. We give the pros and cons of each to ensure you have a full rundown on the varieties available and what's good and flawed about them for sheet metal welding.
A Quick Glance at our Favorites
Image
Product
Details

Top TIG Welder Pick

PRIMEWELD TIG225X

Pulse arc capabilities
Reaches low amperage range
Includes foot pedal and finger switch
CHECK PRICE

Top MIG Welder Pick

Hobart Handler 140

High-quality machine
Reaches low amperage range
Simple to use
CHECK PRICE

Top Multi-Process Welder Pick

Weldpro 200 Amp Inverter

Machine determines complex settings
Multi-purpose machine
Automatic welding switch
CHECK PRICE

AHP AlphaTIG 200X

Pulse arc capabilities
Includes foot pedal and finger switch
Excellent stick welding function
CHECK PRICE

Lotos TIG200ACDC

Includes foot pedal
High-frequency start
Beginner TIG welder
CHECK PRICE
The 5 Best Welders for Sheet Metal
1. PRIMEWELD TIG225X – Top TIG Welder Pick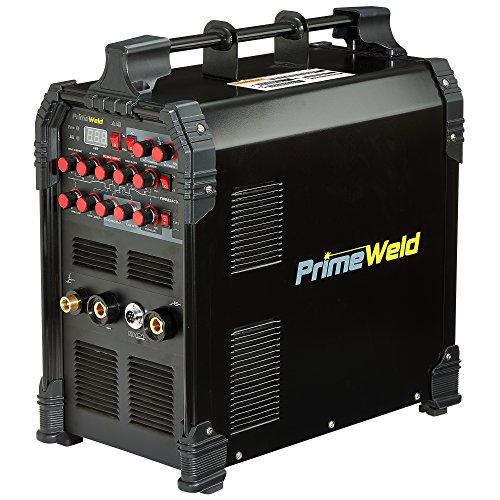 In our opinion, the PRIMEWELD TIG225X is the best welder for sheet metal. It's a TIG welder for everyday buyers for sheet metal welding and has a good range of settings with DC and AC output to give you variety for the type of sheet metal project you may want it for. The air-cooled CK Superflex Torch is superior for low amperage welding. It's comfortable and easily adapts to the different scenarios sheet metal welding requires.
The foot pedal works effectively, but isn't the comfiest pedal to use; however, it's easier to use when standing than a traditional pedal is. The welder has a higher amperage range than what's needed for sheet metal, but its capability along with its affordable price makes it your best buy TIG welder for sheet metal.
Another bonus to this welder is that PRIMEWELD is second to none with customer service. It is one of the safest welding companies to buy from, as it will make sure you are satisfied from start to finish with your welder. We highly recommend this machine if you need to TIG weld sheet metal.
Pros
Pulse arc capabilities
Reaches low amperage range
AC/DC
Includes foot pedal and finger switch
High-frequency start
Up-slope/down-slope functions
Cons
Foot pedal lacks user comfort
---
2. Hobart 500559 Handler 140 – Top MIG Welder Pick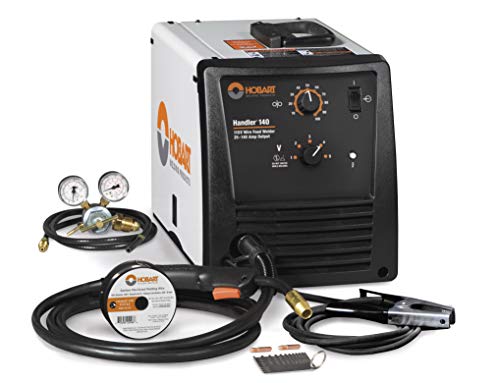 While sheet metal is primarily a TIG welding job, there are times when it's handy to have an available MIG welder to fuse sheet metal. The Hobart Handler 140 MIG is the best affordable MIG welder for sheet metal.
It's one of the highest-quality machines available and comes incredibly low-priced. It doesn't have a huge amperage range, but it provides everything you need to MIG weld sheet metal.
This is a simple machine with very few settings, but it runs an impressive bead and can get down to a low amperage range to ensure you can run smooth welds without blowing through your joint. If you want a top-quality MIG welder you can trust will last for extensive sheet metal welding, this machine is your best option.
Pros
High-quality machine
Reaches low amperage range
Simple to use
Low price
Cons
Welding chart not accurate
---
3. Weldpro 200 Amp Inverter – Top Multi-Process Welder Pick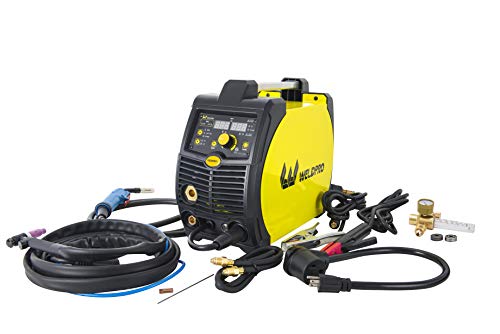 If you're doing welding work on cars and need the diversity of a MIG and TIG welder, the Weldpro 200 Amp Multi-Process Machine is the best machine for automotive sheet metal.
It's one of the most technologically advanced multi-process welders available in this low price range.
This welder is a synergic machine with preset internal parameters that determine the best range of settings for your particular sheet metal welding. Not everyone likes this, as it limits your own ability to adjust the settings, but there's still plenty of adjustment you can make. There is almost nothing you'd want it set at for sheet metal welding that it doesn't already have preset.
It's a small machine that is simple to transport for onsite work, and it's great for automotive sheet metal welding, as you don't need multiple machines to complete a project. It excels in both TIG and MIG welding.
For the price this welder costs and all that it's capable of, there are no other multi-process welders we would recommend like this for sheet metal work. You can pay two or three times as much for a better machine, but this offers everything you need for automotive sheet metal welding and is affordable for an everyday buyer, and therefore we recommend it highly.
Pros
Machine determines complex settings
Multi-purpose machine
Automatic welding switch
Easy to set up and use
Ideal for automotive work
Cons
Yellow color dirties easily
---
4. AHP AlphaTIG 200X 200 Amp Welder
The AHP AlphaTIG 200X machine is not our top pick TIG welder, but it's excellent if you're primarily welding sheet metal, and it contains enough amperage if you need to go bigger. If you need to do aluminum sheet welding, this is a top-notch aluminum welder. Some machines struggle to fuse aluminum well, but this welds it nicely and with simplicity so you can get on with completing your projects with ease.
The torch has a high-frequency non-touch starter that enables your arc to form easily without contamination, so you don't struggle to begin welding. It ensures your welds are to the highest quality they can be if you're welding properly.
The ground clamp is unfortunately a poor-quality clamp, and the foot pedal isn't the most comfortable version to use. However, aside from these two issues, it's incredibly affordable and is comparable to the TIG welders at the top tier of the market.
Pros
Pulse arc capabilities
AC/DC
Includes foot pedal and finger switch
High-frequency start
Excellent stick welding function
Cons
Foot pedal lacks comfort
Poor quality ground clamp
---
5. Lotos TIG200ACDC 200A AC/DC Aluminum TIG-Welder
The Lotos TIG200ACDC is a good TIG welder for its price, but it's a more basic machine. You can pay a similar price for the PRIMEWELD TIG225X welder or the AHP AlphaTIG 200X machine and get more for your money. However, it does a good job, nonetheless.
It comes with a foot pedal but no finger switch. The foot pedal is useful and much better than some, but it's not the best pedal available. It's known for having issues with accuracy and a lack of responsiveness, but it usually does a good job once you get used to using it.
It welds aluminum sheet metal well, which is handy, and the high-frequency start torch means there isn't any contamination in your welds. There are a few helpful settings for TIG welding sheet metal, like a downsloping adjustment, but there are no upsloping or pulse arc functions.
We don't recommend this as the best sheet metal welder. However, it's a low price, and if you're just getting started, the functions are simple to learn in making it a good beginner welder.
Pros
AC/DC
Includes foot pedal
High-frequency start
Down-slope dial
Beginner TIG welder
Cons
No pulse arc capabilities
Few welder adjustments
Foot pedal isn't the best
No finger switch
---
Buyer's Guide: How To Select The Best Welder For Sheet Metal
Before diving in to buy a welder for sheet metal, there are a few considerations to work through which will make a big difference in what welder suits you best. Every person has different preferences, and there is a range of different strengths each person looks for in a range. These three fundamental points illustrate what to start considering before you buy.
Your Experience
It's helpful to consider realistically what welding experience you've had, so you can choose the best machine for your ability. Welding to your highest capability and becoming a better welder often comes through welding on the most suitable machine.
Some machines have so few settings that they give you minimal options to adjust the welder according to your project's requirements and few options to learn different functions. Others are made for experienced welders, and someone learning will struggle to use these for effective welding.
Taking an honest look into your experience, and knowing the kind of welder that suits your current stage and goals for the future, will help you decide what kind of welder will be the most beneficial to buy.
Your Projects
Once you have a realistic grasp of your ability, know what specific sheet metal projects you will be welding. It's most common to TIG weld sheet metal projects, but there are times where it's more economical to MIG weld a project. If you were to buy a sole purpose TIG welder, you might be cutting yourself short.
Most stainless steel tanks and neat sheet welds are best with fine, strong, and easy-to-seal TIG welds. A MIG welder won't give you the required finish nor seal security that's necessary, but if you're welding steel sheet metal that has a coating or doesn't require a fine decorative finish, a MIG welder is most economical.
Projects like automotive repairs, shrouds, and guards usually require a mixture of both TIG and MIG welds, depending on the specific project. Having a multi-process welder is useful to give you diversity in one machine to complete the job most effectively.
Your Budget
Your budget will have a big effect on the welder you'll consider buying, as you generally can't buy outside your budget range. Almost all decent welders once came with an expensive price tag, but this isn't so much the case anymore. There are now many more lower-priced machines coming into the market and giving the higher-priced machines a run for their money.
There are some high-end machines that are incomparable to a low-priced machine, but many low-priced options are an excellent buy, especially for hobby use or as a light workshop machine. However, some low-priced welders are a waste of money, so don't go rushing in to buy solely based on the price.
Conclusion
There are some excellent sheet metal welders available, and our five reviews are based on the best welding machines for your money available online. The best TIG machine for sheet metal welding is the PRIMEWELD TIG225X 225 Amp IGBT AC/DC TIG Welder. It's capable of welding at very low amps for fine welding and has a broad range of settings, so you can create the best welds for each type of sheet joint. This machine is comparable to TIG machines twice its price, and we highly recommend it.
The Hobart 500559 Handler 140 MIG Welder 115V is on the opposite end of the scale with few options to adjust the settings, but it's a quality and affordable machine that is ideal for any sheet metal job. This is, in our opinion, the best sheet metal welder for your money.
The Weldpro 200 Amp Inverter Multi-Process Welder is the best machine for automotive sheet metal welding. It's as good TIG welding as it is MIG welding and gives you the diversity automotive projects require.
We hope these reviews have been helpful to you. Feel free to leave us any comments or questions below.