6 Best 120v Welder (MIG, TIG, Stick) – Top Picks 2023
Last Updated on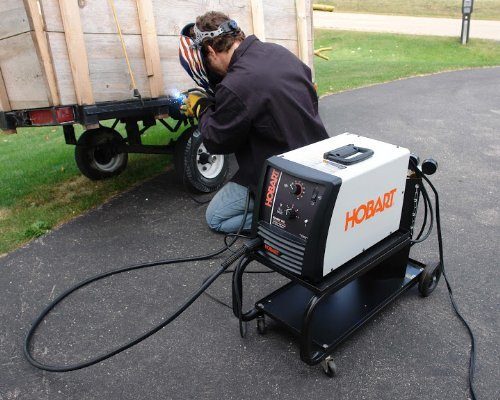 When you have a welding problem, and no else can help, and if you can find it, maybe you can buy the best 120V welder. The problem with welders, however, is not in finding them – that's the easy part.
The problem is that there are so many options to choose from that narrowing them down becomes difficult. That's why we decided to all the hard work with our reviews of the best 120V welders.
We have gone through and chosen the best options in each category so that you can make an informed decision without needing to wade through thousands of reviews.
---
A Comparison of Our Favorites of 2023
Image
Product
Details

Best Overall

Hobart Handler 140 MIG

Portable and does not weight much
Top-notch workmanship
Made from start to finish in the State
CHECK PRICE

ARKSEN MIG-130

Good price
Compact
Air-vents for temperature regulation
CHECK PRICE

LOTOS Technology TIG140

Can work on a range of materials
Has dual frequency and dual voltage
Pigtail and Argon adaptor included
CHECK PRICE

EVERLAST PowerARC

Lightweight
Easy to operate
Excellent results
CHECK PRICE

Alpha-TIG200X

High-quality
It has a foot pedal control
Use for steel or aluminum
CHECK PRICE
The 6 Best 120V Welders (MIG, TIG & Stick)
1. Hobart Handler 140 MIG Welder – Best Overall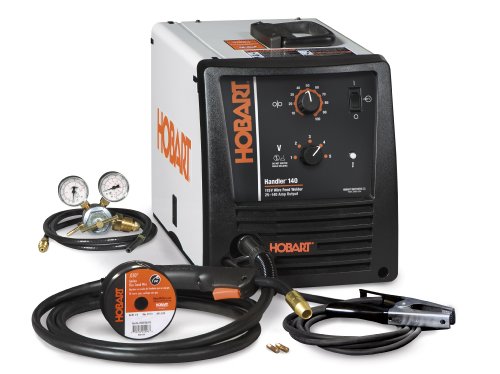 Hobart has been a well-trusted brand in the industry for many years now. That's why we can recommend this model with confidence and put it at the top of the list.
The welders are designed and made in the States and undergo rigorous quality control tests. Also, the company offers its stand five-year guarantee for these machines.
The welder is a good starter model but can also be used for more complex projects. So, it is an excellent fit whether you are welding two sheets of metal together or doing bodywork on your car.
This model will also make it possible to work on commercial projects. The five-setting voltage control selector helps you set the perfect range, and the extremely high-quality work clamp will last for a very long time.
You can weld using a minimum of 24-gauge wire to a maximum of ¼-inch wire. Mild steel is recommended.
On the downside with this model is that it must be used with mains electricity and cannot be hooked up to a generator.
Pros
Portable and does not weight much
Top-notch workmanship
Five-year warranty
Made from start to finish in the State
Cons
The price is slightly higher
Cannot hook up to a generator
---
2. ARKSEN MIG-130 120V Welder Machine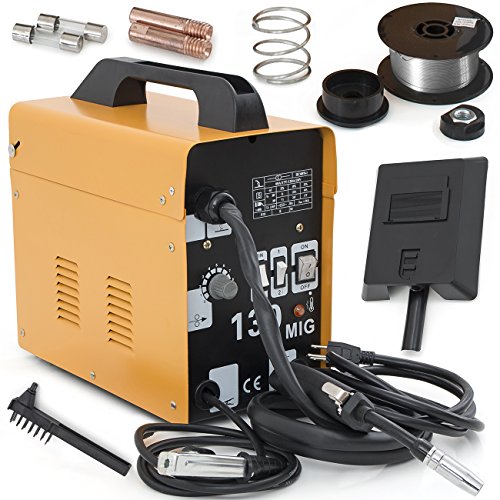 If you are looking for something compact and that offers a lot of range when it comes to wire feeding speed, this could be the option for you. This Arksen is a good model but came in second on our list because of the returns policy.
You can return this for a full refund, but you will have to handle the shipping costs yourself.
What is great is that the machine cover is stainless steel and compactly designed – you can fit this welder and your car into the garage. (Assuming that you use the garage for parking your car.) Or, you can take it to where you need it to be.
It runs on mains power easily. It is better suited to projects using thinner metal and works extremely well with these.
The body features air-vents to ensure that heat can dissipate safely. The welding gun features safety controls. There are a welding mask and brush included but these are not all that great so do expect to have to buy new ones. The overall price of this machine is quite reasonable.
Pros
Good price
Compact
Air-vents for temperature regulation
Cons
Better suited to smaller projects with thinner materials
Returns policy could be better
---
3. LOTOS Technology TIG140 Welder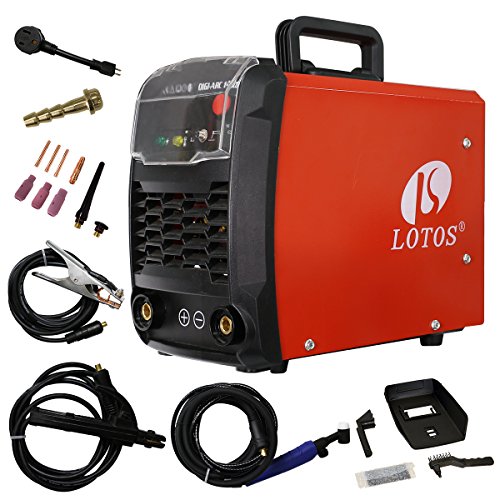 This model is more in the mid-range pricing, but it is worth paying a little extra considering the features of this machine. This is our top choice in this category because it is completely portable but still very powerful.
It weighs under 12 lbs. but do not let that fool you – this model is no pushover. It is versatile, allowing you to work with copper, ferrous or stainless steel and many other metals besides.
It has a dual voltage capacity of 110V/ 220V and a dual-frequency capacity of 50/60 Hz. You can either run it directly off 220V power or use a pigtail to run it off 110V power.
This makes this model a lot more versatile.
The leads provided might seem a little short, but you can easily and inexpensively replace these at your local hardware store.
Overall, not all machines allow you to work on such a varied range of metals. The overall versatility of this piece earns it a top spot.
Pros
Can work on a range of materials
Has dual frequency and dual voltage
Pigtail and Argon adaptor included
Lightweight
Cons
Mid-range pricing
Leads might be a little short
---
4. EVERLAST PowerARC 120V Welder
This comes in as a second option because of the price. This is one of the more expensive options that we have reviewed here.
It is a good choice in that it creates an arc that is stable and smooth. The duty cycle is 35%, and the machine is energy-efficient. It is completely portable and has an auto hot start function that reduces the chances of the electrode's sticking.
The display is digital, making it easy to see the figures and simpler to choose the right settings time and time again.
The Adaptive Arc force control feature is extremely useful. You have a lot of versatility when it comes to the materials you can use. Use the DC TIG setting for when you want to weld steel and stainless steel.
Another unique feature is that the handle of the torch has a manual gas valve built into it. This model features a dual voltage setting.
Pros
Lightweight
Easy to operate
Excellent results
---
5. Alpha-TIG200X Stick Welder
This is our number one pick for stick welders. It comes out on top because it has a foot control pedal and because of the company's limited three-year warranty.
This AlphaTIG model released in 2018 looks similar to previous models – why mess with a good design? It does, however, boast an AC frequency of 200HRTZ. It also has a brand-new torch design. It makes use of pulse width modulation and invertor tech.
It has a dual voltage capacity meaning that it can be run from standard household electricity or a generator as you choose.
You can weld aluminum, steel, and stainless steel. It should be said, however, that the option is better suited for thinner sheets of metal.
Pros
High-quality
It has a foot pedal control
HF start tig
Use for steel or aluminum
3-year warranty
Cons
Higher price
Less versatile
Hard to figure out at first
---
6. Forney Easy Weld 298 Stick-Welder
This makes use of an inverter power system. It is a great machine if you are just starting and will enable you to complete a range of different projects. It came second on the list because of the six-month limited warranty.
The inverter system is capable of an output of 120V. You can use a range of wires, from 16-gauge to 5/16-inch thickness. You can also use electrode sticks of 1/8-inch.
On the upside. Forney Industries is an established brand in the industry, and they offer excellent customer service and aftersales service. The company is very responsive to questions.
Compatible with a TIG system but you will need to acquire that separately.
It does feature shielding so that you do not need to use gas with it. It does create a smooth arc and will weld in a range of different positions.
It comes in at a reasonable price and is a good machine to learn on.
Pros
Good price
No need for gas
Versatility in terms of welding positions
Cons
Leads may be a little short
The warranty could be better
---
Buying Guide: How to Choose the Best 120v Welder
When it comes to a 120V welder, what features should you be on the lookout for? Let's go through what you need to understand.
The Voltage
The voltage of the welder will determine what kinds of materials you can weld and how good the joins will be.
To get the arc started requires a fair amount of power and to melt stronger or thicker materials, you will need to have a lot of power.
So, if you are looking to do some simple projects around the home, a smaller voltage welder would work fine.
If, on the other hand, you want to work on larger projects, you will want a welder with a higher voltage output.
To Carry or Not to Carry
Where are you planning on using the welding machine? Is it going to live in your garage, and only used there? Then portability is not all that important to you. If, on the other hand, you will be lugging it around with you to jobs offsite, you will want something fairly easy to carry.
There is just one thing here – you will have to choose between portability and the highest power output. While you get portable machines that are pretty powerful, they will never quite match up to those heavy old standard options.
The Duty Cycle
When you are welding, how large are the projects likely to be? Because of the power coursing through them, welding machines will overheat at some stage, and you will need to stop working to allow the machine to cool off.
If you do not, you run the risk of blowing the machine. This can, however, be annoying, if you are only half-way through your join.
Check out the duty cycle of the machine to see how long you will be able to use it before you have to stop.
Safety Features
Working with melted metal is dangerous, and all that electricity is dangerous. It is better to look for a machine that will cut out automatically when it begins to overheat. When looking at a machine, it is important to also look at reviews of its performance.
Low-quality machines may end up producing uneven arcs that cause a lot of metal to splatter. That is why it is not always wise to go for the cheapest of the cheap options here.
Wire-Feed Speed
If you are a beginner, look for a machine that allows you to vary the wire-feed speed or one with a slower feed speed. The faster the wire feeds through, the faster you will need to act. It makes accuracy very difficult if the speed is set too fast for you to handle.
---
Conclusion
There you have it, a comprehensive breakdown of the best 120v welders all wrapped up with a neat bow. We hope that you have found these reviews of the best 120V welders useful and that they have helped you find the right option for you.
If we had to choose just one of the above options, top honors would have to go to the Alpha-TIG200X-2018. It is not the easiest option to figure out at first, but the higher level of control that you get with this model because of the foot pedal makes it worth learning.
It also has one of the best warranties of all the options –second only to the Hobart 500559 Handler 140 MIG.
Any of the options that we reviewed will be a good choice, but the Alpha-TIG is the best of the lot.
Also worth checking out: