7 Best 110v Welders (MIG, TIG, Stick) – Top Picks 2023
Last Updated on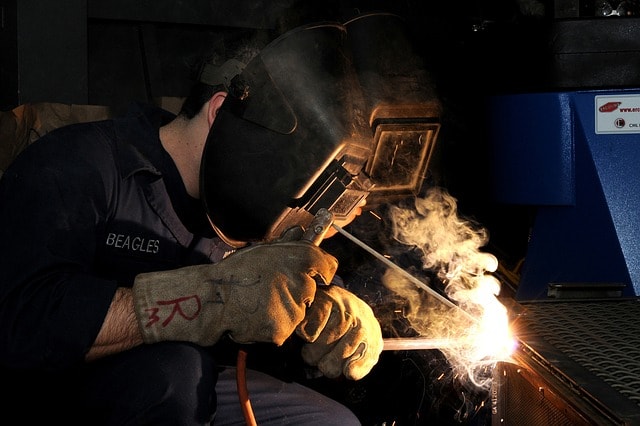 110-volt welders are handy machines for doing basic welding work with light to medium gauge metal sections. They're not as common to find, and it's much harder to find brands that make them well enough to provide consistent quality welds. But when you do, they're a valuable machine to consider and incomparable in the right circumstances.
We've done extensive work gathering the best 110-volt welders in the market to save you the time and energy it takes searching through them all. Our reviews are based on hundreds of first-hand experiences that show why each machine is worth considering.
TIG welders are less common to find running exclusively off 110 volts, but we have a range of MIG, TIG, stick, and multi-process welders, which all do a great job for hobbyist and light workshop use.
---
A Quick Glance at our Favorites for 2023:
Image
Product
Details

Best Overall

Forney Easy Weld 271

Low price
High quality
Simple manual to follow
CHECK PRICE

Hobart Handler 140

Low price
Low amperage capability
Top-quality machine
CHECK PRICE

Best Value

Forney Easy Weld 298 Arc

Low price
Simple to use
Quality machine
CHECK PRICE

Weldpro Digital TIG200GD

Good 110-volt TIG welding
Simple to start an arc
Well-designed foot pedal
CHECK PRICE

LotosLotos MIG140

Affordable
Many setting adjustments
Aluminum welding capabilities
CHECK PRICE
The 7 Best 110v Welders:
1. Forney Easy Weld 271 110v MIG Welder – Best Overall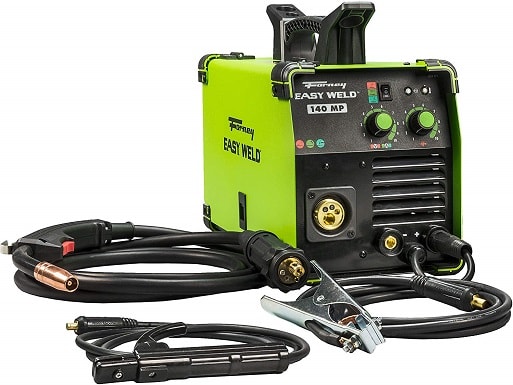 The overall best 110-volt welder is the Forney Easy Weld MIG welder 271. While it doesn't have the same capability as a machine with 240-volt input capacity, it's used in many workshops as a dependable light gauge welder. You can MIG, stick, and TIG weld with it, which is really handy if you need diversity in your welding. You also don't lose the reliability that most sole-purpose machines offer in a singular discipline.
The Forney Easy Weld 271 has been designed primarily as a MIG machine and unfortunately doesn't include a TIG torch. But it fits standard TIG torch connectors, and it doesn't cost much to buy a decent torch to go with it.
You will want weld plates up to ¼-inch thick and no more unless you're welding multiple passes. Unlike many other welding machines, regardless of your welding ability, this machine caters to the masses. It's easy for beginners to learn on and has one of the best instruction manuals on the market. Many welding manuals are difficult to understand, especially with welders running off 110 volts. But this is definitely an exception. It's also an ideal machine if you're an experienced welder and want a low-priced versatile machine for light work.
In conclusion, we highly recommend this welder due to its extensive capability, ease of use, and affordability. It's a shame it doesn't come with a TIG torch, but considering there are very few exclusively 110-volt TIG machines, it's a bonus that this has TIG capability if you're willing to spend a little extra on a separate torch.
Pros
Low price
MIG, TIG, and stick capability
Designed for hobbyist and workshop use
High quality
Simple manual to follow
---
2. Hobart Handler 140 110v MIG Welder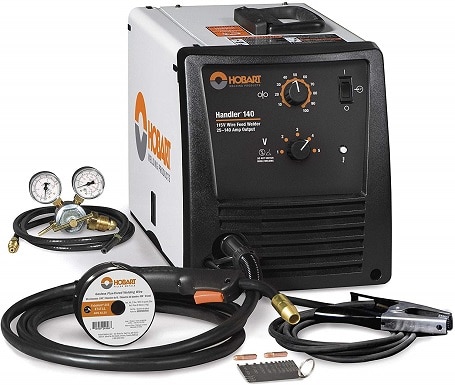 If you need a 110-volt MIG welder, then Hobart's 500559 Handler 140 MIG Welder is a machine many depend on for their light-duty MIG jobs. It's one of the best 110-volt welder machines on the market and displays Hobart's trustworthy name through its excellent construction.
It isn't a complex machine with vast capabilities, but it MIG welds up to ¼-inch of mild steel with ease and is incredibly simple to use. Someone with only basic welding knowledge can set it up and have it running in no time.
The Hobart 500559 runs a high-quality bead, and it doesn't produce excessive spatter like many 110-volt MIG machines. It fires a smooth, stable arc that makes welding consistent runs a breeze. Also, if you need to minimize the amperage low enough to MIG weld light sheet metal butt joints, it will do so comfortably without blowing through the sheet like a tidy TIG welder.
If you're looking for diversity or want extensive MIG settings for your welder, then this probably isn't the best welder for you. But for a basic, yet high-quality machine, this will serve you well. However, bear in mind that the supplemental welding chart is not very accurate, so you'll fare better with some knowledge of setting adjustments, or at least be comfortable playing with trial and error to produce the best welds. There are only two setting dials to adjust, which are not difficult to learn, but you can't rely on the chart for accuracy.
Pros
Low price
Low amperage capability
Simple to use
Top-quality machine
Dependable welder
Cons
Welding chart not accurate
---
3. Forney Easy Weld 298 Arc Welder – Best Value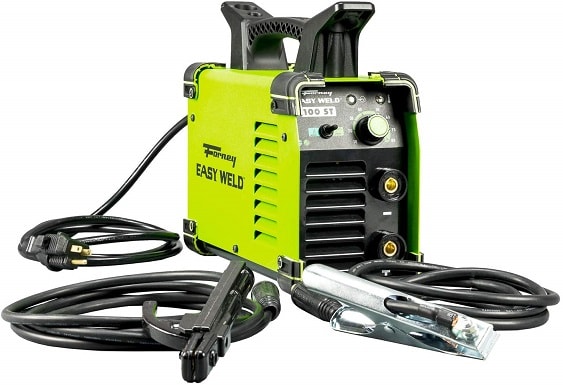 The Forney Easy Weld 298 90-amp Arc Welder is the best choice if you're on a low budget but still want a decent stick welder for light welding. It's not designed for workshop use, but if you don't need more than ninety amps to work with, it will serve any hobbyist well.
You also want to use rods ⅛-inch in diameter or smaller as it won't weld with anything bigger. Needing to keep within these parameters is really the only downside to owning it. But if you keep within its limitations, it's an excellent little welder to get household jobs done on.
The 298 is a light, portable machine that can be carried easily into any spot you need to weld. There's a good range of adjustment for light welding, and it's got excellent safety features similar to a bigger, more elite stick welder. This machine provides excellent bang for your buck, and we highly recommend it.
Pros
Low price
Simple to use
Quality machine
Portable
---
4. Weldpro Digital TIG200GD 110 volts TIG/Stick Welder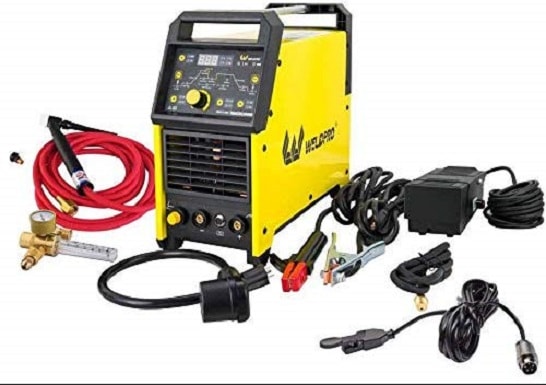 If you're a TIG welder who doesn't have access to a 240-volt wall plug, we recommend the Weldpro Digital TIG200GD TIG Welder. It has the highest amperage range in our list of machines and does a good job with 110 volts. However, adding a 30-amp breaker will help you reach more amperage without issues.
Out of all the types of electric welders, TIG machines struggle the most off of 110 volts, so it's recommended to only weld thin sections and not expect too much out of the machine. But this can still weld most metals, including stainless steel and aluminum from 110 volts.
The Weldpro comes with one of the best stock foot pedals on the market. Most TIG machines don't include pedals that work well, but this is exceptional. However, using it as a stick welder won't produce the same results as other options, so we recommend looking elsewhere unless you only need to TIG with it.
Overall, if you need to TIG weld with 110 volts, we can't recommend a better welder than this. It's easy to use, comes with extensive settings and welding diversity. It's a reliable welder for the hobbyist and workshop welder alike, and we're sure it won't let you down for TIG welding.
Pros
Good 110-volt TIG welding
Simple to start an arc
Well-designed foot pedal
High amperage
Cons
Poor stick welding ability
---
5. Lotos MIG140 MIG Welder
The Lotos MIG140 MIG Welder is a favorite for many with its excellent performance running off low voltage. It's a simple machine to set up, and you don't need to know much about welding to use it.
It's an excellent choice for beginner welders or hobbyists, but it's a little light duty for workshop use unless you need a light, on-site welder. The Lotos MIG140 MIG Welder comes with a 2T/4T switch that enables you to choose between manual and automatic feeding of your MIG or flux wire.
This machine also comes with aluminum welding capabilities if you need to expand your work, but it requires a separate aluminum spindle feeder purchased for the best performance. Although it's a MIG welder, it's designed for flux welding too, making it an affordable machine that doesn't require the cost and hassle of using gas.
The Lotos isn't as low-priced as some of the other welders in our reviews, but it's not far off and gives you good options for its price. However, make sure you learn about setting up and using welders from somewhere other than the instruction manual as it's not very useful, and there is no welding chart to follow for dialing the best settings.
Pros
Affordable
Many setting adjustments
Aluminum welding capabilities
Easy to use
Cons
Poor instruction manual
Has no welding chart
---
6. AUTOOL Portable Arc Inverter Welder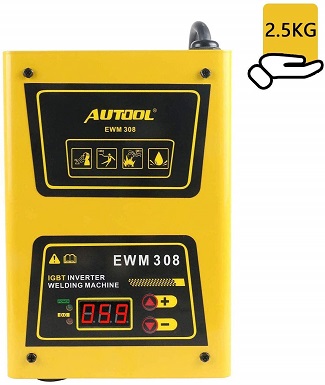 The AUTOOL Portable Arc Inverter Welder is a great little stick welder if you're just starting out, or if you need to save cash but still want something reasonable to work with. It's definitely not the best machine out there, but there isn't much wrong with it either. Simply switch it on, set your earth and amperage, and you're away.
Along with the digital welder, it comes with a few rods, a handy carry strap, and a budget face shield that should be replaced. While having so few settings in a welder like this isn't ideal for some people, it can be refreshing not needing to worry about so many welder adjustments; especially when you're learning.
The leads are surprisingly good quality, and it's so lightweight you can literally hold it in one hand while welding with the other. So long as you're wearing a proper helmet, not the handheld shield it comes with. Overall you don't get much with this machine, but you don't pay much either, and there really isn't anything wrong with it for a light stick welder.
Pros
Low price
Digital screen
Simple to use
---
7. VIVOHOME Flux Core Wire MIG 130 Welder
Last on our list is the VIVOHOME 130 Flux Core Welder. Again, it's a good choice if you're on a low budget and don't mind something more basic to use. However, it's not the safest and most user-friendly welder available, but you most likely won't find anything costing you less money than this.
Once you turn the machine on, the wire is constantly live whether you engage the wire or not by the gun trigger. So you need to be careful not to ignite the arc accidentally as any metal connected to your earth that touches your wire or tip will arc whether you are holding the gun or not. You can easily get used to this, but it's not the best feature basic welders like this have.
The amperage range is pretty good for what it's designed for, and you don't need to worry about setting up gas lines as it only runs flux-core wire. The short gun lead is also hardwired in, so you're a little bit restricted if you want to expand your reach or change the welding gun.
However, it's one of the most economical welders on the market and does perform well when your welding. For a budget, 110-volt welder; it's a good choice to consider if you want to save some cash.
Pros
Low price
Good amperage range
Economical
Cons
Light-duty
The wire is always live when machines on
Not the most user-friendly
---
Final Verdict:
We hope these reviews have been helpful to you. It's not an exhaustive list, but these are six worthy 110-volt welders to consider. Our favorite among the lot is the Forney Easy Weld 271 140 MP MIG Welder. There isn't much that it doesn't offer, considering it runs off 110 volts and is so affordable. It performs exceptionally well as a MIG, TIG, and stick welder; but remember, you need to buy a separate TIG torch if you want to do TIG welding.
You can also save yourself some money with the Forney Easy Weld 298 90-Amp Arc Welder. It only stick welds, but you pay very little for it, and it stick welds like a big machine, only it runs off 110 volts.
Thanks for reading through these reviews. Let us know what you found helpful, and what welder you ended up going with.
Related pages:
---
Featured image credit: skeeze, Pixabay