How Much Does Welding School Cost in Canada? (2023 Update)
Last Updated on
Are you considering a career in welding? Or are you interested in learning more about apprenticeship programs in Canada? If yes, understanding how much welding schools in Canada cost is an excellent start.
Apart from the good pay, welding is an exciting and fulfilling career. But you have to attend welding school first to become a certified welder in any country.
In this article, we look at the cost of welding school in Canada, and other related questions concerning the course. Keep reading to learn more.
---
Why Do You Need to Go to Welding School?
In order to do something, you need to learn how it's done. The same applies to many careers, especially the technical ones such as welding. You will either go to welding school or perhaps learn through apprenticeship.
Below are some benefits of studying welding in Canada:
Numerous Welding Job Opportunities
There's a growing demand for welders in the Canadian job market today due to increased construction work across Canada. But you cannot just be employed without knowledge. Thus, you will need to attend welding school, preferably in the country.
Even with the numerous job opportunities, it might prove a little difficult to land a job if you haven't trained for it, which makes it important to study the course first.
Certified Welders Earn More
Qualifications affect how much salary you earn. You can become a certified welder by attending welding school, after which you stand to earn a higher salary than the regular welder without certification.
Opportunity to Advance
Besides becoming a certified welder, there are many chances to advance your welding career. You can become an underwater welder, welding inspector, or supervisor. All this will be achieved through a welding school.
A Feeling of Pride
There is an unexplained feeling of being professional at what you do, having successfully completed your course. That gives you a feeling of accomplishment and pride.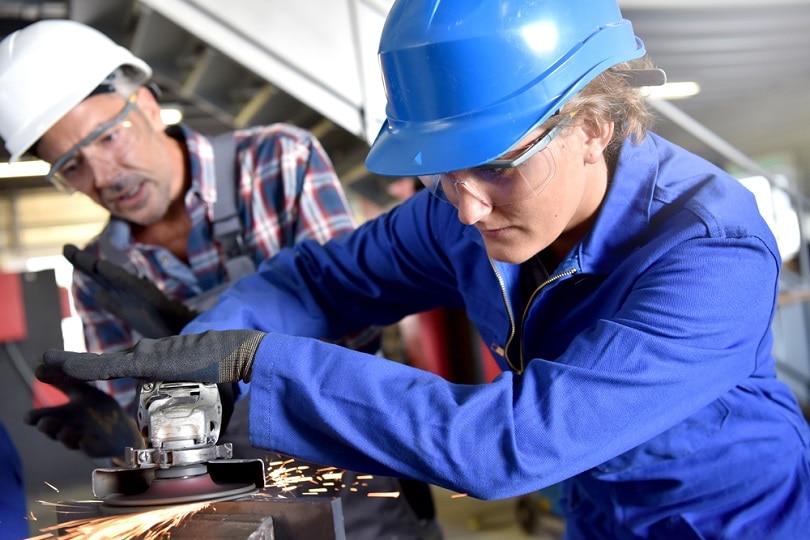 How Much Does Welding School in Canada Cost?
Welding is one of the most helpful skills a person can learn. You can work in many industries and become a valuable asset to any company with welding skills. If you want to pursue this career path, you must complete a welding training program. The cost of welding school in Canada depends on the chosen program and where you live. Nonetheless, below is a breakdown of the associated costs.
Tuition Fees
The average tuition for a welding certificate program is about $1,141.84. If you want to study a diploma program in welding, you'll pay a tuition fee of 3,620 Canadian dollars.
The welding undergraduate program is the most expensive, costing 4,850 Canadian dollars.
These tuition fees don't include other costs such as books, supplies, and living expenses such as housing and utilities.
Here's a summarized welding school cost for tuition in Canada.
| | | |
| --- | --- | --- |
| Welding Program | Tuition Fee | Duration |
| Welding Certificate Program | $1,141.84 | One Term |
| Diploma Program in Welding | $3,620 | One Term |
| Undergraduate Program in Welding | $4,850 | One Term |
Extra Costs to Expect
Application Fee
Application fees vary from school to school. Some schools need more than one fee, while others may have only one. It covers the cost incurred by the school when processing your application and other paperwork. It ranges from $25 to $125. This fee is non-refundable.
Ancillary Fees
These are fees not related to your education but required by law or the institution itself. For example, if you need any materials or tools for the welding program, they'll be covered under this category of expenses.
Ancillary fees differ from one welding school to another. You can expect to pay between $1,000 and $1,300.
Books and Materials
Many schools will also need you to buy their books and study materials before starting class. So, keep this in mind when calculating your overall costs before enrolling in a program at a welding school. Books and materials may cost you around 1,050 Canadian dollars.
Testing Fees
If you want to get certified as a welder, you must pass the test that proves your knowledge and skills. This process is called certification testing. It's a necessary part of being an expert in welding. The cost for this test varies from school to school, but it's usually around $150.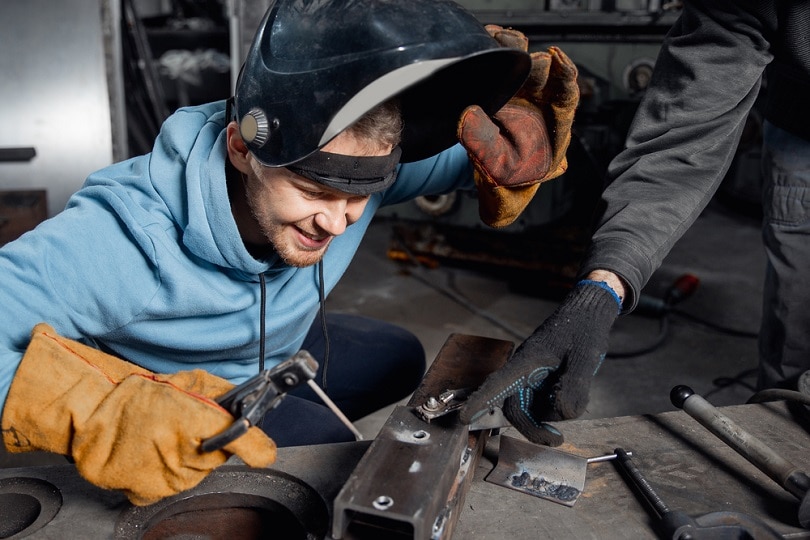 Factors Affecting the Cost of Welding Schools in Canada
Welding school costs vary from one institution to another. Generally, here are several factors that will influence it:
The Location of the School
The cost of welding school can vary depending on its location. For example, you may choose an out-of-province school; it'll be more expensive than a local college.
Your Chosen Program
If you want to become a certified welder, it'll be cheaper than pursuing an undergraduate degree. It's because there are fewer hours required for certification than in an undergraduate degree program.
Many people still choose to pursue an undergraduate degree because it gives more options for future careers after graduation.
The Length of Your Program
Usually, a long welding program means more hours spent in class. It also means more money spent on tuition fees and related costs such as books and other materials.
On the other hand, taking longer may allow you to gain more skills. Also, you'll increase your earning potential once you graduate from school and start working.
School Type
There are two types of welding schools in Canada (community colleges and technical institutes). Both offer excellent training programs, but there's a difference between the two in terms of costs and offerings. Community colleges are cheaper than technical institutes but may not have similar programs.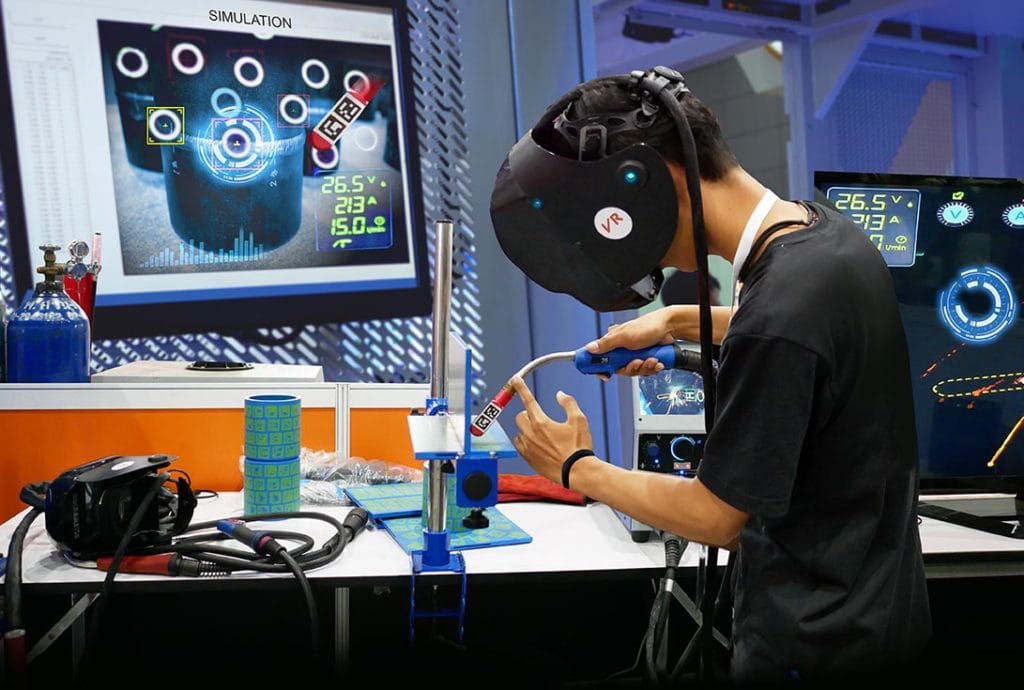 Are There Scholarships in Canadian Welding Schools?
Yes, there are scholarships available to those who wish to study welding. The most common type of scholarship is a merit-based one that depends on a student's academic performance. Usually, the government or organizations give out these scholarships.
The Canadian Welding Bureau (CWB) is the most common organization. It awards scholarships every year to students interested in welding. Also, it's ideal if you have completed training at an accredited college or university program and have not yet been certified.
How Long Are Welding Courses in Canadian Schools?
The time taken to become a welder in Canada varies from school to school, program to program and the type of welding you want to pursue. For example, a one-year certificate program provides students with an entry-level skill set involving welding theory and basics. It gives them the skills needed to start working.
On the other hand, a two-year diploma program provides students with more advanced skills and welding knowledge.
A bachelor's degree in welding takes the longest time to complete. Usually, it takes four years. After this, students can receive apprenticeships or on-the-job training for a couple of years.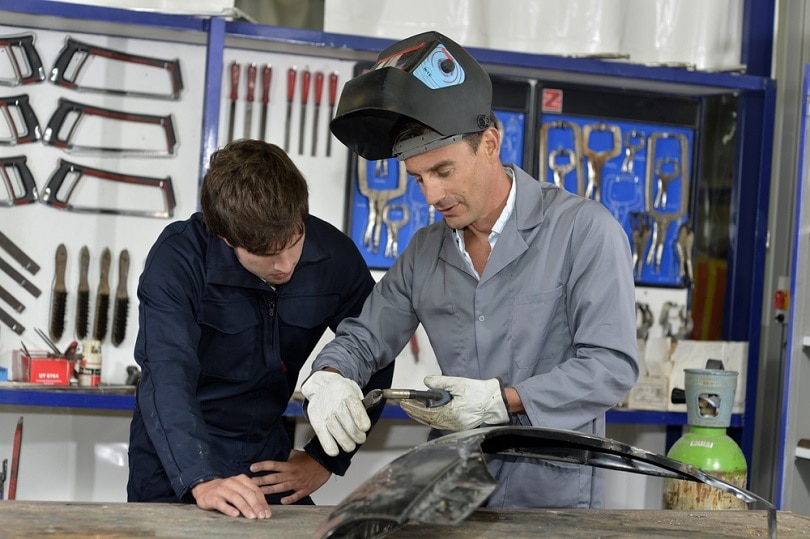 How to Become a Certified Welder in Canada
Have you ever thought of becoming a certified welder but don't know what to do? Well, let's cut right to it.
Here's how to become a qualified welder in Canada.
Attend Welding School
The first step toward becoming a certified welder is to attend welding school. Welding schools offer courses to teach you the basics of welding. They also teach you advanced techniques and prepare you for certification exams.
The time taken to complete these courses depends on your skill level and what type of welding certification you're seeking.
Most students need at least 12 months from start to finish before graduating from a welding school. After one year in welding school, you'll get certification from the Canadian Welding Bureau (CWB).
Apprenticeship Training
The most common way of becoming a certified welder is through an apprenticeship program. Apprenticeships can vary depending on the type of work you want to do. You may spend time working with seasoned welders in the field or a classroom learning theory and safety procedures. In some cases, both aspects are involved.
During an apprenticeship program, you'll learn to use various equipment and materials. You'll also gain hands-on experience.
Classroom learning and on-the-job training is the ideal learning environment if you're interested in pursuing a career as a certified welder.
Journeyman/woman Certification
You can apply for journeyman certification if you want to work within the welding industry. To become a certified journeyman welder, you must complete an apprenticeship program and pass an exam that tests your skills and knowledge base on all aspects of welding technology and metallurgy.
Additionally, you can qualify for a Red Seal endorsement. With this, you can travel anywhere in Canada, and your skills will be recognized automatically.
---
Final Thoughts
Welding is a rewarding and lucrative field. It's no wonder many people are flocking to welding schools. Not only does the demand for welders outweigh the supply, but there are plenty of opportunities for them as well.
By attending a solid vocational college or technical training center, you can refine your skills. You'll also gain the knowledge needed to begin a successful career as a welder.
Hopefully, this guide has educated you about what Canada offers for people who want to pursue a career in welding as well as the cost to get started.
---
Featured Image Credit: goodluz, Shutterstock