4 Best Underwater Welding Schools in Canada (2023 Guide)
Last Updated on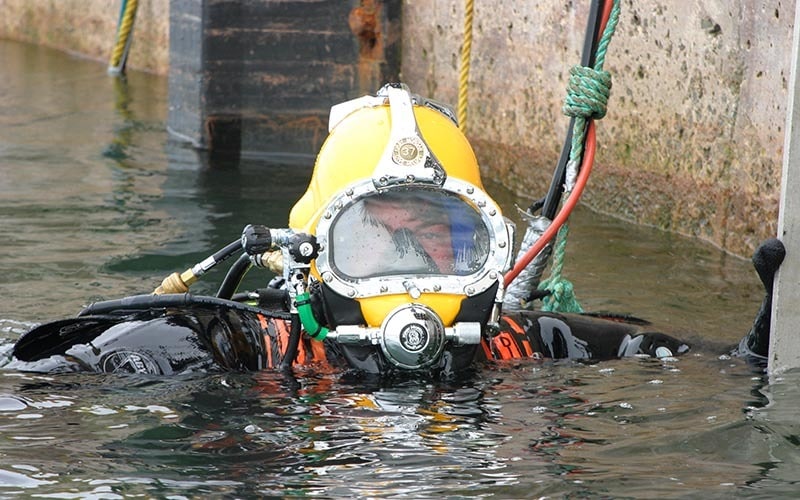 In Canada, your diving options come from four major underwater welding schools. These provide the best options for restricted and unrestricted diving around the world. Each school also provides certification that's recognized worldwide through the Diver Certification Board of Canada (DCBC). Their organization oversees much of the occupational diving industry at home and abroad. They issue certificates in SCUBA, surface supplied and closed bell diving.
For all welder-divers considering training, these top four schools will give you the best bang for your buck. As you're researching which of the underwater welding schools in Canada give you the most value, remember these five areas to base your decision on:
School Area
Time in Program
Instructors
Cost
Certifications
Canada Underwater Welding Schools: Fresh Lakes & Clean Air
1. Divesafe International
Location: Campbell River, CA
On the west side of Canada, Divesafe International (DI) provides every sort of underwater construction training, from bridgework to inspections, burning and welding. Its riverside location is perfect to allow for a more realistic inland underwater welding experience.
DI's commercial diving courses include NITROX and SCUBA. It offers certification for restricted surface supply diving (sorry offshore underwater welders). Many divers come for here for recreational diving and certification in first aid as well.
Courses run often – sometimes as much as five times per year.
Students train on the Coast Marina area beside the river. DI's three water vessels allow divers to take the plunge directly into the harbor water below.
DI owns a guest house that provides accommodations for interested students. It's close to the school. There's also other housing options for students nearby. Like most underwater welding schools, DI requires students to purchase their own diving equipment, including a drysuit.
---
2. Canadian Working Divers Institute
Location: Buckhorn, CA
Beginning in 1993, the Canadian Working Divers Institute (CWDI) provides a strong program for divers. Its training is about 50% classroom learning and studying and 50% application.
Application at CWDI takes students inside a realistic training facility, working with diving equipment, operating inside hyperbaric chambers and inspecting hydraulic control dams. It has approximately 10 acres of land. The nearby Lake Borden goes down to a depth of over 50 meters for realistic training.
School schedules and training is intensive, but graduates receive certification recognized by major maritime organizations like the DCBC, Health & Safety Executive (HSE) and International Marine Contractors Association (IMCA). Other certifications received include the Restricted Radio Operator and Occupational Riggers certification.
Instructors at CWDI facilitate learning in and outside the classroom. They also are available for private tutoring. Their one-on-one aid helps students troubleshoot and keep up with their studies from week to week. Curriculum includes topics like oilfield diving, pipeline cutting and welding and explosives.
---
3. Seneca College
Location: King City, CA
On King Campus, Seneca College's "Underwater Skills" program teaches students the fundamentals of commercial diving. As with all underwater welding schools in Canada, they have some prerequisites:
SCUBA diving certification (recreational with at least 20 logged dives)
Beginning in early fall, you'll study topics like underwater inspection, offshore repairs and welding. Training takes place inside and outside in various bodies of water. King Campus has its own dive tank for training the next generation of underwater welders.
Upon program completion, graduates will receive certification recognized by the DCBC, IMCA and American Welding Society (AWS). Seneca College has several financial aid options.
---
4. Holland College
Location: Summerside, CA
Here in Prince Edward Island province, newcomers can begin at the Holland College's facility: the Marine Training Centre. Students are given the tools they need to succeed as welder-divers. The costs of the program incorporates your equipment, tuition, health insurance, books, and other materials.
Certification is recognized by IMCA and HSE, among others. You'll also receive certification in unrestricted surface-supplied diving, allowing you to perform underwater welding and other commercial diving tasks in most places around the world.
Some training modules include wet bell system training (10 days), along with saturation diving in Bedford Basin, in Halifax Nova Scotia. Students receive all the standard preparation through underwater welding equipment maintenance, safety, process and offshore industry work.
Holland College also has several other options for students looking into programs here, including the Open Academic Studies program.
---
Preference Between Underwater Welding Schools in Canada
Which of these underwater welding schools in Canada tops your priorities among these four heavyweights? Do you prefer inland diving with a restricted license, or do you want to weld underwater abroad with an unrestricted certification?
---
Featured image credit: Holland College