5 Best Plasma Cutters with Built in Air Compressors 2023
Last Updated on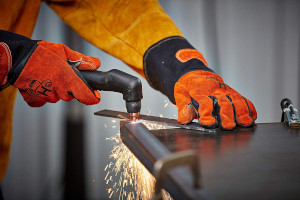 Since plasma's discovery in 1879, to the first plasma cutter being created from a WW2 plasma welder in the 1950s, modifications have been multiplying to create faster, more powerful, and more efficient machines.
One of those brilliant adaptations is the built-in air compressor. This sounds easy enough, but creating it while maintaining the size, quality, and price is what's revolutionary about it.
The following reviews are of our five favorite plasma cutters available online. We have done our best to paint the full picture of what's good and bad about them to assist you in your journey to find what you're looking for.
We hope you enjoy it. If you need further help, feel free to send us a message in our comment section, and we will do our best to help you out.
Comparison of Our Favorite Picks for 2023
Image
Product
Details

Best Overall

Hypertherm Powermax 30

Price range: medium
Drag-cutting technology
Three-year warranty
CHECK PRICE

Hobart Airforce 12ci with Air-Compressor

Price range: low
High-quality parts
Five-year warranty
CHECK PRICE

Best Value

Mophorn 40 Amp with Built-in Air Compressor

Price range: low
Output range: 20 to 40 amps
One-year warranty
CHECK PRICE

Thermal Arc 1-1110-1

Price range: medium
Torch lead: 20 feet
One-year warranty
CHECK PRICE

Forney 317 250 P+ With Built In Air Compressor

Price range: budget
Torch lead: 15'
5/3/1-year warranty
CHECK PRICE
The 5 Best Plasma Cutters with Built-in Air Compressors
1. Hypertherm Powermax 30 Plasma Cutter – Best Overall
The Hypertherm Powermax 30 plasma cutter is an impressive machine that would suit you whether you run a welding shop or do odd jobs in your garage. It's capable of slicing a clean cut through both thick slabs of steel up to 5/8″, and fine decorative cuts in thin plate-like sheet metal.
It doesn't offer quite as much as the Hypertherm Powermax 45 XP, which is capable of precision engraving and flush angled cuts. However, it's lighter with a built-in air compressor and is more affordable to suit a broader range of people. If the Hypertherm Powermax 30 is used extensively on a daily basis, there is an internal valve that can fail. This shouldn't affect it with less use, and the part is a minor cost and easy to replace.
From the whole range of plasma cutters with built-in air compressors, this is definitely our top pick and would serve you well over a full range of cuts for many years.
Pros
Input voltage: 110/120 & 220/240
Price range: medium
Three-year warranty
Output range: 15 to 30 amps
Max cut: 5/8"
Weight: 21.6 pounds
Dimensions: 14" x 5.5" x 11.5"
Torch lead: 15 feet
Fine sheet metal cuts
Drag-cutting technology
Extended reach gouging
Cons
Internal air valve leaks after extensive use
---
2. Hobart Airforce 12ci Plasma Cutter with Air-Compressor
We like the quality of Hobart's machines, and particularly its plasma cutters. The Hobart Airforce 12ci is definitely a lighter machine, only capable of severing 1/4″ at max and preferably cutting 1/8″ and less. It's only slightly more expensive than the Mophorn 40 Amp Plasma Cutter, and it gives you much more confidence in the quality of its parts.
Even though it has a low range of cutting capacity and gives no option to adjust the output amperage, it leaves a clean finish. It runs off a standard power point and will get the job done within the gauge tolerance. It's a shame most of Hobart's stock torches come at 12′, but it's a minor detail compared to the torch quality.
If your cutting range is minimal and products' virtue is important to you, the Hobart Airforce 12ci is a worthwhile machine to buy. Otherwise, for a lower price you can get more but with less quality in the Mophorn 40 Amp Plasma Cutter.
Pros
Price range: low
Five-year warranty
Dimensions: 15" x 18.5" x 11.2"
Weight: 26.7 pounds
High-quality parts
Pilot arc start
Cons
Single input voltage: 110/120
Single 12-amp output capacity
Max cut: 1/4"
Torch lead: 12 feet
---
3. Mophorn 40 Amp Plasma Cutter with Built-in Air Compressor – Best Value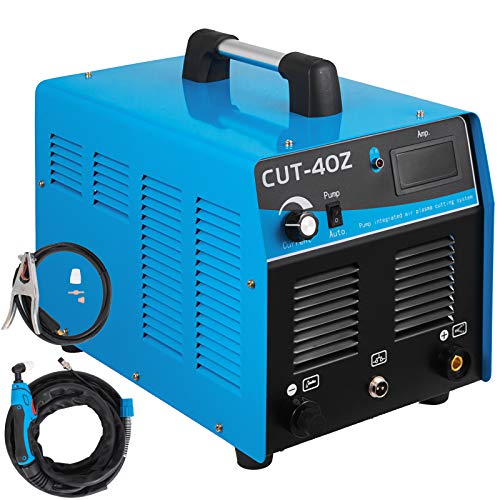 The Mophorn 40 Amp Plasma Cutter is an impressive machine for the price it's offered at. It does come with less quality and a lower warranty than some other plasma cutters, but because of its price and its ability to cut 12″ steel without a separate compressor, this is a prime choice.
You will like the 15′ torch lead, although the quality of the cuts is not to the same standard as the Hobart Airforce 27i plasma cutter and Hypertherm's Powermax 30. It also has touch start technology, which never creates as clean a finish, and there's no option to run it off 110/120v power points. However, it's simple to set up and use, while the torch handle is comfortable and of reasonable quality for the price range.
This machine is not at the top of the list for a reason, but if you're on a low budget and don't have an air compressor, we recommend it as a good choice.
Pros
Price range: low
One-year warranty
Output range: 20 to 40 amps
Weight: 32.1 pounds
Dimensions: 10" x 16.3" x 10.6"
Torch lead: 15′
Cons
Input voltage: 220/240
Lower quality
Max cut: 1/2"
Touch start
---
4. Thermal Arc 1-1110-1 Plasma Cutter
We've put the Thermal Arc 1-1110-1 Air Cut 15C Plasma System in 4th place due to the price being a bit high and the low range of functions it provides. It does sever a nice cut if you're using it on 1/8″ plate or thinner, and it seems to be a reliable machine, although we don't know how good the company is with following through on the one-year warranty, being an unknown brand.
It's weighty for what it's capable of and could be smaller. Its quality isn't the highest, but we find the length of the leads impressive at 20′; this is longer than almost any other plasma cutter's stock leads. This machine will cut 3/16″ plate with a slow struggle, and it won't leave a perfect finish, but it's capable nonetheless.
This is a useful machine for cutting 1/8″ plate with, but if you only need a minimal cutting range and want to pay less, we recommend the Hobart Airforce 12ci or the Mophorn 40 Amp Plasma Cutter first.
Pros
Price range: medium
One-year warranty
Torch lead: 20 feet
Dimensions: 1″ x 11.4″ x 12.3″
Cons
Single input voltage: 110/120
Lower quality
Max cut: 3/16"
Touch start
Single 15-amp output capacity
Weight: 33 pounds
---
5. Forney 317 250 P+ Plasma Cutter With Built In Air Compressor
The Forney 317 250 P+ with built-in air compressor is a sensible choice of a lightweight plasma cutter for DIY workshops on a shoestring budget. The 120-volt input pulls from your household current, so it's useful for hobbyist appliance repairs or HVAC work.
The drag-torch starter is easy to use but there's a delay time of several seconds before the arc kicks in. Then, you'll wait another few seconds before it's hot enough to cut. This isn't a problem for one-off use. However, it's an issue when you're making a series of cuts over a long period. Its saving grace is the fact that you can plug it in just about anywhere, which can be useful in remote locations.
The air dryer and pressure regulator help keep operation to a simple process, but it's the heaviest plasma welder on this list, so we're back to square one in terms of portability. The 15-foot torch lead and extension power cord is nice. Power-wise, its 12-15 amp output may be a bit unreliable, and its cutting capacity is limited to ⅛-inch steel plates. Forney backs the 317 with a 5/3/1-year warranty. Overall, you could do a lot worse than this machine but you could certainly do a lot better.
Pros
Price range: budget
5/3/1-year warranty
Dimensions: 15″ x 7.5″ x 14″
Torch lead: 15′
Drag-torch technology
Cons
Input voltage: 120
Output range: 12-15 amps
Max cut: ⅛" steel
Weight: 40 pounds
Not for professional use
---
Buyer's Guide
Why Would I Need a Built-in Air Compressor?
Plasma cutters need air pressure to cut in a two-stage process. First, the arc heats the metal until it's semi-gaseous. Second, the plasma is forced by blasts of air to finish the cut.
Therefore, all plasma cutters need an air compressor to generate enough air pressure for the task. If you buy a plasma cutter without a built-in source of air, you'll need a separate air compressor. This complicates the process with another heavy machine and more draw on your power supply.
A plasma cutter with a built-in compressor kills two birds with one stone. It might be a little more expensive, but you won't need the extra equipment.
What to Look for in a Plasma Cutter
Power
There's really no such thing as an "underpowered" plasma cutter. Tool manufacturers wouldn't go through the hassle of producing a unit that doesn't do its job. However, plasma cutters run on different voltage inputs – the larger and more powerful units pull 240V and generate up to 30 amps of output power. The more lightweight, 120V machines only put out 15 amps, which is good enough to cut through ⅛-inch steel. The 240V machines have greater output and thus, greater cut capacity. How much power you need will depend on the job at hand. Dual voltage cutters give you greater flexibility.
Duty Cycle Ratings
Many of the 110/120V "homeowner" models have long start-up times and modest duty cycles. However, you shouldn't be making any cuts for longer than three minutes anyway. Meanwhile, the machine needs to cool down before you fire it up again. Most of the cutters we reviewed have an average rating of 35 percent duty cycle at 15 amps, and 50 percent cutting duty cycle at 12 amps. That's good enough for most professional applications but if you're going to be making a series of cuts over the course of a workday, you want a machine that will bounce back quickly.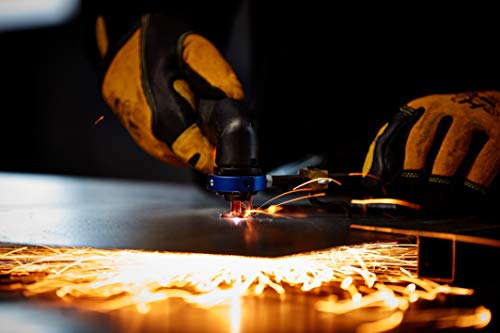 Advanced Features
These days, there's no reason to be hauling around a refrigerator-sized plasma cutter. Technology has made machines much lighter without sacrificing power. The lighter it is, the easier it is to position, move, and store.
It used to be that plasma cutters had one switch: ON/OFF. The output and amperage ran at the same rating regardless of the material. Today, we have automatic settings and smart-sensor technology that can recognize the material and adjust its control settings to the appropriate levels.
Drag-cutting innovations have optimized continuous cutting. Before drag-cutting, you had to estimate the distance of the torch from the metal – eyeball it – and we all know about human error.
Accessibility, Ease of Use & Safety
Longer torch leads and power extension cables should be at the top of anybody's list of must-have items for a plasma cutter. Most torch leads range between 12-15 feet. Anything short than that will create less than optimal conditions.
Here at WaterWelders, we believe in the Keep it simple, stupid (KISS) rule of power tools. A clean, user-friendly interface on a cutter takes a lot of the guesswork out of the equation, especially for beginners. For pros, it's nice to have a tool that requires little or no supervision.
Most of the plasma cutters on this list are easy to use and suitable for its assigned task. Most importantly, don't ask a 120V cutter to do the 240V's job. Bad things happen. For more on what could go wrong with a plasma cutter, check out this video:
Warranty
Power tool companies are a mixed bag when it comes to customer service. If something goes wrong with a tool, many companies basically say, "Sounds like your problem, buddy." Fortunately, all of the companies on this list have fair to decent customer support programs, so you can buy with confidence.
Plasma cutter warranties range from 1 to 5 years and carry significant exceptions. For example, Hobart offers a 5/3/1 warranty, but what does that mean?
The 5/3/1 Warranty, Explained
5 years – for parts and labor on certain components (main power rectifiers, reactors, transformers, etc.)
3 years – for parts and labor on: drive systems, idle modules, PC boards, solenoid valves, switches and controls, etc.
1 Year – for parts and labor on accessories, flowgauge regulators, MIG/TIG guns and torches, etc.
Hobart's 5/3/1 Limited Warranty doesn't cover:
Consumables: contact tips, cutting nozzles, contactors, brushes, relays, etc.
Defects caused by accident, unauthorized repair, or improper testing
Final Verdict:
Among the many we looked at, these five of the plasma cutters with built in air compressors. In the top place, we picked the Hypertherm 088096 Powermax 30 AIR Hand System with its large capacity to perform pristine cuts while sitting at an affordable price. It's a high-quality machine, and we recommend it to both hobbyists and workshop managers.
We concluded that the Mophorn 40 Amp Plasma Cutter is the best for your money. It doesn't have the same quality as some of the other machines, but it cuts well over a reasonable range and is one of the most affordable cutters available.
We appreciate you checking out these reviews on the best plasma cutters with built in air compressors and hope you found what you were looking for. You're welcome to leave any opinions or questions below in our comment section.
Other plasma cutters we've written about: