6 Best Budget Plasma Cutters Under $500 – Reviews & Guide 2023
Last Updated on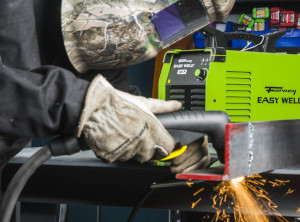 Have you ever thought about the fact that there is a range of quality plasma cutters under $500? With that kind of cutting power, it's incredible that there are so many welders at such a low cost to choose from.
With the rise of plasma technology in modern workshops, cutting metal has never been easier, and companies have been refining the process to produce faster cuts and cleaner finishes. We have checked out the range and found six great options to choose from.
Take a look at these reviews to see the differences between all six choices and why we believe they're the best budget plasma cutters on the market. Then check out our buyer's guide to understand what to look for in the different plasma cutter options.
A Quick Comparison of Our Favorite Picks for 2023
Image
Product
Details

Best Overall

Lotos LTP5000D

Non-touch pilot arc
Standoff application
One-year warranty
CHECK PRICE

Forney Easy Weld 251

Eight-foot ground lead
Cuts rusty/painted metal
Drag torch technology
CHECK PRICE

Best Value

SUPER DEAL CUT 50

Up to 50-amp output
Weighs 24.4 pounds
One-year warranty
CHECK PRICE

PrimeWeld Ct520d

Multi-purpose machine
Drag torch technology
Can buy three-year warranty
CHECK PRICE

SUNGOLDPOWER 50A Inverter

Weighs 23.9 pounds
LCD display screen
One-year warranty
CHECK PRICE
The 6 Best Cheap Plasma Cutters
1. Lotos LTP5000D Plasma Cutter – Best Overall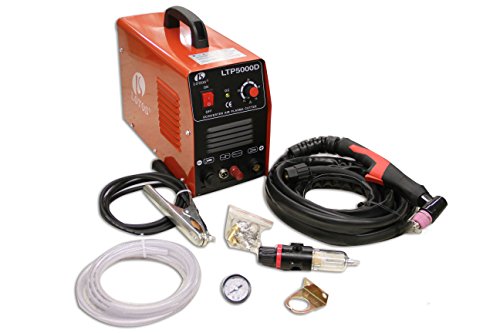 We particularly like the Lotos LTP5000D 50Amp plasma cutter because it's small and light, easy to use, and will cut anything clean or dirty less than 3/4″ thick. It cuts with compressed air and can use 110/120 volt or 220/240 volt input, with a 10- to 50-amp output at a maximum 60% duty cycle.
It's a shame the earth clamp isn't longer, as six feet is a little short for some projects. The standoff isn't the best on the market. However, the clean finish it leaves on every cut 1/2″ and less is impressive. It glides through cuts smoothly, and it even does a good job cutting sheet metal as thin as 0.1mm thick, which is rare to find.
Overall, this has to be our favorite under $500 plasma cutter for those smaller jobs.
Pros
Clean cuts through rusty/painted metal
Non-touch pilot arc
13' torch lead
Clean cut up to 1/2″
Max 3/4" cut
Compact design – 15" x 6" x 12"
One-year warranty
Weighs 26 pounds
Standoff application
Includes air filter regulator
110/120 & 220/240 volt input
Up to 50 amps with 60% duty cycle
Cons
Six-foot ground lead
Not the best standoff available
---
2. Forney Easy Weld 251 Budget Plasma Cutter
Forney's Easy Weld 251 20 P plasma cutter has been made exceptionally well for what it's designed for. If you're cutting anything 1/4″ and less, it will glide through it with almost no effort and produce a clean cut-edge finish. It can cut rusty or painted metal, but it doesn't cut it so well.
The size of the torch and clamp lead is more than enough for what most users generally need, and there are extensions you can purchase separately, which brings diversity to this welder.
It's a little bigger and lighter than the Lotos LTP5000D, and has only a few negative aspects within the range it's made for. What made it our second choice, however, is that its price is more or less the same as the Lotos LTP5000D, but with only a 110/120 volt and 20-amp output. This means it struggles to cut anything more than 1/4″ plate.
If 1/4″ or less is all you would ever cut, it would be a better option, but we'd prefer to pay the same price to have the option of cutting up to 1/2″ gauge steel.
Pros
Eight-foot ground lead
13' torch lead
Cuts rusty/painted metal
Drag torch technology
Compact design – 15" x 8" x 12"
35% duty cycle at 20 amps
Weighs 21.5 pounds
One-year warranty
25' torch extension available
Cons
Only 110/120 volt input
Max 20-amp output
Max 1/4" cut steel
---
3. SUPER DEAL CUT 50 Plasma Cutter – Best Value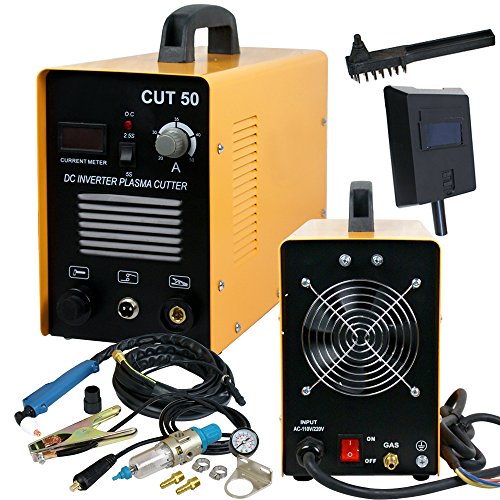 The SUPER DEAL DC plasma cutter comes with a lot for what it costs, but it's not up to the same quality as the Lotos LTP5000D and the Forney 251 20 P. With a dual voltage input and up to 50 amps of output, it can cut up to 1/2″ of steel, although 1/4″ or less is recommended, especially with the 110/120 volt input.
It takes a while to cut 1/2″ plate and doesn't leave as clean a finish as the Lotos LTP5000D, and the drag torch technology isn't as effective as the Forney 251 20 P cutter. There seems to be some variance in the machine's quality depending on your order. The torch lead also comes in different lengths. A few customers who have bought it had parts arrive faulty on it, but the warranty is genuine, so don't worry too much as refunds are possible.
If you're after an affordable option, this plasma cutter is a good option for DIY use.
Pros
Cuts rusty/painted metal
Drag torch technology
Compact design – 5" x 11" x 13.5"
110/120 & 220/240 volt input
Up to 50-amp output
Weighs 24.4 pounds
One-year warranty
Cons
Six-foot ground lead
Variable torch lead length: six, eight, or 11 feet
Low quality
---
4. PrimeWeld Ct520d Budget Plasma-Cutter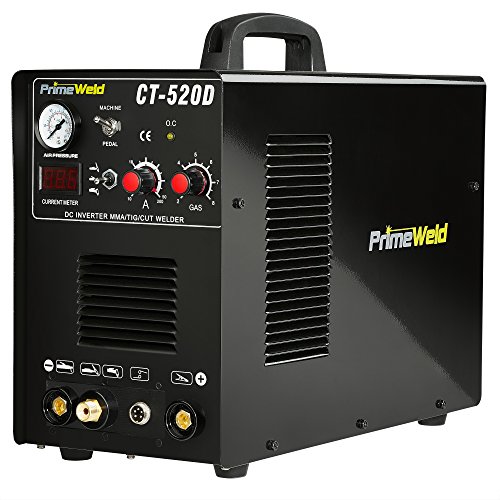 The PrimeWeld Ct520d is useful if you need a multi-purpose machine to TIG, stick weld, and plasma cut. It's economical for what you get and has reasonable quality. However, if you're only after a plasma cutter, there are definitely better options.
It will cut up to 1/2″ thick plate, but not with a clean finish like the Lotos LTP5000D. The leads are a reasonable length for a standard size; however, they are low quality and won't withstand the hammering a workshop environment would give them.
It's an all-round good machine if plasma cutting isn't the only function you want it for, especially considering its price.
Pros
Multi-purpose machine
13' torch lead
11' ground lead
Drag torch technology
Weighs 35.7 pounds
Compact design – 6" x 16.8" x 12.8"
Can buy three-year warranty
110/120 & 220/240 volt input
Cons
Cuts aren't super clean
Thin and light leads
Max 1/2" cut steel
No DC cutting function
---
5. SUNGOLDPOWER 50A Air Plasma Cutter Inverter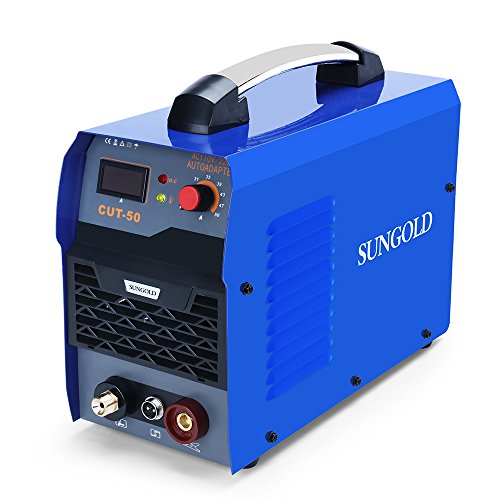 The SUNGOLDPOWER 50A plasma cutter works quite well for a low-quality welder, and can cut as well as most welders in this price range. It costs less than the majority of plasma cutters, but the results are on the lower end of the scale too.
It's useful to have the options of 110/120 and 220/240 volt input, and it can sever 3/4″ sections of steel, but it prefers 1/2″ sections to produce a nice finish. The company is reliable with fulfilling the warranty program if the welder fails, which is not entirely uncommon.
Overall, it's one of the lowest-priced options, and if the price is all you're concerned about, this is a viable choice. However, the SUPER DEAL DC plasma cutter is a similar price, and we found it's a better value for your money.
Pros
110/120 & 220/240 volt input
Weighs 23.9 pounds
Compact design – 3" x 10.2" x 15.8"
One-year warranty
Max 3/4" cut steel
LCD display screen
Cons
11' torch lead
Six-foot ground lead
Low quality
Touch start
No drag technology
No standoff
---
6. HITBOX 40A 220V Plasma-Cutter Machine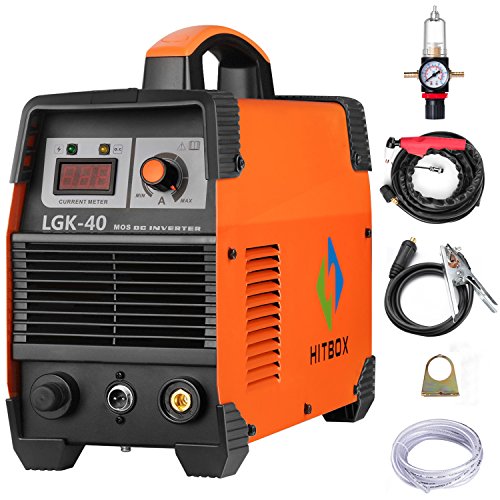 The HITBOX Plasma Cutter 40A 220V Electric DC Inverter is definitely on the lowest end of the price range scale. It's not the highest quality, but performs well on what it's designed to cut. Unfortunately, it won't cut more than 1/4″ thick plate, and even then it's slow and produces an ugly finish. 1/4″ or less is the recommended range.
This is expected with a unit of this price, but it takes 220/240 volt input to achieve it, unlike the Forney 251 20 P, which cuts with higher quality but from a 110/120 volt input.
Similar to the SUNGOLDPOWER 50A, the touch start with no drag technology makes it more challenging to cut, unlike the Lotos LTP5000D, Forney 251 20 P, and SUPER DEAL DC cutters. For the price range, it's good, but definitely not our first choice.
Pros
220/240 volt input
Weighs 22.1 pounds
Compact design – 2" x 12.6" x 16.9"
Affordable
Max 40-amp output
Cons
10′ torch lead
Five-foot ground lead
Low quality
Touch start
No drag technology
No standoff
No 110/120 volt input
No warranty
---
Buyer's Guide: How to Choose the Best Budget Plasma Cutters
With many plasma cutters to choose from online at vastly different price ranges, it's a challenge figuring out what's best to buy. It's easier if you know what the differences are between each one and weed them out based upon what you'll use one for.
Gather what your purpose will be in each section of the guide, and you'll have a clearer answer as to the plasma cutter that will most suit you.
Power source
Before buying a plasma cutter, know what your power source will be. Most standard power points in a house are 110/120 volts; therefore, the only plasma cutter you could run would be one with this input capacity.
However, 110/120 volts are not ideal for cutting over 1/4″ to 1/2″ gauge plate. If you want to cut a heavier gauge, it pays to buy a converter or pay an electrician to turn one of your plugs into 220/240 volts for your plasma cutter.
Whatever best suits you, know what the volt input options are for your plasma cutter before you buy it, to ensure it suits your use and the volt output range where you'll use it.
Plate gauge to cut
The size of plate you're cutting is a significant factor in determining the plasma cutter you need. The thicker the plate you're cutting, the more powerful your plasma cutter will need to be. Don't purchase a cutter with a maximum cut size that's the same as what you want to cut.
The maximum gauge a plasma cutter can cut is always a size too large for a clean cut. You don't want to buy a plasma cutter that will struggle to cut your plate. It will take longer and end up with ugly edges, which means more effort to clean up.
You want it cutting easily and finishing with smooth edges, so you save time and there's minimal cleanup on the finished project. If a plasma cutter's maximum cut size is 3/4″, you would purchase this for cutting any plate 1/2″ or less for quality cuts.
Types of torches to consider:
Standoff torch
This is a torch with a stand at the end of the nozzle that enables a consistent distance between the nozzle and the workpiece. This helps ensure double arcing doesn't occur at the contact point between the tip and the metal.
When this second arc occurs, it sticks the two together, causing slide issues. The standoff is an excellent choice for a plasma cutter to keep an even cut that's smooth and consistent.
Drag technology
This replaces the need for a standoff by letting the nozzle touch the workpiece without double arcing. It frees the torch to slide smoothly along the workpiece while cutting, but it can dirty and damage the nozzle easily, and is not as consistent as cutting with a standoff.
Touch start
This is the same technology a touch start TIG machine has. The arc/cutting begins by the touch of the nozzle to the workpiece but needs to be lifted up slightly to keep it from double arcing between the nozzle and the metal.
It works, but it's not the best to plasma cut with. Cheaper plasma cutters have this technology because it's the easiest to produce, but it's certainly not the easiest to use, and never leaves as nice a finish as drag or standoff nozzles.
Cut finish
Before you buy a plasma cutter, determine what finish you want your cuts to leave. If you're notching letters or pictures out of plates or cutting artistic shapes for decorations, get a higher quality plasma cutter to ensure the finish is neater and minimize cleanup work after you cut.
The type of cutter and the plate gauge it's made for will give you the best idea of the finish they will produce as mentioned above. A nozzle with a standoff and a plasma cutter with the capability to cut a thicker plate gauge than what you'll be cutting will produce the nicest edges.
---
Conclusion
The Lotos LTP5000D 50Amp Non-Touch Pilot Arc Plasma Cutter is our top pick due to its excellent high-quality cut over a broad range of plate thicknesses, regardless of the surface quality, it cuts through.
We consider the SUPER DEAL DC Inverter Plasma Cutter the best of the lowest price-range models. It has slightly less quality, yet it's capable of cutting a similar plate gauge range as the more expensive options, and it has drag torch technology.
We hope you found the best budget plasma cutters suited to your needs and found it helpful to learn about the range of plasma cutters. There's nothing more confusing than having too many choices without a guide to their unique qualities, and we're glad to help out.
We would love to hear from you below. Let us know what you found helpful and unhelpful about our reviews.
Remember, that it's always important to wear the right equipment. Therefore we've written this guide on welding helmets. It's a quick read!