9 DIY Scrap Metal Welding Projects to DIY Today (With Pictures and Videos)
Last Updated on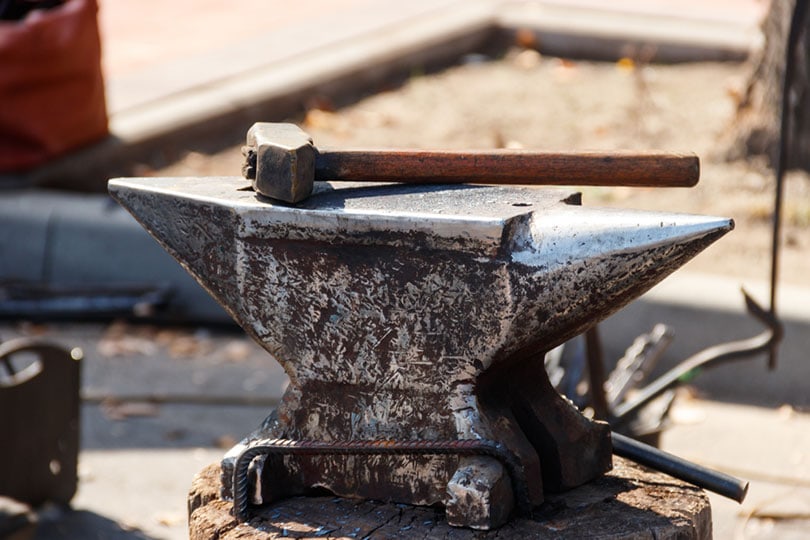 If you've ever wondered what scrap metal can do, this guide is for you! Scrap welding is a great way to make extra money or scratch an itch you've had for a while. The good news is that anyone can take on these scrap welding projects regardless of their skill level. You only need to have a few handy materials.
So, if you're new to welding or want to improve your skills, scrap welding projects are an excellent place to start. We'll show you various scrap welding projects that are both simple and fun to complete. They are quick and easy, and most use cheap or recycled materials. You can even use what you have lying around at home—it's that easy!
Here are ten scrap metal welding projects you can try. We'll tell you everything you need to know about these projects. So, keep reading to learn more!
---
The 9 Scrap Metal Welding Projects
1. Stool from Old Nuts by Makezine
| | |
| --- | --- |
| Materials Needed: | A bunch of nuts, metal rods, and a flat strip of metal |
| Tools Needed: | A welder, angle grinder, and a wooden jig |
| Difficulty Level: | Easy |
Our first project is making a stool from old nuts. Stools are one of the most common welding projects to tackle. You can make one out of whatever scrap metal you have laying around the garage. This scrap welding project takes time and patience, but it is an excellent way to recycle old nuts.
You can use steel or any other metal in your junk pile for the legs. Find discarded nuts or other metal scraps lying around your home or yard. Ensure they are in good condition, free of rust and wear.
Use the strip of metal to form a circle and weld it together. Then, arrange your nuts inside the circle. Ensure you fill it with nuts. Weld all the nuts together onto the circle frame. Then, use your angle grinder to make everything smooth. The last step is to weld metal rods onto the circle frame for the stool legs.
---
2. Scrap Metal Bell by instructables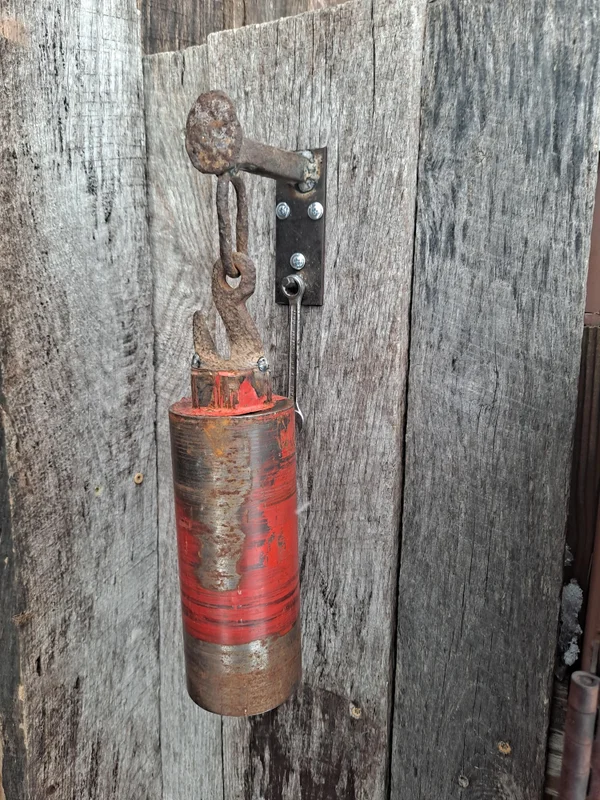 | | |
| --- | --- |
| Materials Needed: | A piece of pipe or gas cylinder, a flat bar, small steel pieces, and railroad spikes |
| Tools Needed: | An angle grinder or bandsaw, a stick welder, drill bit, and a wire brush |
| Difficulty Level: | Moderate |
The scrap metal bell is an excellent project for a beginner. It's easy to make, and there are many variations you can try. You can use any metal size. The scrap metal bell has three parts. It has the body (made from a hole in a sheet of steel), the rim (made from a section of pipe), and a clapper (made from a piece of angle iron).
The clapper has two holes that fit over the pipes' threaded ends to form a hook when swung up and down. You can do this project yourself using scrap from a local scrap yard.
All you need to do is drill several holes in the metal. Then, add some wire to hold it together. Once you have the basic shape, you can add any decorative details. It can be a handle or a bell shape on top.
---
3. DIY Jewelry Tree by DIY Pete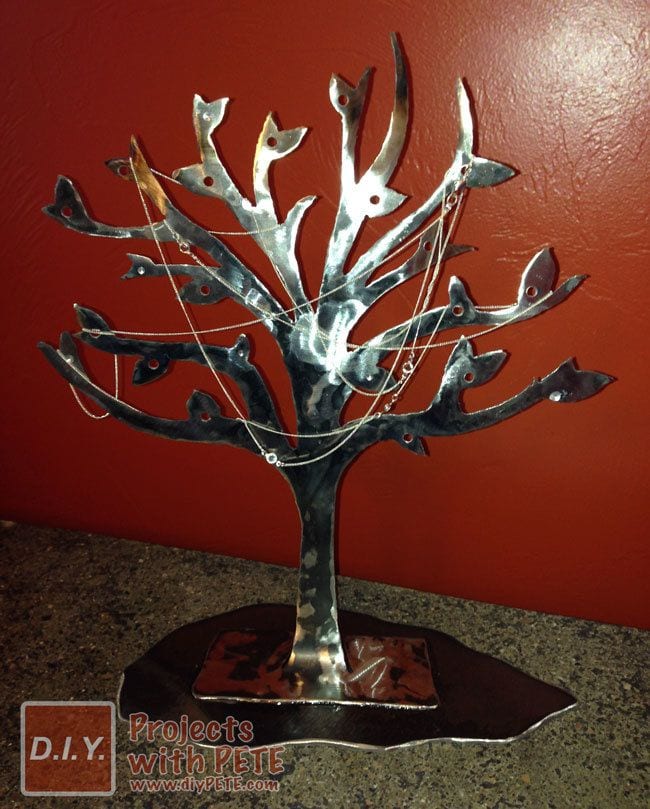 | | |
| --- | --- |
| Materials Needed: | 16 gauge sheet of metal and 12 gauge steel metal for the base |
| Tools Needed: | Plasma cutter, orbital sander, angle grinder, drill bit, and spray sealer |
| Difficulty Level: | Beginner |
A jewelry tree is an excellent way to organize your jewelry. You can make it from any material you want, like tin or copper. It's an ideal creation if you're looking for a fun and unique way to display your jewelry.
You can experiment with different metal shapes. The most important thing is making sure it's sturdy enough to hold the weight of your jewelry pieces. You'll need some base that holds the tree off the ground. This way, it won't get damaged from the weight of everything on top of it.
The only thing you need to do in this welding project is to design and draw the tree. Use plasma cutting. Then, drill holes to hang your jewelry. Lastly, attach the tree to the base using epoxy.
---
4. Anvil from Scrap Metal by instructables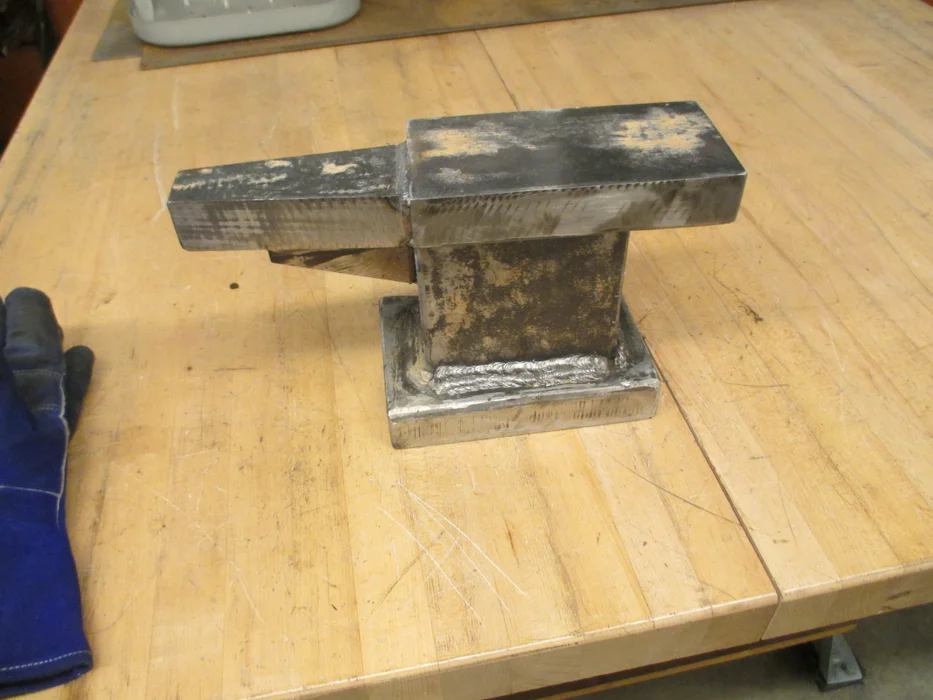 | | |
| --- | --- |
| Materials Needed: | Large blocks of steel |
| Tools Needed: | Horizontal bandsaw, an arc welder, an angle grinder, and a milling machine |
| Difficulty Level: | Moderate |
In scrap welding projects, anvils are the most popular items. An anvil is a metal bar with a flat surface, usually used for striking metal objects with a hammer. These are essential tools for scrap metal workers. They also help you maintain a workable surface if you're working with an abrasive material such as steel or aluminum.
This scrap welding project is inexpensive. All you need is a large flat piece of metal and your imagination! You can weld an anvil from various materials, but it's usually made from thick steel rods welded together.
First, design a plan, then test if the pieces fit well. Once you have your design and it fits snugly, weld it together. The welded areas are then ground smooth and polished on both sides, creating a flat surface for welding. The last step is milling it. Clamp it well when milling.
---
5. Small Metal Rose by instructables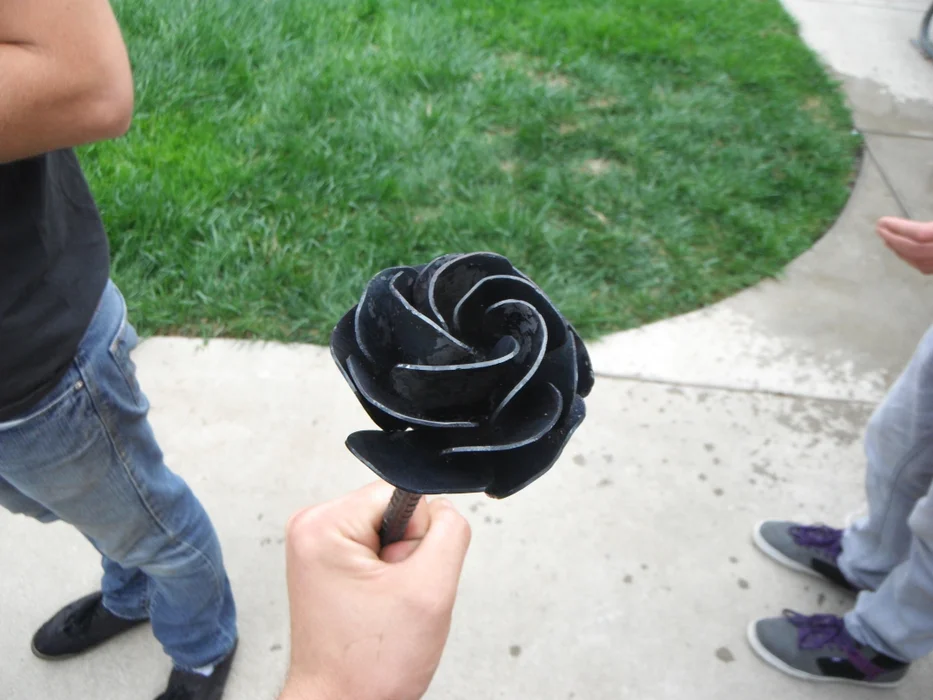 | | |
| --- | --- |
| Materials Needed: | Sheets of scrap metal and a metal rod |
| Tools Needed: | Pliers, bench vise, an arc welder, and an angle grinder. Also, you need a drill bit, safety gear, a marking tool, ruler, and a propane torch |
| Difficulty Level: | Beginner |
If you love making decorations, the small metal rose is an excellent welding project. It's also easy for beginners as well as more advanced crafters. It is a unique way to use scrap metal and produce something beautiful to place on your office desk or even at home as a table decoration.
You can use any sheet metal size, from copper sheets to steel. First, cut the metal into small pieces. The roses are made from thin strips of steel and copper. Then, weld them together to create an intricate pattern.
You can use sandpaper to smooth out any rough or sharp edges on the metal. You might want to wear gloves and goggles when working with sharp edges.
---
6. Giant Skeleton Hand by instructables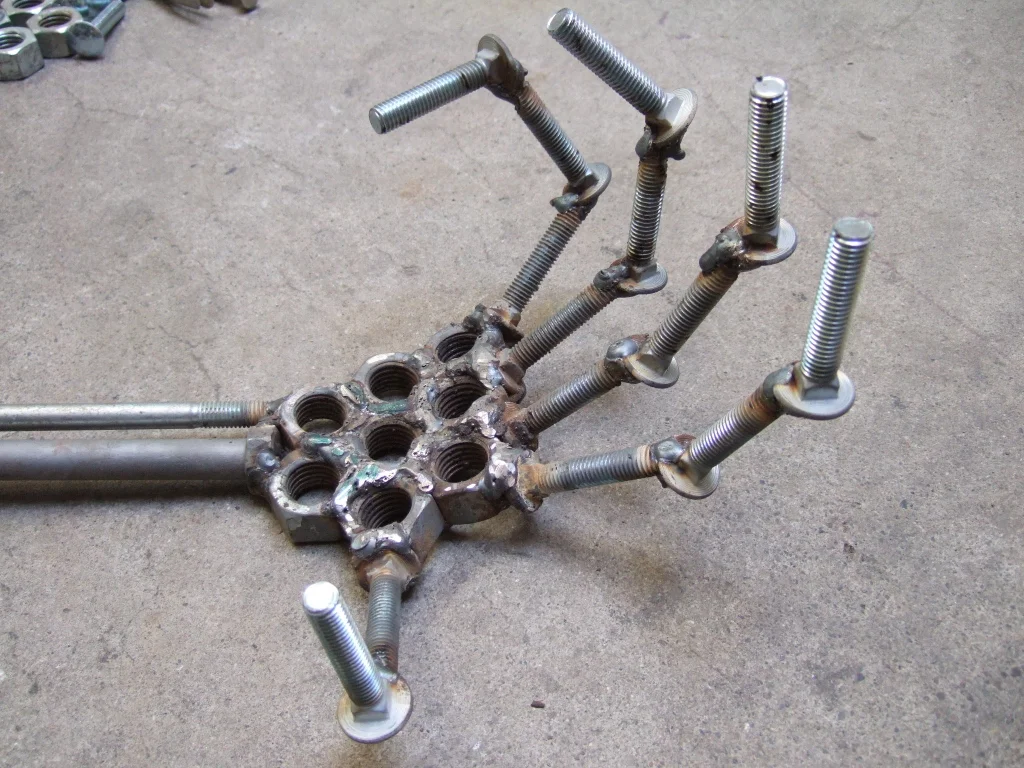 | | |
| --- | --- |
| Materials Needed: | Scrap nuts and bolts |
| Tools Needed: | Locking pliers, clamp, and a welder |
| Difficulty Level: | Easy |
You may have seen a giant skeleton hand and wondered how it was done. It is simply a piece of scrap metal welded together using a special welding technique. This project uses scrap metal (old nuts and bolts) to make a giant hand.
First, use the bolts to make the fingers and thumb of the giant metal hand. Hold them using locking pliers as you weld them together. You can curve them in a way that they look alive.
Attach the nuts to make the palm and weld them together. Then, attach the fingers to the palm. Finally, weld them on a long bolt that acts as the arm. Your welded giant skeleton hand is complete!
The result is stunning. It looks like an actual human hand that has been surgically removed from its body and reattached with metal spikes so you can use it as a weapon or tool. You can display it in your home or office as well.
---
7. Stainless Steel Rose Flower from Scrap Metal by instructables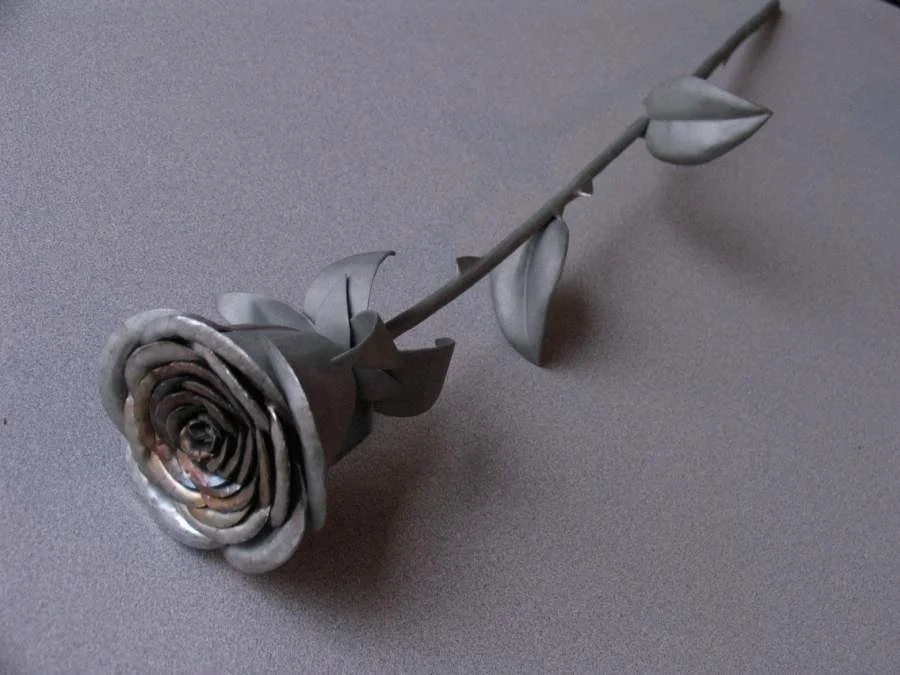 | | |
| --- | --- |
| Materials Needed: | Stainless steel electrode wire, filler rod, bar stock, and steel sheet metal scraps |
| Tools Needed: | MIG or TIG welder, an immobile belt sander, an angle grinder, and a metalworking bench. You also need a bench vise, bench grinder, locking pliers, and sheet metal shears |
| Difficulty Level: | Advanced |
Stainless steel is one of the most popular metals used in jewelry making. It has a shiny smooth finish that you can paint to create any look you desire. It's an excellent way to recycle scrap metal into something helpful such as a rose flower.
You can perform this welding project with only a few tools and materials. So, it's perfect for anyone who wants to try welding. It's also a great way to reuse those old jagged edges of metal lying around your garage or workshop.
The first step is to find some scrap metal pieces you want to incorporate into your flower petals. You can use any shape or size you want. But keep in mind that smaller pieces are easier to work with than larger ones.
Once you have your material picked out, start cutting them into small parts using a hacksaw. Then, take each piece and weld it together using a welder. You can use different types of welding rods. It depends on how much heat you want the metal to absorb when it gets welded.
---
8. Metal Motorcycle Sculpture by instructables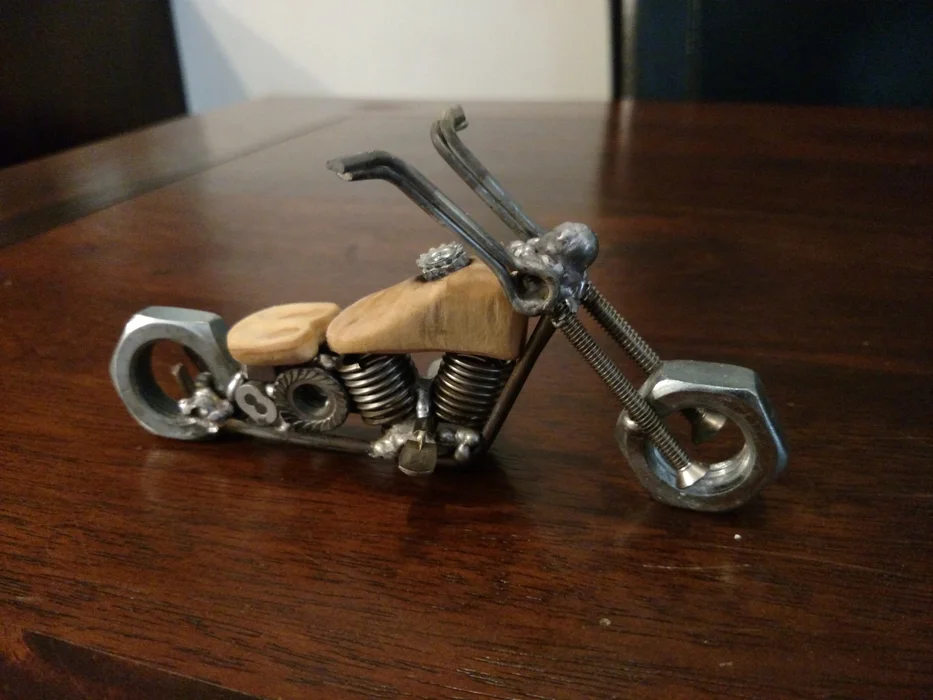 | | |
| --- | --- |
| Materials Needed: | Nuts, long screws, metal hardware pieces, and metal rods. Also, you need a suitable type of solder, a cable clamp connector, and two large springs |
| Tools Needed: | Soldering gun, pliers, a welder, metal cutters or a tiny saw |
| Difficulty Level: | Moderate |
If you're a fan of motorcycles and welding, this is the project for you! It's a great way to get your creative juices flowing and show off your skills as a welder. This scrap welding project uses various metals including copper, aluminum, stainless steel, and zinc.
The best thing about this project is that you can customize it the way you want. You can make it as small or as large as you desire. Also, you can add some accessories such as side mirrors or headlights. The possibilities are endless!
First, make the front of the motorcycle. You'll use nuts for the tires. Two long screws and metal rods will act as the motorcycle handles. The next step is welding the frame together. Then, fix the back wheel in place. After that, attach the front part to the frame, and weld it together.
The finished product will be a beautiful, rustic motorcycle sculpture. You can display it in your house or garage.
---
9. Cool Dragonfly Sculpture from Scrap Metal by instructables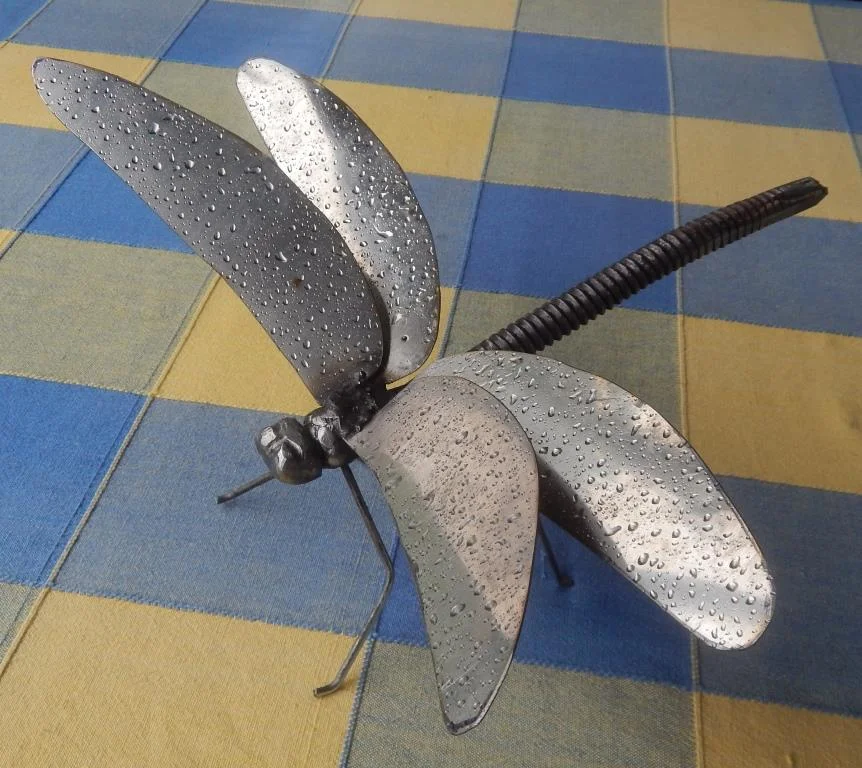 | | |
| --- | --- |
| Materials Needed: | Scrap metal, an old bolt, stainless steel metal sheet, and thin metal rods |
| Tools Needed: | MIG welder, locking pliers, safety gear, wire brush, and an angle grinder |
| Difficulty Level: | Beginner |
You've probably seen dragonflies in your garden or at the beach. But if you've never seen one up close and personal, this project is for you. Using scrap metal and a few household items, you'll create a sculpture of a dragonfly that's sure to impress. This project also makes a great gift idea for anyone who loves nature and art. It's the perfect addition to any garden.
You can make this dragonfly sculpture from a scrap of stainless steel. Find a hexagonal bolt head that'll act like the dragonfly head and a long threaded bolt for the body. The stainless steel metal sheet is ideal for the dragonfly's wings. Cut out the wings using a cutting disc.
Then, use an angle grinder to do aesthetic grinding. After that, weld the parts together to make a dragonfly. Don't forget to weld the legs using thin metal rods.
---
Final Thoughts
So, you're looking for a DIY project, there's no shortage of scrap welding projects you can begin working on today. Scrap metal can be an excellent way to get started. You'll learn how to weld without buying expensive welding material.
Now that you should have some great ideas of what you can make using scrap metal, you'll find that welding scrap metal is easy. You can use it on various welding projects. You may even observe improvements in your welding skills as well.
The good news is that many possibilities are available if you're considering a scrap welding project using your welder. Go out and start welding!
---
Featured Image Credit: Olha Solodenko, Shutterstock