HAZMAT Diver: Equipment & Procedures Used
Last Updated on

Hazardous materials divers also called a HAZMAT diver, have exceptionally dangerous jobs.
They find themselves in precarious conditions, and regularly expose themselves to contamination such as fuel spills or radioactive material.
However, the extreme dangers these divers face can be minimized through intense training, the right dive gear, and thorough decontamination processes.
Here's how:
---
HAZMAT Dangers for Commercial Divers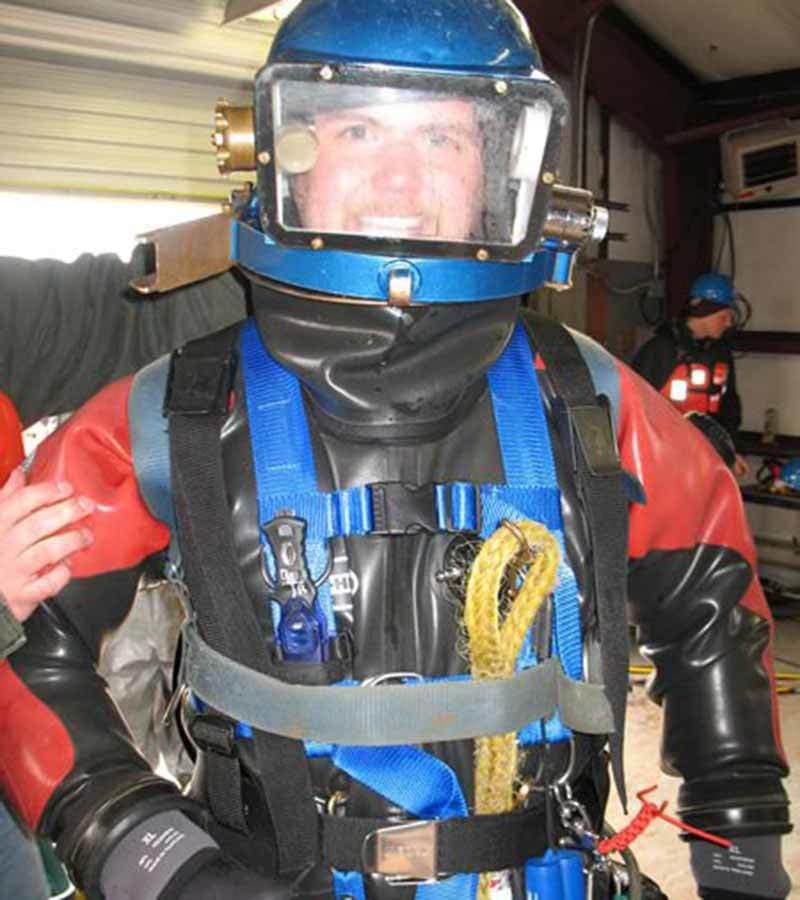 But a HAZMAT diver, who are regularly exposed to higher levels of contamination, require specialized commercial dive gear and intensive decontamination procedures to ensure their general safety.
Divers working in exceptionally dirty and/or hazardous conditions require a full dive helmet, a stronger suit, and other specialized commercial dive gear.
For example, the Thor Contaminated Water Diving Suit is built for commercial diving applications but is also a good option for military and rescue purposes and sport diving. It features vulcanized rubber that is strong enough to resist contaminants, and pliable enough to accomplish critical underwater tasks.
---
Flushing out the Bad: The Decontamination Process for a HAZMAT Diver

No matter how strong your protective suit and commercial dive gear may be, decontamination procedures are crucial. These processes ensure the diver's safety, and they also protect the team working within chemical or radioactive reach of the decontamination area.
Decontamination procedures vary depending on the hazardous materials in question, so the HAZMAT profile for each dive area will be different. The more hazardous the elements in the water, the more thorough the decontamination process should be. However, the process also depends on the type of equipment used, and the level of protection the equipment offers.
Here are a few things to remember:
Decontamination areas should be set up in zones: High-contamination zones remove the bulk of HAZMAT materials; Low-contamination zones work as a buffer; and a final safe zone, ideally up wind, that is completely free of hazardous materials.
The high-contamination zone needs to be in a water-impermeable area where potential contaminants can be contained and disposed of. During this stage, the diver can expect to be rinsed with fresh water from a high-pressure system. If fresh water is not available, salt water can be used.
A cleaning solution may be required. Although the exact mixture depends on the contaminants present, a mild bleach solution is most frequently used.
Wire brushes are used to clean the diver. Generally, the decontamination process involves more than one person—one to spray and clean the diver, and another to look for holes or other compromises in the dive suit fabric.
---
Ready, Set, HAZMAT Dive
Although HAZMAT divers face several dangers on their dives, safety risks can be minimized through proper gear and decontamination procedures. With the proper training and certification, potential issues or concerns can be put at ease.
A version of this article originally appeared on the Aqua Air Industries website. Aqua Air is a worldwide supplier of commercial diving equipment, complete saturation systems, sat tankage components, and ancillary equipment.