5 Best TIG Torches of 2023 – Reviews & Buyer's Guide
Last Updated on
No stock TIG welding torch compares to the options you can buy separately. But what sort do you buy? There are torches ranging in cost from next to nothing, up to the price of a basic welder, along with air-cooled, water-cooled, and long or short leads. There are many varieties and different features, and it can be challenging to know what to choose.
These reviews on the five best TIG torches found online this year lays out the sum of them all. There are some great options, but they're each designed for different purposes. We discuss their strong and weak points, and have a buyer's guide afterward to help you find exactly what you need.
Comparison of our Favorite Picks (updated in 2023):
Image
Product
Details

Best Overall

Weldtec Speedway Deluxe

Water-cooled
Long lead
Speed nut
CHECK PRICE

CK FL150 Air-Cooled

Air-cooled
Flex-lock head
Medium-length lead
CHECK PRICE

Best Value

WeldingCity TIG

Air-cooled
Heavy-duty lead
Low-priced
CHECK PRICE

MasterWeld TIG

Water-cooled
Long lead
Includes cable adapter block
CHECK PRICE

Reboot TIG

Air-cooled
Medium-length lead
Flex head
CHECK PRICE
The 5 Best TIG Torches:
1. Weldtec Speedway Deluxe TIG Torch – Best Overall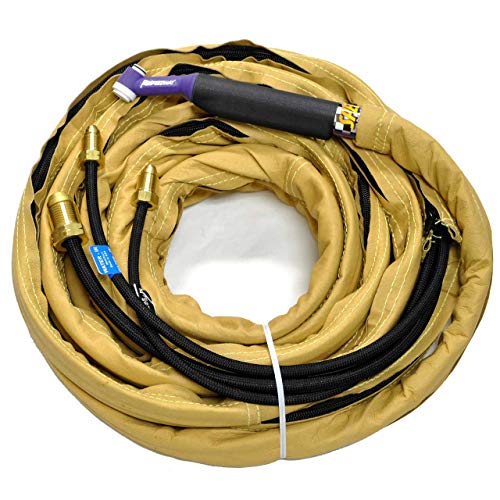 We are highly impressed with the Weldtec Speedway TIG torch. If you like water-cooled options, this is the best water-cooled TIG torch on the market. It has a huge 25-foot lead that enables you to travel a long distance without moving your welder closer. The heavy-duty cable cover keeps the leads safe and easy to drag around the floor.
You can weld for hours straight with this torch at high amps, and it will only ever get slightly warm, as its water-cooling system is effective for keeping the temperature down. Weldtec's speed nut feature gives you simplicity with the lead connections, without needing tools or clamps for securing and adjusting the hose.
This TIG torch is our top pick. It's a more expensive option than some others, but what it offers makes the price entirely worth it, as it's comfortable and designed to last a long time.
Pros
Water-cooled
Long lead
Speed nut
Flex head
Heavy-duty
---
2. CK FL150 Air-Cooled TIG Torch Kit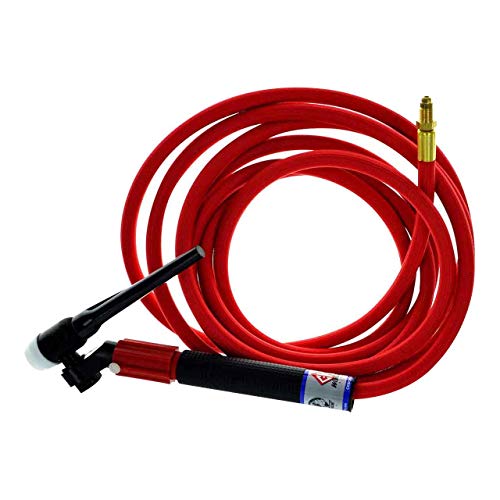 The CK FL150CK FL150 is absolutely the best air-cooled TIG torch available online, as well as the best TIG torch for pipe welding. It sits at a higher price range like the Weldtec Speedway TIG torch. This is for a good reason: the incredible comfort and flexibility for reaching any welding position you need.
It only has a medium-length lead, which can be unfortunate if you need to reach farther with it. However, it's designed for comfort and flexibility, which the short lead provides. The price also shows how much work has been put into the torch itself to maximize its performance, since the lead is shorter.
The CK FL150 Air-Cooled TIG Torch has been designed for pipe welding, making any other kind of TIG welding with it a breeze due to pipe welds being some of the most challenging to maneuver around. If you can afford to pay a little more and want the best air-cooled torch available, we strongly recommend this option.
Pros
Air-cooled
Flex-lock head
Medium-length lead
Highly comfortable
---
3. WeldingCity TIG Torch – Best Value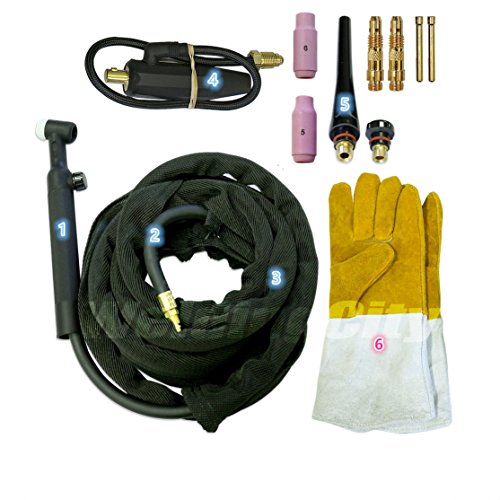 WeldingCity's TIG WP-17FV-12R torch is a more basic option, which the low price it's offered for shows, but it's surprisingly a heavy-duty torch that would serve anyone learning the ropes well. It's not designed for high-frequency start welders, or those with automatic gas settings, but for any scratch or touch start welder, it's an excellent option.
This torch is air-cooled like the CK FL150 Air-Cooled TIG torch, and it has the same length lead, which is fine for most applications. The torch isn't designed to cool over 150 amps of heat, but it can weld over this with caution for short periods.
Several useful features come with this torch, including a power cable adapter, a bag, a cable cover, and a pair of TIG gloves. They aren't the highest quality accessories, but they are useful nonetheless. For the price it comes at, this torch is the best buy for your money among the online range.
Pros
Air-cooled
Heavy-duty lead
Low-priced
Includes gloves
Medium-length lead
Cons
Not designed for HF start
Heats up over 150 amps
---
4. MasterWeld TIG Torches
We like Master Weld's TIGMASTER TIG torch among the range of water-cooled torches. Like the Weldtec Speedway TIG torch, it has an impressive torch length, so you can comfortably travel a long distance from your welder on the job.
It comes with a cable adapter block and a nice cable cover to protect your leads, but the head is not flexible, which limits its usability in tight spaces. If you need a more basic TIG torch for your high-frequency TIG welder and want a longer cord at a very reasonable price, we recommend this torch as a good option.
Pros
Water-cooled
Long lead
Includes cable adapter block
Medium price range
Cons
No flex head
Lead cover zipper low quality
---
5. Reboot TIG Torch for Welding
The Reboot TIG Welding Torch is comfortable, with a nice head that flexes into many positions to give diversity for your welding. It's not the highest quality torch, and you can't TIG weld over 150 amps without it heating up considerably due to the air-cooling system's capability, but with fewer amps, it welds nicely.
The length of the lead is not huge, but at 13 feet, it's enough for traveling a reasonable distance around the welder comfortably. The torch comes with a manual gas valve, which is not designed for automated gas feeding welders. The dial is quite sensitive, but it works nonetheless.
Size 4 cups are a bit small for what we like, so you may have to purchase a larger cup if you want a wider gas-affected area. However, it's an affordable torch, and we recommend it in our fifth spot among these reviews.
Pros
Air-cooled
Medium-length lead
Flex head
Cons
Manual gas dial
Heats up over 150 amps
Only comes with size 4 cups
---
Buyer's Guide: How To Select The Best TIG Torches
Before buying a TIG torch, it's important to know that there are many differences between them. Deciding what you prefer and what is compatible with your machine will make a big difference in your final choice.
Cooling system
Air-cooled torches are useful because they're light and easy to set up. They are much more comfortable torches to use, but they overheat quickly at higher amps, making them unsuitable for high-amp welding.
They generally cost less to buy without needing a setup that suits a water-cooling function, but less effort goes into setting them up.
Water-cooled torches are excellent for cooling down the torch. If a water-cooled torch is designed well, it should never get hot regardless of amperage, although it will still warm up slightly with extended use at high amps.
Most water-cooled torches cost more and lack the comfort of air-cooled torches, but they are the only option if you're welding high amps often.
Arc start and gas flow capability
High-frequency non-touch start torches are designed to join up to machines that regulate the gas according to your preferred settings. This is the best type of torch, but you need to ensure your welder is capable of running one.
These torches have a button you press or hold to initiate the arc, and the gas comes out as per the setting at a flat or sloped rate.
Scratch starting and lift starting torches are designed without a button to initiate the arc. Generally, the torch is designed for one or the other, and the welder determines whether you scratch or lift start with it.
Scratch starting is when you scratch the metal with the tungsten to initiate the arc. It's a similar motion to starting a stick welding arc. This type of start is the least desirable, as it has a less consistent start rate, and the weld becomes contaminated by the tungsten scraping along the metal before welding.
A lift starting arc touches the metal, and then begins the arc as it raises off the metal. This is an easy way to start the arc, but there's still a slight bit of contamination due to the tungsten touching the metal.
These torches have dials that you turn on and off to manually adjust the required gas flow to shield your arc. These are not as good as some other torches, but are useful for basic machines, and cost much less than the high-frequency non-touch start torches.
Lead length
The length of the lead is really based on personal preference. The longer the lead, the farther you can travel without bringing the welder along with you, although the lead becomes much heavier and it's harder to maneuver around when doing small projects.
Short leads are useful if most of your welding is at a bench and you don't need to travel long distances to reach your project. They are lighter and easy to maneuver, making them more welder-friendly, but if you weld all over the workshop it will mean dragging the welder along with you.
Many TIG welders have both a long and a short lead to switch between, depending on the particular job. No one lead is ideal for both long-range and short-range work.
Head design
The head of a torch differs in styles for different purposes. It's desirable to have a flex head torch, as it gives adjustment to varying angles. Flex heads bend at the end of the torch to the right position for your particular weld. The position you need to TIG weld in usually differs between jobs and often needs to change multiple times throughout a project.
A fixed torch head is set at the angle it's made in, with no adjustment. These torches are less comfortable to use, and it's harder to get them into different positions, as there are only so many different ways you can hold them or position your hands on them. However, they cost less and come with the most basic welders.
Flex-lock heads spin in a 360-degree circle and are capable of locking into any position you need, to match any welding requirement you have. They are a more expensive option than most, but their capability is unmatched, making them some of the best torch heads available. The CK FL150 Air-Cooled TIG Torch is a good example of this.
Amperage
The amperage you'll be welding at will determine what torch you need, as torches and leads come with a maximum amperage range. Air-cooled torches have a lower amperage range in general, but you need to make sure the lead is capable of transferring the required amps you're running. Standard amp leads are 125-amp, 150-amp, and 200-amp leads.
If you're doing lots of welding that requires running at 150 amps, you will want a lead that's capable of reaching 200 amps, as you don't want to sit on a lead's maximum heat range. There is also a chance you'll have to increase your amperage slightly for some reason, and you'll want the freedom to do so, rather than being bound to 150 amps and welding too cold.
RELATED READING: You can also read our rundown of the top cutting torch kits of they ear here
---
Conclusion: Best TIG Torches
We have looked at five excellent torches and discussed what needs to be considered when choosing your next one to buy. Each torch has its own unique purpose, but our favorite among these is the Weldtec Speedway SW-320SA-25DX Deluxe TIG Torch Kit with its water-cooled system, long lead, and exceptionally comfy handle and flex-head.
We also consider the WeldingCity TIG WP-17FV-12R torch a great option. It isn't a high-end torch, but for a beginner welder, it's the best buy for your money with its performance and the range of handy accessories it comes with.
We hope you have found this helpful in your quest to find the right TIG torch for you. Any questions or thoughts are welcomed in our comment section below.
Here are some of our other buyer's guides:
–> Miller welding helmets: which one is best?
–> Lincoln welding helmets: which one is best for the money?