12 DIY Easy Welding Projects for Beginners to Try Today (With Pictures)
Last Updated on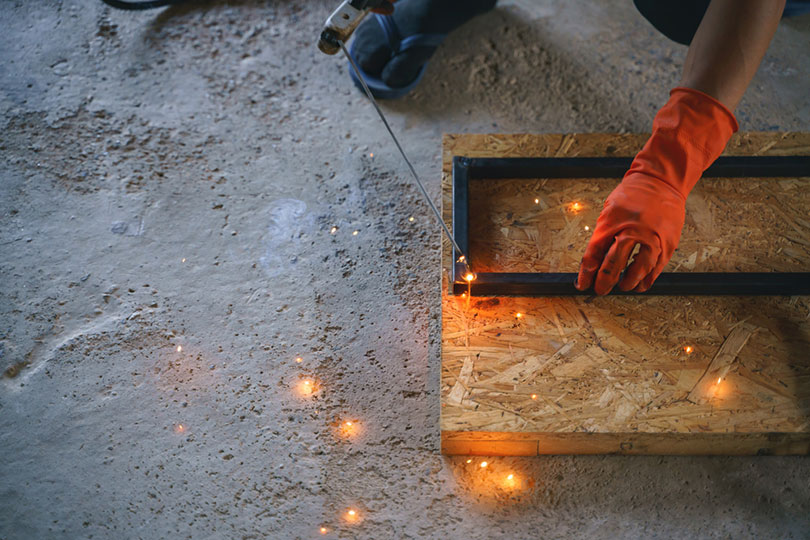 Welding is the process of joining two or more pieces of metal together by melting and fusing them. It's a skill that takes time and practice to master, but once you get the hang of it, you can create all sorts of strong and sturdy structures.
If you're just getting started in welding, then you might be wondering what kind of welding projects you can tackle. To help you out, we've compiled a list of 12 beginner-friendly welding projects that you can try today.
Keep reading to learn more!
---
The 12 DIY Easy Welding Projects for Beginners
1. A Wine Bottle Holder by Instructables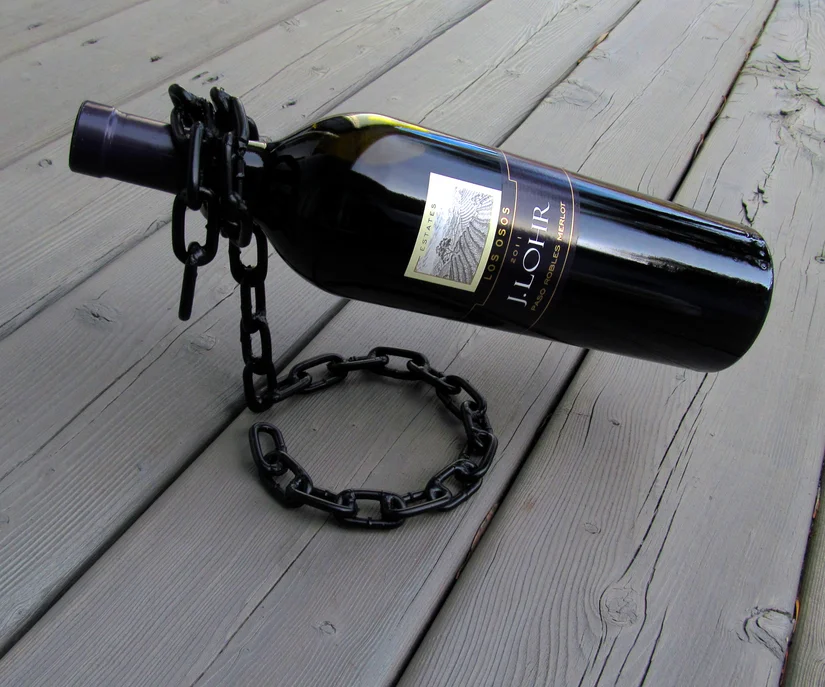 | | |
| --- | --- |
| Tools Needed: | A welder and safety gear |
| Materials Needed: | An empty wine bottle, spray paint, a thick steel chain |
| Used For: | Holding a wine bottle |
This is an excellent welding project for wine-loving welders! The main thing you'll need are 20 links of chain. Form a circle by arranging about 14 links of chain and weld them together. Then, weld the six remaining chain links together vertically. You can weld the base link at an angle. That'll give the stem a curvier appearance.
The materials and welding approach you'll use depend on the wine bottle holder's design. You'll learn how much heat you need when welding two pieces together. Also, you'll learn how to use your tools and torch well when working with metal. It will come in handy when doing more complex projects!
Most novices prefer using Arc and TIG welding techniques. With this, you'll create a dazzling and helpful wine bottle holder.
---
2. Horseshoe Dutch Oven Holder by Instructables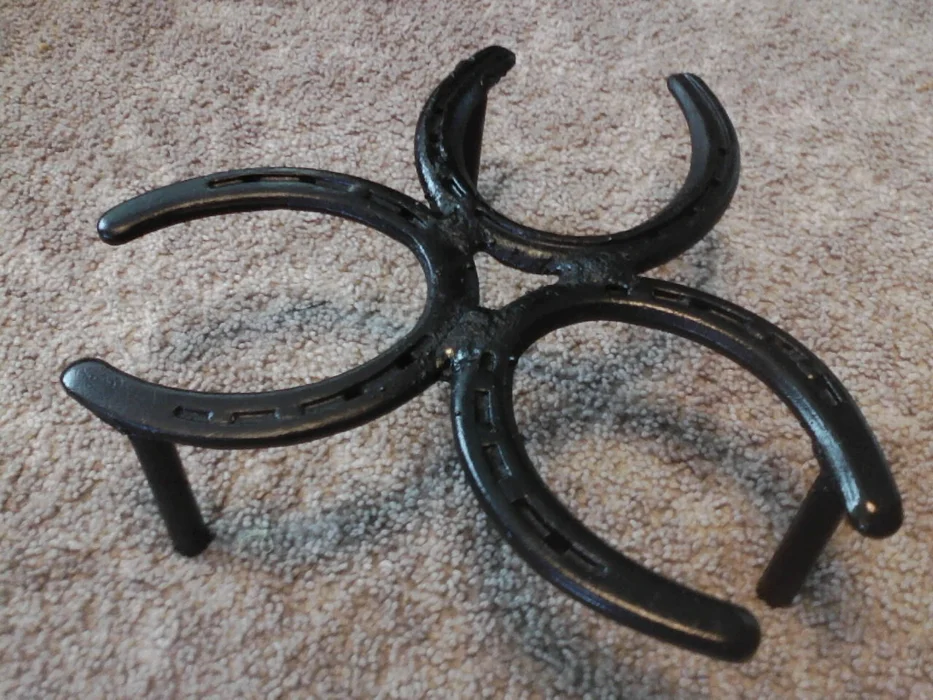 | | |
| --- | --- |
| Tools Needed: | Arc welder, grinder, pliers, welding rods, hammer, clamp, safety gear, and a wire cup brush |
| Materials Needed: | Three old horseshoes, a steel rod, and fire-resistant paint |
| Used For: | Cooking |
The Horseshoe Dutch Oven Holder is only a horseshoe-shaped piece of steel that you attach to your stovetop. It holds your Dutch oven when you're cooking, giving your hands more room to work around. So, it makes cooking easier! It also provides ample ventilation when cooking over an open flame.
It is perfect if you love camping or have a large family. The project needs only basic welding skills. Arc welding is the best welding type for this welding project.
First, put on safety glasses. Then, get rid of rust and nails from your horseshoes. Weld the three horseshoes together. Ensure the round parts of the horseshoes are touching each other. After that, flip the horseshoes upside down and weld the other side.
This welding project looks great when painted or stained. You can custom make it however you want.
---
3. Pencil Holder by Instructables
| | |
| --- | --- |
| Tools Needed: | Hacksaw, files, welder, safety gear, and a bench vise |
| Materials Needed: | 12-gauge steel sheet and spray paint |
| Used For: | Holding pens and pencils |
This industrial-looking pencil holder is made from steel pipe. It uses only one weld seam at the bottom of the base plate. So, it's easier than most beginner welding projects.
You'll only join several pieces of metal using TIG welding techniques. Cut four sections from a steel tube, ensuring every piece is shorter than the other by ¼ inch. Then, file the ends of these four sections. Cut another piece from sheet steel to act as the base. Place the sections on the base and weld them together.
This welding project will teach you how to set up your power supply and use filler rods. These are crucial techniques for this welding project.
The result is a cool industrial-looking pencil holder with a nice, rugged look! It would look great on any desk or table next to your computer!
---
4. Metal Shop Box by Youtube
| | |
| --- | --- |
| Tools Needed: | A welder and a welding table |
| Materials Needed: | A sheet of steel and several long bolts |
| Used For: | Tool storage |
If you're looking for a project that will take a little more time but will be worth it, this metal shop box is an excellent choice. The box is helpful in your garage or workshop.
You only need to measure and mark each piece of sheet metal according to your plan. Then, cut each piece along the marked lines. You can also drill holes on the sheet metal for the hinges. Then, weld the sheet metal pieces to create a metal box.
The skills you'll learn when welding this metal shop box will come in handy when you start working on bigger welding projects.
It's also an excellent project if you're learning how to use an arc welder. It'll help you get some practice before moving on to more challenging welding projects.
---
5. Cool and Compact Fire Pit by Instructables
| | |
| --- | --- |
| Tools Needed: | A welder, tape measure, angle grinder, drill, a hammer, boilermaker's chalk, and safety equipment |
| Materials Needed: | Chequer plate and black paint |
| Used For: | Cooking and warming yourself at night |
A fire pit is an excellent way to add more ambiance to your backyard or patio for family get-togethers while warming yourselves on the fire at night. It is also beneficial when cooking over an open fire without worrying about putting holes in your deck or patio.
You can weld a compact fire pit from metals such as steel or iron. Building a compact fire pit is easy and inexpensive if you have an arc welder.
Simply cut a steel plate into four trapeziums and one square sheet for the fireplace. You can use a cutting disc or angle grinder. Then, bend the trapezium sheets and weld them together. And there, you have your welded compact fire pit.
---
6. Spoon Flower by Instructables
| | |
| --- | --- |
| Tools Needed: | A welder, clamps, and a hacksaw |
| Materials Needed: | Eight large spoons, a ladle scoop, welding rods, and a metal rod |
| Used For: | Garden decoration |
You can weld simple structures to customize your garden or yard. You probably don't have expensive tools or equipment if you're just starting out. Your best bet is using household items like spoons and other utensils. It will allow you to practice your welding skills without spending a lot of money on equipment!
Also, if you love flowers but don't want too much work in maintaining them, this spoon flower is perfect for you!
You can use TIG or MIG welding for this project. Start by cutting the handles off the spoons using a hacksaw. Then, weld the spoons to form the petals. Assemble your flower and weld the stem.
The spoon flower is not only easy on the eyes but cheap! You can complete the project within a few hours.
---
7. Welded Steel Picture Frame by Youtube
| | |
| --- | --- |
| Tools Needed: | A welder, a drill bit, and safety equipment |
| Materials Needed: | Nuts, bolts, and steel plates |
| Used For: | Installing pictures on walls |
Consider making a welded steel picture frame if you've ever wanted to make something unique for your home or office. Besides, it's a great project to practice using different types of welding techniques.
Cut the steel into the desired shape. Then, grind the edges of the steel so they are smooth and even. Then, you'll weld it together to make it stronger than ordinary frames.
Use a spot or TIG welder in this welding project. You can even add some decorative touches, such as paint or engraving. Also, you can use this as an opportunity to show off your creative side and your welding skills! A welded steel picture frame will look great on any wall.
---
8. Homemade Barbecue Pit by Instructables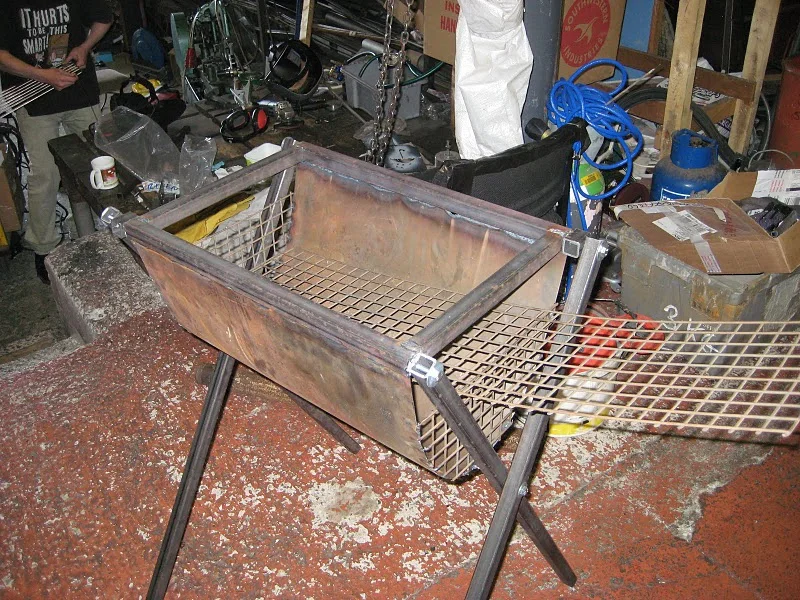 | | |
| --- | --- |
| Tools Needed: | Safety gear and a welding machine |
| Materials Needed: | Square mesh, metal plates, bolts, nuts, and metal tubing |
| Used For: | Outdoor cooking |
If you love grilling outside, this homemade barbecue pit is a fun welding project that you might want to consider. Make sure that you use heavy-duty materials so that it's strong enough for all your cooking needs! Barbecues are also a great way to celebrate summer. So, get yours done in time for the season.
The concept is simple. You only need to weld together some metal plates using a TIG welder. Make the frame for the grill. Then, weld the heat reflector or ash catcher. After that, weld square mesh on each end and the stands. The last step is to fix a mesh tray that holds the charcoal.
The result is an impressive outdoor cooking unit.
This project will allow you to practice all your basic welding techniques and get used to your welding equipment.
---
9. Garden Trellis by Instructables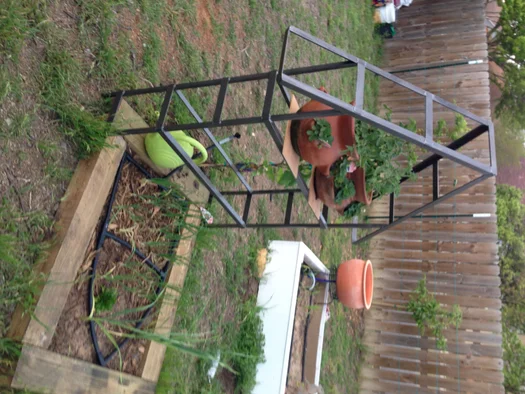 | | |
| --- | --- |
| Tools Needed: | Clamps, a welder, an angle grinder, safety gear, and a sander |
| Materials Needed: | Steel metal tubing, scrap wood, and paint |
| Used For: | Growing garden plants |
A garden trellis is a structure made of steel tubing welded together at certain points. You can grow different types of plants on it. It supports the plant, so you don't have to worry about them breaking or bending out of shape due to the weight.
It's simple and easy to build. You only need steel metal tubing. Start by drawing a sketch that'll guide you as you cut the steel metal tubing. Before welding the metal parts, weld the side ladders using an MIG welder. Then, weld them at right angles. The last step is to complete welding the other parts together to create a garden trellis.
This project gives you a chance to practice welding techniques without having to worry about ruining an expensive piece of equipment or material. Once you have completed this project, you can move on to bigger ones that need more skills.
---
10. Easy Doorbell from Scrap Metal by Instructables
| | |
| --- | --- |
| Tools Needed: | A welder, an angle grinder, drill and bits, and safety gear |
| Materials Needed: | A steel rod, an old argon cylinder, and a steel plate |
| Used For: | Ringing bell on your door |
You don't have to be a professional welder to make something beautiful out of scrap metal. This doorbell is for beginners who are just getting started with TIG (Tungsten Inert Gas) welding.
All you need is scrap metal and a few tools, and you can make a unique doorbell for your home. You can change the design of the doorbell to match your style.
Gather the materials you need for the project. Then, assemble the bell by welding it to the end of a steel rod. Once you're through with this, you can paint it to prevent rusting.
You can create beautiful artwork out of any scrap metal you have lying around your house or garage. The best part about this welding project is that you can customize the design however you want!
---
11. Yard Cup Holders by Youtube
| | |
| --- | --- |
| Tools Needed: | MIG welder, wire brush, angle grinder, magnets, rebar, and safety equipment |
| Materials Needed: | Horseshoes, cup stopper, and steel rods |
| Used For: | Holding cups when in the yard |
Most yards have at least one set of patio furniture that needs a place to set a drink while you relax outside. Rather than buying expensive metal cup holders, try making your own out of scrap metal.
These yard cup holders are made of steel and can hold drinks securely. They are designed to be used in the yard, but you can also use them indoors. They make an ideal gift for family members and friends who love to spend time outdoors.
This welding project doesn't need any fancy tools or equipment. Besides, it only takes about 30 minutes to complete once you have all your materials gathered and ready to go.
Weld the two horseshoes together. Ensure you align the center of the horseshoe using rebar. Then, fix a steel rod at a right angle. Weld them together using a TIG welder.
---
12. Sheet Metal Flower by Instructables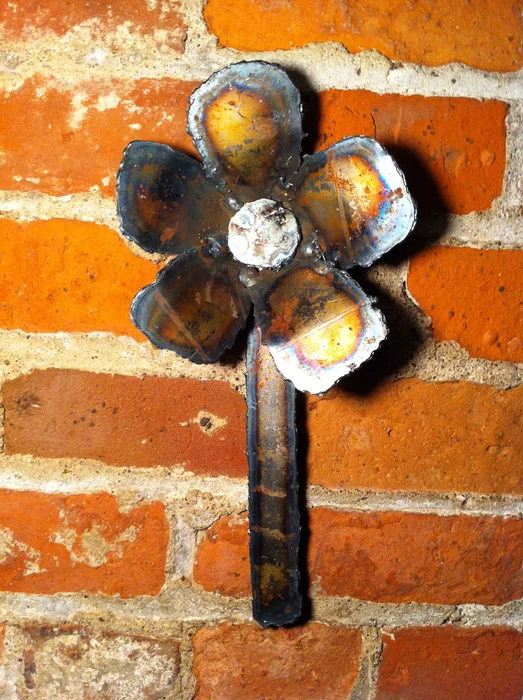 | | |
| --- | --- |
| Tools Needed: | Pliers, a plasma cutter, a magnet, safety gear, and a welder |
| Materials Needed: | Sheet metal |
| Used For: | Decoration |
This welding project requires some basic torch skills. Get started by choosing a material for your flower. You can use any sheet metal—copper, aluminum, and stainless steel are excellent choices.
Remember that thicker metals will be harder to work with than thinner ones. Metal finishing shops often sell pieces of scrap sheet metal in bulk. So, this is an excellent place to start shopping if you're unsure of where to look!
With your preferred material, use a plasma cutter to cut petals and remove them using pliers. You can add more petals if need be, so check the flower design.
After that, cut out the stem and the flower center. Weld the petals and center circle together. The last step is to weld the stem to the petals.
It's best to have an acetylene torch instead of an oxyacetylene torch for this project. It's easier to operate. Oxyacetylene torches are more challenging.
The sheet metal flower helps build confidence in your abilities as a welder. It can be crucial when starting in this field. The result is a unique piece of art that will look great on any wall.
---
Final Thoughts
If you're feeling a little more adventurous, you might be ready for some welding projects for beginners. These projects can help you take the next step in your welding journey. Regardless of the skillset, it's never a bad idea to try out a project or two when getting into welding.
When you complete these welding projects, you will have experience on the different welding techniques. It'll also prepare you for more complex tasks to come. Whether building a fence or working on your car, these welding projects can open a world of possibilities.
Whatever project you choose, practice safety first and always wear proper welding gear.
Other projects you might be interested with: