What is a Traveling Welder, And How Do You Become One?
Last Updated on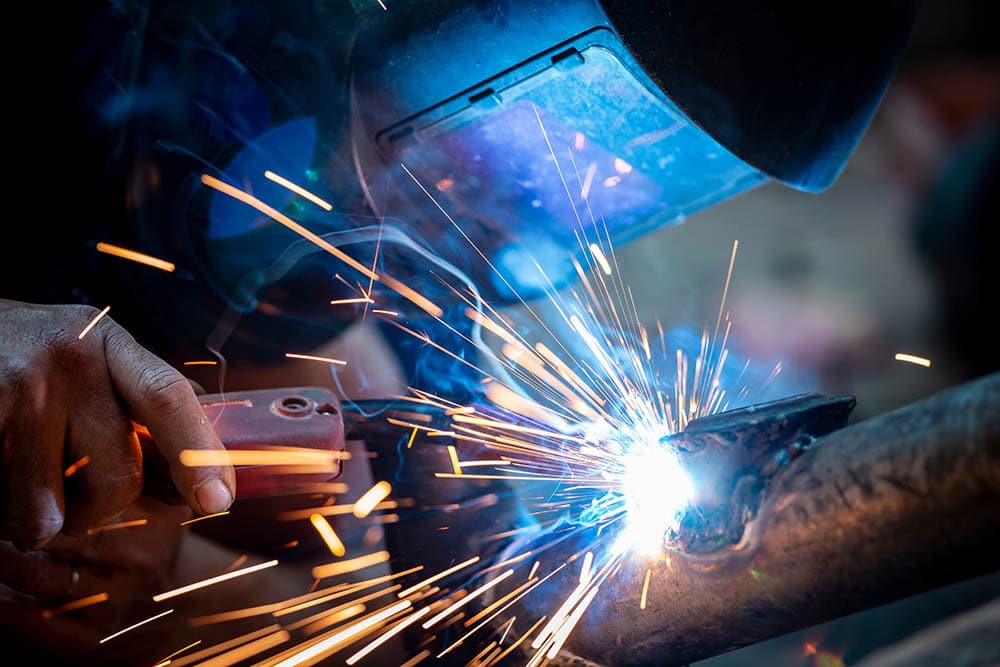 Most of us want to find a job we enjoy and get paid well for doing it. Becoming a traveling welder will give you the freedom to travel across the country at will. You'll make your income where you can along the way.
If you've been looking for a career change from being a stationary welder to being a traveling welder, you'll love what this article has to offer. In it, you'll find out what a traveling welder is and how you can become one.
---
Who is a Traveling Welder?
Traveling welders make a living traveling around doing welding and sheet metal work. They are sometimes called "mobile welders" or "mobile welders for hire."
Traveling welders can be either permanent or temporary
Permanent welders travel all over. They stay in hotels and truck stops, and they change jobs often. Temporary welders travel around for a few weeks, maybe a month, doing a particular job, and then move on.
Many traveling welders, especially in the construction trades, are self-employed. Usually, they carry their tools and welding equipment in a trailer or sometimes on a flatbed truck. Different companies use different sizes, ranging from small to large.
Traveling welders advertise their work in trade magazines and newspaper classified ads. Sometimes they sign with a company and work as employees.
According to the Bureau of Labor Statistics, there are about 3,700 traveling welders in the United States. They earn an average of $38,880 a year. Full-time traveling welders may make more than this.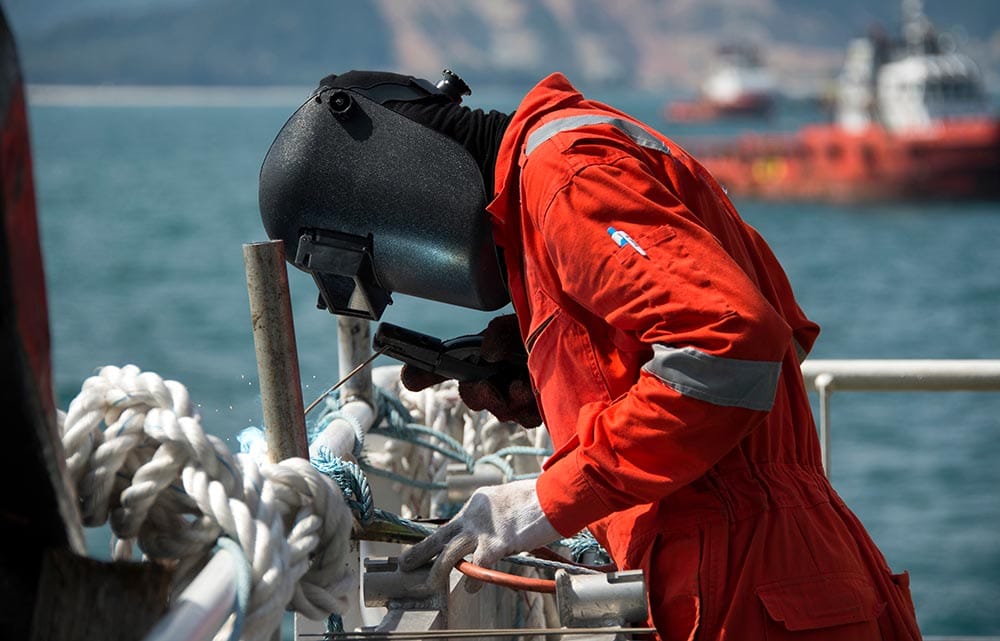 Duties of Traveling Welders
Traveling welders who work for reputable companies offer services to local businesses that need a qualified welder. A traveling welder follows the projects in need of welding.
It's an excellent career for welders looking for hands-on experience. With the responsibilities of traveling welders covering a diverse spectrum, there's no doubt that welding can be a viable career option.
Here are several duties of a traveling welder.
Specialize in specific types of work using different equipment depending on what they need for each project
Carry out maintenance of mechanical equipment
Assemble and repair pipelines
Be able to do overhead and underwater welding
Perform formulating and bonding work using various welding equipment
May be called upon to fabricate, erect, and repair structural and mechanical steelwork
They're responsible for keeping the proper amount of tools on hand
Make repairs and improve machinery and equipment
Install metal structures at construction sites. They also ensure that the structure is sound and holds the load it's meant to handle.
Perform manual welding tasks in the construction or manufacturing industries
Read blueprint manuals to understand pipe parts and layouts
Perform welding tasks with auxiliary equipment such as clamps and wires
Inspect welds for cracks and defects
Repair or replace defective parts
Inspect welding equipment for safety purposes
---
How to Become a Traveling Welder
A traveling welder can make a decent living in a short period. As a traveling welder, you'll be exposed to unique environments and cultures across the globe. The paychecks are well above average.
You'll only need a basic set of skills to launch this career. Here, we'll walk you through becoming a traveling welder.
1. Learn to Weld at a Vocational School
Learning to become a welder at a vocational school is the first step in becoming a traveling welder. Welding schools offer hands-on training in welding. This training involves practicing on metal objects and learning how to use welding equipment.
The welding schools may offer courses in:
Blueprint reading
Oxyacetylene welding
MIG welding
TIG welding
Arc welding
Many welding schools also teach basic and advanced safety courses. These courses teach students how to use the welding equipment well and how to handle welding hazards.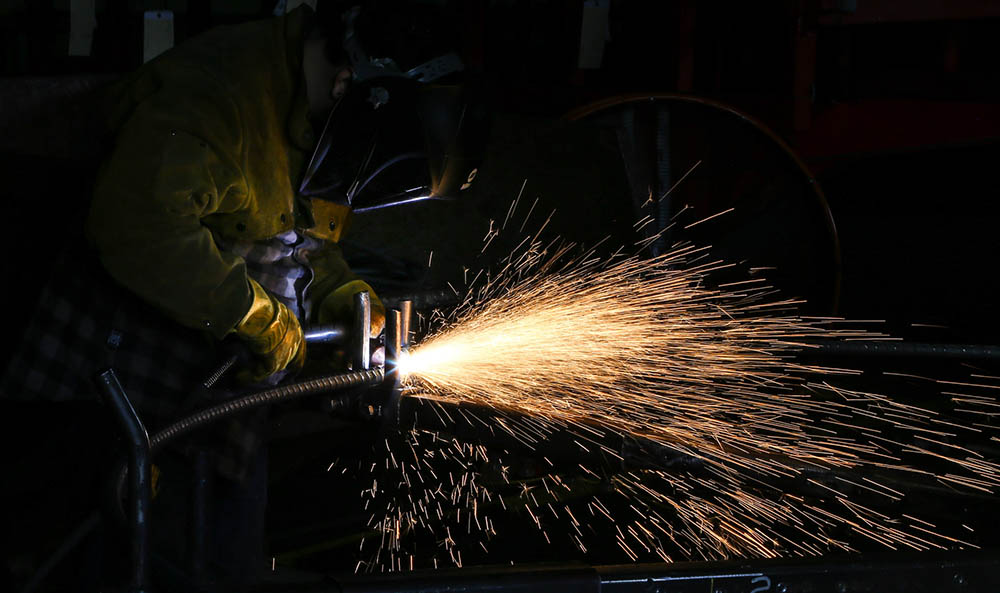 2. Complete Your State Welding Certification
You want to start your own welding business. You've picked your name, registered your business, and obtained a tax identification number. But, before you open up shop, make sure you have proper certifications, such as a State Welding Certification.
Becoming a certified traveling welder requires several exams. The American Welding Society administers these exams. Each state has a private welding certification program. Some states require you to pass a national exam, while others require that you excel in your state's exam first.
3. Obtain a Traveling Welder's License
All states require a welding license. It allows you to legally transport and weld metal, including steel and stainless steel. All states require that the applicant have one year of hands-on welding experience.
You can obtain this license through your local department of labor for a fee. They'll issue you a traveling welder's license that is valid anywhere in the United States.
4. Create a Business Plan
A business plan is a set of guidelines. They identify what you want, what you've already tried, and what resources you have. It's never complete because it's only a snapshot of your current understanding and aspirations.
Your business plan should include how much you want to charge, how you plan to market yourself, and how much money you think you'll make.
When creating a business plan, write down all the reasons you want to make money as a traveling welder. Think carefully about why you want to become a traveling welder.
Are you considering traveling the world? Or, do you want to visit different places and meet new people? Answering these questions will help you create a business plan.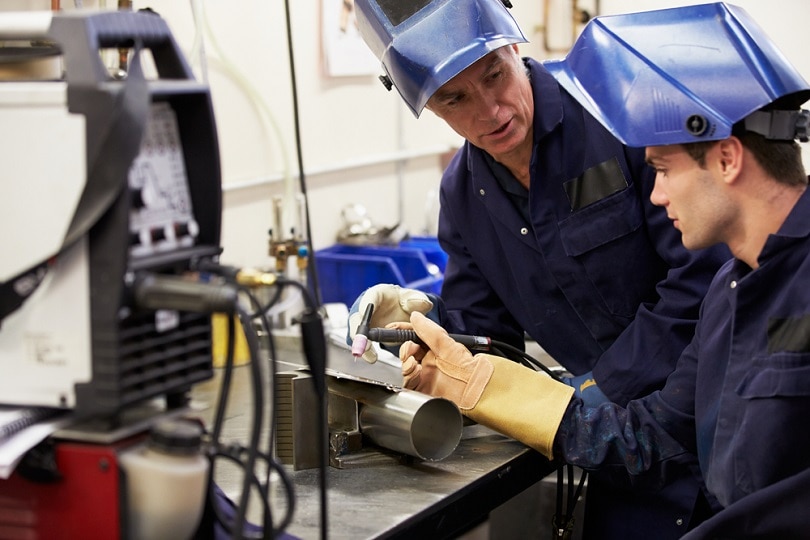 5. Get yourself an Apprenticeship
Every trade has an apprenticeship. Welding is no exception. First, find a welder who will teach you the trade. If you can get an apprenticeship, you'll learn a lot. The welder you choose must be an experienced and reliable craftsman. They should not only be good at welding, but they must also be able to teach you.
The apprenticeship is free. But, you'll have to support it yourself.
---
Popular Fields for Traveling Welders
Traveling welders are free to go from one job to another when needed. They travel when required and choose when they want to do it. Being a traveling welder gives you a unique opportunity in the job market.
Traveling welders can work a few days in one area and then travel to another with little or no notice. They have the freedom to choose where they want to work.
Here are several fields where traveling welders work.
Construction
The construction industry is the most obvious place for a traveling welder to look for work. Construction is big, it's everywhere, and a lot of jobs need to be done. There are a lot of places to find work. They include:
Building sites
Office buildings
Shopping malls and many more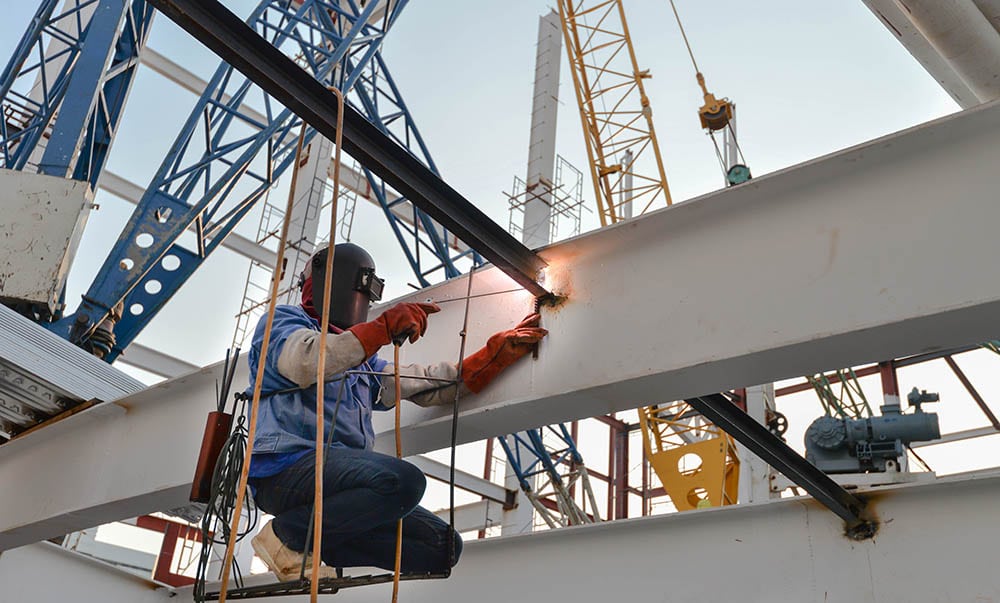 Military
Military welding is one of the most popular fields for traveling welders. A career in the military is a good route for a traveling welder. For most employees, military bases are spread throughout the world.
They need welders who can do everything from repairing vehicles and machinery to building new ones. It offers traveling welders the opportunity to relocate to different countries, cities, and states in any country in the world.
Underwater Welding
Underwater welding is a field in which welders work on pipelines and equipment used in water, such as docks and bridges. It's an interesting career path because you're not limited to land-based jobs. You can also work underwater. You may find yourself working for a company or even subcontracted by companies to work on submersibles.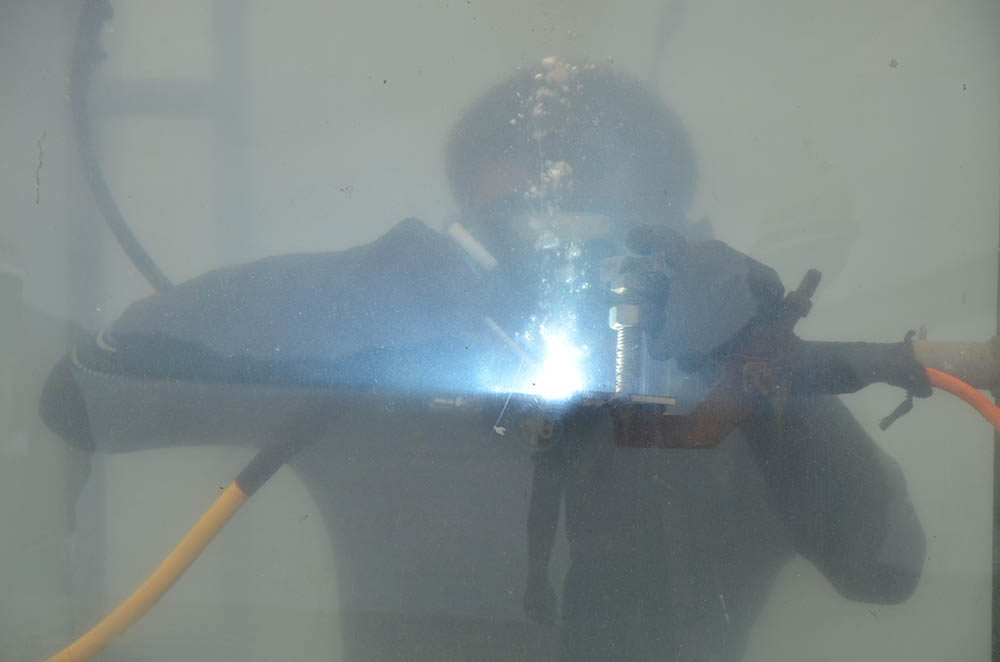 Industrial Shutdown
Whenever a factory closes, you have a good chance of finding a welding job. It may take a little research to find a temporary welding job, but almost any factory will keep a list of available welders. Sometimes the factory will have its list of welders. Other times it'll have a list of local welders, and sometimes the list will be available to anyone.
Companies that specialize in temporary labor will list any openings they have with temporary employment agencies. So, once again, it pays to ask around. At a job fair, you can talk to people already working and find out what companies need.
If you're lucky, you'll find a welding job that'll allow you to travel. It can be an enjoyable experience.
Railroad Track Repair and Construction
Traveling Welders often find jobs fixing and constructing railroad tracks. The work consists of traveling from one place to another with a rail vehicle. They use welding equipment to repair rail tracks.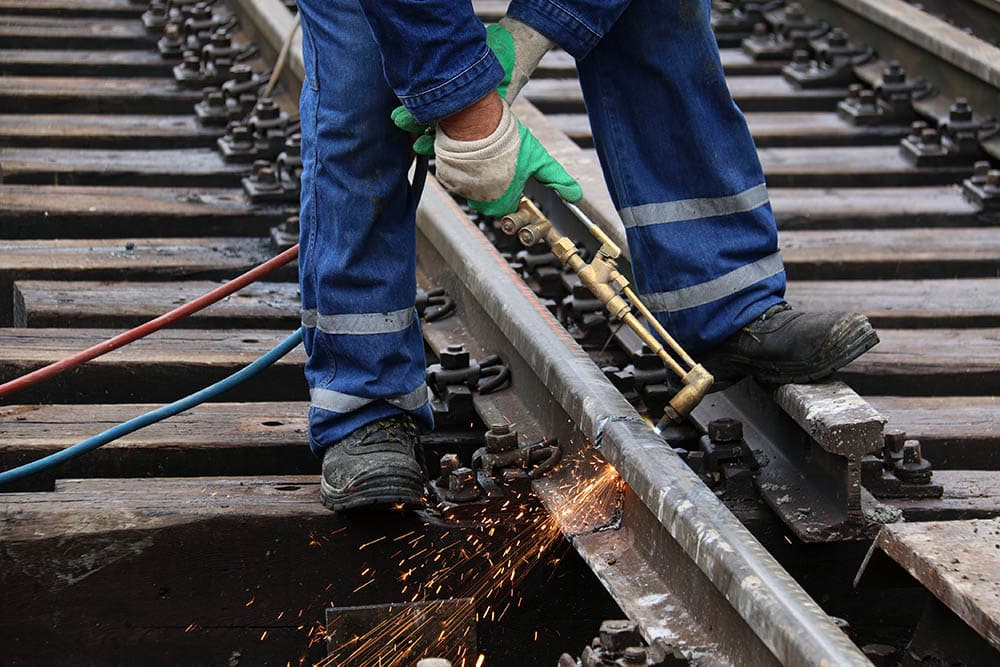 Aerospace
Air travel is ever increasing. It's no wonder that welders are in demand. Airplanes need constant repairs. So, the aerospace industry needs welders who can repair aircraft.
Most companies do this work in-house, while others hire traveling welders to fix the aircraft at the location where it's needed.
---
Final Thoughts
A traveling welder is the ultimate jack of all trades. They always learn new skills with each job and hone existing ones. Their travel lifestyle is attractive. But, there are many steps that one takes on the road to becoming a traveling welder.
A traveling welder has many advantages over other types of welders. The traveling welder isn't limited to one welding type. It's what makes them sought-after in the job market. If you're interested in pursuing this career path or want to try something new, this article is created for you.
Featured Image Credit: CoreRock, Shutterstock