8 Best Angle Grinders for Welding of 2023 – Reviews & Guide
Last Updated on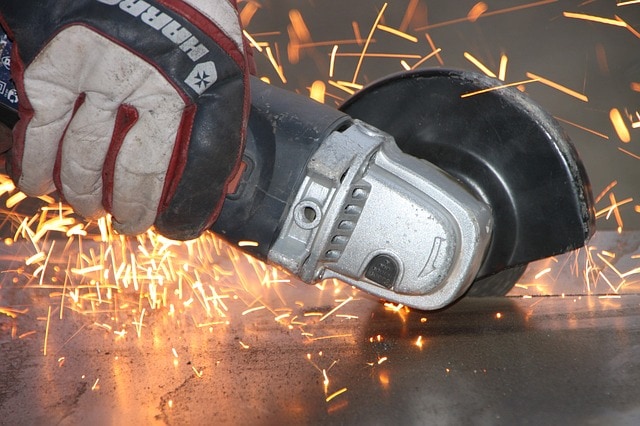 There are few tools as useful as the angle grinder. While it's a common tool in almost every trade, it's one of the most desirable because it can have a significant effect on the efficiency of your projects.
Tool companies are constantly trying to outdo each other with unique product designs, resulting in a large, complicated pool of products to choose from. Finding a perfect fit for your purposes can be a mammoth task, so we've sorted through them for you to find the best angle grinders.
We have eight reviews of our favorite angle grinders mixed between corded and battery-powered options. There is no shortage to choose from, and we hope this gives some guidance into what's a good fit for you. We have our favorites, but it comes down to your preferences, which is why we've provided a good overview of the best of each different kind.
A Quick Glance at our Favorites for 2023
Image
Product
Details

Best Overall

Hitachi G12SA3

High torque
Heavy-duty
Best wheel locking nut design
CHECK PRICE

Best Cordless Pick

Makita XAG04Z Cordless

Battery powered
Nimble feel
Comfy grip
CHECK PRICE

Best Value

BLACK+DECKER BDEG400

Low price
Nimble feel
Good safety features
CHECK PRICE

DEWALT DWE402 Corded

Safe paddle switch
High torque
High torque
CHECK PRICE

Milwaukee 2780-20 M18

Safe paddle switch
Excellent safety features
Brushless
CHECK PRICE
The 8 Best Angle Grinders for Welding
1. Hitachi G12SA3 8-Amp 4-1/2-Inch Angle Grinder – Best Overall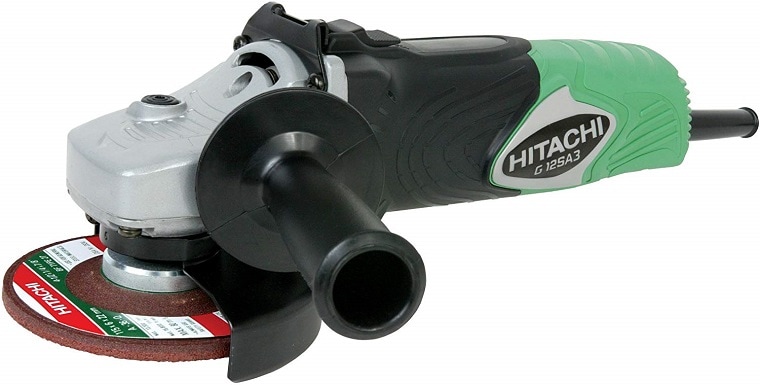 Without a doubt, the best angle grinder on the market is the Hitachi G12SR4 8-Amp Angle Grinder. Its 4½-inch grinding wheels are perfect for keeping a light feel to the grinder while ensuring the disk lasts during cutting and grinding.
It's not suited for people without experience or for those who are light-handed with tools, as it has excessive torque with high RPM, making it a bit too powerful for some people. However, if you have any confidence with angle grinders, it will take your grinding work to the next level, increasing the speed you can push through projects.
The ergonomic shape makes it a comfortable and easy tool to use. It has the best wheel nut lock design on the market. Unlike other grinders, it's simple to tighten and loosen and spigots into the spacer behind the wheel to provide a better clamping surface on both grinding wheels and cut-off disks. Many other grinders struggle to clamp securely without tooling, whereas the G12SR4 makes it easy.
If you need a heavy-duty angle grinder that's dependable for many years of industrial use, the Hitachi G12SR4 8-Amp Angle Grinder is our top recommendation.
Pros
High torque
Heavy-duty
Best wheel locking nut design
Top safety features
---
2. Makita XAG04Z Cordless Angle Grinder (with battery) – Best Cordless Pick
When dealing with an angle grinder, sometimes a battery-powered option is handy. In this case, we recommend the Makita XAG04Z Cordless Angle Grinder. It comes with a 5-amp battery that lasts a surprisingly long time for an angle grinder.
Batteries often struggle to provide enough power for sufficient torque which grinders need, but Makita's 5-amp battery-powered angle grinder is much better than other battery-powered tools. With a price similar to Hitachi's, it doesn't compare in the effectiveness of grinding, but it's one of the comfiest grinders on the market.
You can easily swing it around due to its light, nimble feel, and it's handy when you're onsite working in various locations, since you don't need to drag a power lead around. It also fits 4½-inch grinding wheels to ensure you enjoy long disk life before needing to replace it.
Anything smaller than 4½-inches tends to go through too many disks, the grinders aren't much lighter to use and its harder to get cut-off disks into some places with it being so close in diameter to the grinders head. Therefore, this makes all the 4½ inch grinders in our list of reviews the best choice.
Pros
Battery powered
Nimble feel
Comfy grip
Good safety features
---
3. BLACK+DECKER BDEG400 Angle Grinder Tool – Best Value
If price is your main concern, we recommend looking no further than the BLACK+DECKER BDEG400 Angle Grinder. You can almost buy it for less than your lunch, and it has an impressive 6-amp motor that grinds with more power than many other expensive grinders.
BLACK+DECKER is known for making low-priced tools that some people stay right away from regardless of reviews; however, this is a different low-priced tool that won't let you down.
It doesn't grind as well as the Hitachi G12SR4 8-Amp Angle Grinder by any means, and it's not nearly as comfy to use as the Makita XAG04Z Cordless Angle Grinder; but if you want a good grinder for a low price, then this is it.
It doesn't have heaps of torque for chewing through lots of steel quickly, but neither do any battery-powered grinders. This is a safe tool that will go the distance and save some serious coin; so, if you prefer to spare your wallet with a light-duty grinder, then this is an excellent choice to consider.
Pros
Low price
Nimble feel
Good safety features
---
4. DEWALT DWE402 Corded Angle Grinder
The DEWALT DWE402 Corded Angle Grinder is a favorite for many people wanting a high-torque tool without sacrificing safety. In fact, for a 4½-inch grinder, there is no other tool which runs at the same amps; it's an impressive grinder.
What brings this down our list in spite of its good size-to-power ratio with excellent safety features, is the paddle switch. Some people like the paddle switch because it's one of the best ways to keep users safe while grinding. You can't accidentally turn it on, and you can't leave it on like some other grinders. However, it's not comfortable to use. You can't position your hands for the best grip to use the least amount of energy while grinding the most material.
Grinding can be exhausting, and sometimes you need to get into difficult places to cut or grind stuff which requires your hands to adjust into the best position for the job. This doesn't cater for that due to its limiting paddle switch.
If comfort and adaptable hand positions aren't something you need, and you want a 4½-inch grinder with the most amps on the market, then this is a choice we highly recommend.
This grinder is also #1 on House Grail's recommended list.
Pros
Safe paddle switch
High torque
Best size to power ratio
Cons
Easily dirtied
Uncomfortable to use
---
5. Milwaukee 2780-20 M18 Angle-Grinder
The Milwaukee 2780-20 M18 Angle Grinder is a mix between the Makita XAG04Z Cordless Angle Grinder and the DEWALT DWE402 Corded Angle Grinder. It's a highly comfortable battery-powered grinder like the Makita, yet it has a paddle switch and excellent safety features like the DeWalt.
It has one of the handiest features a grinder can have; the disk stops almost instantly when you shut the grinder off. Not having this is a big downside to most angle grinders, especially when you're working on time-sensitive jobs often. The time it takes disks to slow down before you can let it down safely once you're finished normally takes a while, but this tool can be put down immediately.
While the paddle switch is a huge safety benefit, this does make it more uncomfortable to use, but aside from this, the design of the rest of the tool surpasses most other angle grinders. It's another lower-torque angle grinder due to it being battery-powered, but it does well nonetheless, and we recommend it as a quality option to consider.
---
6. Metabo WP9-115 Quick 8.5 Amp 10,500 RPM Angle Grinder
If you require a high performance, user-friendly angle grinder, the Metabo WP9-115 Angle Grinder is definitely one to consider. It runs with 8.5 amps to provide a high amount of torque for constant grinding power.
You can have confidence this will last you the distance as it comes with an emergency clutch which kicks in if you jam the disk. Jamming the disk is the primary way people break angle grinders which Metabo has eliminated in this design.
It also has an easy system to change disks and adjust the guard, which surpasses any other angle grinder's technology by unlocking them instantly without separate tools to loosen them. To top this angle grinder off, it sits more affordable than many other 4½-inch angle grinders on the market.
Its downside is the comfort factor. This is one of the most uncomfortable grinders to use. Even though the rest of its technology is good, and the paddle switch is very safe, it's an unpleasant experience using it for long periods of time. However, we recommend it if you don't mind its paddle style.
Pros
Durable motor features
High torque
Good safety features
Easy disk change system
Cons
Uncomfortable feel
Paddle switch tiring to hold
---
7. Bosch 4½ -inch Angle Grinder 1375A
The Bosch 4½-inch Angle Grinder is a small and lightweight tool with pretty standard features but a low price. It's a light-duty grinder primarily suited for the hobbyist or occasional workshop use. Being a Bosch tool, it's good quality but how it grinds is nothing special.
It's one of the more nimble angle grinders as it's much smaller and lightweight, even though it fits 4½-inch grinding disks. However, it lacks the comfortable feel of other grinders. The safety features are quite good, and it's not a bad looking tool; if you want to save on price for a corded angle grinder, we recommend it. Although, spending a little more will give you better performance, a more comfortable feel, and more features.
Pros
Low price
Good safety features
Lightweight
Cons
Light-duty
Low-torque
Uncomfortable feel
---
8. PORTER-CABLE PC60TAG 6.0-Amp 4½-inch Angle Grinder
The PORTER-CABLE 6.0-Amp Angle Grinder is almost identical to the Bosch 4½ -Inch Angle Grinder . They run the same amperage with a similar size and feel, but this is a lower-quality tool.
It costs slightly less than the Bosch grinder, although not by much. Some people have had issues fitting cutting disks into the Porter-Cable angle grinder due to the guard not suiting their design. This is an issue some grinders have with cutting disks, and none lock into the spindle as well as the Hitachi G12SR4 8-Amp Angle Grinder, but this is a downside bringing the grinder to the bottom of our list.
If you need an angle grinder with medium to heavy-duty grinding pressure, this is not an option we recommend. Also, for cutting, it's best to look elsewhere; however, if you want a low-priced light-duty grinder for basic household work, this has served many home and lawn mower owners well.
Cons
Light-duty
Low torque
Lower-quality
It's also worth mentioning that we also recently reviewed some more welding-related equipment:
---
Conclusion
With plenty of different grinders to choose from, we hope these eight reviews have been a help in narrowing down your search of the best grinders. Out top recommendation is the Hitachi G12SR4 8-Amp 4½ -Inch Angle Grinder. It has more power than most grinding jobs need, yet it's small, comfortable, and easy to use.
If you want the best bang for your buck, then we recommend the BLACK+DECKER BDEG400 Angle Grinder due to its incredible price with a performance matching grinder twice its price range. It's not the best of the bunch, but it's not far behind and will save you some serious cash.
Thanks for reading through our reviews of the best angle grinders and feel free to leave any thoughts below in our comment section.
---
Featured image credit: byrev, Pixabay