5 Best Welding Ground Clamps 2023 – Reviews & Top Picks
Last Updated on
Your welds are only as good as your gear, and using the tools that came with your kit may mean you're using tech that makes your welding harder instead of easier. We know it can sometimes be difficult to shop online for new welding equipment. You don't always get a good feel for what you're getting from product descriptions alone.
Our detailed reviews of the best welding ground clamps are designed to help you compare them, so you can get the clamp that best suits your needs. We've also included a buyer's guide, designed to help you maximize your value, even if you're buying a new welding ground clamp for the first time.
Quick Overview (updated in 2023):
Image
Product
Details

Best Overall

US Forge 300 Amps Bronze

Wide jaws
Stiff spring
Sturdy
CHECK PRICE

Hobart T-Style

Cast metal
Stays cool
Stiff spring
CHECK PRICE

Best Value

LINCOLN KH525

Strong spring
Great price
One-year warranty
CHECK PRICE

KINGQ

Wide jaw opening
300-amp capacity
Relatively low price
CHECK PRICE

Gimiton 800-Amp Arc

800-amp capacity
Circular jaws
Includes copper strap
CHECK PRICE
The 5 Best Welding Ground Clamps:
1. US Forge 300 Amps Bronze Welding Ground Clamp – Best Overall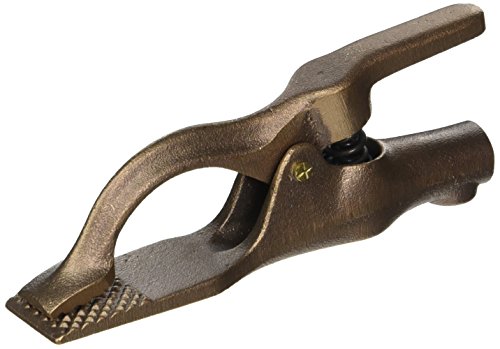 The US Forge Welding 300 Amps Bronze Ground Clamp is easily one of the best welding ground clamps on the market. It can work with up to 300 amps, giving you lots of flexibility in what you can do with it. It also has wide jaws, which makes holding things in place far easier. The grooves mean you should get positive grounding while you work. This clamp is extremely sturdy and sure to last a very long time, even for frequent, heavy users who demand a lot from their tools.
The stiff spring is something of a mixed bag. For most people, it's a plus, since you can have near-total certainty that what you're clamping won't come loose. Other people find that this clamp can be hard to open, given how stiff the spring is. It's probably still a net positive, but if you have weaker hands, you may want to get a spring that's easier to open. Overall, this is a great all-around clamp. As long as you like the spring, it's going to live up to and exceed your expectations in most areas.
Pros
Wide jaws
Sturdy
Stiff spring
300-amp capacity
---
2. Hobart T-Style Welding Ground Clamp
The Hobart 770031 400-Amp T-Style Ground Clamp is another one many welders will love. It's one of the best on our list for managing current, as it can tolerate up to 400 amps. It's cast instead of stamped, which means each individual part is stronger. As you might imagine, the clamp is very strong overall as a result. In part due to its higher current tolerance, it tends to stay far cooler than most other clamps when in operation, which is nice.
Like the top clamp on our list, it has a very stiff spring. You never have to worry about it slipping loose due to that great spring. However, this clamp loses out on the top spot because of the size of its contact plates. You get about a square inch of contact, which is okay, but you can do better with other clamps. Ultimately, if you value having a higher amp rating on your welding ground clamp, this is the one for you. If you value contact area more, you have better choices.
Pros
400-amp capacity
Cast metal
Stays cool
Stiff spring
Cons
Relatively small contact point
---
3. LINCOLN KH525 Welding Ground-Clamp – Best Value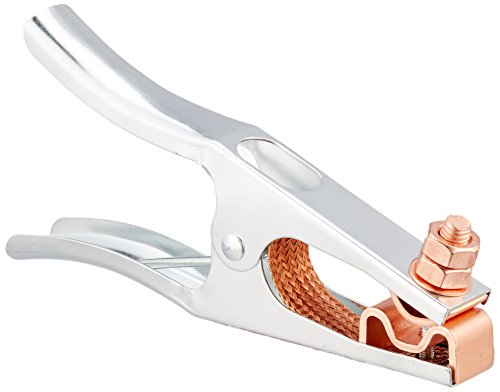 Few welding ground clamps come with a significant warranty, which is a shame. If the company isn't willing to stand behind a product, it's hard to trust it. The LINCOLN ELECTRIC CO KH525 bucks this trend, however, as it has a significant one-year warranty. The stiff spring makes it hard for this welding ground clamp to disengage accidentally. It works with cable sizes up to #2/0, which gives it a slightly wider range than you get from others on this list.
However, the best thing about this clamp is its low price. It's a no-frills welding ground clamp, and as a result, you can get it for about a quarter of what you'd pay for the top models. That's a tremendous deal, and it earns this clamp the title of "best value for the money" on our list. The reason it can't crack the top two spots is that it has the smallest contact area of the three. Still, for a good clamp with a great warranty available for a low price, it's hard to do better than this one.
Pros
One-year warranty
Strong spring
Works with up to #2/0 cable
Great price
---
4. KINGQ Welding Ground Clamps
The KINGQ Welding Ground Clamp has a price that falls somewhere in the middle on our list. Whether it's a deal or not depends on your individual needs. On the plus side, it has one of the widest-opening jaws around, as it can expand up to two inches. That lets you do some things that wouldn't be possible with many other welding ground clamps that don't open nearly as much. It also tolerates up to 300 amps. This makes it superior to most pack-in welding ground clamps and means it can hold up to what most other aftermarket clamps can do. It's not the most expensive clamp, but it's not cheap either, which makes it so-so when it comes to value.
It's a relatively long clamp, which is part of the reason it can open as wide as it can. Despite how large it is, it has a small contact area. That means you may have trouble fitting it into a tool belt, but might not get contact as good as that of other welding ground clamps, making this an overall frustrating buy.
Pros
Wide jaw opening
300-amp capacity
Relatively low price
---
5. Gimiton 800-Amp Arc Welding Ground Clamp
The Gimiton 800 Amp Arc Welding Ground Clamp is an example of a tool with the right idea, but poor execution. It's the best choice for tolerating current, as it can work with up to 800 amps. That's due to some clever design elements, including circular jaws. These help you get a grip on irregular materials, which is sometimes impossible with other types of welding ground clamps. This model also has a copper strap, which increases contact around the edge of the thing you're clamping as well. You'll get far more contact for grounding than with most comparable clamps.
Unfortunately, this clamp is cheap. That means it ships with inconsistent build quality. Sometimes parts aren't aligned or attached correctly, and that can lead to inconvenient use, or possible danger while you work. It also doesn't have the best durability, so even if you get one that was assembled correctly, it may not last as long as competing clamps. There are certainly some things to like about this clamp, but most people won't be happy with their purchase in the long run.
Pros
800-amp capacity
Circular jaws
Includes copper strap
Cons
Poor durability
Poor build quality
---
Buyer's Guide
When it comes to getting the right welding ground clamp, most people find that a combination of surface area and clamping power have the biggest effect.
Surface area
The surface area of a welding ground clamp refers to how much area it has for making contact with the wires and the material you're welding. The bigger the surface area is, the better grip the clamps will have on a surface. More surface area also means more area of contact, so your grounding gets better as well.
Of course, you're not always working with flat materials. If you often work with irregular or curved surfaces, invest in a ground clamp with a curved surface. The different shape makes it easier to get a good grip, and it works roughly as well on flat surfaces.
Clamping power
Clamping power is another area you can't undervalue. Most of a welding ground clamp's power comes from its spring. The tougher the spring is, the better the grip will be in most circumstances. Poor-quality welding ground clamps typically earn that title because their springs aren't strong enough, and they struggle to stay attached to the piece on which you're working.
The downside is that stronger springs require more force to open and close. If you don't have strong hands or want a clamp that you can reposition quickly and easily, get one that doesn't have a reputation for having a super-strong spring.
Also, here's some other welding equipment we recently reviewed:
Conclusion:
The US Forge Welding 300 Amps Bronze Ground Clamp is our favorite because of its wide jaws, sturdy frame, and stiff spring. The Hobart 770031 400-Amp T-Style Ground Clamp earns second place with its high current tolerance, cast metal parts, and ability to stay cool, though its relatively small contact point drops it out of the top spot. In third, the LINCOLN ELECTRIC CO KH525 comes with a one-year warranty, a strong spring, and compatibility with #2/0 cable. The great price means that it's the best value for your money. The KINGQ Welding Ground Clamp has a wide jaw opening and a low price, but its small contact area and large frame mean that it falls to fourth place. The last place belongs to the Gimiton 800 Amp Arc Welding Ground Clamp. It has an excellent design, but poor durability and initial build quality, which make it a poor overall choice.
Having the right tools to get the job done is always important, and hopefully, our reviews and buyer's guide have helped you find a welding ground clamp that will make future projects fast and easy.