What is a Military Support Welder, And How Do You Become One?
Last Updated on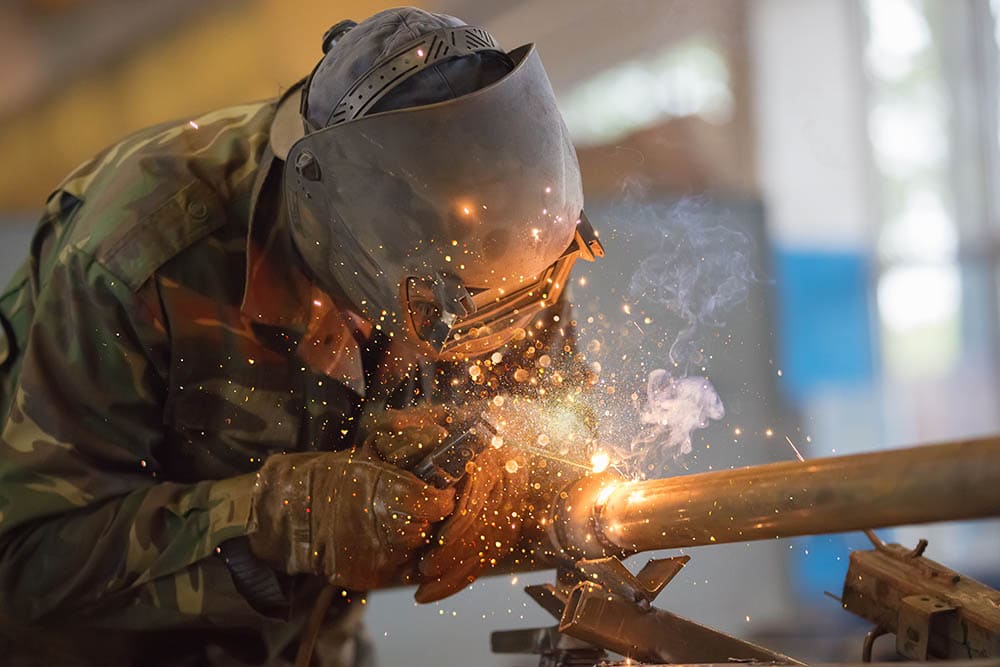 If you're new to the military, you might be wondering what careers are available to you. Perhaps you want to know what a military support welder does. How do you become a military support welder?
A military support welder works for the military as a welder. While they use this skill to repair and build things, their primary role is to fix and maintain equipment used for training purposes by soldiers.
In this article, we'll give you the info you need on what a military support welder does. We'll also show you how you can land a position as one of them, and tons of helpful tips to succeed in your career.
---
Who is a Military Support Welder?
A military support welder (MSW) welds military equipment. These welders are sometimes known as Special Armor Support Welders (SAWS) or Military Armor Support Welders (MASW).
The military uses equipment, such as tanks, trucks, missiles, and submarines. Welding is used in all branches of the military.
Military support welders usually work under a welder supervisor. They may be assigned to a unit or an individual piece of equipment.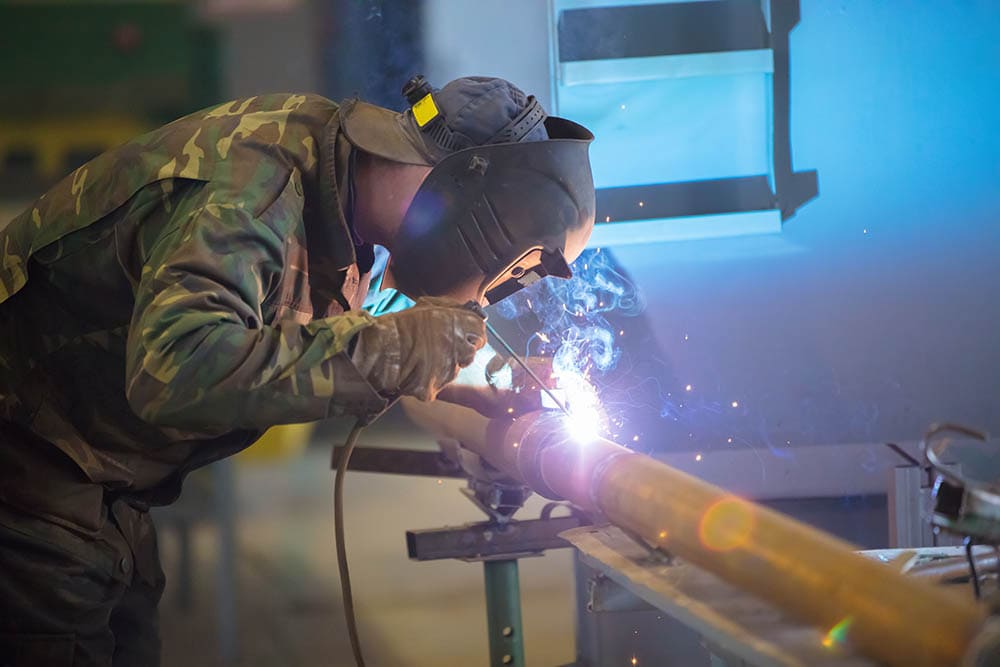 How to Become a Military Support Welder
Being part of the military is all about giving your best to do something with honor. It'll bring pride not just for you but for everyone who has served with you. Many people join the military because they want to serve their country's community and know that they can earn their keep that way.
There are many options available in the military. They have varied locations and relatively comfortable conditions. The military is always looking for support welders with various degrees. They need them to fill the specialized occupations available.
Once you become a certified welder, you can build your career within the military by becoming an expert in welding support roles.
Here are the steps to follow if you want to become a certified military support welder.
Apply to a Community College
You'll need to complete an associate's degree in welding if you want to become a military support welder. Most community colleges offer associate's degrees. They'll teach you everything you need to know to become a military support welder.
Make sure that the program you select is accredited. Accreditation is crucial because it ensures that programs meet several standards.
A diploma or GED are the only qualifications needed. Community colleges are an excellent option if you want to improve your skills while staying within your budget.
Join a Welding School
To become a welder, most people go straight into a welding school. Welding schools provide a lot of hands-on training. Usually, they employ experienced welders as teachers.
The programs offered vary. They can range from short courses to two and four-year programs. Some people get into welding through trade schools and community colleges. Others learn welding in vocational-technical high schools.
Welder training is demanding. You're expected to take part in class and work assignments. By the time you graduate from a welding school, you should be able to pass a state welding test and get a job as a military support welder.
Test at American Welding Society Test Facilities
You must pass a skill test to secure a job in the field of military support welding. The American Welding Society provides the test. There are two levels of welding proficiency tests that you can take:
Level 1– It covers basic welding concepts.
Level 2 – It covers specialized welding concepts.
Most welding schools administer these tests. Also, they're offered at several community colleges. They test your ability to weld specific thicknesses and materials. You must have three years of experience to take the American Welding Society certification tests.
Before you can take the test, you must have the certification. Different certifications are required for the military support welding jobs. You'll need to prepare well if you want to pass the welding exam.
Additionally, you'll have to study welding blueprints, symbols, and welding terminologies. Also, you must learn different welding techniques, such as:
Flux Cored Welding
Gas Metal Arc Welding
Shielded Metal Arc Welding
Create Your Resume
When applying for a military support welding job, a resume is a crucial document that you should have. It'll be the first impression you make on the company. So, make it as professional as possible. Knowing the requirements before applying for this job will help you determine if you'll succeed in the job you are applying for.
Your resume should show that you have the skills and qualifications required for a military support welder position. It should also include any relevant training and education. It should also comprise certifications or licenses that you may have obtained.
Additionally, include any previous military experience, your duty station, and dates of service.
Also, include specific duties you performed. Your resume should also include your work experience. List the employers and dates of employment for each job you have held. Also, describe your duties and accomplishments.
Build Connections with Military Personnel
Building good relationships with military personnel is a crucial step. The military community is made up of many individuals from all walks of life. Military personnel offer a good deal of insight on what it takes to become a successful support welder.
Usually, military personnel understand the education, training, and experience needed to become a successful support welder.
Even if you are currently a civilian with no military experience, there are many ways you can gain the necessary military experience. They include:
Building connections with the military – You can attend military functions. Also, volunteer for military activities or apply for positions in military organizations.
Join military organizations – There are many organizations you can join to gain military experience.
Apply for military jobs – Are you skilled with computers? Apply for a job in a computer technician's office. If you're skilled in welding, apply for a job in a welding workshop. You can also apply for a job as a builder if you're skilled in building construction.
Finally, move into a civilian job that's related to the military. Real estate agents, electricians, carpenters, plumbers, and mechanics all work with the military. Military experience is valuable.
Apply as a Military Support Welder
Usually, all military support welding positions are filled through a thorough application process. The process can vary by specialty. So, read the vacancy announcement carefully.
All candidates interested in becoming military support welders must apply for the position. The online application will include questions about your education and experience. It also needs recommendations.
---
What are the Duties of a Military Support Welder?
Military support welders work outside. They maintain, repair, and change military equipment and supplies. Military support welders also establish conditions for emergency repairs, modifications, and alterations.
They work under the supervision of a maintenance supervisor or officer. They perform tasks involving welding and metal fabrication. Also, they work on other tasks, such as painting, building maintenance, and vehicle and plane maintenance.
The support welders work with common metals, such as steel, aluminum and brass. They also work with specialty metals, such as titanium, silicon and magnesium.
A military support welder's duties involve:
Welding
Brazing
Cutting
Forming
Trimming
A military support welder also installs parts, such as armor plates, engine parts, and electrical wiring. They also perform tasks that involve various hand tools, power tools, and measuring devices. They work on the floor, in trenches, or in elevated positions. Also, military support welders may work in confined areas, such as in tanks, on plane, or in underground installations.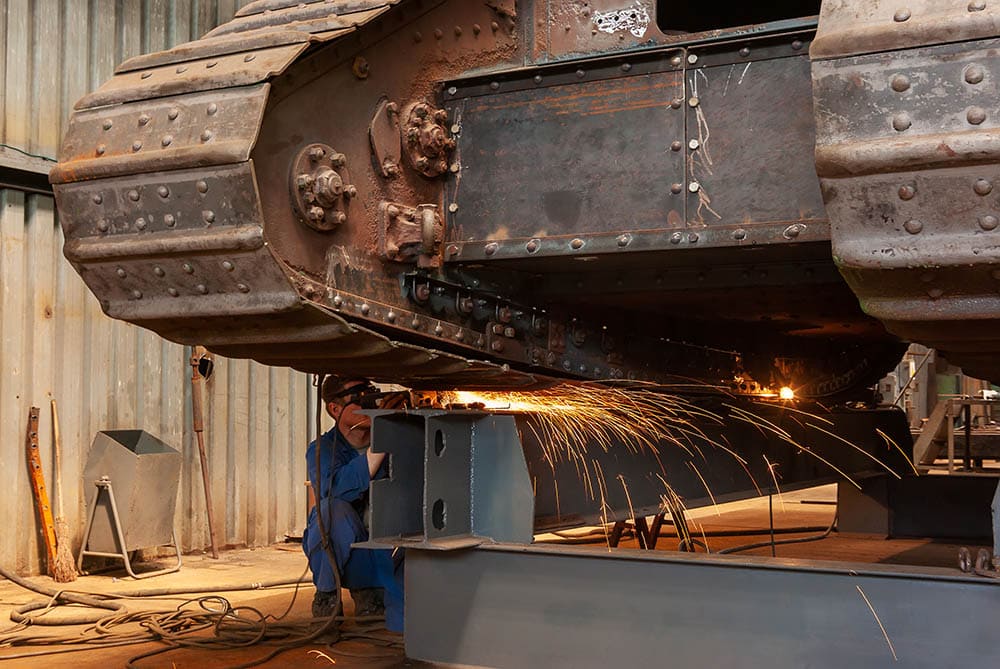 What are the Skills Needed to Become a Military Support Welder?
Military support welders are skilled craftsmen whose performance impacts their unit's ability to accomplish its mission. They should have a wide variety of skills.
Apart from welding skills, military support welders should have computer skills and mechanical aptitude. Besides, they must adapt to ever-changing missions and battlefield situations fast. After all, these military support welders work with tanks that don't always run on schedule.
Here are several skills that a military support welder should have.
Should have good math and customer service skills. They should also be organized and detail-oriented.
Read blueprints and work with maps
Be able to work under pressure
Be able to work in high temperatures
Repair machinery, large machinery, and ships
Experience working with plasma arc welding techniques
Analyze complex problems and draw sound conclusions
Test and inspect materials, parts, and equipment
Select tools and equipment needed to repair or service equipment or machinery
Be able to weld certain metals and handle operations in various environments
Must be willing and able to travel and work at odd hours
Have good hand-eye coordination is a must
Be safety conscious and detailed oriented
Maintain equipment and machinery
Be able to weld thin sheet metal
Demonstrate an understanding of thin-gauge steel and its uses
Be able to use a MIG welder
Does the Military Employ Welders?
Military support welders are crucial to the military's mission success. Many military installations use welding for both construction and maintaining their equipment.
Military support welders maintain and fix heavy machinery and military aircraft. Also, they carry out maintenance and construction projects. The military deploys welders in almost all their operations around the world. So, definitely, the military need welders.
---
Final Thoughts
The military has many different kinds of occupations. One of them is that of a military support welder. A military support welder provides welding services for the Air Force, Army, and the Navy. Becoming a welder in the military is a better career choice. Military support welding jobs are in-demand.
They offer many benefits and opportunities unavailable to civilian welders. The military is built on a foundation of welders. If you are a welder looking for a career with high demand and long-term stability, consider exploring opportunities in the military.
Featured Image Credit: SviatlanaLaza, Shutterstock