How Much Does Welding School Cost? (Updated In 2023)
Last Updated on
Are you thinking of taking welding as a career and wondering how much a welding school will cost you? The career generally requires you to have a certain level of technical training and some experience to land your first job. These requirements are quite understandable since welding demands skills, safety, and focus.
Your decision to join a welding technical school to gain these skills may be an investment in the long run. But how much does welding school cost? Below is a detailed discussion of all that is required and the prices in different institutions.
---
The Cost of Welding School
The tuition cost to become a certified welder will largely depend on the school you attend. The tuition fees may also vary depending on several other things such as type of training, length of the program, and state. Some courses offer certification after completing a 7-month training while others may take up to 4 years to complete.
Typically, welding school tuition fees start at roughly $5,000 for courses lasting from 3–7 months. In comparison, college welding programs may cost you an average of $15,000 for courses lasting up to 15 months. Depending on what you want, a college program offers more benefits than welding training, which offers fewer expenses and is shorter.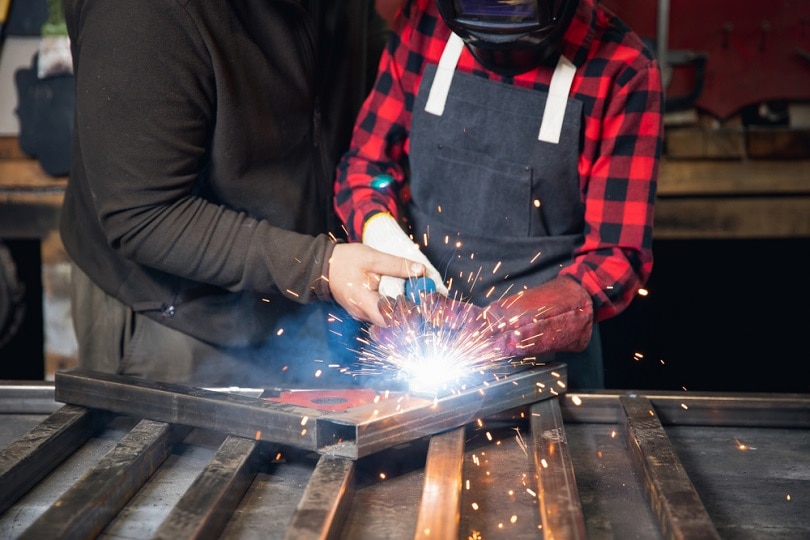 Additional Costs Associated with Welding Studies
When looking for a welding school, you must research any additional costs apart from the tuition fees. There are other costs you may incur, which may include hidden costs and associate fees.
The extra cost may include the following but not limited to:
Testing fee: Testing fees such as certification testing fees may be a requirement. The testing fee ranges from $300 to $550 for every test and may be charged independently from the main tuition fees.
Application fees: The fee gets charged by nearly all schools, and you can expect to incur an average of $125 for application.
Housing and Food: If you reside far from the school, you can expect to pay more for food and house rent. Depending on the program you enroll in and the school location, you may incur anything between $500 and $10,000. Housing on its own may cost you about $4,000 and above.
Books and Welding Equipment: The upkeep cost may also include welding equipment and books that you need. The average expenses on books can be $220, while safety and welding equipment may be between $500 and $1,500.
The Cost of Welding Tools You Require For School
For a successful training program and beyond as a certified welder, you will require to purchase your own tools. On average, your own set of tools will cost you about $400. This cost will also depend on the program you enroll in and the curriculum as a whole.
Some of the equipment you will need includes the following:
Safety glasses and a welding helmet
A ball-peen hammer or a chipping hammer
A wire brush
A welding jacket
A tape measure
A MIG pliers
In the case of MIG welding, you will need to have gauntlet cuff gloves instead of TIG welding gloves, which are flexible and thinner.
The Cost of Welding Courses
Trade education, also known as technical training, is different from white-collar education. The main difference is that trade education does not involve comprehensive and theoretical knowledge. Instead, technical education entails learning a specific set of skills, then putting them into use as quickly as possible to earn a living.
Because of this, many welders opt for diplomas and certificate programs that cost less and offer quick turnarounds. For this case, let's pick Earlbeck Gases & Technologies, a leading mid-Atlantic welding school, and analyze the cost of welding courses. Here the cost may not be much different from other institutions across the county.
The Basic Welding Course
The Basic welding course will mostly teach you the fundamentals of the welding concept. This course may not yield any professional certification upon complication by itself. It may benefit several categories of students.
Complete beginners wishing to kick start a career in the welding profession. The course offers the most basic and general knowledge of the welding profession as a foundation for future practical training.
Home tinkerers that enjoy making metal crafts. The course offers knowledge to people who may not aspire to do commercial welding or earn an income as a professional welder.
The course offers welding general safety principles and a theoretical understanding of welding techniques. The student will understand the basics of how to use TIG, MIG, and all stick equipment. It will ensure that the student knows how to set up welding equipment for specific welding jobs.
TIG, Stick, and MIG are the most common welding process that involve either joining base metals with high heat (TIG) or using filler metal (MIG and stick). Since this is a Basic course, expect to pay around $150.
Welding Symbols Course
One of the most crucial aspects of welding as a career is your ability to understand the design plans and blueprints. Therefore, a welder has to interpret symbols embedded and attached in drawings to complete a job. While the course is not necessary for recreational or at-home welders, it is essential for commercial welders.
Knowledge obtained by the career welder from this course will build upon his or her future courses and get applied to the fieldwork. Expect to receive a certificate upon completion as a confirmation that you have the ability to understand symbols. This course will cost you about $300.
Visual Welding Inspection Course
If you're aspiring to be a commercial welder, this is the next level in the welding education process. For the recreational welders who wish to weld as a hobby, this is a useful course for telling quality weld work. It's a necessary welding course that helps you carefully observe existing welding work or progressing work.
Visual weld inspection helps save money and time that may arise from reworks by identifying flaws or potential problems. The course provides comprehensive knowledge of all welding elements and specific base metals.
It also equips the student with the following:
How to interpret discontinuities on base surfaces
Using proper gauges and specialized tools to spot welding defects
Fluency of all terms involved with weld inspections
While you will receive a certificate upon completion, this does not certify you to inspect commercial welds. To be a professional weld inspector, you will need to further your education and training. The cost for this course is $300.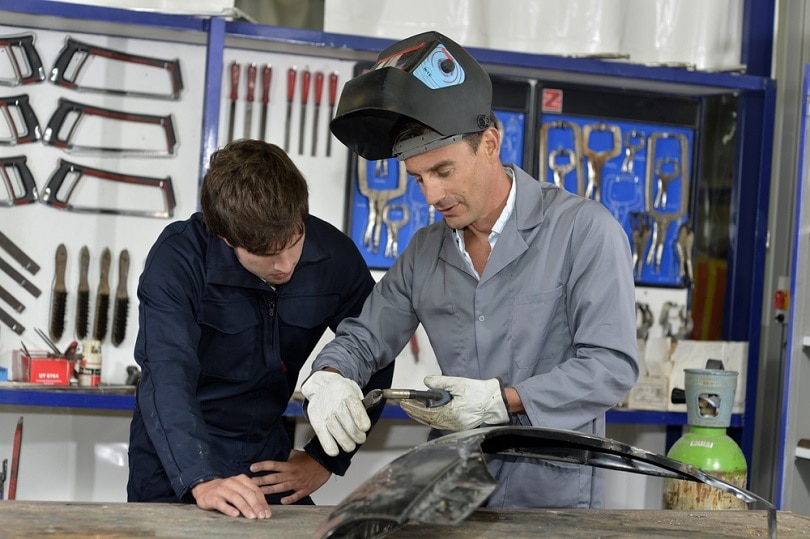 Welding Fundamentals Course
The courses mentioned above involve theoretical and a general understanding of the welding concept. However, the student will require undergoing fundamentals of a welding course that combines both conceptual knowledge and hands-on experience. This course is a requirement for aspiring professional welders and not suited for recreational welders.
The course involves 60% hands-on welding practices that give the student practical experience in TIG, Stick, and MIG welding techniques.
Upon completion, the aspiring welder will not acquire welding experience but will also have the ability to perform the following:
Understanding common metallurgy
Interpreting well symbols and doing the best weld on specific situations
Be able to decipher welding codes where applicable
Cut stainless steel, aluminum, and steel using plasma equipment and oxy-fuel
Be able to use all the three basic welding processes when performing filet and groove welds on carbon steel in a horizontal and flat position.
This course certifies a welder to start performing entry-level jobs. You can also expect a cost of about $1,700.
Courses for Specialized Welding
While the courses mentioned above offer a wide gamut of practical and topics, expert knowledge is offered only under specialized welding courses. For those aspiring to become welding experts in specific areas, this is the course for you.
Intermediate TIG/MIG/Stick. The course offers the student a 48 hours next-level practical welding on a specific area. The student obtains an advanced certificate, which means the student can perform a wide array of welding on aluminum and carbon and steal. It will cost about $2,500.
Advanced TIG/MIG/Stick. The course gives an additional 42 hours of advanced practice. This course will specifically certify you as a Structural Welding Code compliant. By this, you will be a certified welder and ready to weld thick base metals for vertical and overhead welds. Expect to pay a cost of about $2,500.
The Cost of Welding Training in Community Colleges
If you wish to attend a community college for your welding program, you may pay anywhere between $5,000 and $15,000. As mentioned earlier, the cost most mostly depends on the type of welding program you choose.
For instance, a certificate or a diploma program may cost you under $10,000 in a community college. An Associate Degree program, on the other hand, ranges from $10,000 to $15,000. This discrepancy is due to the difference in the required period to successfully complete the program.
The Cost of Online Welding Training Programs
Although unpopular, there are online training programs that may help you attain welding pro-efficiency. The welding programs are not ideal for beginner aspiring welders. They are useful to people who are already familiar with welding basics, tools, and techniques.
The training helps people who wish to further their education and knowledge. For example, an online course for a welding inspector can take about eight weeks and cost you about $1,665. Also, when you complete the welding program, you will get prepared for CWI exams.
---
Welding Certification Fee
Now that we have talked about specific courses and their cost, here is any other certification that you might have to pay for. In some states, you might need additional welding certifications apart from the traditional diploma to get employment. For example, you may require a Certified Welder card from the American Welding Society.
Such certifications need you to undergo and pass an exam, which will cost you somewhere between $800 and $1,100. There are other specialized certifications, which may help you attain higher pay and more employment stability. Examples of such certifications are the welding supervisor and the welding engineer certificates.
You may also decide to enroll in special welding courses, depending on your plans for the future. Special welding courses are specialized classes that once completed, will help you stand-out in the job market.
They include:
A fabrication welder course, which will cost you about $3,300 for a period of 36 weeks
A pipe welding course that will cost you something between $2,500 and $4,500 for a period ranging from 24 weeks to 52 weeks
A 12 session preparation certification that will cost you about $550
How Long It Takes To Be a Certified Welder
Most welding certification programs take an average period of two years. This period, however, depends on what one wants to achieve in the long-term. Some schools provide courses that last for seven months and are more focused on preparation for careers.
For example, vocational school programs may take one year, while apprenticeship programs may take 2-3 years. The same applies to community colleges.
Welding Schools and Their Charges
Across the USA, many welding school programs offer welding training at different tuition fee rates. Here are some of the best welding schools and their associated costs to guide you make a decision.
Tulsa Welding Schools:The Oklahoma-based welding school offers programs of up to one academic year and will cost you an average of $19,977.
Lincoln Electric Welding School: The school is the largest welding training center in the world. It offers training at an average cost of $6,350 and an additional $500 registration fee.
Illinois Welding School: The diploma-based programs will cost you $1,300 for Basic welding certification. It charges $9,035 for a structural welding specialist certificate and $11,082 for a pipe welding specialist.
Knight School of Welding: An 8-week program will cost you approximately $3,600.
UTI Welding School: Without any scholarships, a 9-month welding program will cost you around $19,950. The programs are also developed with Lincoln Electric and include SWAW, GTAW, GMAW, and FCAW techniques.
Underwater Welding Schools: Underwater welding schools are all over the country and include the International Diving Institute and Ocean Corporation. These institutions offer programs costing as low as $2,800, but for the welding program, the average cost is nearly $15,000.
Consider Applying for Welding Scholarship
When deciding to join a welding school, remember to check if it has an associate scholarship program. Depending on the specific school, scholarship awards may range from $1,000–$10,000. In some cases, the scholarship awards may cover the full program tuition fees.
For example, the American Welding Society and the Delta Technical College offer scholarships every year. Additionally, the American Welding Society gives scholarships awards worth $1 million to students.
---
Conclusion
Keep in mind that welding requires a lot of practice for you to become an expert. Welding schools are also a perfect place to acquire the skills necessary for growing your career. Additionally, you will need to do some research on the costs regarding your preferred welding course. In summary, the cost of welding schools ranges from $300 to $100,000.