What is an Oil Rig Welder, And How Do You Become One?
Last Updated on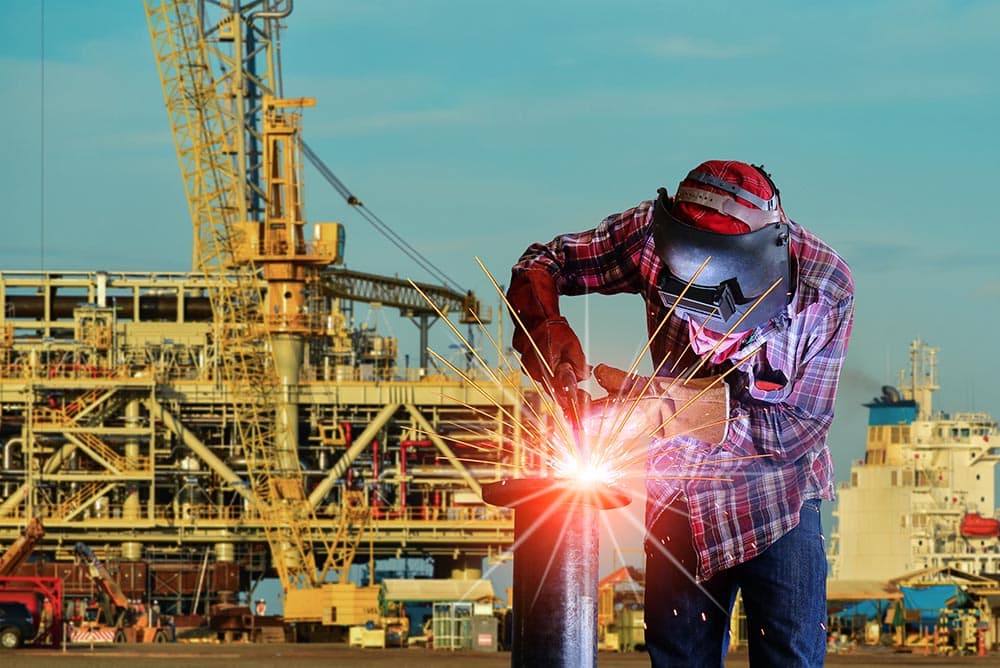 Are you a welder looking for a job? Do you want to learn more about the oil field welding industry? If yes, this article is for you!
In most countries, oil rig welding is considered one of the most dangerous jobs. It is a job with a steep learning curve and takes years of training to become a certified oil rig welder. But, with training and safety equipment, oil rig welding can be a rewarding experience with a big paycheck at the end of the day.
We will tell you what oil rig welding is and how to become an oil rig welder. Understanding the context of this occupation will help you understand both its upsides and hazards.
---
What is Oil Rig Welding?
Oil rig welding is the process of joining the metal structures of oil wells. Usually, these structures have different shapes and sizes. Oil rig welding is also referred to as underwater welding. It's because it involves joining the metal structures that are submerged underwater.
Who is an Oil Rig Welder?
Oil rig welders work on oil rigs. They operate, maintain, and repair all types of equipment used to drill crude oil, gas, and coal. An oil rig welder specializes in high-pressure and high-temperature (HPHT) welding. A career as an oil rig welder needs the right skills and extensive training.
Oil rig welders work for extended periods in harsh conditions, at sea and elevated altitudes. Oil rigs must handle intense weather and random occurrences, such as fires, explosions, and other emergencies.
Oil rig welders are responsible for the integrity of an oil rig. These welders ensure that all structural components on an oil rig will support the necessary loads. These materials include various metals, such as:
Additionally, oil rig welders make sure that critical connections are potent. They also ensure that they adhere to Intergovernmental Petroleum Standards (IPPS). IPPS is a third-party organization that inspects these oil rigs.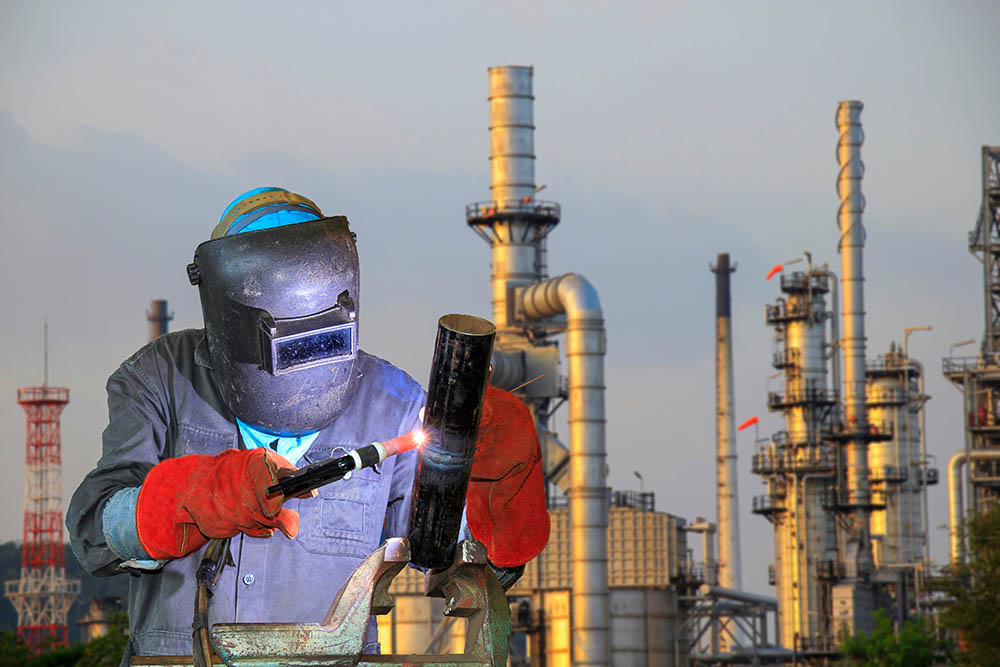 Difference Between Offshore and Land-Based Oil Rig Welders
If you are interested in becoming an oil rig welder, the question of getting an offshore or a land-based oil rig welding job is probably on your radar.
Offshore and land-based oil rig welders have different job duties and working environments. It is crucial to know these differences when choosing which oil rig welding job you would like to pursue.
Here are the differences between offshore and land-based oil rig welders.
Offshore Oil Rig Welders
They work underwater in near-freezing temperatures.
The risk of injury is around 20% a year.
They must be able to swim and dive at great depth.
They work with flammable gas and oil.
They perform their work in arctic conditions.
Land-Based Oil Rig Welders
They work above the ground in warmer temperatures.
The risk of being injured is about 1% per year.
They must climb ladders, use heavy equipment, and carry heavy loads.
They work with flammable gasoline.
They work in desert conditions.
---
Steps to Becoming an Oil Rig Welder
A successful career as an oil rig welder begins with training. We'll help you understand how to become an oil rig welder and what you need to consider before making a career change.
Minimum Qualifications to be Employed in Any Oil Rig
Minimum qualifications to work as a welder on an oil rig include:
A high school diploma or its equivalent
Physical strength, stamina, agility, endurance, and mental alertness to perform the duties of an oil rig welder
Ability to handle, transport, store, and use acetylene, oxygen, and propane
Work under pressure, in a confined space, and sometimes in a dangerous surrounding.
Work in an environment with loud noises, adverse weather conditions, and extreme heat and cold
Ability to use hand and power tools
Perform basic math and read blueprints
Perform basic welding skills
Ability to follow written and verbal instructions
Adhere to strict safety regulations when working
Perform fundamental welding functions upon an emergency call
Educational Requirements to Become an Oil Rig Welder
There are a few paths you can follow to become an oil rig welder. They include:
A 2-year Technical Training Program
You'll get a certificate upon completion. Most oil rig welders already have a high school degree. But the two-year program is crucial.
Become an apprenticeship
You will need a high school diploma, GED, or the equivalent to join an apprenticeship. Some companies will allow you without a high school diploma. However, you should have two years of work experience, some postsecondary education, or a high school degree.
Learn on the Job
It is not the best choice for oil rig welders, but it's possible. You can learn on the job, but you will need some experience. If not, you will need to spend at least two years at a training school, such as a welding school.
You will also need practical skills and experience. Some employers will give you on-the-job training. But they must be sure that you can do the work. You can gain experience by volunteering at a company or by doing volunteer work. Try to gain work experience, such as volunteering, before you start.
Begin Your Journey to Being an Oil Rig Welder
1. Gain Mechanical Experience
To get a job as an oil rig welder, you must know how to work on an oil rig. That means knowing how to fix diesel engines, electrical systems, and hydraulic systems. You should also know how to handle welding equipment.
Start as a mechanic on a big rig. Many employers will train you on the job. However, it's much easier to get experience on a big rig than on a smaller oil rig. On a big oil rig, mechanics can get up on the rig and weld. On a smaller rig, mechanics are often stuck upstairs in the tool room, supervising other mechanics.
Mechanics need some special skills. You must be able to crawl around under big machines in harsh weather and cramped quarters. Also, you need a lot of strength, and you must lift heavy weights over your head for long periods.
If you're willing to work hard and have the required skills, you stand a good chance of getting a job as an oil rig welder.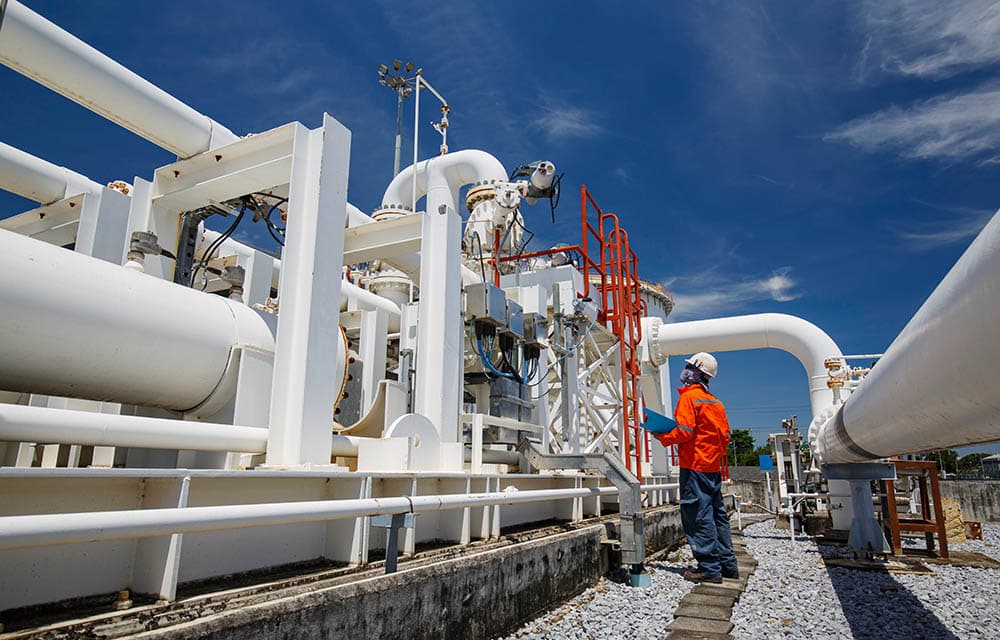 2. Seek for Certification from TWIC (Transportation Worker Identification Credential)
Before you can be an oil rig welder, apply for your TWIC card. You need the card to work in the United States on an offshore oil rig. This card from the Transportation Worker Identification Credential requires background checks and fingerprinting. To get this identification card, check out TWIC's website for more information.
3. Apply for an Oil Rig Welding Job
One of the most important things you can do is apply for oil rig welding jobs. The competition is stiff, but don't give up. Word may get around that you are a certified welder, and companies will start coming for you.
4. Research the Oil Industry
Before you begin looking for work as an oil rig welder, you need to arm yourself with information. Researching the oil industry will tell you what to expect. You will also be more competitive during the job application process.
Find out why oil and gas companies operate offshore and onshore and what they produce. Learn about the different ways they drill and extract oil and gas. Besides, learn how they ensure that production is running smoothly.
Familiarize yourself with oil rig welding. Watch the news, read newspapers, magazines, and Internet sites. Additionally, talk to people who do or have worked in the oil industry. It's wise to gain some understanding of the industry before applying for jobs.
5. Contact Family Members, Friends, or Associates Who Work on Oil Rigs
The best way to find oil rig work is through someone you know. It may be a family friend, your cousin, buddy, or neighbor. You'll probably get some time with the worker. They'll more likely give you advice and help you if you run into any problems.
Besides, ask around. If you are lucky, your friends or relatives might know someone who happens to be an oil rig welder. If not, maybe they know someone who knows someone who is an oil rig welder. Luckily, oil rig workers are social and like to share their experiences with others.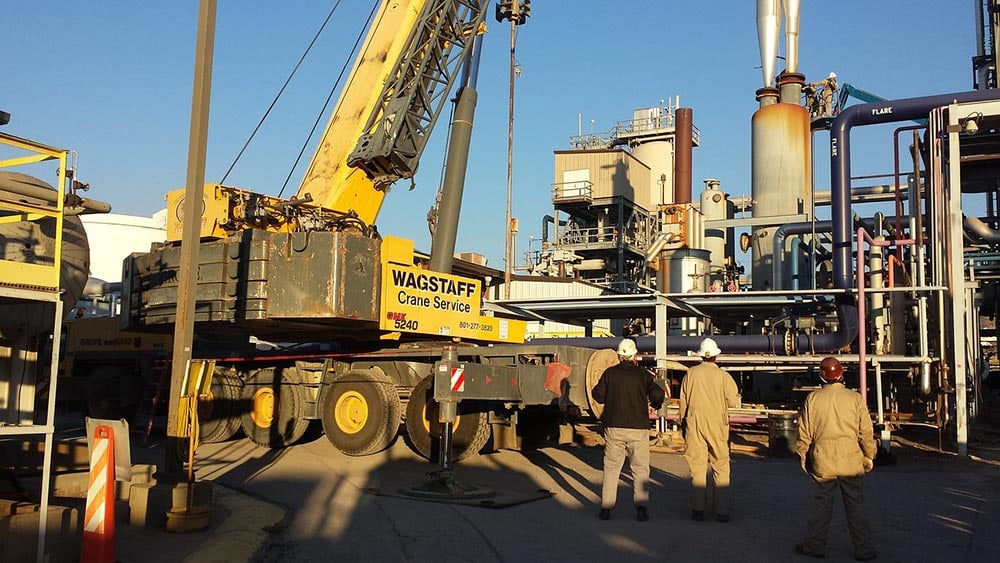 6. Research Job Postings in Newspapers and Online
Go to careerbuilder.com, or idealist.com.
Also, check the newspaper classifieds. If you cannot find a job listing, call local oil companies. Tell them what kind of work you are looking for. Is there a specific skill you are looking for? Is welding your primary skill? Was oil rig welding your last job? Ask if they have any jobs available. If you get a job, ask about training.
---
Final Thoughts
What is better than a career as an oil rig welder? How about a career as an offshore welder? Or, do you prefer becoming a land-based oil rig welder?
If you are an aspiring welder wondering how to become one, there is some good news. This job is one of the most in-demand careers in today's market. So, finding work should not be challenging. It is also one of the highest-paying jobs. Follow the procedures discussed above if you want to become an oil rig welder.