What is a Pipeline Welder, And How Do You Become One?
Last Updated on
It takes the effort of several people to get the fuel that powers our homes and businesses delivered. Many professions make up the oil and natural gas extraction industry. Every day, you will find people working in the construction, fabrication, or transportation industry.
But one position is always in hot demand and considered the toughest job in the oil and gas industry: Pipeline welders.
Pipeline welding is a highly coveted and stable career. If you have a natural aptitude for the trade and get suitable training, you can build a good life with consistent work. In this article, we will discuss what a pipeline welder is. We will also look at what it takes to become one.
---
Who is a Pipeline Welder?
Pipe welders are highly skilled craftsmen use heavy machinery to bend pieces of metal to form pipes or other contour shapes. Then, they join them with welding.
They work with metal forming, cutting, and joining. They also do installations and repairs in piping systems. Pipes carry oil, gas, steam, chemicals, and water.
This work comes with high responsibility. Pipe welders must ensure the fittings are of good quality and in their proper positions. It maintains the safety of the pipeline systems.
Pipe welding work comes with high risks. That is why you must know all there has to know about pipes and pipefittings before handling this job.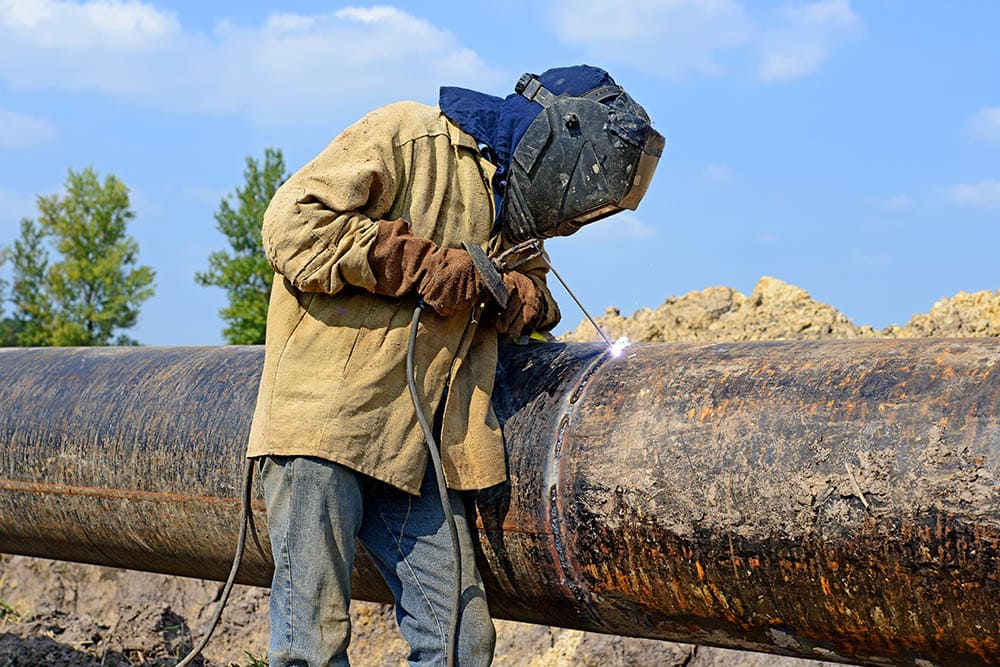 Where Do Pipe Welders Work?
Pipe welders are fit for many different welding careers. But where exactly do they work? There are many jobs for pipe welders all around the country. It depends on what career you want to pursue.
You can work in either the offshore or onshore industry. Here are some of the fields where pipe welders work.
Construction sites
Oil and gas industry
Military
Nuclear power plants
Fabrication shops
Automotive manufacturing industry
Aerospace
Job Duties of a Pipeline Welder
In today's world, many occupations need certification to do a specific job. Pipeline welding is no exception.
A pipeline welder is qualified to work on pipelines used in various industries, such as the transportation industry. Their job is to maintain the pipes and keep them in top working order.
A pipeline welder's job duties include:
Repairing pipeline leaks
Removing the damaged parts of the pipeline and replacing them with new ones
Checking and repairing the welds
Installing new pipelines
Installing new valves
Replacing compressors and pumps
Repairing any appurtenances to pipelines
Maintaining records
Maintaining a clean and safe work environment
Doing regular maintenance
Helping to train other workers
Performing any other job-related tasks
Reading diagrams and blueprints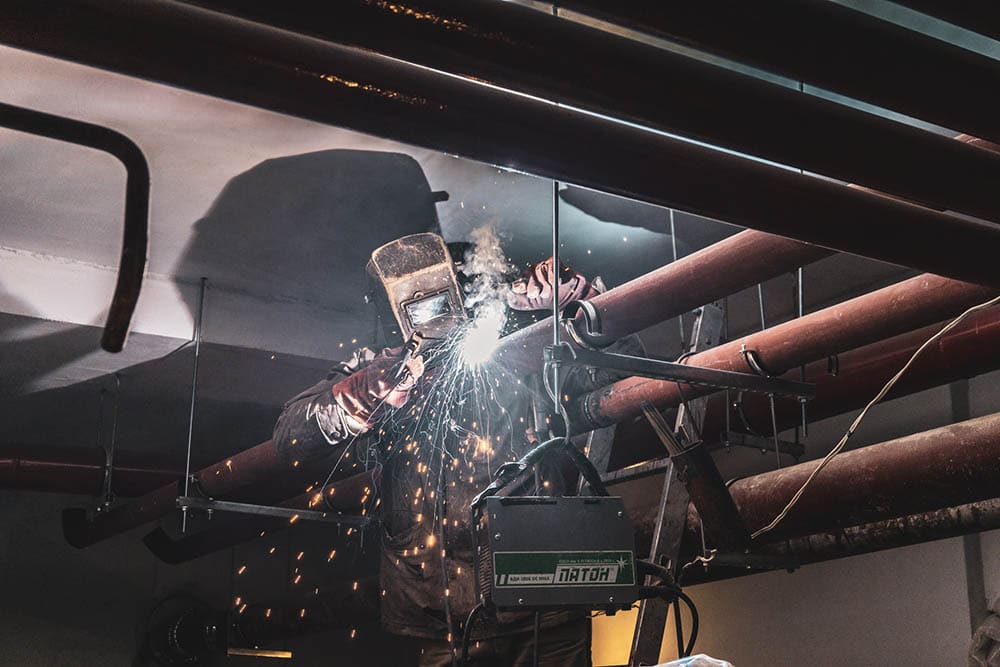 What Skills Does a Pipeline Welder Need?
Pipeline welding is the most complex of all welding techniques. It requires a high degree of technical skill and specialized training. To work as a pipeline welder, you must have the ability to work on your own, learn quickly, understand complex drilling designs, and direct others.
Let's look at some of the skills you must have to become a pipeline welder.
Problem Solving Skills
In pipeline welding, you must think fast. You also need excellent problem-solving skills because not all jobs are easy. And you'll need to identify the problems and find a solution fast.
A pipeline welder needs to know how to solve problems that might arise when working on pipes.
Physical Stamina
A pipeline welder's job requires physical stamina. These workers are required to stand for long periods, often in uncomfortable positions. Also, they lift heavy objects and work in small, confined spaces.
A pipeline welder's job is physically taxing. They must endure extremely high temperatures for long periods.
Pipeline welders must also be able to contort themselves into awkward positions. They must endure fatigue. In short, they must bear with many physically demanding days when working.
Machine-Operation Skills
A pipeline welder must operate a wide range of machinery, from basic hand tools to complex computerized manufacturing equipment. Some pipe welders use computers to enter information into the system. Other pipeline welders use computers to control special equipment.
Machine-operation skills include knowing how to operate and maintain various welding equipment. They include welding torches and machines. Many pipeline welders also understand basic electricity and industrial maintenance.
It takes a lot of skill to operate a welding machine-you must know how to keep it running because sometimes it can stick and weld or it can break or overheat.
Communication Skills
Excellent communication skills, whether verbal or written, is a valuable asset in any career. Speaking and listening skills are crucial in the pipeline welding industry. It ensures safety because pipeline welding requires close working relationships with coworkers, supervisors, and clients well.
Besides, the pipeline welder must communicate with other employees about safety, working policies, welding techniques, tools, and machine operations.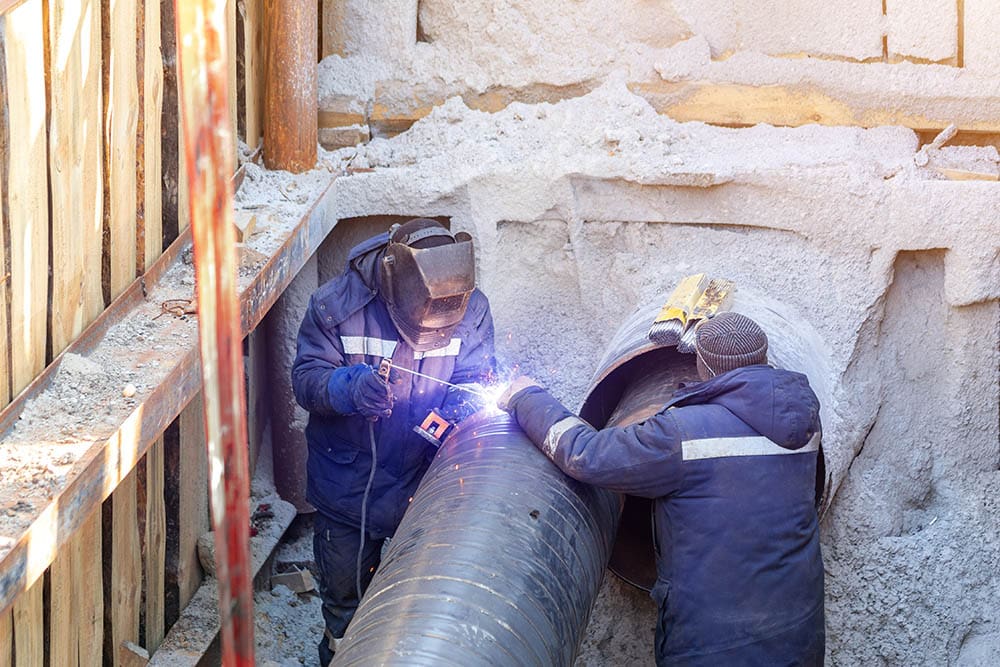 How to Become a Pipeline Welder
Welding is not easy. Several different types of welding need specialized knowledge, experience, and equipment. It can be hard to know which one is right for you.
The good news is that pipeline welding is perfect for beginners! Here, we will give you all the information you need to become a successful pipeline welder with the least amount of time and expense.
1. Gain Hands-On Experience
Pipeline welders gain hands-on experience by completing apprenticeship programs. They learn basic welding techniques. Also, they learn how to weld different types of pipes, such as steel and stainless steel.
Work as a welder's helper or apprentice first. Ask your local union, construction, or mechanical contractor if you can work for free. Many contractors offer unpaid internships to young people.
You can also go somewhere that offers on-the-job training. For example, many oil companies have programs that offer people with little or no prior welding experience a chance to learn the trade.
Build up your experience. Get certified as a journeyman welder by passing a written test and a practical test. The journeyman test covers the basic principles of welding.
By gaining hands-on education or work experience, you will put yourself in the best position to succeed. It demonstrates the work ethic you have and will help you stand out from other applicants.
2. Enroll in a Welding School
If you are thinking about becoming a pipeline welder, you can start by enroll in a welding school first. Welding is taught at vocational schools, community colleges, trade schools, and universities.
Some requirements for schooling include:
Soapstone
An approved welding headpiece with suitable lenses
A welding jacket
A wire brush
Security glasses
MIG pliers
A tape measure
Suitable footwear
Welding schools usually need a high school diploma or GED. In a welding school, you will take at least six months spending most of your time in the classroom and some time in labs and on job sites.
Welding schools offer associate's degrees for welders. They also offer bachelor's degrees for welders who work in specialty fields.
To become a pipe welder, most employers need four-year degree courses.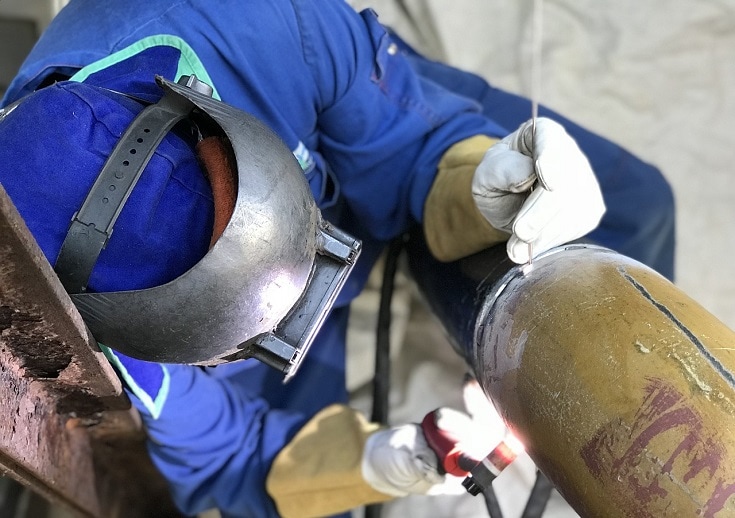 3. Become Certified
First, every pipeline welder must take a certification exam. The exam tests the welder's knowledge of welding procedures, metallurgy, and welding safety. Oil and gas companies inspect their pipelines and hire certified welders only.
The test is offered by the American Welding Society or the National Board of Boiler and Pressure Vessel Inspectors (NBBPVI). Each state has its certification program, which will test welders based on a state-developed curriculum.
The second part of the process is a background check. It includes your criminal history. Companies check to make sure you are not a crook. You might even have to pass a drug test.
4. Update Your Resume
A resume is a written summary of your education, experience, and credentials. It lets employers know what they can expect from you and makes you stand out from other candidates.
Start with the basics. List your education qualifications. Include any college or technical school, trade school, or military experience you have. Be sure to include your grade point average.
Update your resume to include specifics about the type of pipeline welder position you are seeking. Your resume should comprise previous employment and any specialized training you may have. If you have no experience, include your welding training or any similar experience you have had that qualifies you for the position.
How Long Does it Take to Become a Pipeline Welder?
Pipeline welding requires the most specialized training. It will take you six months, one year of apprenticeship, and one year of journeyman's training to become a journeyman welder. Also, you need to pass four separate tests to become a pipeline welder.
What Types of Welding should a Pipeline Welder Learn?
Perhaps you are pondering what types of welding a pipeline welder should learn? Are you making the right choice about which type of welding to explore? Or maybe you already know how to weld but want polished up skills?
A pipeline welder is expected to know many different types of welding. Understanding the various processes will result in you landing high premium welding jobs. Here are the crucial types of welding that every pipe welder should know.
MIG Welding
TIG Welding
Arc Welding
---
Final Thoughts
The energy sector has been booming for the past several years growing at an incredible pace. It is for this reason that so many job vacancies and opportunities have arisen.
One profession that has benefited from this is pipeline welding – a crucial profession within the oil and gas industry. The profession offers various opportunities. It also promises to provide expert experience, financial comfort, and job satisfaction as well as personal development. If you have considered this path, it is definitely worth it.
Featured Image Credit: shinobi, Shutterstock