How Long Does It Take to Become a Welder? A Complete Guide
Last Updated on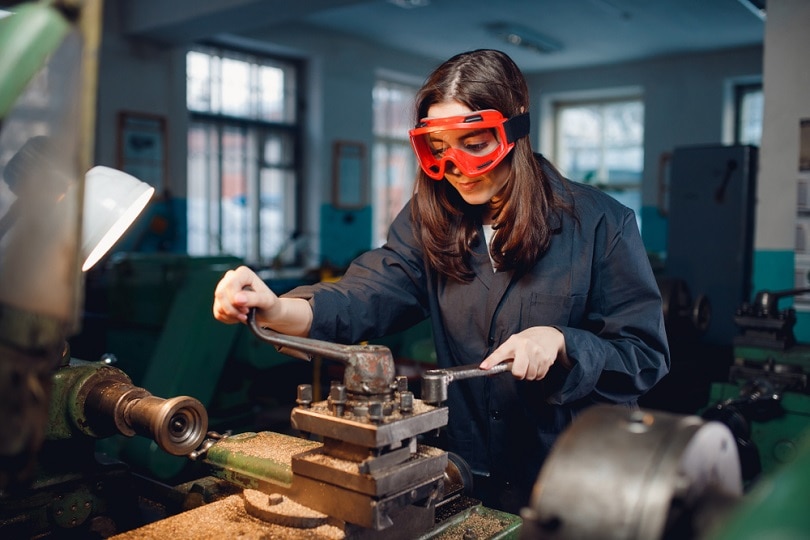 ---
Who is a Welder?
A welder is considered a trained craftsman specializing in joining metals like steel, brass, steeliness steel, and aluminum. There are numerous industries and areas of work for welders. These areas include; automotive industry, building and construction, general-purpose manufacturing, creative stuff, machinery manufacturing, shipbuilding, and infrastructure projects.
Since welding is relatively dangerous, welders must wear protective equipment such as safety glasses, gloves, jackets, and helmets. The workspace varies from underwater platforms to auto repair shops and manufacturing factories. Due to the high demand for welding services, professional welders can work for 50 hours or more per week.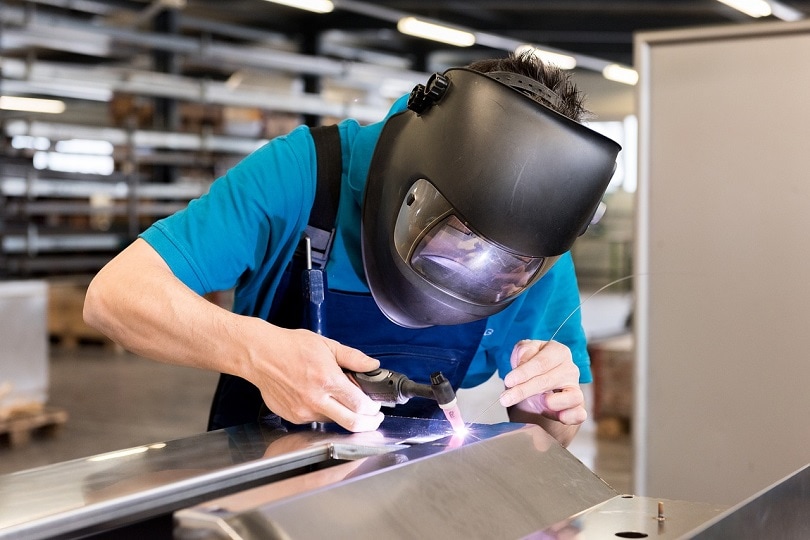 Before one can become a welder, they will need to undergo vigorous training on the different welding types.
There are different types of welding include:
ARC welding is also referred to as stick welding. It involves the fusion of large and thick materials during construction or manufacturing.
MIG welding is one of the most common and basic welding practices. Most employers require that applicants be proficient in this form of welding. MIG welding involves the fusion of mild steel, aluminum, and stainless steel.
TIG welding is the most complex form of welding. It makes use of tungsten-inert gas to generate high-quality fusions. TIG welding requires higher experience, training, and certifications compared to the other forms of welding.
This form of welding makes use of acetylene gas and oxygen to melt steel. It is therefore used for maintenance and cutting metals.
Hyperbaric welding occurs in underwater welding procedures. However, it can also take place in the above water procedures. This form of welding applies to ships, oil platforms, and pipelines.
---
The Path to Becoming a Welder
There is not any standard educational path towards becoming a welder. However, several training degree programs and certifications exist. These programs are set for trainees on a professional track of a welding career.
The period it takes to become a welder and get all the necessary credentials depends on the certification and training program. Training ranges from 7 months to 2 years, depending on the program one chooses.
The most common steps towards becoming a welder are industry certifications and post-secondary programs. These two steps are made necessary due to employer preference and requirements. Additional employer requirements are a GED or a high school diploma and on-the-job training.
Below is an elaborated process of how to become a certified welder and the duration it will take.
Welding Training
There are several training options to become a welder including vocational schools, community colleges, apprenticeships, welding training programs, and on-the-job training. After training, students receive a diploma, a certificate, or an associate degree. These training options dictate the duration one takes to become a certified welder. Students get instructed on the following metallurgy, different welding techniques, blueprint reading, and safety procedures.
The following are some of the skills required to become a welder:
Knowledge of all safety requirements and procedures
Basic welding skills and trigonometry
High attention to detail
Hand-eye coordination
On-the-job training
Some welders start as laborers and get on-the-job training, which gives one the chance to advance in this field without attending any training program at a trade or vocational school. However, the downside to this step is that it may take years before one becomes a qualified welder. Additionally, most employers would prefer to hire workers with training rather than train them on the job.
Vocational School
Vocational school for becoming a welder is another viable training option. All welding skill trade programs at any vocational school emphasize hands-on skills. These include shop safety, blueprint reading, pipe-fitting skills, and the different welding techniques. Vocational programs also cover cutting techniques, metallurgy, safety training, metal properties, math, and rigging.
Students in vocational schools can complete their training within seven months. Upon graduation, the students receive a diploma certificate.
Community College
Welding programs in a community college last for two years. Upon graduation, students receive an associate degree. Welding training programs done in community colleges cover similar areas as vocational programs do. However, students are also required to enroll in other education classes like History and English.
Community colleges also offer individual training schedules. This schedule may increase the training period for part-time students. In community colleges, there are different types of welding degrees including:
Welding Certificate
Completing the welding certificate program is the standard academic option for any welder. These programs are short and mostly focus on basic welding skills. Trainees learn all the fundamental thermal and mechanical properties of metals and manipulating them using force and heat. They also learn emergency and safety procedures.
Welding certificate heavily focuses on hands-on practical experience. This approach prepares a trainee for an entry-level position in the industry. However, this certificate does not cover materials outside the sphere of welding fundamentals.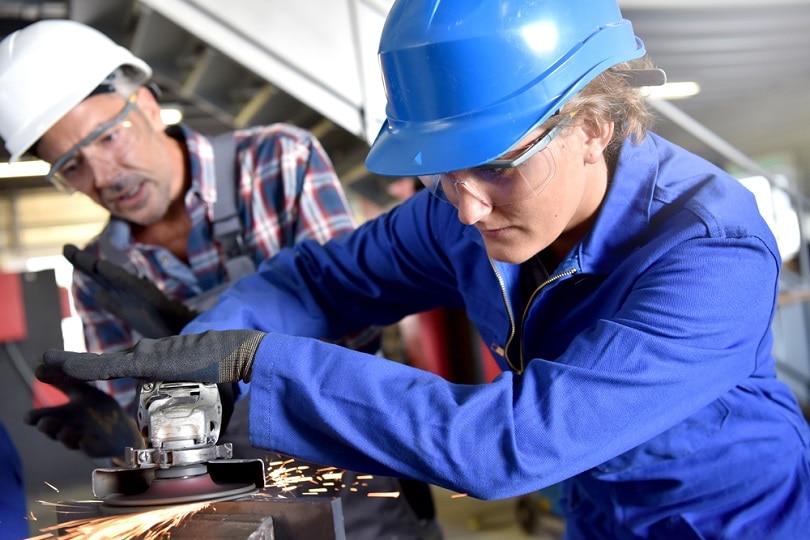 Welding Associate Degree
Associate degree programs are usually done by professionals interested in career advancement. These programs typically cover the same ground as certificate programs. However, associate programs incorporate scientific and theoretical aspects of metals. Trainees learn about practical welding procedures and also the physics and chemistry in welding.
Associate degree programs allow trainees to specialize in the sub-domains of welding. These are robotics welding and automotive welding. It also prepares them to sit for certification exams, which qualify them to work as welding managers and supervisors. An associate degree program takes about 2 to 3 years until completion.
Welding Bachelor Degree
Welding bachelor degree programs take about four years to complete. These types of programs are usually quite rare. Welders interested in design processes and high-level manufacturing enroll for these programs. These programs help familiarize trainees with all the welding practices, theories, and other specialized welding applications. They include automated machine welding and computer-aided designs.
These programs focus on welding project management. They are done in team project-oriented environment. Graduates qualify to work as welding instructors, professional consultants, and welding supervisors. They may also work in the design and manufacture of new welding technologies.
Welding Master's Degree
Masters of Science in welding engineering is among the rarest training programs. These types of programs are often highly specialized. Here, trainees specialize in different welding applications such as medical devices, marine welding applications, electronics, and aerospace welding. Graduates of such programs pioneer new welding techniques and technologies. Such programs take about 2 to 3 years for a trainee to graduate as a welder.
When choosing training options, one should consider the options that offer the following:
Basic welding – the popular welding processes include ARC, MIG, and TIG welding. These welding processes tackle most projects.
Reading Blueprints – reading blueprints, alongside pipe-fitting are crucial skills that ensure professional success. It should therefore be a factor to consider when choosing a training option.
Combination Welding – Combination welding courses train students on plate and pipe welding. Combination welders can fit metals together to create equipment and machine parts. These courses give a welder an added advantage in the industry.
Apprenticeship
The apprenticeship takes place after formal training. In this training option, a welding trainee works with real clients but only as a subordinate to a supervising professional welder. Apprenticeship is one of the best training options. The trainee gets on-the-job experience and individual attention. The trainee can also earn an income as he or she undergoes training. During an apprenticeship program, trainees do not have to pay for the training.
The period it takes for an apprentice to become a welder depends on the ability of the apprentice. However, the typical training period ranges from three to four years. Upon completion of the apprenticeship, the trainee acquires the title of a "journeyman." A journeyman has all the practical experience required in the welding field. Therefore a journeyman is fully certified.
Hands-On Training
Before entering the job market, the welder will need to acquire the following hands-on skills:
Metal cutting techniques
Basic fitting
Advanced pipe fitting
Basic welding techniques
---
Welder Specialties
Welder specialties that are mostly sought after include:
1. Underwater Welding
This specialty is the only specialization where welders wear scuba diving equipment. These pieces of equipment allow them to do underwater repairs. This specialization is mostly common in oil drilling and pipeline companies. To become an underwater welder, one must obtain a commercial welding and diving certification.
2. High Tech Welding
High tech welders typically work in the medical, automotive, and aerospace industry. Here, welders engage in the manufacture of air-crafts, satellites, and missiles. Welders in these industries make use of the latest equipment like leasers and robots. The requirement for a high tech welder is formal post-secondary training. They are also required to stay updated on all the new emerging technologies.
3. Sheet Metal Welders
This form is one of the most common specialties. It involves the joining of metal sheets.
4. Structural Iron and Steelworkers
This specialty is also quite common. Welders work at construction sites such as residential and commercial buildings. Ironworkers also work under federal and state agencies. They also repair and construct public infrastructures such as railways, bridges, and highways.
Employment Opportunities Levels in the Welding Industry
There are different employment levels in the welding industry. Each requires different levels of certification and experience.
These employment levels are:
Welders- welders are actively involved in fussing metals together. They do most of the manual work. Additionally, they engage in fussing, erecting, and welding metal structures. Welders can consistently find jobs in most manufacturing plants. They apply their skill in the manufacture of car parts and other heavy machinery.
Welding Engineering- welding engineers have more responsibilities as compared to welders. They have the responsibility of overseeing the welders, metallurgy, planning, and project management. Welding engineers must obtain a four-year degree in welding and material engineering. Additionally, they are also required to have optimal experience drafting in CAD.
Welding Instructors- Welding instructors must have a certified welding instructor certification. To acquire this certification, one must several years of experience with multiple styles of welding. Their main job is to instruct other welders on how the structures should appear.
Welding inspectors- Welding inspectors are also required to be fully certified. A welding inspector certification requires that a welder work as an apprentice to a senior welding instructor.
Getting a Welding Certification
There exist numerous types of welding certification such as SMAW, GTWA, and FCAW. Different training institutes offer different types depending on the training. Employers opt to hire applicants with these welder certifications.
Private organizations such as the American Welding Society (AWS), American Society of Mechanical Engineers (ASME), American Petroleum Institute (API) also offer certifications. The test and inspection necessary for attaining a certification may take several hours. However, the process of application and receiving these certifications can vary in duration.
Examples of welding certification provided by AWS include:
Senior welding inspector
Welding inspector
Associate welding inspector
Welding supervisoRS
Welding sales representative
Welding engineer
Welder
Robotic arc welding
Getting a Welding License
The minimum requirements for licensing differ from place to place. The state approves applicants before they sit for a licensing test. The exam has a time frame of 2 hours and consists of a total of 60 questions. The processes questioned in the exam include cutting and oxyacetylene welding, plan and blueprint reading. Questions on pipe welding, brazing, materials, GIAW, SMAW, testing, and inspection can also appear on the test.
Passing the licensing test requires that the examinees answer 70% of the questions correctly. Additionally, examines are required to pass a law and business management exam to obtain a state license.
Conclusion
As discussed, there are three steps to becoming a welder. These steps are; getting the required training, attaining the necessary certification, obtaining licenses. The time needed to complete each step depends on several factors like individual ability, educational preference, or work requirement. However, with the above information, you can roughly tell how long your specified welding program would take.
---
Featured image credit: Parilov, Shutterstock